Preliminary analyses of a catastrophic landslide occurred on July 23, 2019, in Guizhou Province, China
Preliminary analyses of a catastrophic landslide
Introduction
On 23 July 2019, at UTC+8 21:20, a catastrophic landslide hit the Pingdi village in the Shuicheng County, Liupanshui City, Guizhou Province, China (E104° 40′ 24″, N26° 15′ 27″) (Fig.
1
) after continuous torrential downpours. Because of the long-runout of a large volume of loose debris materials, the residential areas along the landslide traveling path were completely destroyed and the county road passing through the landslide area was cut off (Fig.
2a
). The sudden, high-speed debris movement has caused severe damage to the village infrastructures with more than 20 houses buried and about 42 fatalities of residents. Immediately after this landslide event, the China State Council launched the on-site emergency rescue and disaster mitigation operations.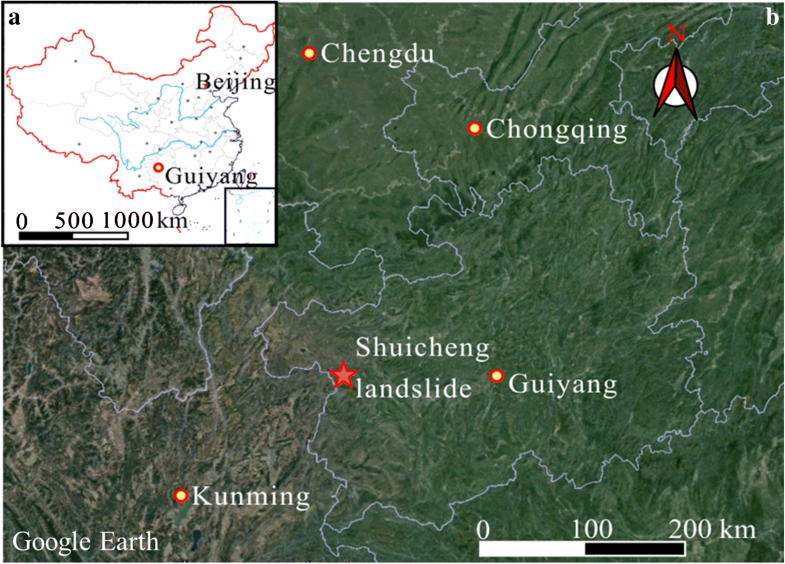 Notes
Funding information
We gratefully acknowledge the financial support of the National Key R&D Program of China (2017YFC1501102), the National Natural Science Foundation of China (51579163, 51639007, and 41977229), and the Fundamental Scientific Research Fund in the IEF, CEA (2019IEF0201), CAS Pioneer Hundred Talents Program and JSPS Program.
Copyright information
© Springer-Verlag GmbH Germany, part of Springer Nature 2020