Abstract
Assessing Eurasian wild boar (Sus scrofa) mortality is a key for understanding population dynamics and adjusting hunting harvest and population management. We used radio-tagging and video-trapping to quantify piglet summer mortality in a managed (i.e. fenced and year-round fed) wild boar population from southern Spain. We used two independent tools to assess wild boar mortality, i.e. radio-tracking and video footage. A total of 32 wild boar piglets were captured at selective feeders acting as cage-traps, and all the piglets were equipped with ear-tag transmitters including a mortality sensor. Additionally, 20 camera traps were set up in video mode at wild boar feeders. Videos were visualized calculating the proportion of piglets seen per adult as a second indicator of piglet mortality. The survival analysis of radio-tagged individuals indicated an average survival of 48% after 180 days of capturing. Mortality was particularly pronounced in the first 2 months, i.e. during summer. Video footage evidenced a progressive decline in the piglet-to-adult ratio throughout summer. Between June and September, this ratio declined by 80.5%. Dead piglets were in poor body condition, and respiratory lesions compatible with the porcine respiratory disease complex (PRDC) were observed in 86% of them. Porcine circovirus type 2 (PCV2) was the most prevalent pathogen (61%) in this study, and its prevalence showed an increasing trend depending on the lung lesion score. We postulate that high piglet mortality at early age might represent a disease-mediated density-dependent mechanism limiting wild boar population growth in semi-intensive management regimes, characterized by year-round feeding and fencing.
This is a preview of subscription content, log in to check access.
Access options
Buy single article
Instant access to the full article PDF.
US$ 39.95
Price includes VAT for USA
Subscribe to journal
Immediate online access to all issues from 2019. Subscription will auto renew annually.
US$ 99
This is the net price. Taxes to be calculated in checkout.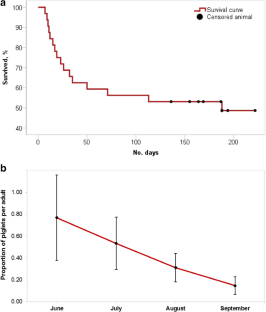 References
Barasona JA, López-Olvera JR, Beltrán-Beck B, Gortázar C, Vicente J (2013) Trap-effectiveness and response to tiletamine-zolazepam and medetomidine anaesthesia in Eurasian wild boar captured with cage and corral traps. BMC Vet Res 9(1):107

Barasona JA, Acevedo P, Diez-Delgado I, Queiros J, Carrasco-García R, Gortazar C, Vicente J (2016) Tuberculosis-associated death among adult wild boars, Spain, 2009–2014. Emerg Infect Dis 22:2178–2180

Cagatay GN, Antos A, Meyer D, Maistrelli C, Keuling O, Becher P, Postel A (2018) Frequent infection of wild boar with atypical porcine pestivirus (APPV). Transbound Emerg Dis 65(4):1087–1093

Che' Amat A, Gonzalez-Barrio D, Ortiz JA, Diez-Delgado I, Boadella M, Barasona JA, Bezos J, Romero B, Armenteros JA, Lyashchenko KP, Venteo A, Rueda P, Gortazar C (2015) Testing Eurasian wild boar piglets for serum antibodies against Mycobacterium bovis. Prev Vet Med 121:93–98

Che'Amat A, Armenteros JA, González-Barrio D, Lima JF, Díez-Delgado I, Barasona JA, Romero B, Lyashchenko KP, Ortiz JA, Gortázar C (2016) Is targeted removal a suitable means for tuberculosis control in wild boar? Prev Vet Med 135:132–135

Cságola A, Lörincz M, Cadar D, Tombácz K, Biksi I, Tuboly T (2012) Detection, prevalence and analysis of emerging porcine parvovirus infections. Arch Virol 157:1003–1010

Díez-Delgado I, Boadella M, Martín-Hernando M, Barasona JA, Beltrán-Beck B, González-Barrio D, Sibila M, Vicente J, Garrido JM, Segalés J, Gortazar C (2014) Complex links between natural tuberculosis and porcine circovirus type 2 infection in wild boar. Biomed Res Int 2014:765715

EFSA AHAW Panel (EFSA Panel on Animal Health and Welfare), More S, Miranda MA, Bicout D, Bøtner A, Butterworth A, Calistri P, Edwards S, Garin-Bastuji B, Good M, Michel V, Raj M, Saxmose Nielsen S, Sihvonen L, Spoolder H, Stegeman JA, Velarde A, Willeberg P, Winckler C, Depner K, Guberti V, Masiulis M, Olsevskis E, Satran P, Spiridon M, Thulke H-H, Vilrop A, Wozniakowski G, Bau A, Broglia A, Cortinas Abrahantes J, Dhollander S, Gogin A, Munoz Gajardo I, Verdonck F, Amato L, Gortazar C (2018) Scientific opinion on the African swine fever in wild boar. EFSA J 16:5344

Fonseca C, Da Silva AA, Alves J, Vingada J, Soares AM (2011) Reproductive performance of wild boar females in Portugal. Eur J Wild Res 57:363–371

González-Crespo C, Serrano E, Cahill S, Castillo-Contreras R, Cabañeros L, López-Martín JM, Roldán J, Lavín S, López-Olvera J (2018) Stochastic assessment of management strategies for a Mediterranean peri-urban wild boar population. PLoS One 13:e0202289

Hall WJ, Wellner JA (1980) Confidence bands for a survival curve from censored data. Biometrika 67:133–143

Keuling O, Baubet E, Duscher A, Ebert C, Fischer C, Monaco A, Podgórski T, Prevot C, Ronnenberg K, Sodeikat G, Stier N, Thurfjell H (2013) Mortality rates of wild boar Sus scrofa L. in Central Europe. Eur J Wildl Res 59:805–814

Keuling O, Strauß E, Siebert U (2016) Regulating wild boar populations is "somebody else's problem"! - human dimension in wild boar management. Sci Total Environ 554-555:311–319

Maselli V, Rippa D, Russo G, Ligrone R, Soppelsa O, D'Aniello B, Raia P, Fulgione D (2014) Wild boars' social structure in the Mediterranean habitat. Ital J Zool 81:610–617

Merta D, Bobek B, Albrycht M, Furtek J (2015) The age structure and sex ratio in wild boar (Sus scrofa) populations as determined by observations of free-roaming populations and by harvests of collective hunts in southern Poland. Eur J Wildl Res 61:167–170

Muñoz-González S, Canturri A, Pérez-Simó M, Bohórquez JA, Rosell R, Cabezón O, Segalés J, Domingo M, Ganges L (2017) First report of the novel atypical porcine pestivirus in Spain and a retrospective study. Transbound Emerg Dis 64:1645–1649

Oja R, Zilmer K, Valdmann H (2015) Spatiotemporal effects of supplementary feeding of wild boar (Sus scrofa) on artificial ground nest depredation. PLoS One 10:e0135254

Randall LP, Lemma F, Koylass M, Rogers J, Ayling RD, Worth D, Klita M, Steventon A, Line K, Wragg P, Muchowski J, Kostrzewa M, Whatmore AM (2015) Evaluation of MALDI-ToF as a method for the identification of bacteria in the veterinary diagnostic laboratory. Res Vet Sci 101:42–49

Resendes AR, Segalés J (2015) Characterization of vascular lesions in pigs affected by porcine circovirus type 2–systemic disease. Vet Pathol 52:497–504

Risco D, Serrano E, Fernández-Llario P, Cuesta JM, Gonçalves P, Garcia-Jiménez WL, Martinez R, Cerrato R, Velarde R, Segalés J, De Mendoza JH (2014) Severity of bovine tuberculosis is associated with co-infection with common pathogens in wild boar. PLoS One 9:e110123

Risco D, Cuesta JM, Fernández-Llario P, Salguero FJ, Gonçalves P, García-Jiménez WL, Martínez R, Velarde R, Gómez L, de Mendoza JH (2015) Pathological observations of porcine respiratory disease complex (PRDC) in the wild boar (Sus scrofa). Eur J Wildl Res 61:669–679

Risco D, Bravo M, Martínez R, Torres A, Gonçalves P, Cuesta J, García-Jiménez W, Cerrato R, Iglesias R, Galapero J, Serrano E, Fernández-Llario P, Hermoso de Mendoza J (2018) Vaccination against porcine circovirus-2 reduces severity of tuberculosis in wild boar. EcoHealth 15:388–395

Tanner E, White A, Lurz PWW, Gortázar C, Díez-Delgado I, Boots M (2019) The critical role of infectious disease in compensatory population growth in response to culling. Am Nat 194:E1–E12

Thacker EL (2006) Mycoplasmal disease. In: Straw BE, Zimmermann JJ, D'Allaire S, Taylor DJ (eds) Diseases of swine. Iowa State University Press, Ames, pp 701–717

Toïgo C, Servanty S, Gaillard J-M, Brandt S, Baubet E (2008) Disentangling natural from hunting mortality in an intensively hunted wild boar population. J Wildl Manag 72:1532–1539

Townsend KM, Frost AJ, Lee CW, Papadimitriou JM, Dawkins HJ (1998) Development of PCR assays for species- and type-specific identification of Pasteurella multocida isolates. J Clin Microbiol 36:1096–1100

Vela AI, Casas-Díaz E, Fernández-Garayzábal JF, Serrano E, Agustí S, Porrero MC, Sánchez del Rey V, Marco I, Lavín S, Domínguez L (2015) Estimation of cultivable bacterial diversity in the cloacae and pharynx in Eurasian griffon vultures (Gyps fulvus). Microb Ecol 69:597–607

Vicente J, Segalés J, Höfle U, Balasch M, Plana-Durán J, Domingo M, Gortazar C (2004) Epidemiological study on porcine circovirus type 2 (PCV2) infection in the European wild boar (Sus scrofa). Vet Res 35:243–253
Funding
This is a contribution to CDTI and NETCO contract and to the WildDriver grant CGL2017-89866 from MINECO and EU-FEDER. JAB is supported by MINECO-UCM through a "Juan de la Cierva" contract (IJCI-2017-33539) and partly by the EU project (H2020 VACDIVA 862874).
Additional information
Publisher's note
Springer Nature remains neutral with regard to jurisdictional claims in published maps and institutional affiliations.
About this article
Cite this article
Barasona, J.A., Risalde, M.A., Ortíz, J.A. et al. Disease-mediated piglet mortality prevents wild boar population growth in fenced overabundant settings. Eur J Wildl Res 66, 26 (2020). https://doi.org/10.1007/s10344-020-1363-6
Received:

Revised:

Accepted:

Published:
Keywords
Fenced hunting estates

Population dynamics

Porcine respiratory disease complex

Recruitment

Survival