Abstract
We explored the views held by Spanish hunters on hunting, and assessed how these views varied according to participant characteristics and whether or not the responses were made public via a hunter's magazine. Hunters expressed many positive values in relation to hunting, but were critical of their own community as well as other stakeholders. Spanish hunters felt misunderstood and even attacked by society at large. There was also a widespread negative perception of the future of hunting. The frequency of references to different opinions varied between anonymous and public respondents and in relation to age group. Participants who expressed their opinions publicly mentioned the ecological values of hunting more frequently, were more critical towards their own community, and viewed the future of hunting more positively than anonymous participants. This may indicate an intended projected positive image; namely, Spanish hunters may publicly emphasize those views that improve their position in society.
This is a preview of subscription content, log in to check access.
Access options
Buy single article
Instant access to the full article PDF.
US$ 39.95
Price includes VAT for USA
Subscribe to journal
Immediate online access to all issues from 2019. Subscription will auto renew annually.
US$ 99
This is the net price. Taxes to be calculated in checkout.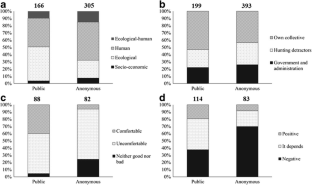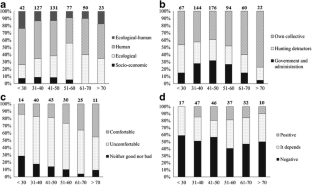 References
Acevedo P, Farfán MA, Márquez AL, Delibes-Mateos M, Real R, Vargas JM (2011) Past, present and future of wild ungulates in relation to changes in land use. Landsc Ecol 26:19–31

Altheide DL (1996) Qualitative media analysis. Sage Publications, Inc, Thousand Oaks

Anderson C (2010) Presenting and evaluating qualitative research. Am J Pharm Educ 74(8):141

Apollonio M, Anderson R, Putman R (2010) European ungulates and their management in the 21st century. Cambridge University Press, Cambridge

Arnett EB, Southwick R (2015) Economic and social benefits of hunting in North America. Int J Environ Stud 72:734–745

Barreto M, Ellemers N (2002) The impact of anonymity and group identification on progroup behavior in computer-mediated groups. Small Gr Res 33:590–610

Benítez-López A, Alkemade R, Schipper AM, Ingram DJ, Verweij PA, Eikelboom JAJ, Huijbregts MAJ (2017) The impact of hunting on tropical mammal and bird populations. Science 356:180–183

Blanco-Aguiar JA, Virgós E, Villafuerte R. (2004) Perdiz roja (Alectoris rufa). In: Madroño A, González C, Atienza JC (eds) Libro Rojo de las Aves de España. Dirección General para la Biodiversidad-SEO/ BirdLife, Madrid, pp 182–185

Caro J, Delibes-Mateos M, Vicente J, Arroyo B (2014) A quantitative assessment of the release of farmreared red-legged partridges (Alectoris rufa) for shooting in central Spain. Eur J Wildlife Res 60:919–926

Caro J, Díaz S, Viñuela J, Sunyer C, Arroyo B (2011) Contribución de los Parques Nacionales al desarrollo rural: estudio comparativo con la caza. In: Ramírez L, Asensio B (eds) Proyectos de investigación en Parques Nacionales: 2007–2010. Ministerio de Medio Ambiente y Medio Rural y Marino, pp 278–291

Delibes-Mateos M, Díaz-Fernández S, Ferreras P, Viñuela J, Arroyo B (2013) The role of economic and social factors driving predator control in small-game estates in central Spain. Ecol Soc 18(2):28

Delibes-Mateos M, Ferreira C, Rouco C, Villafuerte R, Barrio IC (2014a) Conservationists, hunters and farmers: the European Oryctolagus cuniculus management conflict in the Iberian Peninsula. Mammal Rev 40:190–203

Delibes-Mateos M, Giergiczny M, Caro J, Viñuela J, Riera P, Arroyo B (2014b) Does hunters' willingness to pay match the best hunting options for biodiversity conservation? A choice experiment application for small-game hunting in Spain. Biol Conserv 177:36–42

Delibes-Mateos M, Viñuela J, Arroyo B (2015) Game managers' views on the release of farm-reared red-legged partridges in hunting estates within central Spain. J Nat Conserv 26:1–8

Dickman AJ (2010) Complexities of conflict: the importance of considering social factors for effectively resolving human-wildlife conflict. Anim Conserv 13:458–466

Dickson B (2009) The ethics of recreational hunting. In: Dickson B, Hutton J, Adams WM (eds) Recreational hunting, conservation and rural livelihoods: science and practice. John Wiley & Sons, Chichester, pp 60–72

Duckworth JC, Firbank LG, Stuart RC, Yamamoto S (2003) Changes in land cover and parcel size of British lowland woodlands over the last century in relation to game management. Landsc Res 28:171–182

Dunk T (2002) Ecology and identity politics: hunting and the politics of identity in Ontario. CNS J 13:36–66

Estrada A, Delibes-Mateos M, Caro J, Viñuela J, Díaz-Fernández S, Casas F, Arroyo B (2015) Does small-game management benefit steppe-birds of conservation concern? A field study in central Spain. Anim Conserv 18:567–575

Fischer A, Kerezi V, Arroyo B, Delibes-Mateos M, Tadie D, Lowassa A, Krange O, Skogen K (2013b) (De)legitimising hunting—discourses over the morality of hunting in Europe and eastern Africa. Land Use Policy 32:261–270

Fischer A, Sandström C, Delibes-Mateos M, Arroyo B, Tadie D, Randall D, Hailu F, Lowassa A et al (2013a) On the multifunctionality of hunting—an institution analysis of eight cases from Europe and Africa. J Environ Plann. Man 56:531–552

Fungesma (2001) Buenas prácticas cinegéticas. Mundi-Prensa, Madrid

Gangaas KE, Kaltenborn BP, Andreassen HP (2013) Geo-spatial aspects of acceptance of illegal hunting of large carnivores in Scandinavia. PLoS One 8:e68849

Garrido JL (2009) Cazar y hacer escuela. Fedenca, Madrid

Garrido JL (2012) La caza. Sector Económico: valoración por subsectores. FEDENCA-EEC, Madrid

Giménez-Anaya A, Herrero J, García-Serrano A, García-González R, Prada C (2016) Wild boar battues reduce crop damages in a protected area. Folia Zool 65:214–220

Good S (1997) Wilderness and the hunting experience: what it means to be hunter. Wildlife Soc B 25:563–567

Heberlein TA (2012) Navigating environmental attitudes. University Press, Oxford, New York

Heffelfinger JR, Geist V, Wishart W (2013) The role of hunting in North American wildlife conservation. Int J Environ Stud 70:399–413

Herruzo C, Martinez-Jauregui M (2013) Trends in hunters, hunting grounds and big game harvest in Spain. Forest Syst 22:114–122

Jenkins LH, Jenkins MA, Webster CRW, Zollner PA, Shields JM (2015) Herbaceous layer response to 17 years of controlled deer hunting in forested natural areas. Biol Conserv 175:119–128

Knezevic I (2009) Hunting and environmentalism: conflict or misperceptions. Hum Dimens Wildl 14:12–20

Krange O, Fischer A, Kerezi V (2012) Hunters as stewards of the land. In: International Conference on Hunting for Sustainability: Ecology, Economics and Society. Ciudad Real, Spain

Ljung PE, Riley SJ, Heberlein TA, Ericsson G (2012) Eat prey and love: game-meat consumption and attitudes toward hunting. Wildlife Soc B 36:669–675

Lobley M, Potter C (2004) Agricultural change and restructuring: recent evidence from a survey of agricultural households in England. J Rural Stud 20:499–510

Macaulay LT, Starrs PF, Carranza J (2013) Hunting in managed oak woodlands: contrasts among similarities. In: Campos P, Huntsinger L, Oviedo JL, Díaz M, Starrs P, Standiford RB, Montero G (eds) Mediterranean oak woodland working landscapes: Dehesas of Spain and ranchlands of California. Springer, New York, pp 311–350

MacMillan DC, Leitch K (2008) Conservation with a gun: understanding landowner attitudes to deer hunting in the Scottish Highlands. Hum Ecol 36:473–484

Madroño A, González C, Atienza JC (2004) Libro Rojo de las aves de España. Dirección General para la Biodiversidad-SEO/BirdLife, Madrid

MAGRAMA (2015) Avance anuario de estadística de agricultura alimentación y medio ambiente 2014. MAGRAMA, Madrid. http://www.magrama.gob.es/estadistica/pags/anuario/2014-Avance/AE_2014_Avance.pdf. Accessed 15 May 2017

Martin J (2011) The transformation of lowland game shooting in England and Wales since the Second World War: the supply side revolution. Rural Hist 22:207–226

Martínez-Abraín A, Crespo J, Berdugo M, Gutiérrez L, Lafuente A, Mañas A, de Miguel JM (2013) Causes of human impact to protected vertebrate wildlife parallel long-term socio-economical changes in Spain. Anim Conserv 16:286–294

Masa A (2015) Así financia el gobierno a la casta ecologista. Jara y Sedal 160:22–34

Noelle-Neumann E (1974) The spiral of silence: a theory of public opinion. Aust J Commun 24(2):43–51

O'Brien EA (2005) Publics and woodlands in England: well-being, local identity, social learning, conflict and management. Forestry 78:321–336

Oldfield TEE, Smith RJ, Harrop S, Leader-Williams N (2003) Field sports and conservation in the United Kingdom. Nature 423:531–533

Oliveros R, Herández-Soria MA (2017) El impacto de la caza en España. Informe. Ecologistas en Acción. https://www.ecologistasenaccion.org/IMG/pdf/informe-impacto-caza.pdf. Accessed 25 April 2017

Pérez I, Giménez A, Pedreño A (2011) A qualitative examination of the social practices and representations towards a species of endangered tortoise. Wildlife Res 38:323–329

Pin L, Hsieh A-Y (2014) Speech or silence: the effect of user anonymity and member familiarity on the willingness to express opinions in virtual communities. Online Inform Rev 38:881–895

QSR International (2010) NVivo 9. QSR International, Melbourne

Quirós-Fernández F, Beltran JM, Acevedo P, Gortázar C (2017) Hunters serving the ecosystem: the contribution of recreational hunting to wild boar population control. Eur J Wildlife Res 63:57

Redpath SM, Young J, Evely A, Adams WM, Sutherland WJ, Whitehouse A, Amar A, Lambert RA et al (2013) Understanding and managing conservation conflicts. Trends Ecol Evol 28:100–109

Ríos-Saldaña CA, Delibes-Mateos M, Castro F, Martínez E, Vargas JM, Cooke BD, Villafuerte R (2013) Control of the European rabbit in central Spain. Eur J Wildlife Res 59:573–580

Schüttler E, Rozzi R, Jax K (2011) Towards a societal discourse on invasive species management: a case study of public perceptions of mink and beavers in Cape Horn. J Nat Conserv 19:175–184

Seige S, Fischer A, van der Wal R (2011) Public and professional views on invasive non-native species—a qualitative social scientific investigation. Biol Conserv 144:3089–3097

Seale C, Silverman D (1997) Ensuring rigour in qualitative research. Eur J Pub Health 7:379–384

Thirgood S, Redpath S, Newton I, Hudson P (2000) Raptors and red grouse: conservation conflicts and management solutions. Conserv Biol 14:95–104

Treves A, Martin KA (2011) Hunters as stewards of wolves in Wisconsin and the northern Rocky Mountains, USA. Soc Natur Resour 24:984–994

Vargas JM, Duarte J, Farfán MA, Villafuerte R, Fa JE (2012) Are reclamo hunting seasons for the Spanish red-legged partridge off the mark? J Wildlife Manage 76:714–720

von Essen E, Hansen HP, Källström HN, Peterson NM (2015) The radicalisation of rural resistance: how hunting counterpublics in the Nordic countries contribute to illegal hunting. J Rural Stud 39:199–205

White PCL, Jennings NV, Renwick AR, Barker NHL (2005) Questionnaires in ecology: a review of past use and recommendations for best practice. J Appl Ecol 42:421–430

White RM, Fischer A, Marshall K, Travis JMJ, Webb TJ, di Falco S, Redpath SM, van der Wal R (2009) Developing an integrated conceptual framework to understand biodiversity conflicts. Land Use Policy 26:242–253

Willebrand T (2009) Promoting hunting tourism in north Sweden: opinions of local hunters. Eur J Wildlife Res 55:209–216
Acknowledgements
We are grateful to all the hunters who voluntarily participated in our interviews and to two anonymous referees for their constructive comments on the MS. Sarah Young revised the English. This study was initiated as part of HUNT-Hunting for Sustainability project (http://fp7hunt.net/), which was funded by the European Union's Framework Programme 7; was partially funded by Junta de Comunidades de Castilla-La Mancha through project PPII-2014-016-A; and contributes to PIE 201330E105 (CSIC). M. Delibes-Mateos is currently funded by V Plan Propio de Investigación of the Universidad de Sevilla (Spain).
Electronic supplementary material
About this article
Cite this article
Caro, J., Delibes-Mateos, M., Vázquez-Guadarrama, C. et al. Exploring the views on hunting of Spanish hunters: effect of age and public vs. anonymous opinions. Eur J Wildl Res 63, 88 (2017). https://doi.org/10.1007/s10344-017-1146-x
Received:

Revised:

Accepted:

Published:
Keywords
Conflict

Hunters

NVivo software

Opinion

Public image

The spiral of silence