Abstract
White-tailed deer (Odocoileus virginianus) in Michigan, USA, are wildlife reservoirs of bovine tuberculosis (bTB) with documented spread to cattle. In vaccine efficacy trials, Mycobacterium bovis bacillus Calmette–Guerin (BCG) administered orally reduces colonization and bTB-associated lesions in white-tailed deer after experimental challenge with virulent M. bovis. The objective of this study was to develop and evaluate the palatability of a molasses-based bait for oral delivery of BCG to white-tailed deer. Relevant practical properties of the bait such as physical stability under various environmental conditions were evaluated, as well as palatability. Captive deer consumed baits within 3 h of introduction during 48 of 50 trials. Digital game cameras revealed consumption of all placed baits by one deer over 62 % of the time. Addition of BCG vaccine did not negatively impact palatability. Physical stability analysis demonstrated that ice and water significantly reduced bait stability as measured with a compression assay. Storage of BCG-containing baits at 4 °C showed a slight decrease in colony-forming units (CFUs) by day 31. In contrast, storage at −20 or −80 °C over the same 31-day period showed no significant decrease in BCG viability. The results of this study suggest that molasses-based baits, as prepared here, represent a plausible means of oral delivery of BCG to white-tailed deer under most environmental conditions.
This is a preview of subscription content, log in to check access.
Access options
Buy single article
Instant unlimited access to the full article PDF.
US$ 39.95
Price includes VAT for USA
Subscribe to journal
Immediate online access to all issues from 2019. Subscription will auto renew annually.
US$ 99
This is the net price. Taxes to be calculated in checkout.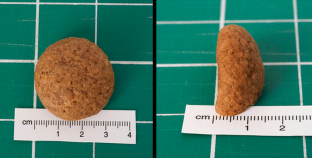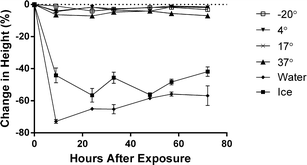 References
Baldwin SL, D'Souza C, Roberts AD, Kelly BP, Frank AA, Liu MA, Ulmer JB, Huygen K, McMurry DM, Orme IM (1998) Evaluation of new vaccines in the mouse and guinea pig model of tuberculosis. Infect Immun 66:2951–2959

Ballesteros C, Gortázar C, Canales M, Vicente J, Lasagna A, Gamarra JA, Carrasco-García R, de la Fuente J (2009a) Evaluation of baits for oral vaccination of European wild boar piglets. Res Vet Sci 86:388–393

Ballesteros C, Garrido JM, Vicente J, Romero B, Galindo RC, Minguijón E, Villar M, Martín-Hernando MP, Sevilla I, Juste R, Aranaz A, de la Fuente J, Gortázar C (2009b) First data on Eurasian wild boar response to oral immunization with BCG and challenge with a Mycobacterium bovis field strain. Vaccine 27:6662–6668

Buddle BM, Aldwell FE, Pfeffer A, de Lisle GW (1994) Experimental Mycobacterium bovis infection in the brushtail possum (Trichosurus vulpecula): pathology, haematology and lymphocyte stimulation responses. Vet Microbiol 38:241–254

Buddle BM, de Lisle GW, Pfeffer A, Aldwell FE (1995) Immunological responses and protection against Mycobacterium bovis in calves vaccinated with a low dose of BCG. Vaccine 13:1123–1130

Carstensen M, O'Brien DJ, Schmitt SM (2011) Public acceptance as a determinant of management strategies for bovine tuberculosis in free-ranging U.S. wildlife. Vet Microbiol 151:200–204

Carter SP, Chambers MA, Rushton SP, Shirley MDF, Schuchert P, Pietravalle S, Murray A, Rogers F, Gettinby G, Smith GC, Delahay RJ, Hewinson RG, McDonald RA (2012) BCG vaccination reduces risk of tuberculosis infection in vaccinated badgers and unvaccinated badger cubs. PLoS 7:e49833. doi:10.1371/journal.pone.0049833

Clark SO, Kelly DLF, Badell E, Castello-Branco LR, Aldwell F, Winter N, Lewis DJM, Marsh PD (2010) Oral delivery of BCG Moreau Rio de Janeiro gives equivalent protection against tuberculosis but with reduced pathology compared to parenteral BCG Danish vaccination. Vaccine 28:7109–7116

Fine, AE, Bolin CA, Gardiner, J.C., Kaneene, J.B. (2011) A study of the persistence of Mycobacterium bovis in the environment under natural weather conditions in Michigan, USA. Vet Med Int p.765430

Hakin S, McShea WJ, Mason JR (1996) Attractiveness of a liquid bait to white-tailed deer in the central Appalachian mountains, Virginia, USA. J Wild Dis 32:395–398

Hermann JR, Fry AM, Siev D, Slate D, Lewis C, Gatewood DM (2011) Stability of vaccinia-vectored recombinant oral rabies vaccine under field conditions: A 3-year study. Can J Vet Res 75:278–284

Monaghan P (1984) Applied ethology. Anim Behav 32:908–912

Nelson AM (1999) The cost of disease eradication. Small pox and bovine tuberculosis. Ann N Y Acad Sci 894:83–91

Nol P, Palmer MV, Waters WR, Aldwell FE, Buddle BM, Triantis JM, Linke JM, Phillips GE, Thacker TC, Rhyan JC, Dunbar MR, Salman MD (2008) Efficacy of oral and parenteral routes of Mycobacterium bovis bacilli Calmette-Guerin vaccination against experimental bovine tuberculosis in white-tailed deer (Odocoileus virginianus): a feasibility study. J Wild Dis 44:247–259

Nol P, Rhyan JC, Robbe-Austerman S, McCollum MP, Rigg TD, Saklou NT, Salman MD (2013) The potential for transmission of BCG from orally vaccinated white-tailed deer (Odocoileus virginianus) to cattle (Bos taurus) through a contaminated environment: experimental findings. PLoS One 8(4): e60257. Doi:10.137/journal.pone.0060257

O'Brien DJ, Schmitt SM, Fitzgerald SD, Berry DE (2011) Management of bovine tuberculosis in Michigan wildlife: current status and near term prospects. Vet Microbiol 151:179–187

Palmer MV, Waters RW, Whipple DL (2004) Shared feed as a means of deer-to-deer transmission of Mycobacterium bovis. J Wild Dis 40:87–91

Palmer MV, Thacker TC, Waters WR (2007) Vaccination of white-tailed deer (Odocoileus virginianus) with Mycobacterium bovis bacillus Calmette Guerin. Vaccine 25:6589–6597

Palmer MV, Thacker TC, Waters WR (2009) Vaccination with Mycobacterium bovis BCG strains Danish and Pasteur in white-tailed deer (Odocoileus virginianus) experimentally challenged with Mycobacterium bovis. Zoonoses Public Health 56:243–251

Palmer MV, Thacker TC, Waters WR, Robbe-Austerman S, Aldwell FE (2012) Persistence of Mycobacterium bovis bacillus Calmette-Guérin (BCG) Danish in white-tailed deer (Odocoileus virginianus) vaccinated with a lipid-formulated oral vaccine. Transbound Emerg Dis doi. doi:10.1111/tbed. 12032

Pound JM, Miller JA, George JE, Lemeilleur CA (2000) The "4-poster" passive topical treatment device to apply acaricide for controlling ticks (Acari: Ixodidae) feeding on white-tailed deer. J Med Entomol 37:588–594

Roess AA, Rea N, Lederman E, Dato V, Chipman R, Slate D, Reynolds MG, Damon IK, Rupprecht CE (2012) National surveillance for human and pet contact with oral rabies vaccine baits, 2001–2009. J Am Vet Med Assoc 240:163–168

Slate D, Algeo TP, Nelson KM, Chipman RB, Donovan D, Blanton JD, Niezgoda M, Rupprecht C (2009) Oral rabies vaccination in North America: opportunities, complexities, and challenges. PLoS 3:e549

Thom ML, McAulay M, Vordermeier HM, Clifford D, Hewinson RG, Villarreal-Ramos B, Hope JC (2012) Duration of immunity against Mycobacterium bovis following neonatal vaccination with bacillus Calmette-Guérin Danish: significant protection against infection at 12 but not 24 months. Clin Vaccine Immunol 19:1254–1260

Tompkins DM, Buddle BM, Whitford J, Cross ML, Yates GF, Lambeth MR, Nugent G (2013) Sustained protection against tuberculosis conferred to a wildlife host by single dose oral vaccination. Vaccine 3:893–899

Wilkins MJ, Bartlett PC, Frawley B, O'Brien DJ, Miller CE, Boulton MJ (2003) Mycobacterium bovis (bovine TB) exposure as a recreational risk for hunters: results of a Michigan Hunter Survey, 2001. Int J Tuberc Lung D 7:1001–1009
Acknowledgments
The authors thank David Lubbers and Jay Steffen for animal care, Emma Frimml-Morgan and Allen Jensen for technical assistance, and Rebecca Madison for veterinary care. Mention of trade names of commercial products in this article is solely for the purpose of providing specific information and does not imply recommendation or endorsement by the US Department of Agriculture.
Additional information
Communicated by C. Gortázar
Electronic supplementary material
Below is the link to the electronic supplementary material.
Near video images showing data collection of bait consumption observations. An example of "Different deer returning" is shown. (MPG 4656 kb).
Near video images showing data collection of bait consumption observations. An example of "Different deer returning" is shown. (MPG 4656 kb).
About this article
Cite this article
Palmer, M.V., Stafne, M.R., Waters, W.R. et al. Testing a molasses-based bait for oral vaccination of white-tailed deer (Odocoileus virginianus) against Mycobacterium bovis . Eur J Wildl Res 60, 265–270 (2014). https://doi.org/10.1007/s10344-013-0777-9
Received:

Revised:

Accepted:

Published:

Issue Date:
Keywords
Bait

White-tailed deer

Mycobacterium bovis

Tuberculosis

Vaccination