Abstract
Site occupancy provides a reasonable estimate of population status and trends, and it also provides an unbiased, cost-effective alternative method for large-scale, multispecies monitoring programs. In this study, we used camera-trapping data to determine carnivoran occupancy and associated environmental factors in Serra da Malcata Nature Reserve, Portugal. The study was intended as a precursor of further long-term multispecies monitoring programs. We estimated carnivoran species occupancy using a likelihood-based method, using the software PRESENCE. The major conclusions of the study were (1) fox occupancy tends to be independent of environmental factors; (2) stone marten occupancy is related with habitat variables, landscape structure, and preys; (3) common genet occupancy is related to broad leaf formations and preys; and (4) mongoose occupancy is higher in extensive areas of shrub habitats. Methodologically, we demonstrated the importance of modeling detection probabilities for species with low or variable detection rates. In the future, monitoring programs could benefit from incorporating estimates of detection probabilities into their design and analysis.
Access options
Buy single article
Instant access to the full article PDF.
USD 39.95
Price includes VAT (USA)
Tax calculation will be finalised during checkout.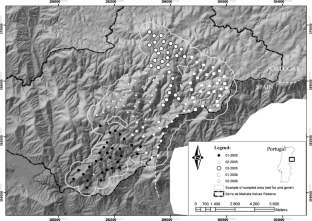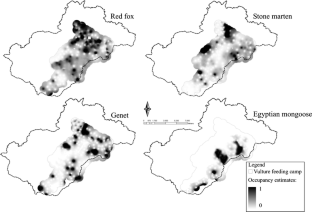 References
Anderson RP, Gómez-Laverde M, Peterson AT (2002) Geographical distributions of spiny pocket mice in South America: insights from predictive models. Glob Ecol Biogeogr 11:131–141

Bailey LL, Simons TR, Pollock KH (2004) Estimating site occupancy and detection probability parameters for terrestrial salamanders. Ecol Appl 14:692–702

Barrientos R, Virgós E (2006) Reduction of potential food interference in two sympatric carnivores by sequential use of shared resources. Acta Oecol 30:107–116

Beja P, Palma P, Pais M (2007) Rabbit Oryctolagus cuniculus habitats in Mediterranean scrubland: the role of scrub structure and composition. Wildlife Biol 13:28–37

Benson JF, Chamberlain MJ (2007) Space use and habitat selection 451 by female Louisiana black bears in the Tensas river Basin of Louisiana. J Wildl Manage 71(1):117–126

Burnham KP, Anderson DR (2002) Model selection and multimodel inference: a practical information-theoretic approach. Springer, New York

Calvete C (2006) Modeling the effect of population dynamics on the impact of rabbit hemorrhagic disease. Conserv Biol 20(4):1232–1241

Carvalho JC, Gomes P (2004) Feeding resource partitioning among four sympatric carnivores in the Peneda-Gerês National Park (Portugal). J Zool London 263:275–283

Cavalini P, Lovari S (1991) Environmental factors influencing the use of habitat in the red fox, Vulpes vulpes. J Zool London 223:323–339

Cavallini P, Santini S (1996) Reproduction of the red fox Vulpes vulpes in Central Italy. Ann Zool Fenn 33:267–274

Clevenger AP (1994) Feeding ecology of Eurasian pine martens and stone martens in Europe. In: Buskirk SW, Harestad AS, Raphael MG, Powell RA (eds) Martens, sables and fishers: biology and conservation. Cornell University Press, New York, pp 326–340

Conroy M (1996) Abundance indices. In: Wilson DE, Cole FR, Nichols JD, Rudran R, Foster MS (eds) Measuring and monitoring biological diversity: standard methods for mammals. Smithsonian Institution, Washington, pp 179–192

Cooch E, White G (2005) Program Mark: a gentle introduction. http://www.phidot.org/software/mark/docs/book

Crooks KR (2002) Relative sensitivities of mammalian carnivores to habitat fragmentation. Conserv Biol 16:488–502

Cruz J (2002) Genet (Genetta genetta): resource selection and spatial organization. Master Thesis. Biology Department. Coimbra University

Cruz J, Sarmento P (1998) Some ecological aspects of the red fox at Serra da Malcata. Page 329 in Proceedings of the Euro-American Mammal Congress, Santiago de Compostela, Spain

Fahrig L, Merriam G (1994) Conservation of fragmented populations. Conserv Biol 8:50–59

Finley D, White G, Fitzgerald J (2005) Estimation of swift fox population size and occupancy rates in eastern Colorado. J Wildl Manage 69(3):861–873

Genovesi P, Sinibaldi I, Boitani L (1996) Spacing patterns and territoriality of the stone marten. Can J Zool 75:1966–1971

Gese EM (2001) Monitoring of terrestrial carnivore populations. In: Gittleman JL, Funk SM, Macdonald D, Wayne RK (eds) Carnivore conservation. University Press, Cambridge, pp 372–398

Gittleman J (1993) Carnivore life histories: a re-analysis in the light of new models. In: Dunstone N, Gorman ML (eds) Mammals as predators. Clarendon, Oxford, pp 65–84

Gommper ME, Hackett HM (2005) The long-term, range-wide decline of a once common carnivore: the eastern spotted skunk (Spilogale putorius). Anim Conserv 8(2):195–201

Hicks NG, Menzel MA, Laherm J (1998) Bias in the determination of temporal activity patterns of syntopic Peromyscus in the Southern Appalachians. J Mammal 79:1016–1020

Karanth KU, Nichols JD (1998) Estimation of tiger densities in India using photographic captures and recaptures. Ecology 79:2852–2862

Kliskey AD, Byrom A, Norbury G (2000) Spatial prediction 497 of predation in the landscape: a GIS-based approach to predator-prey interactions for conservation management. 4th International Conference on Integrating GIS and Environmental Modelling (GIS/EM4): problems, prospects and research needs. Banff, Alberta, Canada, September 2–8, 2000

Linkie MY, Dinata A, Nugroho A, Haidir IA (2007) Estimating occupancy of a data deficient mammalian species living in tropical rainforests: Sun bears in the Kerinci Seblat region, Sumatra. Biol Conserv 137:20–27

Liszka T (1984) An interpolation method for an irregular net of nodes. Int J Numer Meth Eng 20(9):1599–1612

Long R (2006) Developing predictive occurrence models for carnivores in Vermont using data collected with multiple noninvasive methods. Ph.D. Dissertation, University of Vermont, Burlington

Lucherini M, Lovari S, Crema G (1995) Habitat use and ranging behaviour of the red fox (Vulpes vulpes) in a Mediterranean rural area: is shelter availability a key factor? J Zool 237:577–591

MacKenzie DI, Nichols JD, Lachman GB, Droege S, Royle JA, Langtimm CA (2002) Estimating site occupancy rates when detection probabilities are less than one. Ecology 83:2248–2255

MacKenzie DI, Bailey LL, Nichols JD (2004) Investigating species co-occurrence patterns when species are detected imperfectly. J Anim Ecol 73:546–555

MacKenzie DI, Royle JA, Nichols JD, Pollock KH, Bailey LL, Hines JE (2006) Occupancy estimation and modelling: inferring patterns and dynamics of species occurrence. Academic, New York

Mangas JG, Lozano J, Cabezas-Díaz S, Virgós E (2008) The priority value of scrubland habitats for carnivore conservation in Mediterranean ecosystems. Biodivers Conserv 17:43–51

Manley P, Schlesinger M, Roth J, Van Horne B (2005) A fieldbased evaluation of a presence-absence protocol for monitoring ecoregional-scale biodiversity. J Wildl Manage 69(3):950–966

O'Connell AF Jr, Talancy NW, Bailey LL, Sauer JR, Cook R, Gilbert AT (2006) Estimating site occupancy and detection probability parameters for meso- and large mammals in a coastal ecosystem. J Wildl Manage 70(6):1626–1633

Otani T (2001) Seed dispersal by Japanese marten Martes melampus in the subalpine shrubland of northern Japan. Ecol Res 17:29–38

Otis DL, Burnham KP, White CG, Anderson DR (1978) Statistical inference from capture data on closed animal's populations. Wildlife Monogr 62

Padial JM, Ávila E, Gil-Sánchez JM (2002) Feeding habits and overlap among red fox (Vulpes vulpes) and stone marten (Martes foina) in two Mediterranean mountain habitats. Mammal Biol 67:137–146

Palomares F, Delibes M (1990) Habitat preference of large grey mongooses Herpestes ichneumon in Spain. Acta Theriol 35(1–2):1–6

Pandolfi M, De Marinis AM, Pretov I (1996) Fruit as a winter feeding resource in the diet of Stone marten (Martes foina) in east-central Italy. Z Säugetierk 61:215–220

Perkins MW, Conner LM (2004) Habitat use of fox squirrels in southwestern Georgia. J Wildl Manage 68:509–513

Pimm SL, Hones JL, Diamond J (1988) On the risk of extinction. Am Nat 122:757–785

Royle JA, Nichols JD (2003) Estimating abundance from repeated presence-absence counts. Ecology 84:777–790

Sacchi O, Meriggi A (1995) Habitat requirements of the stone marten (Martes foina) on the Tyrrhenian slopes. Hystrix 7(1–2):99–104

Sarmento P, Cruz J, Eira C, Fonseca C (2009a) Evaluation of camera trapping for estimating red fox abundance. J Wildl Manage 73(7):1207–1212

Sarmento P, Cruz J, Eira C, Fonseca C (2009b) Habitat selection and abundance of common genets Genetta genetta using camera capture-mark-recapture data. Eur J Wildlife Res 56(1):59–66

Smith DM, Kelly JF, Finch DM (2007) Avian nest box selection and nest success in burned and unburned southwestern riparian forest. J Wildl Manage 71(2):411–421

Swann D, Hass CC, Dalton D, Wolf S (2004) Infrared-triggered cameras for detecting wildlife: an evaluation and review. Wildl Soc Bull 32:357–365

Torre I, Peris A, Tena L (2005) Estimating the relative abundance and temporal activity patterns of wood mice (Apodemus sylvaticus) by remote photography in Mediterranean post-fire habitats. Galemys 17:41–52

Virgós E, Lorente M, Cortés Y (1999) Geographical variation in Genet (Genetta genetta L.) diet: a literature review. Mamm Rev 29:117–126

Virgós E, Telleria JL, Santos T (2002) A comparison on the response to forest fragmentation by medium-sized Iberian carnivores in central Spain. Biodiv Conserv 11:1063–1079

Webbon C, Baker PJ, Harris S (2004) Faecal density counts for monitoring changes in red fox numbers in rural Britain. J Appl Ecol 41:768–779

Yoccoz NG, Nichols JD, Boulinier T (2001) Monitoring of biological diversity in space and time. Trends Ecol Evol 16:446–453

Zapata SC, Travaini A, Delibes M (1997) Reproduction of the red fox, Vulpes vulpes, in Donana, southern Spain. Mammalia 61:628–631
Additional information
Communicated by H. Kierdorf
About this article
Cite this article
Sarmento, P.B., Cruz, J., Eira, C. et al. Modeling the occupancy of sympatric carnivorans in a Mediterranean ecosystem. Eur J Wildl Res 57, 119–131 (2011). https://doi.org/10.1007/s10344-010-0405-x
Received:

Revised:

Accepted:

Published:

Issue Date:
Keywords
Camera trapping

Iberian carnivores

Occupancy rate

Software PRESENCE

Site occupancy