Abstract
Phytopathogenic fungi infect plants during growth, development, and harvest and their products during postharvest storage and transport. Fungicides are applied indiscriminately to combat these pathogens, posing a serious threat to humans, animals, and the environment. Some filamentous fungi also produce mycotoxins, which pose further problems. In this study we evaluated the antifungal activity of Saussurea lappa root extracts against several potent phytopathogenic fungi (Fusarium solani, F. moniliforme, F. oxysporum, Helminthosporium sativum, and Macrophomina phaseoloni). Various solvent extracts (methanol, ethanol, dichloromethane, ethyl acetate, and water) of the S. lappa root were used. We found that methanol, ethanol, and dichloromethane extracts had potent antifungal activity against all tested isolates. M. phaseolina showed the highest inhibition (89%) with a 5% methanol extract of S. lappa, and severe damage to the morphology and ultrastructure of its cells was also observed. SEM micrographs revealed that cells treated with S. lappa extracts had distorted, peeled, twisted, and shortened mycelium and peeled, completely distorted, and underdeveloped conidia. Moreover, the dichloromethane S. lappa extract (5%) arrested conidial development completely. Similarly, TEM studies showed that treated cells lacked clear demarcations between the cell membrane and cell wall, and had heavy vacuolation, a detached cytoplasm, ruptured and distorted mycelium and conidia, and a clear deposition of electron dense granules on the outer surface. GC-MS and FTIR studies indicated the presence of important bioactive compounds and functional groups in the extracts. Our results indicate that S. lappa roots are a rich source of bioactive compounds that can affect the integrity, stability, and structure of the fungal cell membrane, ultimately leading to cell death. Thus, root extracts could serve as eco-friendly, safe alternatives to the fungicides that are applied at both the harvest and postharvest stages.
Zusammenfassung
Phytopathogene Pilze infizieren Pflanzen während des Wachstums, der Entwicklung und der Ernte und die Pflanzenprodukte während der Lagerung und des Transports nach der Ernte. Fungizide werden unkontrolliert zur Bekämpfung dieser Krankheitserreger eingesetzt und stellen eine ernsthafte Bedrohung für Mensch, Tier und Umwelt dar. Einige filamentöse Pilze produzieren auch Mykotoxine, die weitere Probleme bereiten. In dieser Studie haben wir die antimykotische Aktivität von Saussurea Lappa-Wurzelextrakten gegen mehrere starke phytopathogene Pilze (Fusarium solani, F. moniliforme, F. oxysporum, Helminthosporium sativum und Macrophomina phaseoloni) untersucht. Verwendet wurden verschiedene Lösungsmittelextrakte (Methanol, Ethanol, Dichlormethan, Ethylacetat und Wasser) der S. lappa-Wurzel. Wir fanden heraus, dass Methanol‑, Ethanol- und Dichlormethanextrakte eine starke antimykotische Wirkung gegen alle getesteten Isolate haben. M. phaseolina zeigte die höchste Hemmung (89 %) bei Behandlung mit einem 5 %igen Methanolextrakt aus S. lappa, weiterhin wurden schwere Schäden an der Morphologie und Ultrastruktur der Zellen beobachtet. Rasterelektronenmikroskopische Aufnahmen zeigten, dass die Zellen, die mit S. lappa-Extrakten behandelt wurden, ein verformtes, abgelöstes, verdrehtes und verkürztes Myzel aufwiesen sowie abgelöste, vollständig verformte und unterentwickelte Konidien. Darüber hinaus hemmte der Dichlormethanextrakt (5 %) die konidiale Entwicklung vollständig. Ebenso zeigten transmissionselektronenmikroskopische Studien, dass behandelte Zellen keine klaren Abgrenzungen zwischen Zellmembran und Zellwand, eine starke Vakuolenbildung sowie ein abgelöstes Zytoplasma aufwiesen. Myzel und Konidien waren gerissen und verformt, auf der Außenfläche waren elektronendichte Granulate zu finden. GC-MS- und FTIR-Studien belegten das Vorhandensein wichtiger bioaktiver Verbindungen und Funktionsgruppen in den Extrakten. Unsere Ergebnisse deuten darauf hin, dass S. lappa-Wurzeln eine reichhaltige Quelle an bioaktiven Verbindungen darstellen, die die Integrität, Stabilität und Struktur der Pilzzellmembran beeinträchtigen können, was letztendlich zum Zelltod führt. So könnten Wurzelextrakte als umweltfreundliche, sichere Alternative zu den Fungiziden dienen, die sowohl in der Ernte- als auch in der Nacherntephase angewendet werden.
This is a preview of subscription content, log in to check access.
Access options
Buy single article
Instant access to the full article PDF.
US$ 39.95
Price includes VAT for USA
Subscribe to journal
Immediate online access to all issues from 2019. Subscription will auto renew annually.
US$ 99
This is the net price. Taxes to be calculated in checkout.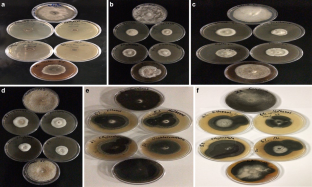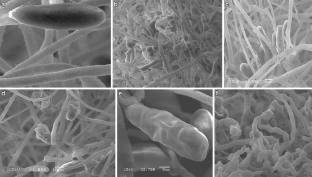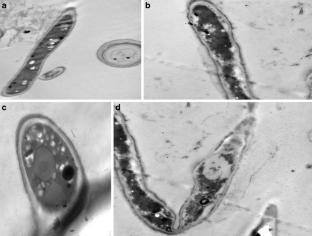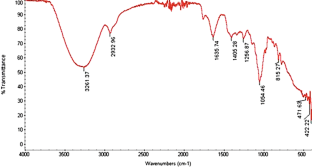 References
Abdallah EM, Qureshi KA, Ali AM, Elhassan GO (2017) Evaluation of some biological properties of Saussurea costus crude root extract. Biosci Biotechnol Res Comm 10:601–611

Alaagib RMO, Ayoub SMH (2015) On the chemical composition and antibacterial activity of Saussurea lappa (Asteraceae). Pharma Innov J 4:73–76

Alnahdi HS, Danial EN, Elhalwagyand MEAE, Ayaz NO (2017) Phytochemical studies, antioxidant properties and antimicrobial activities of herbal medicinal plants Costus and Cidir used in Saudi Arabia. Int J Pharmacol 13:481–487

Altuntas HD, Hamurcu Z, Imamoglu N, Liman BC (2003) Effects of ochratoxin A on micronucleus frequency in human lymphocytes. Nahrung 47:33–35

Antunesa MDC, Cavacob AM (2010) The use of essential oils for postharvest decay control. A review. Flavour Fragr J 25:351–366

Aruscavage D, Lee K, Miller S, LeJeune JT (2006) Interactions affecting the proliferation and control of human pathogens on edible plants. Food Sci 71:R89–R99

Bossche VH, Marichal P (1992) Azole antifungals: mode of action. In: Yamaguchi H, Kobayashi GS, Takahashi H (eds) Recent progress in antifungal chemotherapy. Marcel Dekker, New York, pp 25–40

Butola JS, Samant SS (2010) Saussurea species in Indian Himalayan Region: diversity, distribution and indigenous uses. Int J Plant Biol 1:43–51

Chadwick M, Trewin H, Gawthrop F, Wagstaff C (2013) Sesquiterpenoids lactones: benefits to plants and people. Int J Mol Sci 14:12780–12805

Chang KM, Kim GH (2008) Comparison of volatile aroma components from Saussurea Lappa C.B. Clarke root oils. Prev Nutr Food Sci 13:128–133

Chauhan RS, Bahuguna YM, Nautiyal MC, Cota-Sanchez JH (2018) First account of vivipary in Saussurea lappa (Decne.) Sch. Bip. (Asteraceae). Rev Bras Bot 41:507–514. https://doi.org/10.1007/s40415-018-0450-3

Chen Q, Xu S, Wu T, Guo J, Sha S, Zheng X, Yu T (2014) Effect of citronella essential oil on the inhibition of postharvest Alternaria alternata in cherry tomato. J Sci Food Agric 94:2441–2447. https://doi.org/10.1002/jsfa.6576

Dhar GH, Virjee J, Kachroo P, Buth GM (1984) Ethnobotany of Kashmir I. Sind Valley. J Econ Taxon Bot 5:668–675

Gwari G, Bhandari U, Andola HC, Lohani H, Chauhan N (2013) Volatile constituents of Saussurea costus roots cultivated in Uttarakhand Himalayas, India. Phcog Res 5:179–182

Hasson SSA, Al-Balushi MS, Alharthy K, Al-Busaidi JZ, Aldaihani MS, Othman MS, Said ES, Habal O, Sallam TA, Aljabri AA, Idris MA (2013) Evaluation of anti-resistant activity of Auklandia (Saussurea lappa) root against some human pathogens. Asian Pac J Trop Biomed 3:557–562

Hua H, Xing F, Selvaraj JN, Wang Y, Zhao Y, Zhou L, Liu X, Liu Y (2014) Inhibitory effect of essential oils on Aspergillus ochraceus growth and ochratoxin A production. PLoS ONE 9:e108285. https://doi.org/10.1371/journal.pone.0108285

Kalidindi N, Thimmaiah NV, Jagadeesh NV, Nandeep R, Swetha S, Kalidindi B (2015) Antifungal and antioxidant activities of organic and aqueous extracts of Annona squamosa Linn. Leaves. J Food Drug Anal 23:795–802

Keon JPR, White GA, John A, Hargreaves JA (1991) Isolation, characterization and sequence of a gene conferring resistance to the systemic fungicide carboxin from the maize smut pathogen, Ustilago maydis. Curr Genet 19:475–481

Khalid A, Rehman U, Sethi A, Khilji S, Fatima U, Khan MI, Waqas MK, Saqib QN, Hassham M, Asad HB, Farzana K, Mahmood S, Waseem A, Ismail T, Murtaza G (2011) Antimicrobial activity analysis of extracts of Acacia modesta, Artimisia absinthium, Nigella sativa and Saussurea lappa against Gram positive and Gram negative microorganisms. Afr J Biotechnol 10:4574–4580

Kim E, Lee HM, Kim YH (2017) Morphogenetic alterations of Alternaria alternata exposed to dicarboximide fungicide iprodione. Plant Pathol J 33:95–100

Madhuri K, Elango K, Ponnusankar S (2012) Saussurea lappa (Kuth root): review of its traditional uses, phytochemistry and pharmacology. Orient Pharm Exp Med 12:1–9. https://doi.org/10.1007/s13596-011-0043-1

Meepagala KM, Kuhajek JM, Sturtz GD, Wedge DE (2003) Vulgarone B, the antifungal constituent in the steam-distilled fraction of Artemisia douglasiana. J Chem Ecol 29:1771–1780

Mohamed A, Aldaw M, Ismail E, Algasim AA, Karar E (2017) Evaluation of antimicrobial activity of different solvent extracts of Saussurea lappa. World J Pharm Pharmaceut Sci 6:12–18

Nageswara R, Satyanarayana R, Suresh B, Vadaparthi R (2013) HPLC determination of costunolide as a marker of Saussurea lappa and its herbal formulations. Int J Res Pharm Chem 3:99–107

Negedu A, Atawodi SE, Ameh JB, Umoh VJ, Tanko HY (2011) Economic & health perspectives of mycotoxins: a review. Cont J Biomed Sci 5:5–26

Nishiyama Y, Asagi Y, Hiratani T, Yamaguchi H, Yamada N, Osumi M (1992) Morphological changes associated with growth inhibition of Trichophyton mentagrophytes by amorolfine. Clin Exp Dermatol 17:13–17

Nishiyama Y, Takahata S, Abe S (2017) Morphological effect of the new antifungal agent ME1111 on hyphal growth of Trichophyton mentagrophytes, determined by scanning and transmission electron microscopy. Antimicrob Agents Chemother 61:e1195–e11916. https://doi.org/10.1128/AAC.01195-16

Rahman MA, Hong JS, Huh SO (2015) Antiproliferative properties of Saussurea lappa Clarke root extract in SH-SY5Y neuroblastoma cells via intrinsic apoptotic pathway. Anim Cell Syst 19:119–126

Rao KS, Babu GV, Ramnareddy YV (2007) Acylated flavone glycosides from the roots of Saussurea lappa and their antifungal activity. Molecules 12:328–344

Rao RN, Raju SS, Babu KS, Vadaparthi PRR (2013) HPLC Determination of Costunolide as a Marker of Saussurea lappa and Its Herbal Formulations. Int J Biochem 3:99–107

Rao Vadaparthi PR, Kumar K, Sarma VUM, Hussain QA, Babu KS (2015) Estimation of costunolide and dehydrocostus Lactone in Saussurea lappa and its polyherbal formulations followed by their stability studies using HPLC-DAD. Pharmacogn Mag 11:180–190

Reddy KRN, Salleh B, Saad B, Abbas HK, Abel CA, Shier WT (2010) An overview of mycotoxin contamination in foods and its implications for human health. J Toxicol Toxin Rev 29:3–26

Rosen T, Gold SLF (2016) Antifungal drugs for onychomycosis: efficacy, safety, and mechanisms of action. Semin Cutan Med Surg 35:S51–S55. https://doi.org/10.12788/j.sder.2016.009

Singh R, Chahal KK, Singla N (2017) Chemical composition and pharmacological activities of Saussurea lappa: a review. J Pharmacogn Phytochem 6:1298–1308

Sutar N, Garai R, Sharma US, Singh N, Roy SD (2011) Antiulcerogenic activity of Saussurea lappa root. Int J Pharm Life Sci 2:516–520

Tripathi P, Dubey NK (2004) Exploitation of natural products as an alternative strategy to control postharvest fungal rotting of fruit and vegetables. Postharvest Biol Technol 32:235–245. https://doi.org/10.1016/j.postharvbio.2003.11.005

Wang JS, Groopman JD (1999) DNA damage by mycotoxins. Mutat Res 424:167–181

Yaeesh S, Jamal Q, Shah AJ, Gilani AH (2010) Antihepatotoxic activity of Saussurea lappa extract on D‑galactosamine and lipopolysaccharide-induced hepatitis in mice. Phytother Res 24:S229–S232

You M, Wickramaratne DB, Silva GL, Chai H, Chagwedera TE, Farnsworth NR, Cordell GA, Kinghorn AD, Pezzuto JM (1995) (‑) Roemerine, an aporphine alkaloid from Annonas enegalensis that reverses the multidrug-resistance phenotype with cultured cells. J Nat Prod 58:598–604

Zahara K, Tabassum S, Sabir S, Arshad M, Qureshi R, Amjad MS, Chaudhari SK (2014) A review of therapeutic potential of Saussurea lappa—an endangered plant from Himalaya. Asian Pac J Trop Med S1:S60–S69. https://doi.org/10.1016/s1995-7645(14)60204-2
Funding
This Research Project was supported by a grant from the "Research Centre of the Centre for Female Scientific and Medical Colleges", Deanship of Scientific Research, King Saud University through a research group No (SMRC-1904).
Ethics declarations
Conflict of interest
F. Al Otibi, H. Rizwana, R.I. Alharbi, N. Alshaikh and G. Albasher declare that they have no competing interests.
About this article
Cite this article
Al Otibi, F., Rizwana, H., Alharbi, R.I. et al. Antifungal Effect of Saussurea lappa Roots Against Phytopathogenic Fungi and Resulting Morphological and Ultrastructural Changes. Gesunde Pflanzen 72, 57–67 (2020). https://doi.org/10.1007/s10343-019-00483-5
Received:

Accepted:

Published:

Issue Date:
Keywords
Saussurea lappa

Bioactive compounds

GC-MS

FTIR

Scanning electron microscopy

Transmission electron microscopy
Schlüsselwörter
Saussurea lappa

Bioaktive Verbindungen

GC-MS

FTIR

Rasterelektronenmikroskopie

Transmissionselektronenmikroskopie