Abstract
The main goal of the present study was to evaluate the hexanoic acid (HEX) and acetic acid (ACET), two active ingredients of the nematicidal Melia azedarach fruits water extract (MWE), for use on root knot nematodes control. We studied the effect of the acids on various growth stages of the phytoparasitic nematode Meloidogyne javanica, along with the phytotoxicity on tomato plants, their fate in soil and ecotoxicology, including non-target soil nematode and microbial communities. The EC50/4d values established for paralysis activity on second-stage juveniles were 195 and 49 μg mL−1 for HEX and ACET, respectively. Both acids significantly inhibited M. javanica undifferentiated egg hatch and J2 release from free eggs immersed in 100 μg mL−1 solutions, but only HEX achieved activity when egg masses were treated with acids' concentrations greater than 50 μg mL−1. HEX lasted longer in soil than ACET did and yielded less females of M. javanica per gram of tomato root (EC50 = 112 mg kg−1). Other than efficacy, the two acids had a negative impact on the free-living nematode abundances compared to the control, thus implying an eco-toxic character. MWE is effective for the target nematodes and increases the abundance of free-living nematodes and the microbial biomass.
This is a preview of subscription content, log in to check access.
Access options
Buy single article
Instant unlimited access to the full article PDF.
US$ 39.95
Price includes VAT for USA
Subscribe to journal
Immediate online access to all issues from 2019. Subscription will auto renew annually.
US$ 99
This is the net price. Taxes to be calculated in checkout.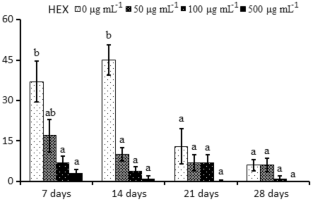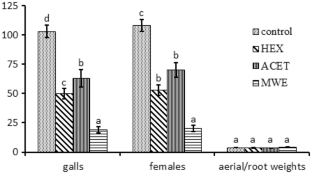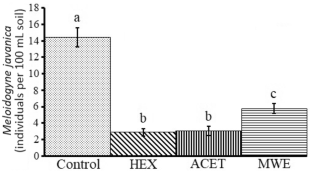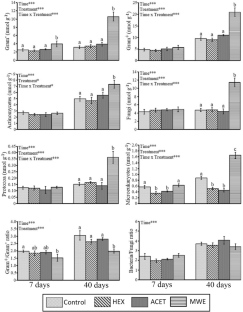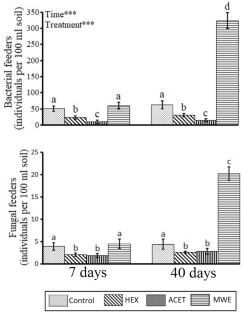 References
Andrés MF, González-Coloma A, Sanz J, Burillo J, Sainz P (2012) Nematicidal activity of essential oils: a review. Phytochem Rev 11:371–390

Bongers T (1994) De nematoden van Nederland. Pirola, Schoorl

Borges DF, Lopes EA, Fialho-Moraes AR, Soares MS, Visôtto LE, Oliveira CR, Moreira-Valente VM (2018) Formulation of botanicals for the control of plant-pathogens: a review. Crop Prot 110:135–140

Cavoski I, Chami Z, Bouzebboudja F, Sasanelli N, Simeone V, Mondelli D, Miano T, Sarais G, Ntalli NG, Caboni P (2012) Melia azedarach controls Meloidogyne incognita and triggers plant defence mechanisms on cucumber. Crop Prot 35:85–90

Commission European (1991) Council directive 91/414/EEC of 15 July 1991 concerning the placing of plant protection products on the market. Off J Eur Commun L 230:1–32

Commission European (2009) Regulation (EC) No 1107/2009 of the European Parliament and of the Council of 21 October 2009 concerning the placing of plant protection products on the market and repealing Council Directives 79/117/EEC and 91/414/EEC. Off J Eur Union 309:1–50

European Commission (2011) Commission Implementing Regulation (EU) No 540/2011 of 25 May 2011 implementing Regulation (EC) No 1107/2009 of the European Parliament and of the Council as regards the list of approved active substances

Findlay RH (2004) Determination of microbial community structure using phospholipid fatty acid profiles. In: Kowalchuk GA, Bruijn FJD, Head IM, Akkermans ADL, Elsas JDV (eds) Molecular microbial ecology manual, 2nd edn. Kluwer Academic Publishers, Dordrecht, pp 983–1004

Grabau ZJ, Vetsch JA, Chen S (2018) Swine manure, nematicides, and long-term tillage change soil ecology in corn and soybean production. Agron J 110:2288–2301

Hernández-Carlos B, Gamboa-Angulo M (2019) Insecticidal and nematicidal contributions of Mexican flora in the search for safer biopesticides. Molecules 24:897

Hussey RS, Barker KR (1973) Comparison of methods of collecting inocula of Meloidogyne spp. including a new technique. Plant Dis Rep 57:1025–1028

Ipsilantis I, Samourelis C, Karpouzas DG (2012) The impact of biological pesticides on arbuscular mycorrhizal fungi. Soil Biol Biochem 45:147–155

Karpouzas DG, Karanasios E, Menkissoglu-Spiroudi U (2004) Enhanced microbial degradation of Cadusafos in potato monoculture: demonstration and characterization. Chemosphere 56:549–559

Li J, Wang D, Fan W, He R, Yao Y, Sun L, Zhao X, Wu J (2018) Comparative effects of different organic materials on nematode community in continuous soybean monoculture soil. Appl Soil Ecol 125:12–17

Ntalli NG, Caboni P (2012) Botanical nematicides in the mediterranean basin. Phytochem Rev 11:351–359

Ntalli NG, Vargiu S, Menkissoglu-Spiroudi U, Caboni P (2010) Nematicidal carboxylic acids and aldehydes from Melia azedarach fruits. J Agric Food Chem 58:11390–11394

Ntalli N, Nasiou E, Menkissoglu Spiroudi U (2013) Evaluation of essential oils from rosemary, orange, lavandula and false yellowhead on hatching and motility of root-knot nematode. J Agric Sci Technol A3:603–616

Ntalli N, Ratajczak M, Oplos C, Menkissoglu-Spiroudi U, Adamski Z (2016) Acetic acid, 2-undecanone, and (E)-2-decenal ultrastructural malformations on Meloidogyne incognita. J Nematol 48:248–260

Ntalli N, Monokrousos N, Rumbos C, Kontea D, Zioga D, Argyropoulou MD, Menkissoglu-Spiroudi U, Tsiropoulos NG (2018) Greenhouse biofumigation with Melia azedarach controls Meloidogyne spp. and enhances soil biological activity. J Pest Sci 91:29–34

Ntalli N, Zioga D, Argyropoulou DM, Papatheodorou ME, Menkissoglu-Spiroudi U, Monokrousos N (2019) Anise, parsley and rocket as nematicidal soil amendments and their impact on non-target soil organisms. Appl Soil Ecol 143:17–25

Oplos C, Eloh KB, Menkissoglu-Spiroudi U, Caboni P, Ntalli N (2018) Nematicidal weeds, Solanum nigrum and Datura stramonium. J Nematol 50:317–328

Papadopoulou ES, Karpouzas DG, Menkissoglu-Spiroudi U (2011) Extraction parameters significantly influence and the quantity and the profile of PLFAs extracted from soil. Microb Ecol 62:704–714

Puntener W (1981) Manual for field trials in plant protection, 2nd edn. Ciba-Geigy Limited, Basle

Rousidou C, Papadopoulou ES, Kortsinidou M, Giannakou IO, Singh BK, Menkissoglu-Spiroudi U, Karpouzas DG (2013) Biopesticides: harmful or harmless to ammonia oxidizing microorganisms? The case of a Paecilomyces lilacinus-based nematicide. Soil Biol Biochem 67:98–105

S'Jacob JJ, van Bezooijen J (1984) A manual for practical work in nematology. Department of Nematology, Wageningen Agricultural University, Wageningen

SANCO/10363/2012-rev.9 Working document on the procedure for application of basic substances to be approved in compliance with Article 23 of Regulation (EC) No 1107/2009

SANCO/2602/2008-rev. 5 Final review report for the active substance acetic acid. Finalised in the standing committee on the food chain and animal health at its meeting on 28 October 2008 in view of the inclusion of acetic acid in Annex I of Directive 91/414/EEC. European Commission, Health and Consumer Protection Directorate General

Seefeldt SS, Jensen JE, Fuerst EP (1995) Log-logistic analysis of herbicide dose response relationships. Weed Technol 9:218–227

Seiber J, Coats J, Duke SO, Gross AD (2019) Biopesticides: state of the art and future opportunities. J Agric Food Chem 62:11613–11619

Spyrou IM, Karpouzas DG, Menkissoglu-Spiroudi U (2009) Do botanical pesticides alter the structure of the soil microbial community? Microbial Ecol 58:715–727

Suciu N, Vasileiadis S, Puglisi E, Pertile G, Tourna M, Karas PΑ, Papolla A, Ferrarini A, Sulowic S, Fornasier F, Lucini L, Karpouzas DG, Trevisan M (2019) Azadirachtin and trifloxystrobin had no inhibitory effects on key soil microbial functions even at high dose rates. Appl Soil Ecol 137:29–38

Tzortzakakis EA, Cantalapiedra-Navarrete C, Archidona-Yuste A, Kormpi M, Palomares-Rius JE, Castillo P (2019) First report of cultivated Cretan mountain tea (Sideritis syriaca) as a host of Meloidogyne hapla and M. javanica in Crete, with some additional records on the occurrence of Meloidogyne species in Greece. J Nematol 51:1–4

Yeates GW, Bongers T, de Goede RGM, Freckman DW, Georgieva SS (1993) Feeding habits in nematode families and genera—an outline for soil ecologists. J Nematol 25:315–331
Acknowledgements
Special thanks are due to T. Koufakis and AGRIS SA for providing seeds and seedlings and to Dr. Emmanuel Tzortzakakis for the nematode species specimens.
Funding
This study was not funded by any sources.
Ethics declarations
Conflict of interest
The authors declare that they have no conflict of interest.
Ethical approval
This article does not contain any studies with human participants performed by any of the authors.
Additional information
Publisher's Note
Springer Nature remains neutral with regard to jurisdictional claims in published maps and institutional affiliations.
Communicated by M.B. Isman.
About this article
Cite this article
Ntalli, N., Menkissoglu-Spiroudi, U., Doitsinis, K. et al. Mode of action and ecotoxicity of hexanoic and acetic acids on Meloidogyne javanica. J Pest Sci (2020) doi:10.1007/s10340-020-01193-y
Received:

Revised:

Accepted:

Published:
Keywords
Carboxylic acids

Soil communities

Chinaberry

Nematicidal