Abstract
Conventional fruit fly control via insecticides or the combination of a bait and an insecticide rarely achieves optimal results and faces mounting pressure due to its negative environmental impact. Host marking pheromones (HMPs) represent a biorational alternative that can be used as a repellent ('push') either alone or in combination with a lethal bait spray such as GF120TM ('pull') to enhance fruit fly control efficacy. Here, we tested the synthetic HMP (Anastrephamide) of Anastrepha ludens in combination with a laced protein bait, to reduce grapefruit infestation in field-cage studies and evaluate the effectiveness of a 'push–pull' system. GF120TM and four Anastrephamide concentrations were used: 2.5, 5, 10, and 20 g active ingredient (AI) per 100 L of water. Our control was spraying only water. 'Push,' 'pull,' and 'push–pull' approaches were tested by treating only one-half of the canopy with Anastrephamide ('push') or only with GF120TM ('pull'), or one-half with Anastrephamide and the other with GF120™ ('push–pull' system). The 'push–pull' system worked well, as A. ludens ovipositions were mostly recorded in the GF120TM-treated half. Regardless of the deployment strategy, the highest reduction in A. ludens infestation was obtained with 5 g AI/hl Anastrephamide, reaching efficacies (Abbott index) of 63/65% (reduction in infested fruit) and 64/61% (reduction in mean larvae and pupae/fruit) in the 'push' and 'push–pull' approaches, respectively. Several hurdles still need to be overcome, as fly behavior is more complex than originally envisioned, and a more efficient attractant is needed to increase the power of the 'pull' part of the system.
This is a preview of subscription content, log in to check access.
Access options
Buy single article
Instant unlimited access to the full article PDF.
US$ 39.95
Price includes VAT for USA
Subscribe to journal
Immediate online access to all issues from 2019. Subscription will auto renew annually.
US$ 99
This is the net price. Taxes to be calculated in checkout.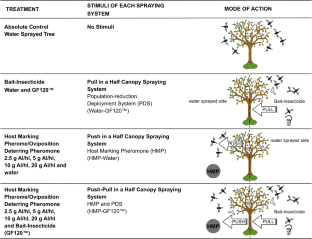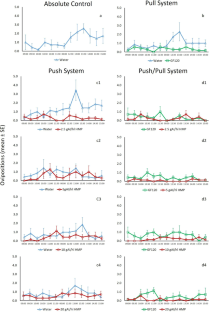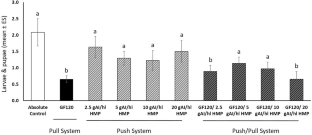 References
Abbott WS (1925) A method of computing the effectiveness of an insecticide. J Econ Entomol 18:265–267

Aluja M, Boller EF (1992a) Host-marking pheromone of Rhagoletis cerasi: foraging behavior in response to synthetic pheromonal isomers. J Chem Ecol 18:1299–1311

Aluja M, Boller EF (1992b) Host-marking pheromone of Rhagoletis cerasi: field development of synthetic pheromone as a novel cherry fly management strategy. Entomol Exp Appl 65:141–147

Aluja M, Díaz-Fleischer F (2006) Foraging behavior of Anastrepha ludens, A. obliqua and A. serpentina in response to feces extracts containing host marking pheromone. J Chem Ecol 32:367–389

Aluja M, Rull J (2009) Managing pestiferous fruit flies (Diptera: Tephritidae) through environmental manipulation. In: Aluja M, Leskey T, Vincent C (eds) Biorational tree fruit pest management. CAB International, Wallingford, pp 171–213

Aluja M, Piñero J, López M, Ruíz C, Zúñiga A, Piedra E, Díaz-Fleischer F, Sivinski J (2000) New host plant and distribution records in Mexico for Anastrepha spp., Toxotrypana curvicauda Gerstacker, Rhagoletis zoqui Bush, Rhagoletis sp., and Hexachaeta sp. (Diptera: Tephritidae). Proc Entomol Soc Wash 102:802–815

Aluja M, Díaz-Fleischer F, Edmunds AJF, Hagmann L (2003) Isolation, structural determination, synthesis, biological activity and application as control agent of the host marking pheromone (and derivatives thereof) of the fruit flies of the type Anastrepha (Diptera: Tephritidae). Patent Number US 6,555,120 B1

Aluja M, Díaz-Fleischer F, Boller EF, Hurter J, Edmunds AJF, Hagmann L, Patrian B, Reyes J (2009) Application of feces extracts and synthetic analogues of the host marking pheromone of Anastrepha ludens significantly reduces fruit infestation by A. obliqua in tropical plum and mango backyard orchards. J Econ Entomol 102:2268–2278

Aluja M, Birke A, Guillén L, Díaz-Fleischer F, Nestel D (2011) Coping with an unpredictable and stressful environment: the life history and metabolic response to variable food and host availability in a polyphagous tephritid fly. J Insect Physiol 57:1592–1601

Alves-Silva M, Bezerra-Silva G, Mastrangelo T (2012) The host marking pheromone application on the management of fruit flies: a review. Braz Arch Biol Techn 55:835–842

Arredondo J, Diaz-Fleischer F (2006) Oviposition deterrents for the Mediterranean fruit fly, Ceratitis capitata (Diptera: Tephritidae) from fly faeces extracts. Bull Entomol Res 96:35–42

Averill AL, Prokopy RJ (1989) Distribution patterns of Rhagoletis pomonella (Diptera: Tephritidae) eggs in hawthorn. Ann Entomol Soc Am 82:38–44

Barry JD, Vargas RI, Miller NW, Morse JG (2003) Feeding and foraging of wild and sterile Mediterranean fruit flies (Diptera: Tephritidae) in the presence of spinosad bait. J Econ Entomol 96:1405–1411

Birke A, Pérez-Staples D, Greany P, Aluja M (2011) Interplay between foraging behaviour, adult density and fruit ripeness determines the effectiveness of gibberellic acid and host-marking pheromone in reducing susceptibility of grapefruit to infestation by the Mexican fruit-fly, Anastrepha ludens. Int J Pest Manag 57:321–328

Boller EF, Aluja M (1992) Oviposition deterring pheromone of Rhagoletis cerasi L.: biological activity of 4 synthetic isomers and HMP discrimination of two host races as measured by an improved laboratory bioassay. J Appl Entomol 113:113–119

Cook SM, Khan ZR, Pickett JA (2007) The use of push-pull strategies in integrated pest management. Ann Rev Entomol 52:375–400

Dow Elanco (1994) Spinosad technical guide. Dow Elanco, Indianapolis

Edmunds AJF, Aluja M, Diaz-Fleischer F, Patrian B, Hagmann L (2010) Host marking pheromone (HMP) in the Mexican Fruit Fly Anastrepha ludens. Chimia 64:37–42

Eigenbrode SD, Birch ANE, Lindzey S, Meadow R, Snyder WE (2016) A mechanistic framework to improve understanding and applications of push-pull systems in pest management. J Appl Ecol 53:202–212

Flores S, Gomez LE, Montoya P (2011) Residual control and lethal concentrations of GF-120 (spinosad) for Anastrepha spp. (Diptera: Tephritidae). J Econ Entomol 104:1885–1891

González-Cobos L, Velasco E, Jimarez N, Birke B (2016) Efecto del insecticida-cebo GF120TM sobre el comportamiento de forrajeo y oviposición de Anastrepha ludens y Anastrepha obliqua. Southwest Entomol 41:813–826

Jayanthi PK, Kempraj V, Aurade RM, Bruce TJ (2017) Evaluation of synthetic oviposition stimulants to enhance egg collection of the oriental fruit fly, Bactrocera dorsalis (Diptera: Tephritidae). J Pest Sci 90:781–786

Kachigamba DL, Ekesi S, Ndung'u MW, Gitonga LM, Teal PE, Torto B (2012) Evidence for potential of managing some African fruit fly species (Diptera: Tephritidae) using the mango fruit fly host-marking pheromone. J Econ Entomol 105:2068–2075

Kakani EG, Zygouridis NE, Tsoumani KT, Seraphides N, Zalom FG, Mathiopoulos KD (2010) Spinosad resistance development in wild olive fruit fly Bactrocera oleae (Diptera: Tephritidae) populations in California. Pest Manag Sci 66:447–453

Khan Z, Midega C, Pittchar J, Pickett J, Bruce T (2011) Push-pull technology: a conservation agriculture approach for integrated management of insect pests, weeds and soil health in Africa: UK government's Foresight Food and Farming futures Project. Int J Agric Sustain 9:162–170

Lasa R, Velázquez OE, Ortega R, Acosta E (2014) Efficacy of commercial traps and food odor attractants for mass trapping of Anastrepha ludens (Diptera: Tephritidae). J Econ Entomol 107:198–205

Mangan RL (2009) Effects of bait age and prior protein feeding on cumulative time-dependent mortality of Anastrepha ludens (Diptera: Tephritidae) exposed to GF-120 spinosad baits. J Econ Entomol 102:1157–1163

Mangan RL, Moreno DS, Thompson GD (2006) Bait dilution, spinosad concentration, and efficacy of GF-120 based fruit fly sprays. Crop Prot 25:125–133

Manrakhan A, Kotze C, Daneel JH, Stephen PR, Beck RR (2013) Investigating a replacement for malathion in bait sprays for fruit fly control in South African citrus orchards. Crop Prot 43:45–53

Meats A, Beattie A, Ullah F, Bingham S (2012) To push, pull or push-pull? A behavioural strategy for protecting small tomato plots from tephritid fruit flies. Crop Prot 36:1–6

Mertz FP, Yao RC (1990) Saccharopolyspora spinosa sp. nov. isolated from soil collected in a sugar mill rum still. Int J Syst Bacteriol 40:34–39

Nadel H, Johnson MW, Gerik M, Daane KM (2007) Ingestion of spinosad bait GF-120 and resulting impact on adult Chrysoperla carnea (Neuroptera: Chrysopidae). Biocontrol Sci Technol 17:995–1008

Opp SB, Prokopy PJ (1986) Approaches and methods for direct behavioral observation and analysis of plant-insect interactions. In: Miller JR, Miller TA (eds) Insect-plant interaction. Springer, New York, pp 1–22

Ortiz-Moreno G (2009) Experiencias internacionales en el control de la mosca de la fruta y recomendaciones para México. https://www.concitver.com. Accessed 11 June 2019

Papaj DR (2005) Ovarian dynamics in relation to host quality in the walnut-infesting fly, Rhagoletis juglandis. Funct Ecol 19:396–404

Papaj DR, Aluja M (1993) Temporal dynamics of host-marking in the tropical tephritid fly, Anastrepha ludens. Physiol Entomol 18:279–284

Pickett JA, Woodcock CM, Midega CA, Khan ZR (2014) Push-pull farming systems. Curr Opin Biotechnol 26:125–132

Piñero JC, Souder SK, Vargas RI (2013) Residual attractiveness of a spinosad-containing protein-based bait aged under variable conditions to Bactrocera dorsalis and B. cucurbitae (Diptera: Tephritidae) wild females in Hawaii. Fla Entomol 96:1077–1083

Revis HC, Miller NW, Vargas RI (2004) Effects of aging and dilution on attraction and toxicity of GF-120 fruit fly bait spray for melon fly control in Hawaii. J Econ Entomol 97:1659–1665

Roitberg BD, Cairl RS, Prokopy RJ (1984) Oviposition deterring pheromone influences dispersal distance in tephritid fruit flies. Entomol Exp Appl 35:217–220

Ruiz L, Flores S, Cancino J, Arredondo J, Valle J, Díaz-Fleischer F, Williams T (2008) Lethal and sublethal effects of spinosad-based GF-120 bait on the tephritid parasitoid Diachasmimorpha longicaudata (Hymenoptera: Braconidae). Biol Control 44:296–304

Schutze MK, Mahmood K, Pavasovic ANA, Bo W, Newman J, Clarke AR, Krosch MN, Cameron SL (2015) One and the same: integrative taxonomic evidence that Bactrocera invadens (Diptera: Tephritidae) is the same species as the Oriental fruit fly Bactrocera dorsalis. Syst Entomol 40:472–486

Stark JD, Vargas R, Miller N (2004) Toxicity of spinosad in protein bait to three economically important tephritid fruit fly species (Diptera: Tephritidae) and their parasitoids (Hymenoptera: Braconidae). J Econ Entomol 97:911–915

Statsoft (2011) Statistica, version 10. Statsoft, Tulsa

Vargas RI, Piñero JC, Mau RFL, Jang EB, Klungness LM, McInnis DO, Harris EB, McQuate GT, Bautista RC, Wong L (2010) Area-wide suppression of the Mediterranean fruit fly, Ceratitis capitata, and the Oriental fruit fly, Bactrocera dorsalis, in Kamuela, Hawaii. J Insect Sci 10:135

Vayssieres JF, Sinzogan A, Korie S, Ouagoussounon I, Thomas-Odjo A (2009) Effectiveness of spinosad bait sprays (GF-120) in controlling mango-infesting fruit flies (Diptera: Tephritidae) in Benin. J Econ Entomol 102:515–521
Acknowledgements
We thank Trevor Williams, Rodrigo Lasa, and Carlos Pascacio-Villafán and three anonymous referees for critical reviews to an earlier version of this publication that allowed us to produce a better quality paper. The many suggestions for improvement by the three anonymous referees are particularly appreciated and valued. We gratefully acknowledge Nicolás Jimarez, Lizbeth González-Cobos, Israel Peralta, and Olinda Velázquez for their technical support in the field and Rebeca Escamilla Navarro for drawing the picture (Fig. 1). Funding was provided by the Mexican Consejo Nacional de Ciencia y Tecnología (CONACyT-FINNOVA, Project 175259), the Mexican Campaña Nacional Contra Moscas de la Fruta (Convenios SAGARPA-IICA-INECOL and SAGARPA-CONACOFI-INECOL), and the Instituto de Ecología, A.C. (INECOL).
Ethics declarations
Conflict of interest
Andrea Birke declares that she has no conflict of interest, Silvia López-Ramírez declares that she has no conflict of interest, Ricardo Jiménez-Mendoza declares that he has no conflict of interest, Emilio Acosta declares that he has no conflict of interest, Rafael Ortega declares that he has no conflict of interest, Andrew Edmunds declares that he has no conflict of interest, and Martín Aluja also declares that he has no conflict of interest. Mention of commercial products or trade names in this paper does not imply any recommendation or endorsement by the authors.
Human and animal rights
All applicable international guidelines for the care and use of animals were followed. All procedures performed in studies involving animals were in accordance with ethical standards stated in international guidelines.
Additional information
Publisher's Note
Springer Nature remains neutral with regard to jurisdictional claims in published maps and institutional affiliations.
Communicated by J.J. Duan.
Electronic supplementary material
Below is the link to the electronic supplementary material.
About this article
Cite this article
Birke, A., López-Ramírez, S., Jiménez-Mendoza, R. et al. Host marking pheromone and GF120TM applied in a push–pull scheme reduce grapefruit infestation by Anastrepha ludens in field-cage studies. J Pest Sci 93, 507–518 (2020) doi:10.1007/s10340-019-01155-z
Received:

Revised:

Accepted:

Published:

Issue Date:
Keywords
Biorational fruit fly management

Environmentally friendly control

Deterrent

Attractant

Insect behavior