Abstract
Stored-product insects can transfer a wide range of serious pathogens involved in human health. The close contact of these insects with the food production chain makes these species extremely dangerous as carriers of severe infections. In addition, pathogenic bacteria, such as members of Enterococcus, are often resistant to antibiotics commonly used for human therapy. Herein we identified, using Matrix-assisted laser desorption ionization–time of flight mass spectrometry (MALDI-TOF MS), Enterococcus and coliform species isolated from 17 strains of different insect species associated with durable stored products. The antibiotic susceptibility of the isolated strains was also evaluated. MALDI-TOF MS revealed mainly the presence of Enterococcus (E. faecium, E. phoeniculicola and E. casseliflavus) and Enterobacter (Eb. cloacae and Eb. asburiae). E. casseliflavus was resistant to all antibiotics tested, while E. faecium and E. phoeniculicola were resistant to sulphonamides. Among E. faecium isolates, approx. 20% were found to be resistant to tetracycline, while Eb. cloacae and Eb. asburiae showed resistance to erythromycin. The current series of data clearly indicates that certain bacteria of the genera Enterococcus and Enterobacter are very common in stored-product insects, and, under certain circumstances, may seriously endanger public health, through potential introduction of antibiotic resistance.
This is a preview of subscription content, log in to check access.
Access options
Buy single article
Instant unlimited access to the full article PDF.
US$ 39.95
Price includes VAT for USA
Subscribe to journal
Immediate online access to all issues from 2019. Subscription will auto renew annually.
US$ 99
This is the net price. Taxes to be calculated in checkout.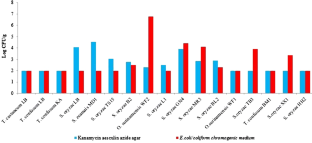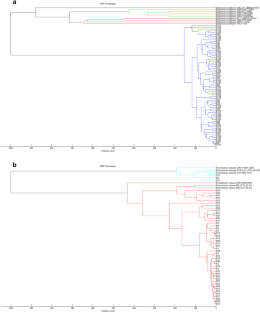 References
Ahmad A, Ghosh A, Schal C, Zurek L (2011) Insects in confined swine operations carry a large antibiotic resistant and potentially virulent enterococcal community. BMC Microbiol 11:1–23. https://doi.org/10.1186/1471-2180-11-23

Alanko K, Tuomi T, Vanhanen M et al (2000) Occupational IgE-mediated allergy to Tribolium confusum (confused flour beetle). Allergy 55:879–882

Asaniyan EK, Laseinde EAO, Agbede JO (2007) Prevalence of darkling beetles (Alphitobius diaperinus) and bacterial load in broiler litters. Intl J Poultry Sci 6:440–444

Böhme K, Fernández-No IC, Barros-Velazquez J, Gallardo JM, Cañas B, Calo-Mata P (2011a) Rapid species identification of seafood spoilage and pathogenic Gram-positive bacteria by MALDI-TOF mass fingerprinting. Electrophoresis 32:2951–2965

Böhme K, Fernández-No IC, Gallardo JM, Cañas B, Calo-Mata P (2011b) Safety assessment of fresh and processed seafood products by MALDI-TOF Mass fingerprinting. Food Bioprocess Technol 4:907–918

Böhme K, Fernandez-No IC, Pazos M et al (2013) Identification and classification of seafood-borne pathogenic and spoilage bacteria: 16S rRNA sequencing versus MALDI-TOF MS fingerprinting. Electrophoresis 34:877–887

Campbell A, Singh NB, Sinha RN (1976) Bioenergetics of the granary weevil, Sitophilus granarius (L) (Coleoptera: Curculionidae). Can J Zool 54:786–798. https://doi.org/10.1139/z76-088

Cetinkaya Y, Falk P, Mayhall CG (2000) Vancomycin-resistant enterococci. Clin Microbiol Rev 13:686–707

Channaiah LH, Subramanyam B, McKinney LJ, Zurek L (2010) Stored-product insects carry antibiotic-resistant and potentially virulent enterococci. FEMS Microbiol Ecol 74:464–471

Chong YP, Lee SO, Song EH et al (2010) Quinupristin–dalfopristin versus linezolid for the treatment of vancomycin-resistant Enterococcus faecium bacteraemia: efficacy and development of resistance. Scand J Infect Dis 42(6–7):491–499

Courvalin P (2006) Vancomycin resistance in Gram-positive cocci. Clin Infect Dis 42:S25–S34

Davin-Regli A, Pagès J-M (2015) Enterobacter aerogenes and Enterobacter cloacae; versatile bacterial pathogens confronting antibiotic treatment. Front Microbiol 6:392

De las Casas E, Harein PK, Pomeroy BS (1972) Bacteria and fungi within the lesser mealworm collected in poultry brooder houses. Environ Entomol 1:27–30. https://doi.org/10.1093/ee/1.1.27

Dordet-Frisoni E, Dorchies G, De Araujo C, Talon R, Leroy S (2007) Genomic diversity in Staphylococcus xylosus. J Appl Environ Microbiol 73(22):7199–7209

Dutkiewicz J, Mackiewicz B, Lemieszek MK, Golec M, Milanowski J (2016) Pantoea agglomerans: a mysterious bacterium of evil and good Part III Deleterious effects: infections of humans, animals and plants. Ann Agric Environ Med 23(2):197–205

Fernández-Álvarez C, Torres-Corral Y, Santos Y (2018) Use of ribosomal proteins as biomarkers for identification of Flavobacterium psychrophilum by MALDI-TOF mass spectrometry. J Proteomics 170:59–69

Fernandez-Baca V, Ballesteros F, Hervas JA et al (2001) Molecular epidemiological typing of Enterobacter cloacae isolates from a neonatal intensive care unit: three-year prospective study. J Hosp Infection 49:173–182. https://doi.org/10.1053/jhin.2001.1053

Fernández-Caldas E (2013) On mite allergy in dogs and humans. Int Arch Allergy Immunol 160:329–330. https://doi.org/10.1159/000343492

Fernández-No IC, Böhme K, Calo-Mata P, Cañas B, Gallardo JM, Barros-Velázquez J (2012) Isolation and characterization of Streptococcus parauberis from vacuum-packaging refrigerated seafood products. Food Microbiol 30:91–97

Fleurat-Lessard F (2002) Qualitative reasoning and integrated management of the quality of stored grain: a promising new approach. J Stored Prod Res 38:191–218. https://doi.org/10.1016/S0022-474X(01)00022-4

Freitas AR, Sousa C, Novais C et al (2017) Rapid detection of high-risk Enterococcus faecium clones by matrix-assisted laser desorption ionization time-of-flight mass spectrometry. Diagn Microbiol Infect Dis 87:299–307

Gorham JR (1977) Training manual for analytical entomology in the food industry. FDA technical bulletin no, FDA US Department of Health, Washington

Guzman Prieto AM, van Schaik W, Rogers MR et al (2016) Global emergence and dissemination of enterococci as nosocomial pathogens: attack of the clones? Front Microbiol 7:788

Hammerum AM (2012) Enterococci of animal origin and their significance for public health. Clin Microbiol Infect 18:619–625

Harein PK, de las Casas E, Larsen CT, Pomeroy BS (1972) Microbial relationship between the lesser mealworm and its associated environment in a turkey brooder house. Environ Entomol 1:189–194. https://doi.org/10.1093/ee/1.2.189

Hart PJ, Wey E, McHugh TD, Balakrishnan I, Belgacem O (2015) A method for the detection of antibiotic resistance markers in clinical strains of Escherichia coli using MALDI mass spectrometry. J Microbiol Methods 111:1–8

Healthcare Infection Control Practices Advisory Committee (HICPAC) (2016) Antibiotic stewardship statement for antibiotic guidelines—The Recommendations of the Healthcare Infection Control Practices Advisory Committee

Hodges RJ, Buzby JC, Bennett B (2011) Post-harvest losses and waste in developed and less developed countries: opportunities to improve resource use. J Agric Sci 149:37–45. https://doi.org/10.1017/S0021859610000936

Hubert J, Stejskal V, Athanassiou CG, Throne JE (2018) Health hazards associated with arthropod infestation of stored products. Annu Rev Entomol 63:553–573. https://doi.org/10.1146/annurev-ento-020117-043218

Ignasiak K, Maxwell A (2017) Antibiotic-resistant bacteria in the guts of insects feeding on plants: prospects for discovering plant-derived antibiotics. BMC Microbiol 17:223

Khan ID, Sahni AK, Bharadwaj R et al (2014) Emerging organisms in a tertiary healthcare set up. Med J Armed Forces 70:120–128

Kim E, Cho Y, Lee Y et al (2017) A proteomic approach for rapid identification of Weissella species isolated from Korean fermented foods on MALDI-TOF MS supplemented with an in-house database. Int J Food Microbiol 243:9–15

Larson Z, Subramanyam B, Zurek L, Herrman T (2008) Diversity and antibiotic resistance of enterococci associated with stored-product insects collected from feed mills. J Stored Prod Res 44:198–203. https://doi.org/10.1016/j.jspr.2007.08.007

Lasch P, Jacob D, Grunow R, Schwecke T, Doellinger J (2016) Matrix-assisted laser desorption/ionization time-of-flight (MALDI-TOF) mass spectrometry (MS) for the identification of highly pathogenic bacteria Trends. Anal Chem 85:103–111. https://doi.org/10.1016/j.trac.2016.04.013

Law-Brown J, Meyers PR (2003) Enterococcus phoeniculicola sp nov, a novel member of the enterococci isolated from the uropygial gland of the Red-billed Woodhoopoe, Phoeniculus purpureus. Int J Syst Evol Microbiol 53:683–685

Lebreton F, Willems RJL, Gilmore MS (2014) Enterococcus diversity, origins in nature, and gut colonization. In: Gilmore MS, Clewell DB, Ike Y, Shankar N (eds) Enterococci: from commensals to leading causes of drug resistant infection. Massachusetts Eye and Ear Infirmary, Boston

Lee CC, Lee NY, Yan JJ et al (2010) Bacteremia due to extended-spectrum-β-lactamase-producing Enterobacter cloacae: role of carbapenem therapy. Antimicrob Agents Chemother 54(9):3551–3556

Lopes ACS, Rodrigues JF, Cabral AB et al (2016) Occurrence and analysis of irp2 virulence gene in isolates of Klebsiella pneumoniae and Enterobacter spp from microbiota and hospital and community-acquired infections. Microb Pathog 96:15–19

McAllister JC, Steelman CD, Skeeles JK (1994) Reservoir competence of the lesser mealworm (Coleoptera: Tenebrionidae) for Salmonella typhimurium (Eubacteriales: Enterobacteriaceae). J Med Entomol 31:369–372

Moellering RC Jr (1992) Emergence of Enterococcus as a significant pathogen. Clin Infect Dis 14(6):1173–1176. https://doi.org/10.1093/clinids/14.6.1173

Morrison D, Woodford N, Cookson B (1997) Enterococci as emerging pathogens of humans. Soc Appl Bacteriol Symp Ser 83:89S–99S

Nacef M, Chevalier M, Chollet S, Drider D, Flahaut C (2017) MALDI-TOF mass spectrometry for the identification of lactic acid bacteria isolated from a French cheese: the Maroilles. Int J Food Microbiol 247:2–8

Noble WC, Virani Z, Cree RG (1992) Co-transfer of vancomycin and other resistance genes from Enterococcus faecalis NCTC 12201 to Staphylococcus aureus. FEMS Microbiol Lett 72:195–198

Omaye ST, Wirtz RA, Fruin JT (1981) Toxicity of substituted p-benzoquinones found in the secretion of tenebrionid flour beetles. Proc West Pharmacol Soc 24:169–171

Perez-Mendoza J, Throne JE, Dowell FE, Baker JE (2003) Detection of insect fragments in wheat flour by near-infrared spectroscopy. J Stored Prod Res 39:305–312. https://doi.org/10.1016/S0022-474X(02)00021-8

Perlatti Β, Luiz AL, Prieto EL et al (2017) MALDI-TOF MS identification of microbiota associated with pest insect Diabrotica speciosa. Agric For Entomol 19(4):408–417. https://doi.org/10.1111/afe.12220

Regecová I, Pipová M, Jevinová P, Marušková K, Kmeť V, Popelka P (2014) Species identification and antimicrobial resistance of coagulase-negative staphylococci isolated from the meat of sea fish. J Food Sci 79(5):M898–M902

Reid KC, Cockerill FR III, Patel R (2001) Clinical and epidemiological features of Enterococcus casseliflavus/flavescens and Enterococcus gallinarum bacteremia: a report of 20 cases. Clin Infect Dis 32:1540–1546

Rice LB (2008) Federal funding for the study of antimicrobial resistance in nosocomial pathogens: no ESKAPE. J Infect Dis 197:1079–1081

Ruelle V, El Moualij B, Zorzi W, Ledent P, Pauw ED (2004) Rapid identification of environmental bacterial strains by matrix-assisted laser desorption/ionization time-of-flight mass spectrometry. Rapid Commun Mass Spectrom 18(18):2013–2019

Santos T, Capelo JL, Santos HM et al (2015) Use of MALDI-TOF mass spectrometry fingerprinting to characterize Enterococcus spp and Escherichia coli isolates. J Proteomics 127:321–331

Sauget M, Valot B, Bertrand X, Hocquet D (2017) Can MALDI-TOF mass spectrometry reasonably type bacteria? Trends Microbiol 25(6):447–455

Shostak AW (2014) Hymenolepis diminuta infections in tenebrionid beetles as a model system for ecological interactions between helminth parasites and terrestrial intermediate hosts: a review and meta-analysis. J Parasitol 100:46–58

Siegel S, Lee N, Rohr A et al (1991) Evaluation of dermestid sensitivity in museum personnel. J Allergy Clin Immunol 87:190

Skov MN, Spencer AG, Hald B et al (2004) The role of litter beetles as potential reservoir for Salmonella enterica and thermophilic Campylobacter spp between broiler flocks. Avian Dis 48:9–18

Tanada Y, Kaya HK (1993) Insect Pathology. Academic Press, San Diego

Tandina F, Almeras L, Koné AK, Doumbo OK, Raoult D, Parola P (2016) Use of MALDI-TOF MS and culturomics to identify mosquitoes and their midgut microbiota. Parasit Vectors 9:495

Throne JE, Hallman GJ, Johnson JA, Follett PA (2003) Post-harvest entomology research in the United States Department of Agriculture-Agricultural Research Service. Pest Manag Sci 59:619–628

Top J, Willems R, Bonten M (2008) Emergence of CC17 Enterococcus faecium: from commensal to hospital-adapted pathogen. FEMS Immunol Med Microbiol 52:297–308

Wang A, Yao Z, Zheng W, Zhang H (2014) Bacterial communities in the gut and reproductive organs of Bactrocera minax (Diptera: Tephritidae) based on 454 pyrosequencing. PLoS ONE 9(9):e106988

Yezerski A, Cussatt G, Glick D, Evancho M (2005) The effects of the presence of stored product pests on the microfauna of a flour community. J Appl Microbiol 98:507–515

Zurek L, Gorhamm JR (2010) Insects as vectors of foodborne pathogens. In: Voeller JG (ed) Wiley handbook of science and technology for homeland security. Wiley, Hoboken, pp 1169–1683
Ethics declarations
Conflict of interest
The authors declare that they have no conflict of interest.
Ethical approval
This article does not contain any studies with animals performed by any of the authors.
Additional information
Publisher's Note
Springer Nature remains neutral with regard to jurisdictional claims in published maps and institutional affiliations.
Electronic supplementary material
Below is the link to the electronic supplementary material.
About this article
Cite this article
Parlapani, F.F., Kyritsi, M., Sakka, M. et al. Matrix-assisted laser desorption ionization–time of flight mass spectrometry reveals Enterococcus and Enterobacter spp. in major insect species involved in food security with resistance to common antibiotics. J Pest Sci 93, 159–170 (2020) doi:10.1007/s10340-019-01125-5
Received:

Revised:

Accepted:

Published:

Issue Date:
Keywords
Stored-product insects

Amylaceous commodities

Enterococcus
Enterobacter

MALDI-TOF-MS

Antibiotic resistance