Sublethal effects of two reduced-risk insecticides: when the invasive ladybeetle is drastically affected, whereas the indigenous not
Abstract
Chlorantraniliprole and novaluron, two reduced-risk insecticides (IRRs), are currently used to control codling moth (
Cydia pomonella
) in apple orchards in southeastern Canada. Reproduction of
Harmonia axyridis
(Pallas), an invasive ladybeetle, and the indigenous
Coleomegilla maculata
DeGeer, both important generalist predators, might be compromised after exposure of adults to these IRRs. The aim of the study was to compare the effects of chlorantraniliprole and novaluron on fecundity and fertility between the two ladybeetles in a laboratory setting. Reproductive mates were given chlorantraniliprole- or novaluron-treated prey for 24 h, and reproductive performance was followed during 15 days. Chlorantraniliprole did not affect reproduction of ladybeetles. However, novaluron-reduced fecundity, egg hatch, and fertility of the invasive ladybeetle
H. axyridis
, by 29, 43, and 78.7%, respectively, contrasting with no significant effect on the indigenous
C. maculata
. Additionally,
H. axyridis
oviposition pattern was altered by the same insecticide. This resulted in more egg masses containing fewer eggs, compared to the control. No such changes were detected for
C. maculata
. Chlorantraniliprole does not disturb reproduction of
H. axyridis
or
C. maculata
. Treatments of novaluron should have an important effect on populations of the invasive
H. axyridis
, and consequently on the impact of the invader on native ladybeetle species and on its dominance, and finally potentially on biocontrol services provided by the assemblage of ladybeetles.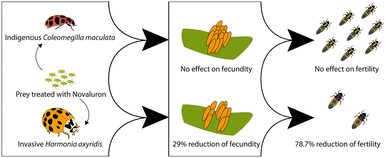 Keywords
Harmonia axyridis
Coleomegilla maculata
Chlorantraniliprole 
Novaluron 
Reproduction 
Invasive species 
Notes
Acknowledgements
Funding of this project was provided by the regional industry council of Quebec, executing the Canadian Agricultural Adaptation Program for Agriculture and Agri-Food Canada, the Program Prime-Vert from the Ministry of Agriculture, Fisheries and Food from Quebec, the Natural Sciences and Engineering Research Council of Canada (NSERC), and Canada Foundation for innovation (CFI). We also want to thank Jill Vandermeerschen for her advice with statistical analyses, Marc Fournier for his technical support in the laboratory, Franz Vanoosthuyse for the technical support, and all the students for assisting with the ladybeetle rearings and for helping us to take data during long hours in the laboratory.
Compliance with ethical standards
Conflict of interest
The authors declare that they have no conflict of interest.
Copyright information
© Springer-Verlag GmbH Germany, part of Springer Nature 2018