Abstract
The Tooth-billed Pigeon (Didunculus strigirostris) was classified as critically endangered in 2014. A Manumea Recovery Plan 2006–2016 was implemented by the Ministry of Natural Resources and Environment of Samoa (MNRE in Recovery plan for the Manumea or Tooth-billed Pigeon Didunculus strigirostris, Ministry of Natural Resources and Environment, Government of Samoa, Apia, 2006) but the main objectives of the plan could not be achieved because of the difficulty of discriminating between the coo calls of Didunculus strigirostris and those of the Pacific Imperial Pigeon (Ducula pacifia). The study provides key information for field work and training of a national team for monitoring Didunculus populations. The spectrographical and statistical analysis of coo calls of these two species shows significant differences in frequency traits. Calls of Didunculus are slightly higher than those of Ducula. The differences, however, are small and detectable only under optimal conditions. The coo calls show overlap in both pitch and length, so identification by call only in the field is not often possible; laboratory analysis of recordings is usually necessary.
Zusammenfassung
Akustische Identifikation von Didunculus strigirostris, der vom Aussterben bedrohten Zahntaube Samoas
Die Zahntaube West-Samoas (Didunculus strigirostris) wird seit 2014 als vom Aussterben bedroht eingestuft. Obwohl vom Umweltministerium West-Samoas 2006–2016 ein Arterhaltungskonzept verfolgt wurde, konnte man dessen wesentlichen Ziele bisher nicht erreichen, da es nur zu vereinzelten Zufallsbeobachtungen von Zahntauben gekommen ist, und die geplanten Untersuchungen nicht durchgeführt werden konnten. Das entscheidende Hindernis ist bisher die akustische Identifikation der Art, um sie in ihrem Lebensraum aufzufinden, da die Standortrufe der Zahntaube im Feld denen der häufigen Pazifik-Fruchttaube Ducula pacifica täuschend ähnlich sind. Letztere wird stark bejagt, so dass es immer wieder zu Fehlabschüssen der akut bedrohten Zahntaube kommt. Das Ziel der Studie ist somit die vergleichende Untersuchung der Standortrufe beider Arten mit dem Ziel, Schlüsselmerkmale zur akustischen Identifikation der Zahntaube im Feld zu finden, um so den Schutz und das Monitoring der Art zu ermöglichen. Dabei greifen wir zurück auf unsere früheren Aufnahmen sowohl von optisch eindeutig identifizierten Individuen der Zahntaube sowie auf Käfigaufnahmen dieser Art im Vergleich mit aktuellen Aufnahmen der Pazifik-Fruchttaube. Die Standortrufe beider Arten unterscheiden sich in Frequenzmerkmalen, die Rufe von Didunculus strigirostris liegen in der maximalen Tonhöhe etwas höher als die von Ducula pacifica. Die Unterschiede werden in dieser Arbeit dargestellt, sie sind jedoch im Feld nur unter optimalen Bedingungen für das menschliche Ohr wahrnehmbar. In den übrigen untersuchten Parametern überschneiden sich die Werte für beide Arten, so dass für eine sichere Bestimmung eine Kontrolle von Audiodokumenten durch sonagraphische Analyse empfehlenswert ist.
This is a preview of subscription content, log in to check access.
Access options
Buy single article
Instant unlimited access to the full article PDF.
US$ 39.95
Price includes VAT for USA
Subscribe to journal
Immediate online access to all issues from 2019. Subscription will auto renew annually.
US$ 99
This is the net price. Taxes to be calculated in checkout.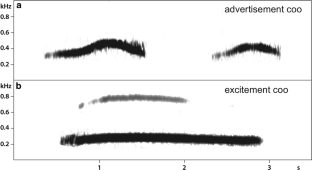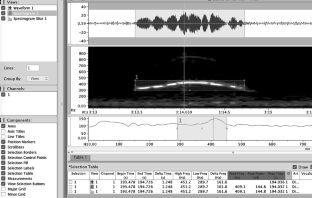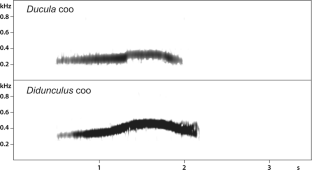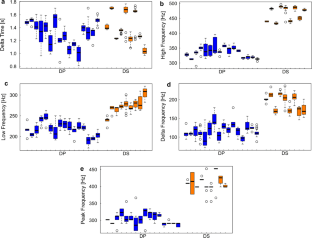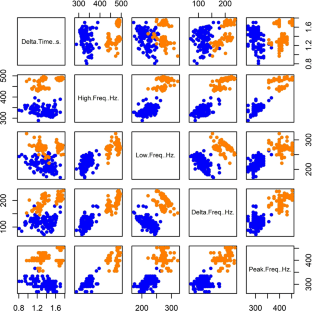 Availability of data and materials
Tables S1 and S2 can be found in Supplementary Material files 1 and 2. The datasets analysed during the current study are available from the corresponding author on reasonable request and at https://doi.org/10.6084/m9.figshare.7442471.
References
Beichle U (1982) Untersuchungen zur Biologie und Systematik der Zahntaube, Didunculus strigirostris (Jardine, 1845). Dissertation, Universität Kiel

Beichle U (1987) Lebensraum, Bestand und Nahrungsaufnahme der Zahntaube, Didunculus strigirostris. J Ornithol 128:75–89. https://doi.org/10.1007/BF01644791

Beichle U (1989) Akustische Abgrenzung der Taubenarten der Samoa-Inseln. J Ornithol 130:345–351. https://doi.org/10.1007/BF01644747

Beichle U (1991) Status and acoustical demarcation of pigeons of Western Samoa. Notornis 38:81–86

Beichle U (2006) Saving Samoa's critically endangered maomao and manumea: report on field surveys on Upolu and Savaii from 5.10 to 25.10.2005 and from 3.5 to 22.5.2006. Unpublished

Beichle U, Baumann S (2003) Die Landvögel der Samoa-Inseln. Übersee-Museum Bremen, Jahrbuch X, TenDenZen 01/02. Schwelm Ed. Archaea, Gelsenkirchen

Beichle U, Baumann S (2016) The birds of Samoa. Privately published, Wardenburg

Beichle U, Stünzner K (1982) Zur Käfighaltung von Zahntauben (Didunculus strigirostris). Bongo 6:51–56

BirdLife International (2018) Species factsheet: Didunculus strigirostris. https://www.birdlife.org. Accessed on 30 Nov 2018

Butler D (2012) Report on the birds of upland Savaii. In: Atherton J, Jerreries B (eds) Rapid biodiversity assessment of Upland Savaii, Samoa. SPREP, Apia, pp 85–109

Butler D, Stirnemann R (2013) Leading the recovery of two of Samoa's most threatened bird species. Biodiversity conservation lessons learned technical series no. 25, Critical Ecosystems Partnership Fund and Conservation International, Apia, Samoa

Charif RA, Waack AM, Strickman LM (2010) Raven Pro 1.4 user's manual. Cornell Lab of Ornithology, Ithaca

Collar N (2015) Natural history and conservation biology of the Tooth-billed Pigeon (Didunculus strigirostris): a review. Pac Conserv Biol 2:186–199. https://doi.org/10.1071/PC14923

Covas R (2012) Evolution of reproductive life histories in island birds worldwide. Proc R Soc B 279:1531–1537. https://doi.org/10.1098/rspb.2011.1785

Jetz W, Thomas GH, Joy JB, Redding DW, Hartmann K, Mooers AO (2014) Global distribution and conservation of evolutionary distinctness in birds. Curr Biol 24:913–930

MNRE (2006) Recovery plan for the Manumea or Tooth-billed Pigeon Didunculus strigirostris. Ministry of Natural Resources and Environment, Government of Samoa, Apia

Pratt HD, Mittermeier JC (2016) Notes on the natural history, taxonomy, and conservation of the endemic avifauna of the Samoan archipelago. Wilson J Ornithol 128:217–241

Serra G, Foliga ST, Uili M, Enoka F, Failagi SA, Suaesi T (2016) Biodiversity surveying of four KBAs in Samoa through traditional ecological knowledge: Uafato-Tiavea Coastal Forest, Apia Catchments, Central Savaii Rainforest And Falealupo Peninsula. Technical report, MNRE and UNDP, Apia, Samoa

Serra G, Sherley G, Failagi SA, Foliga ST, Uili M, Enoka F, Suaesi T (2017) Traditional ecological knowledge of critically endangered Tooth-billed Pigeon (Didunculus strigirostris) endemic of Samoa. Bird Conserv Int. https://doi.org/10.1017/S0959270917000259

Stattersfield AJ, Capper DR (2000) Threatened birds of the world. BirdLife International, Cambridge

Stirnemann RL, Stirnemann IA, Abbot D, Biggs D, Heinsohn R (2018) Interactive impacts of by-catch take and elite consumption of illegal wildlife. Biodivers Conserv 27:931–946. https://doi.org/10.1007/s10531-017-1473-y
Acknowledgements
We thank Peter Herkenrath and an anonymous reviewer for helping to improve the English language of the manuscript, Fränzi Korner-Nievergelt for help with statistical analysis and her constructive ideas and an anonymous reviewer for his comments on the manuscript.
Ethics declarations
Conflict of interest
The authors declare that they have no conflict of interest.
Ethical approval
All applicable international, national and/or institutional guidelines for the care and use of animals were followed.
Additional information
Publisher's Note
Springer Nature remains neutral with regard to jurisdictional claims in published maps and institutional affiliations.
Communicated by S. Kipper.
Electronic supplementary material
Below is the link to the electronic supplementary material.
About this article
Cite this article
Baumann, S., Beichle, U. Acoustical identification of Didunculus strigirostris, critically endangered Tooth-billed Pigeon of Samoa. J Ornithol (2020). https://doi.org/10.1007/s10336-019-01742-y
Received:

Revised:

Accepted:

Published:
Keywords
Acoustical identification Didunculus strigirostris

Tooth-billed Pigeon

Critically endangered Samoan endemic

Ducula pacifica

Wild pigeon hunting

Manumea