Abstract
Kleptoparasitism is an exploitative foraging strategy used across taxa, but factors underlying variation in the foraging performance of individuals using it have not often been addressed. Using longitudinal data on Common Terns stealing food from conspecifics during breeding, we show that variation in the energetic reward of kleptoparasitic behaviour is explained by interactive effects of sex and the attack tactic used by the parasite, as well as by age. Males obtain a higher reward when using an aerial than a terrestrial attack tactic, with decomposition analyses showing that this is due to the energy content of chased after prey items being higher in their aerial attacks. On the other hand, females obtain a higher reward when attacking terrestrially, which is due to their success rate being higher on land than in the air. In addition, the birds show decelerating within-individual improvement with age, which is due to individuals chasing after prey with a higher energy content as they grow older. Our study not only pinpoints factors underlying variation in the foraging performance of kleptoparasites, but also illustrates the importance of modelling individual variation when analyzing foraging performance.
Zusammenfassung
Kleptoparasitische Effizienz in Abhängigkeit von Alter, Geschlecht und Ernährungstaktik bei einem langlebigen Seevogel Obwohl Kleptoparasitismus als explorative Ernährungsstrategie bei vielen Taxa vorkommt, sind die Faktoren für die individuelle Variation dieser Ernährungsweise und ihrer Effizienz nur selten untersucht. Wir analysieren longitudinale Beobachtungsdaten von Flussseeschwalben, die während der Zeit der Kükenaufzucht Nahrung von Artgenossen am Koloniestandort stehlen. Die Variation des energetischen Gewinns des kleptoparasitischen Verhaltens wird durch interaktive Effekte von Geschlecht, gewählter Taktik der Attacken (in der Luft oder am Boden) und Alter der parasitären Flussseeschwalben erklärt. Männchen erzielen höhere Energiegewinne, wenn sie in der Luft anstatt am Boden attackieren. Dekompositionsanalysen zeigen, dass dies auf den höheren Energiegehalt der Nahrungstiere zurückgeht, die Ziel der Luftattacken sind. Weibchen hingegen werden mehr belohnt, wenn sie am Boden attackieren, aufgrund der dort erhöhten Erfolgsraten. Außerdem lassen die Vögel intraindividuell altersabhängige, nach oben beschränkte Verbesserungen erkennen und stehlen energiereichere Beutetiere, je älter sie sind. Unsere Studie zeigt nicht nur Faktoren auf, die der Variation der Ernährungseffizienz von Kleptoparasiten zugrunde liegen, sondern belegt auch die Bedeutung der Modellierung individueller Variation, um Ernährungsleistungen zu analysieren.
This is a preview of subscription content, log in to check access.
Access options
Buy single article
Instant unlimited access to the full article PDF.
US$ 39.95
Price includes VAT for USA
Subscribe to journal
Immediate online access to all issues from 2019. Subscription will auto renew annually.
US$ 99
This is the net price. Taxes to be calculated in checkout.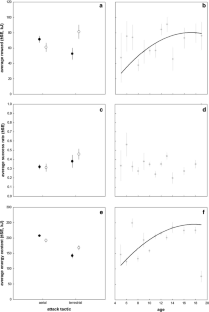 References
Becker PH, Ludwigs JD (2004) Sterna hirundo common tern. In: Parkin D (ed) Birds of the Western Palearctic, 6th edn. Oxford University Press, Oxford, UK, pp 91–137

Becker PH, Wendeln H (1997) A new application for transponders in population ecology of the Common Tern. Condor 99:534-538. https://doi.org/10.2307/1369963

Becker PH, Wink M (2003) Influences of sex, sex composition of brood and hatching order on mass growth in Common Terns Sterna hirundo. Behav Eco Sociobiol 54:136-146. https://doi.org/10.1007/s00265-003-0605-4

Becker PH (2010) Populationsökologie der Flussseeschwalbe: Das Individuum im Blickpunkt. In: F Bairlein F, PH Becker (eds) 100 Jahre Institut für Vogelforschung "Vogelwarte Helgoland", Aula, Wiebelsheim, pp 137-155

Bertellotti M, Yorio PM (2000) Age related feeding behaviour and foraging efficiency in Kelp Gull (Larus dominicanus) attending coastal trawlers in Argentina. Ardea 88:207–214

Bouwhuis S, Vedder O (2017) Avian escape artists? Patterns, processes and costs of senescence in wild birds. In: Shefferson RP, Jones OR, Salguero-Gómez R (eds) The evolution of senescence in the tree of life. Cambridge University Press, Cambridge, UK, pp 156–174

Brockmann HJ, Barnard CJ (1979) Kleptoparasitism in birds. Anim Behav 27:487-514. https://doi.org/10.1016/0003-3472(79)90185-4

Brown GR, Almond REA, van Bergen Y (2004) Begging, stealing, and offering: food transfer in nonhuman primates. Adv Study Behav 34:265-295. https://doi.org/10.1016/S0065-3454(04)34007-6

Burger J, Gochfeld M (1979) Age differences in Ring-Billed Gull kleptoparasitism on Starlings. Auk 96:806-808. https://doi.org/10.2307/4085674

Congdon BC, Preker M. 2004. Sex-specific chick provisioning and kleptoparasitism in the Least Frigatebird, Fregata ariel. Emu 104: 347-351. https://doi.org/10.1071/MU03008

Cooper WE, Pérez-Mellado V (2003) Kleptoparasitism in the Balearic lizard, Podarcis lilfordi. Amphibia-Reptilia 24:219-224. https://doi.org/10.1163/156853803322390480

Curio E (1976) The ethology of predation. Springer, New York

Dänhardt A, Riechert J, Bouwhuis S, Millat G. Abel C, Becker PH (2018) Nahrungsnetzbeziehungen zwischen Flussseeschwalben und Fischen an der Jade. Forschungsergebnisse 2006-2015. Schriftenreihe Nationalpark Niedersächsisches Wattenmeer. Lüllau, Wilhelmshaven, pp 179

Diamond AW (1975) Biology and behavior of frigatebirds Fregata spp. on Aldabra atoll. Ibis 117:302-323. https://doi.org/10.1111/j.1474-919x.1975.tb04219.x

Flower TP, Gribble M (2012) Kleptoparasitism by attacks versus false alarms in the fork-tailed drongo. Anim Behav 83:403-410. https://doi.org/10.1016/j.anbehav.2011.11.009

Furness R (1987) Kleptoparasitism in seabirds. In: Croxall JP (ed) Seabirds: feeding biology and role in marine ecosystem, Cambridge University Press, Cambridge, pp 77–99

García GO, Becker PH, Favero (2011) Kleptoparasitism during courtship in Sterna hirundo and its relationship with female reproductive performance. J Ornithol 152:103-110. https://doi.org/10.1007/s10336-010-0554-4

García GO, Favero M, Becker PH (2013) Intraspecific kleptoparasitism improves chick growth and reproductive output in Common Terns Sterna hirundo. Ibis 155:338-347. https://doi.org/10.1111/ibi.12019

García GO, Favero M, Vassallo AI (2010) Factors affecting kleptoparasitism by gulls in a multi-species seabird colony. Condor 112:521-529. https://doi.org/10.1525/cond.2010.090117

García GO, Riechert J, Favero M, Becker PH (2014) Stealing food from conspecifics: spatial behavior of kleptoparasitic Common Terns Sterna hirundo within the colony site. J Ornithol 155:777-783. https://doi.org/10.1007/s10336-014-1066-4

Gibbs HL, Gibbs JP (1987) Prey robbery by non-breeding Magnificent Frigatebirds (Fregata magnificens). Wilson Bull 99:101–104

Gilardi JD (1994) Great Frigatebird kleptoparasitism: sex-specific host choice and age related proficiency. Condor 96:987-993. https://doi.org/10.2307/1369107

Giraldeau LA, Caraco T (2000) Social foraging theory. Princeton University Press, Princeton

Giraldeau LA, Lefebvre L (1986) Exchangeable producer and scrounger roles in captive flock of Feral Pigeons: a case for the skill pool effect. Anim Behav 34:797-803. https://doi.org/10.1016/S0003-3472(86)80064-1

Grimm MP, Klinge M (1996) Pike and some aspects of its dependence on vegetation. In: Craig JF (ed) Pike: biology and exploitation. Chapman & Hall, New York, pp 125–126

Iyengar EV (2004) Host-specific performance and host use in the kleptoparasitic marine snail Trichotropis cancellata. Oecologia 138:628-639. https://doi.org/10.1007/s00442-003-1467-1

Krebs JR, MacRoberts MH, Cullen JM (1972) Flocking and feeding in the Great Tit Parus major: an experimental study. Ibis 114:507-530. https://doi.org/10.1111/j.1474-919X.1972.tb00852.

Kruuk H (1972) The spotted hyena: a study of predation and social behaviour. University of Chicago Press, Chicago

Le Corre M, Jouventin P. 1997. Kleptoparasitism in tropical seabirds: vulnerability and avoidance responses of a host species, the Red-footed Booby. Condor 99:162-168. https://doi.org/10.2307/4089017

Limmer B, Becker PH (2009) Improvement in chick provisioning with parental experience in a seabird. Anim Behav 77:1095-1101. https://doi.org/10.1016/j.anbehav.2009.01.015

Morand-Ferron J, Sol D, Lefebvre L (2007) Food-stealing in birds: brain or brawn? Anim Behav 74:1725-1734. https://doi.org/10.1016/j.anbehav.2007.04.031

Osorno JL, Torres R, Macias Garcia C (1992) Kleptoparasitic behavior of the Magnificent Frigatebird: sex bias and success. Condor 94:692-698. https://doi.org/10.2307/1369253

Paterlini CA, Garcia GO, Riechert J, Becker PH (2017) Concentrations of hormones during the mid-incubation period in kleptoparasitic and honest Common Terns (Sterna hirundo). Act Ornithol 52:157-165. https://doi.org/10.3161/00016454ao2017.52.2.004

Rasbash JF, Steele F, Browne W, Prosser B (2004) A user's guide to MLwiN, version 2.0. Centre for Multilevel Modelling, London

Rothschild M, Clay T (1952) Fleas, flukes and cuckoos: a study of bird ectoparasites. Collins, London

Shealer DA, Floyd T, Burger J (1997) Host choice and success of gulls and terns kleptoparasitizing brown pelicans. Anim Behav 53:655–665. https://doi.org/10.1006/anbe.1996.0340

Shealer DA, Spendelow JA, Hatfield JS, Nisbet ICT (2005) The adaptive significance of stealing in a marine bird and its relationship to parental quality. Behav Ecol 16:371–376. https://doi.org/10.1093/beheco/ari008

Shealer DA, Spendelow JA (2002) Individual foraging strategies of kleptoparasitic Roseate Terns. Waterbirds 25:436-441. https://doi.org/10.1675/1524-4695(2002)025[0436:ifsokr]2.0.co;2

Steele WK, Hockey PAR (1995) Factors influencing the rate and success of intraspecific kleptoparasitism among Kelp Gulls (Larus dominicanus). Auk 112:847–859. https://doi.org/10.2307/4089017

Thorpe WH (1956) Learning and instinct in animals. Hazell Watson and Viney, London

van de Pol M, Wright J (2009) A simple method for distinguishing within- versus between-subject effects using mixed models. Anim Behav 77:753–758. https://doi.org/10.1016/j.anbehav.2008.11.006

Verbeek NAM. 1977. Comparative feeding behavior of immature and adult Herring Gulls. Wilson Bull 89:415-421. https://doi.org/10.2307/4160943

Vollrath F (1984) Kleptobiotic interactions in invertebrates. In: Barnard CJ (ed) Producers and scroungers: strategies of exploitation and parasitism. Croom Helm, London, pp 61–94

Wendeln H, Nagel R, Becker PH (1996) A technique to spray dyes on birds. J Field Ornithol 67:442–446

Zhang H, Vedder O, Becker PH, Bouwhuis S (2015) Age-dependent trait variation: the relative contribution of within-individual change, selective appearance and disappearance in a long-lived seabird. J Anim Ecol 84:797–807. https://doi.org/10.1111/1365-2656.12321
Acknowledgements
We thank Götz Wagenknecht, Lesley Szostek, Juliane Riechert and all other Banter See field workers for providing logistic assistance during the study. This work was supported by grants from the Deutsche Forschungsgemeinschaft (BE 916/9) to PHB, as well as the Deutscher Akademischer Austausch Dienst (DAAD), the Consejo Nacional de Investigaciones Científicas y Técnicas (CONICET) and the Agencia Nacional de Promoción Científica y Tecnológica (AGENCIA, PICT 2011-0174) to GOG.
Ethics declarations
Conflict of interest
The authors declare that they have no conflict of interest.
Ethical approval
The study was performed under the licenses of the city of Wilhelmshaven and the Lower Saxony State Office for Consumer Protection and Food Safety, and complied with German laws.
Additional information
Publisher's Note
Springer Nature remains neutral with regard to jurisdictional claims in published maps and institutional affiliations.
Communicated by C. Barbraud.
About this article
Cite this article
García, G.O., Paterlini, C.A., Favero, M. et al. Age-, sex- and tactic-specific kleptoparasitic performance in a long-lived seabird. J Ornithol 161, 183–188 (2020). https://doi.org/10.1007/s10336-019-01726-y
Received:

Revised:

Accepted:

Published:

Issue Date:
Keywords
Exploitation

Foraging behaviour

Foraging strategy

Trophic parasitism

Kleptoparasitism

Ageing

Sterna hirundo