Abstract
In this study, we analyzed biochemical parameters and the body masses of 14 incubating Common Eiders (Somateria mollissima) breeding on Christiansø in the Baltic Sea from April to May 2015. The eiders were examined and sampled on days 4 and 24, corresponding to early and late incubation. In comparison to reference values, concentrations of alkaline phosphatase (161%), phosphorus (33%), and calcium (44%) were all significantly increased on day 4 by 33–161% due to egg production (p < 0.05). On day 24, we observed a significant loss of body mass (28%) compared to day 4 (p < 0.05). The average plasma concentrations of fructosamine (1-amino-1-deoxy-d-fructose, 21%), amylase (54%), albumin (30%), and total protein declined significantly (all p < 0.05). These declines resemble those seen for other avian species in which the female is the sole incubator, suggesting reduced food intake during the incubation period. A decline in total protein and albumin from day 4 to day 24 (18–30%) is indicative of stage III protein metabolism. Nonetheless, stable concentrations of urea, sodium, and potassium suggest that the incubating females were significantly hydrated. The change in the plasma albumin:globulin ratio from day 4 (0.82) to day 24 (0.57) may imply slight immune suppression, which is supported by the observation of a mass mortality incident shortly after the studied incubation period. These biochemical observations may add to our understanding of the recurrent mortality events that strike without warning in the declining Baltic eider population.
Zusammenfassung
Veränderungen in der Blutbiochemie bei brütenden baltischen Eiderenten ( Somateria mollissima )
In dieser Studie haben wir von April bis Mai 2015 biochemische Parameter und die Körpermasse von vierzehn Eiderenten (Somateria mollissima) analysiert, die auf der Ostseeinsel ChristiansØ brüteten. Die Eiderenten wurden während der frühen (Tag 4) und späten Brutphase (Tag 24) untersucht und beprobt. Im Vergleich zu Referenzwerten nahmen die Konzentrationen von alkalischen Phosphatasen (161%), Phosphor (33%) und Kalzium (44%) an Tag 4 signifikant um 33–161% aufgrund der Eierproduktion zu (p < 0.05). An Tag 24 fanden wir im Vergleich zu Tag 4 eine signifikante Abnahme der Körpermasse (28%; p < 0.05). Im Plasma sanken die durchschnittliche Konzentrationen an Fruktosamin (1-amino-1-deoxy-d-fructose, 21%), Amylase (54%), Albumin (30%) und der Gesamtproteingehalt (alle p < 0.05). Diese Abnahmen stimmen mit denen bei anderen Vogelarten überein, bei denen nur die Weibchen brüten, was auf eine reduzierte Nahrungsaufnahme während der Brutphase schließen lässt. Eine Verringerung des Gesamtproteingehaltes und des Albumins von Tag 4 auf Tag 24 (18–30%) weist auf einen Phase-III-Metabolismus der Proteine hin. Stabile Harnstoff-, Natrium- und Kaliumkonzentrationen lassen vermuten, dass dennoch eine ausreichende Flüssigkeitszufuhr des brütenden Weibchens gegeben war. Der Unterschied im Albumin:Globulin-Verhältnis im Plasma an Tag 4 (0.82) und Tag 24 (0.57) könnte auf eine leichte Immunsuppression hindeuten. Dies würde auch durch ein beobachtetes Auftreten an Massensterben kurz nach der untersuchten Brutphase unterstützt werden. Diese biochemischen Parameter können zu unserem Verständnis über wiederkehrende Todesvorfälle beitragen, welche ohne Vorwarnung zusätzlich zum Rückgang der baltischen Eiderentenpopulation auftreten.
This is a preview of subscription content, log in to check access.
Access options
Buy single article
Instant unlimited access to the full article PDF.
US$ 39.95
Price includes VAT for USA
Subscribe to journal
Immediate online access to all issues from 2019. Subscription will auto renew annually.
US$ 99
This is the net price. Taxes to be calculated in checkout.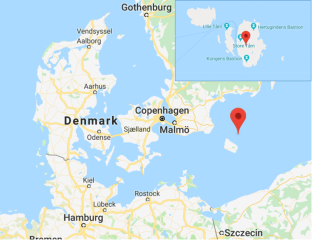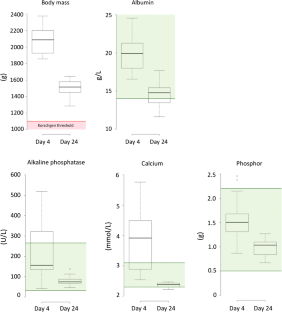 References
Alonso-Alvarez C, Velando A, Ferrer M, Veira JA (2002) Changes in plasma biochemistry and body mass during incubation in the yellow-legged gull. Waterbirds 25:253–258

Baldassarre GA (2014) Ducks, geese and swans of North America. John Hopkins University Press, Baltimore

Boismenu C, Gauthier G, Larochelle J (1992) Physiology of prolonged fasting in greater snow geese (Chen caerulescens atlantica). Auk 109:511–521

Bolduc F, Guillemette M (2003) Incubation constancy and mass loss in the common eider Somateria mollissima. Ibis 145:329–332

Braun EJ (2003) Regulation of renal and lower gastrointestinal function: role in fluid and electrolyte balance. Comp Biochem Physiol A Mol Integr Physiol 136:499–505

Bregnballe T (2002) Clutch size in six Danish common eider (Somateria mollissima) colonies: variation in egg production. Dan Rev Game Biol 16:7–14

Camphuysen CJ, Berrevoets CM, Cremers HJWM, Dekinga A, Dekker R, Ens BJ, Van der Have TM, Kats RKH, Kuiken T, Leopold MF, van der Meer J, Piersma T (2002) Mass mortality of common eiders (Somateria mollissima) in the Dutch Wadden Sea, winter 1999/2000: starvation in a commercially exploited wetland of international importance. Biol Conserv 106:303–317

Gabrielsen GW, Mehlum F, Karlsen HK, Andersen O, Parker H (1991) Energy cost during incubation and thermoregulation in the female Common Eider (Somateria mollissima). Norsk Polarinst Skr 195:51–62

Garbus SE, Lyngs P, Garbus M, Eulaers I, Mosbech A, Dietz R, Gilchrist HG, Christensen JP, Sonne C (2018a) Incubation behaviour of common eiders (Somateria mollissima) in the Baltic: nest attendance and loss in body mass. Acrocephalus 39:91–100

Garbus SE, Lyngs P, Popp-Thyme A, Christensen JP, Sonne C (2018b) Candling and field atlas of early egg development in common eiders. Acrocephalus 39:85–90

Garbus SE, Lyngs P, Christensen JP, Buchmann K, Eulaers I, Mosbech A, Dietz R, Gilchrist HG, Sonne C (2018c) Common eider (Somateria mollissima) body condition and parasitic load during a mortality event in the Baltic Proper. Avian Biol Res 11:167–172

Garbus SE, Christensen JP, Buchmann K, Jessen TB, Lyngs P, Jacobsen ML, Garbus G, Lund E, Garbus PG, Madsen JJ, Thorup K, Sonne C (2019a) Haematology, blood biochemistry, parasites and pathology of common eider (Somateria mollisima) males during a mortality event in the Baltic. Sci Total Environ 683:559–567

Garbus SE, Krogh AKH, Jacobsen ML, Sonne C (2019) Pathology and plasma biochemistry of common eider (Somateria molissima) males wintering in the Danish part of Western Baltic. J Avian Med Surg 33(3)

Groscolas R (1986) Changes in body mass, body temperature and plasma fuel levels during the natural breeding fast in male and female emperor penguins Aptenodytes forsteri. J Comp Physiol B 156:521–527

Hanssen SA, Folstad I, Erikstad KE (2003) Reduced immunocompetence and cost of reproduction in common eiders. Oecologia 136:457–464

Harðardóttir M, Guðmundsson J, Petersen Æ (1997) þyngdartap aeðarkolla Somateria mollissima á álegutíma (Weight loss of female eiders Somateria mollissima during incubation). Bliki 18:59–64 (In Icelandic)

Hario M, Selin K (1987) Ikäluokkien välisistä eroista haahkan pesye- ja munakoossa. (The variation in clutch size and egg volume in different age classes of the Common Eider). Suomen Riista 34:59–65 (In Finnish with an English summary)

Harr KE (2002) Clinical chemistry of companion avian species: a review. Vet Clin Pathol 31:140–151

Harr KE (2006) Diagnostic value of biochemistry. In: Harrison JG, Lightfoot T (eds) Clinical avian medicine, vol 2. Florida Spix, Palm Beach, pp 611–629

Hochleithner M (1994) Biochemistries. In: Ritchie BW, Harrison GJ, Harrison LR (eds) Avian medicine: principles and applications. Wingers, Lake Worth, pp 223–245

Hollmén T, Lehtonen JT, Sankari S, Soveri T, Hario M (1999) An experimental study on the effects of polymorphiasis in common eider ducklings. J Wildl Dis 35:466–473

Hollmén T, Franson JC, Hario M, Sankari S, Kilpi M, Lindström K (2001) Use of serum biochemistry to evaluate nutritional status and health of incubating common eiders (Somateria mollissima) in Finland. Physiol Biochem Zool 74:333–342

Jacobsen ML, Jaspers VL, Ciesielski TM, Jenssen BM, Løseth ME, Briels N, Eulars I, Leifsson PS, Riget FF, Gomez-Ramirez P, Sonne C (2017) Japanese quail (Coturnix japonica) liver and thyroid gland histopathology as a result of in ovo exposure to flame retardants tris(1,3-dichloro-2-propyl) phosphate and Dechlorane plus. J Toxicol Environ Health Part A 80:525–531

Kaneko JJ (1997) Serum proteins and the dysproteinemias. In: Kaneko JJ, Harvey JW, Bruss M, Kaneko JJ (eds) Clinical biochemistry of domestic animals, 5th edn. Academic, San Diego, pp 117–138

Kolmstetter CM, Ramsay ER (2000) Effects of feeding on plasma uric acid and urea concentrations in blackfooted penguins (Spheniscus demersus). J Avian Med Surg. 14:177–179

Korschgen CE (1976) Breeding stress of female eiders. Ph.D. dissertation. University of Maine, Orono

Korschgen CE (1977) Breeding stress of female eiders in Maine. J Wildl Manag 41:360–373

Langslow DR (1978) Gluconeogenesis in birds. Biochem Soc Trans 6:1148–1152

Laursen K, Møller AP, Öst M (2018) Body condition of eiders at Danish wintering grounds and at pre-breeding grounds in Åland. J Ornithol 160:239–248

Laursen K, Møller AP, Haugaard L, Öst M, Vainio J (2019) Allocation of body reserves during winter in eider Somateria mollissima as preparation for spring migration and reproduction. J Sea Res 144:49–56

Le Maho Y, Vu Van Kha H, Koubi H, Dewasmes G, Girard J, Ferre P, Cagnard M (1981) Body composition, energy expenditure, and plasma metabolites in long-term fasting geese. Am J Physiol 241:E342–E354

Lee KA, Karasov WH, Caviedes-Vidal E (2002) Digestive response to restricted feeding in migratory yellow-rumped warblers. Physiol Biochem Zool 75:314–323

Lumeij JT (2008) Avian clinical biochemistry. In: Kaneko JJ, Harvey JW, Bruss ML (eds) Clinical biochemistry of domestic animals, 6th edn. Academic, San Diego, pp 839–872

Lyngs P (1992) Ynglefuglene på Græsholm 1925–90 (Breeding birds on Græsholm). Dansk Orn Foren Tidsskr 94:12–18 (In Danish with an English summary)

Maceda-Veiga A, Figuerola J, Martínez-Silvestre A, Viscor G, Ferrari N, Pacheco M (2015) Inside the Redbox: applicatioins of haematology in wildlife monitoring and ecosystem health assessment. Sci Total Environ 514:322–332

Mallory ML, Braune BM, Wayland M, Gilchrist HG, Dickson DL (2004) Contaminants in common eiders (Somateria mollissima) of the Canadian Arctic. Environ Rev 12:197–218

Mawhinney K, Diamond AW, Kehoe P, Benjamin N (1999) Status and productivity of common eiders in relation to great black-backed gulls and herring gulls in the southern Bay of Fundy and the northern Gulf of Maine. Waterbirds 22:253–262

Parker H, Holm H (1990) Patterns of nutrient and energy expenditure in female common eider nesting in the High Arctic. Auk 107:660–665

R Core Team (2015) R: a language and environment for statistical computing. R Foundation for Statistical Computing, Vienna. https://www.R-project.org/

Richards MP, Proszkowiec-Weglarz M (2007) Mechanisms regulating feed intake, energy expenditure, and body weight in poultry. Poult Sci 86:1478–1490

Robin JP, Cherel Y, Girard H, Geloen A, Le Maho Y (1987) Uric acid and urea in relation to protein catabolism in long-term fasting geese. J Comp Physiol B 157:491–499

Robin JP, Frain M, Sardet C, Groscolas R, Le Maho Y (1988) Protein and lipid utilization during long-term fasting in emperor penguins. Am J Physiol 254:R61–R68

Samour J (2006) Diagnostic value of hematology. In: Harrison JG, Lightfoot T (eds) Clinical avian medicine, vol 2. Florida Spix, Palm Beach, pp 587–610

Schulz JH, Bermudez AJ, Tomlinson JL, Firman JD, He Z (2000) Blood plasma chemistries from wild mourning doves held in captivity. J Wildl Dis 36:541–545

Sonne C, Dietz R, Kirkegaard M, Letcher RJ, Shahmiri S, Andersen S, Møller P, Olsen AK, Jensen AL (2008) Effects of organohalogen pollutants on haematological and urine clinical-chemical parameters in Greenland sledge dogs (Canis familiaris). Ecotoxicol Environ Saf 69:381–390

Sonne C, Bustnes JO, Herzke D, Jaspers VLB, Covaci A, Halley DJ, Minagawa M, Moum T, Eulaers I, Eens M, Ims RA, Hanssen SA, Erikstad KE, Johnsen T, Schnug L, Jensen AL (2010) Relationships between organohalogen contaminants and blood plasma clinical–chemical parameters in chicks of three raptor species from Northern Norway. Ecotoxicol Environ Saf 73:7–17

Sonne C, Bustnes JO, Herzke D, Jaspers VLB, Covaci A, Eulaers I, Halley DJ, Moum T, Ballesteros M, Eens M, Ims RA, Hanssen SA, Erikstad KE, Johnsen TV, Rigét FF, Jensen AL, Kjelgaard-Hansen M (2012) Blood plasma clinical–chemical parameters as biomarker endpoints for organohalogen contaminant exposure in Norwegian raptor nestlings. Ecotoxicol Environ Saf 80:76–83

Sonne C, Rigét FF, Leat EHK, Bourgeon S, Borgå K, Strøm H, Hanssen SA, Gabrielsen GW, Petersen Æ, Olafsdottir K, Magnusdottir E, Bustnes JO, Furness RW, Kjelgaard-Hansen M (2013) Organohalogen contaminants and blood plasma clinical–chemical parameters in three colonies of North Atlantic great skua (Stercorarius skua). Ecotoxicol Environ Saf 92:245–251

Species360 (2015) International Species Information System. Common eider. https://www.species360.org/. Retrieved December 2015

Stevens L (1996) Metabolic adaptation in avian species. In: Stevens L (ed) Avian biochemistry and molecular biology. Cambridge University Press, Cambridge, pp 82–99

Thrall MA, Baker DC, Campbell TW, DeNicola D, Fettman MJ, Lassen ED, Rebar A, Weiser A (2006) Veterinary hematology and clinical chemistry: text and clinical case presentations set. Blackwell, Ames

Waltho C, Coulson J (2015) The common eider. T & AD Poyser, London

Wilcox FH, Cloud WS (1965) Alkaline phosphatase in the reproductive system of the hen. J Reprod Fertil 10:321–328

Williams TD (2012) Physiological adaptations for breeding in birds. Princeton University Press, Princeton, p 368
Acknowledgements
For funding of the study, we acknowledge The Danish Hunters' Association and Hunters' Nature Fund, 15. Juni Fonden, and BONUS BALTHEALTH, which received funding from BONUS (Art. 185), the Danish Environmental Protection Agency (Miljøstyrelsen), funded jointly by the EU, Innovation Fund Denmark (grants 6180-00001B and 6180-00002B), Forschungszentrum Jülich GmbH, the German Federal Ministry of Education and Research (grant FKZ 03F0767A), the Academy of Finland (grant 311966), and the Swedish Foundation for Strategic Environmental Research (MISTRA).
Additional information
Publisher's Note
Springer Nature remains neutral with regard to jurisdictional claims in published maps and institutional affiliations.
Communicated by L. Fusani.
About this article
Cite this article
Garbus, S., Christensen, J.P., Lyngs, P. et al. Changes in blood biochemistry of incubating Baltic Common Eiders (Somateria mollisima). J Ornithol 161, 25–33 (2020). https://doi.org/10.1007/s10336-019-01708-0
Received:

Revised:

Accepted:

Published:

Issue Date:
Keywords
Health

Stress

Starvation

Plasma

Blood biochemistry

Body weight