Abstract
The biparental incubation model is an excellent one for investigating how parents resolve sexual conflict and achieve cooperation, especially in cold alpine environments. We used video monitoring of 20 nests 24 h/day to systematically investigate the incubation pattern of the Black-necked Crane (Grus nigricollis), a biparental waterbird with threatened status (International Union for Conservation of Nature vulnerable status), inhabiting the Qinghai-Tibetan Plateau, China. Analysis of 3886 h of video recordings indicated high nest attendance (90.1%) by Black-necked Crane parents across 14 nests, with almost equal female and male nest attendance (45.4 vs. 44.8%). The average length of an incubation bout was 2.06 h, with frequent changeovers (10.87 times/day, lasting on average 5.05 min). Males spent significantly more time returning to the nest than females (5.57 vs. 4.65 min, t 180 = −46.61, P < 0.001) after the partner left the nest. Six of 20 monitored nests failed, mainly due to egg predation, egg collection, or adverse weather. We provide the first evidence that, under natural environmental conditions, both males and females respond to reduced partner effort with diverse strategies. On average, full compensation was greater than 100% for the decreased partner effort. In this long-lived species with long-lasting pair bonds and low fecundity, a mate may overly compensate for reduced partner investment to avoid forfeiting the current breeding attempt. Our results indicate that females and males are allocated different tasks with complementary patterns during incubation, enhancing egg care efficiency in an alpine plateau environment with severe threats. Both social and natural environmental factors may shape the incubation pattern of Black-necked Cranes.
Zusammenfassung
Biparentales Brutmuster beim Schwarzhalskranich unter Hochlagen-Bedingungen
Piparentale Brut ist ein ausgezeichnetes Modell um zu untersuchen, wie Eltern Konflikte zwischen den Geschlechtern lösen und Kooperation, insbesondere unter den kalten alpinen Bedingungen, erreichen. Wir verwendeten eine Rund-um-die-Uhr-Überwachung von 20 Nestern, um die Brutmuster des Schwarzhalskranichs (Grus nigricollis) systematisch zu untersuchen. Der Schwarzhalskranich ist eine biparental brütende Art, die das tibetische Qinghai Plateau in China bewohnt. Die Analyse der 3886 Stunden Videoaufnahmen ergaben eine hohe Anwesenheit der Kranich-Eltern am Nest von 901% über 14 Nester, mit einer annähernd gleichen Anwesenheit von Weibchen und Männchen (454 resp. 448%). Die mittlere Länge einer Brutsitzung war 206 Stunden, mit häufigen Wechseln (109 mal pro Tag mit einer mittleren Dauer von 505 Minuten). Männchen brauchten signifikant länger für ihre Rückkehr zum Nest als Weibchen (557 Minuten gegenüber 465 Minuten), nachdem der Partner das Nest verlassen hatte. Sechs der 20 überwachten Nester scheiterten, hauptsächlich aufgrund von Prädation, menschlichen Eiersammlern oder widrigem Wetter. Wir zeigten als erste, dass unter natürlichen Umweltbedingungen sowohl Männchen als auch Weibchen mit unterschiedlichen Strategien auf einen verminderten Einsatz des Partners reagierten. Im Mittel lag die Kompensation für den verminderten Einsatz des Partners bei über 100%. Bei einer solch langlebigen Art mit langanhaltender Paarbindung und geringer Fruchtbarkeit könnte der andere Partner für den verminderten Einsatz des Partners überkompensieren, um es zu vermeiden, dass der aktuelle Brutversuch abgebrochen wird. Unsere Ergebnisse weisen darauf hin, dass Männchen und Weibchen verschiedene Aufgaben mit sich ergänzenden Mustern übernehmen, wodurch sie die Sorge um die Eier in einer Hochplateau-Umgebung mit großen Gefahren effektiv verbessern. Sowohl die sozialen als auch die Umweltgegebenheiten könnten die Brutmuster des Schwarzhalskranichs beeinflussen.
This is a preview of subscription content, log in to check access.
Access options
Buy single article
Instant unlimited access to the full article PDF.
US$ 39.95
Price includes VAT for USA
Subscribe to journal
Immediate online access to all issues from 2019. Subscription will auto renew annually.
US$ 99
This is the net price. Taxes to be calculated in checkout.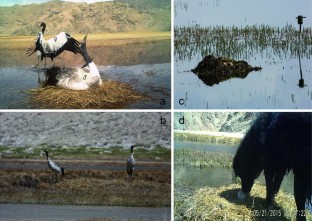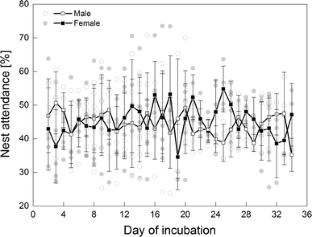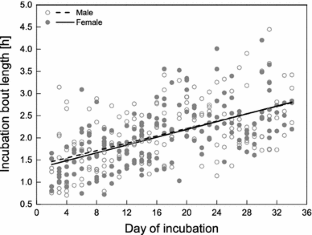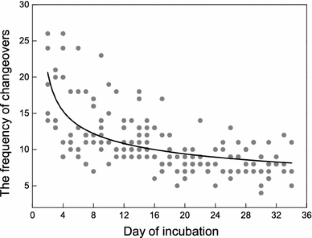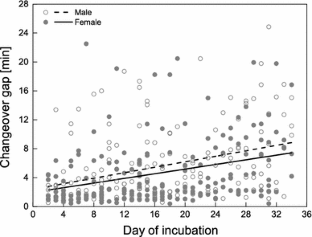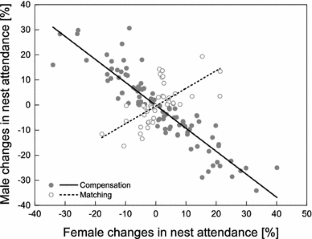 References
AlRashidi M, Kosztolányi A, Küpper C, Cuthill IC, Javed S, Székely T (2010) The influence of a hot environment on parental cooperation of a ground-nesting shorebird, the Kentish Plover Charadrius alexandrinus. Front Zool 7(12):2037–2041. doi:10.1186/1742-9994-7-1

AlRashidi M, Kosztolányi A, Shobrak M, Küpper C, Székely T (2011) Parental cooperation in an extreme hot environment: natural behavior and experimental evidence. Anim Behav 82(2):235–243. doi:10.1016/j.anbehav.2011.04.019

Auer SK, Bassar RD, Martin TE (2007) Biparental incubation in the Chestnut-vented Tit-babbler Parisoma subcaeruleum: mates devote equal time, but males keep eggs warmer. J Avian Biol 38(3):278–283. doi:10.1111/j.2007.0908-8857.04092.x

Barta Z, Székely T, Liker A, Harrison F (2014) Social role specialization promotes cooperation between parents. Am Nat 183(6):747–761. doi:10.1086/676014

Bradter U, Gombobaatar S, Uuganbayar C, Grazia TE, Exo KM (2007) Time budgets and habitat use of White-naped Cranes Grus vipio in the Ulz river valley, north-eastern Mongolia during the breeding season. Bird Conserv Int 17(3):259–271. doi:10.1017/S0959270907000767

Bulla M, Valcu M, Rutten AL, Kempenaers B (2014) Biparental incubation patterns in a High-Arctic breeding shorebird: how do pairs divide their duties? Behav Ecol 25(1):152–164. doi:10.1093/beheco/art098

Bulla M, Stich E, Valcu M, Kempenaers B (2015) Off-nest behavior in a biparentally incubating shorebird varies with sex, time of day and weather. Ibis 157(3):575–589. doi:10.1111/ibi.12276

Camfield AF, Martin K (2009) The influence of ambient temperature on Horned Lark incubation behavior in an alpine environment. Behavior 146(12):1615–1633. doi:10.1163/156853909X463335

Chalfoun AD, Martin TE (2007) Latitudinal variation in avian incubation attentiveness and a test of the food limitation hypothesis. Anim Behav 73(4):579–585. doi:10.1016/j.anbehav.2006.09.010

Dwyer NC, Tanner GW (1992) Nesting success in Florida Sandhill Cranes. Wilson Bull 104:22–31

Harrison F, Barta Z, Cuthill I, Szekely T (2009) How is sexual conflict over parental care resolved? A meta-analysis. J Evol Biol 22(9):1800–1812. doi:10.1111/j.1420-9101.2009.01792.x

Houston AI, Davies NB (1985) The evolution of cooperation and life history in the Dunnock, Prunella modularis. In: Sibly RM, Smith RH (eds) Behavioral ecology. Blackwell, Oxford, pp 471–487

Johnstone RA, Hinde CA (2006) Negotiation over offspring care—how should parents respond to each other's efforts? Behav Ecol 17(5):818–827. doi:10.1093/beheco/arl009

Jones K, Ruxton GD, Monaghan P (2002) Model parents: is full compensation for reduced partner nest attendance compatible with stable biparental care? Behav Ecol 13(6):838–843. doi:10.1093/beheco/13.6.838

Khan A, Chandan P, Takpa J, Hussain SA, Rattan R, Jamwal PS et al (2014) Diurnal time budget of breeding Black-necked Crane (Grus nigricollis) in Changthang, Ladakh. India Zool Res 35(S1):158–166

Klenova AV, Volodin IA, Volodina EV (2008) Duet structure provides information about pair identity in the Red-crowned Crane (Grus japonensis). J Ethol 26(3):317–325. doi:10.1007/s10164-007-0063-y

Kong DJ, Zhong XY, Zhang JG, Zhao XS, Yang XJ (2014) Vocal behaviors and spectrum characteristics of Black-necked Cranes (Grus nigricollis). Zool Res 35(S1):167–180

Kosztolányi A, Székely T, Cuthill IC, Yilmaz KT, Berberoǧlu S (2006) Ecological constraints on breeding system evolution: the influence of habitat on brood desertion in Kentish Plover. J Anim Ecol 75(1):257–265. doi:10.1111/j.1365-2656.2006.01049.x

Kosztolányi A, Cuthill IC, Székely T (2008) Negotiation between parents over care: reversible compensation during incubation. Behav Ecol 20(2):446–452. doi:10.1093/beheco/arn140

McNamara JM, Gasson CE, Houston AI (1999) Incorporating rules for responding to evolutionary games. Nature 401:368–371

Nord A, Nilsson JÅ (2011) Incubation temperature affects growth and energy metabolism in Blue Tit nestlings. Am Nat 178(5):639–651. doi:10.1086/662172

Remeš V, Freckleton RP, Tökölyi J, Liker A, Székely T (2015) The evolution of parental cooperation in birds. Proc Natl Acad Sci 112(44):13603–13608

Sandercock BK (1998) Chronology of nesting events in Western and Semipalmated Sandpipers near the Arctic Circle. J Field Ornithol 69:235–243

Sanz JJ, Kranenbarg S, Tinbergen JM (2000) Differential response by males and females to manipulation of partner contribution in the Great Tit (Parus major). J Anim Ecol 69(1):74–84. doi:10.1046/j.1365-2656.2000.00373.x

Scott DA (1993) The Black-necked Cranes Grus nigricollis of Ruoergai Marshes, Sichuan China. Bird Conserv Int 3(03):245–259. doi:10.1017/S0959270900000939

Spiegel CS, Haig SM, Goldstein MI, Huso M (2012) Factors affecting incubation patterns and sex roles of Black Oystercatchers in Alaska. Condor 114(1):123–134. doi:10.1525/cond.2011.100094

Székely T (2014) Sexual conflict between parents: offspring desertion and asymmetrical parental care. Cold Spring Harb Perspect Biol 6(11):a017665. doi:10.1101/cshperspect.a017665

Volodin IA, Volodina EV, Klenova AV, Matrosova VA (2015) Gender identification using acoustic analysis in birds without external sexual dimorphism. Avian Res 6(1):1. doi:10.1186/s40657-015-0033-y

Walkinshaw L (1973) Cranes of the world. New York, Winchester

White FN, Kinney JL (1974) Avian incubation. Science 186:107–115. doi:10.1126/science.186.4159.107

Yang R, Wu H, Yang X, Jiang W, Zuo L, Xiang Z (2007) Diurnal time budget of the Black-necked Crane during the breeding season. Waterbirds 30(1):80–85. doi:10.1675/1524-4695(2007)030[0080:DTBOTB]2.0.CO;2

Zhang LX, Shu ML, An B, Suo YL, Se YJ, Yang XJ (2014) Number and distribution of the Black-necked Cranes (Grus nigricollis) in Yanchiwan National Nature Reserve, Gansu China. Zool Res 35(S1):117–123
Acknowledgements
We are grateful to all the people who helped with the fieldwork in the Danghe wetlands and to Lanzhou University for permission to carry out these field investigations, to Dr. Bo Du for statistical assistance, and to James Harris for his editing of the manuscript, Martin Bulla for his invaluable suggestions on the original manuscript and two anonymous referees for their constructive comments. This research was financially supported by a grant from the State Key Laboratory of Genetic Resources and Evolution, Kunming Institute of Zoology and the Chinese Academy of Sciences (GREKF1312). This work was further supported by the Yanchiwan National Nature Reserve.
Electronic supplementary material
Below is the link to the electronic supplementary material.
Supplementary material 1 (MP4 8806 kb)
About this article
Cite this article
Zhang, L., Shu, M., An, B. et al. Biparental incubation pattern of the Black-necked Crane on an alpine plateau. J Ornithol 158, 697–705 (2017). https://doi.org/10.1007/s10336-017-1439-6
Received:

Revised:

Accepted:

Published:

Issue Date:
Keywords
Biparental care

Nest attendance

Natural environment

Grus nigricollis

Social environment

Alpine cold environment