Abstract
Chimpanzees (Pan troglodytes) have been known for a long time to have color vision identical to humans (Grether in J Comp Psychol 29(2):167–177, 1940b; Jacobs et al. in Vis Res 36(16):2587–2594, 1996). With this study, we wonder if chimpanzees, as humans, show preferences for some colors rather than others. During a first range of experiments, we test their ability to discriminate all the colors from our set, through easy matching-to-sample tasks. The seven chimpanzees that participate in this first test show the results we can expect from chimpanzees with normal color vision. Then, six of them are tested for preferences. This range of experiments results in the existence of consistent tendencies across all the trials and situations, as chimpanzees would mostly first choose some particular colors, and conversely choose last different colors. Although the results for color discrimination are identical for all the seven chimpanzees, preference tests demonstrate four different tendencies. This study is the first step toward broader experiments, including more chimpanzee subjects, but also different species, with the only requirement of being trained to the basic use of a touch panel interface.
This is a preview of subscription content, log in to check access.
Access options
Buy single article
Instant unlimited access to the full article PDF.
US$ 39.95
Price includes VAT for USA
Subscribe to journal
Immediate online access to all issues from 2019. Subscription will auto renew annually.
US$ 99
This is the net price. Taxes to be calculated in checkout.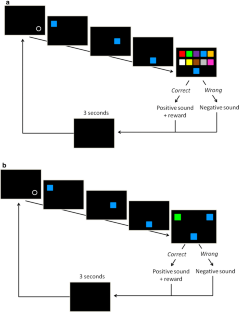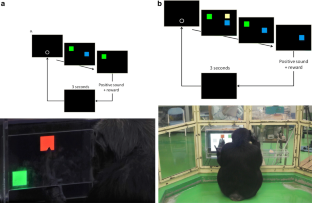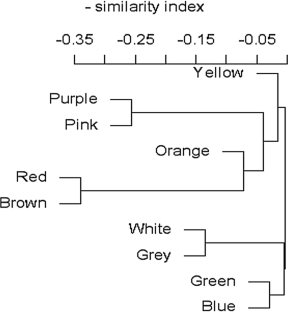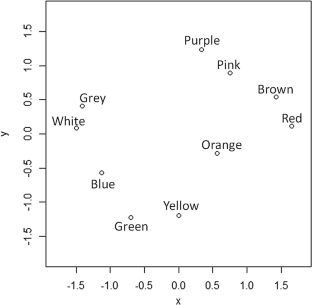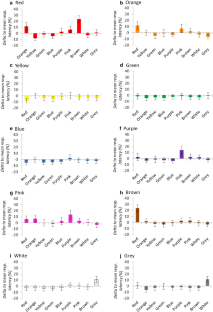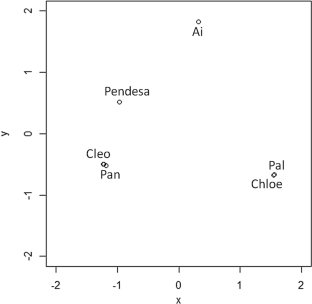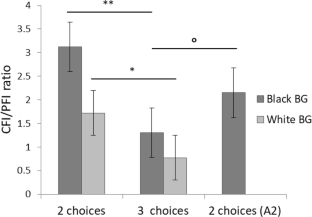 Abbreviations
MtS:

Matching-to-sample

JPMA:

Japanese Paint Manufacturers Association
References
Adams RJ (1987) An evaluation of color preference in early infancy. Infant Behav Dev 10(2):143–150

Franklin A, Gibbons E, Chittenden K, Alvarez J, Taylor C (2012) Infant color preference for red is not selectively context specific. Emotion 12(5):1155–1160

Grether WF (1940) A comparison of human and chimpanzee spectral hue discrimination curves. J Exp Psychol 26(4):394–403

Grether WF (1940b) Chimpanzee color vision. I. Hue discrimination at three spectral points. J Comp Psychol 29(2):167–177

Hurlbert AC, Ling Y (2007) Biological components of sex differences in color preference. Curr Biol 17(16):R623–R625

Jacobs GH, Deegan JF, Moran JL (1996) ERG measurements of the spectral sensitivity of common chimpanzee (Pan troglodytes). Vis Res 36(16):2587–2594

Kaneko T, Sakai T, Miyabe-Nishiwaki T, Tomonaga M (2013) A case of naturally occurring visual field loss in a chimpanzee with an arachnoid cyst. Neuropsychologia 51(13):2856–2862

Maier MA, Barchfeld P, Elliot AJ, Pekrun R (2009) Context specificity of implicit preferences: the case of human preference for red. Emotion 9(5):734–738

Matsuno T, Kawai N, Matsuzawa T (2004) Color classification by chimpanzees (Pan troglodytes) in a matching-to-sample task. Behav Brain Res 148(1–2):157–165

Matsuzawa T (1985) Colour naming and classification in a chimpanzee (Pan troglodytes). J Hum Evol 14:283–291

Matsuzawa T (1990) Form perception and visual acuity in a chimpanzee. Folia Primatol 55(1):24–32

Miyabe-Nishiwaki T, Kaneko T, Sakai T, Kaneko A, Watanabe A, Watanabe S et al (2014) Intracranial arachnoid cysts in a chimpanzee (Pan troglodytes). Primates 55(1):7–12. https://doi.org/10.1007/s10329-013-0384-0

Nunn CL (1999) The evolution of exaggerated sexual swellings in primates and the graded-signal hypothesis. Anim Behav 58(2):229–246

Palmer SE, Schloss KB (2010) An ecological valence theory of human color preference. Proc Natl Acad Sci 107(19):8877–8882

Terao K, Mikami A, Saito A, Itoh S, Ogawa H, Takenaka O et al (2005) Identification of a protanomalous chimpanzee by molecular genetic and electroretinogram analyses. Vis Res 45(10):1225–1235

Wells DL, McDonald CL, Ringland JE (2008) Color preferences in gorillas (Gorilla gorilla gorilla) and chimpanzees (Pan troglodytes). J Comp Psychol 122(2):213–219
Acknowledgements
We thank S. Hirata, M. Tomonaga, I. Adachi, M. Hayashi for their help and guidance in this study development. We thank PRI staff for their support and work in the experiments and everyday care of the chimpanzees. This study was financially supported by Grants-in-Aid for Scientific Research from JSPS #24000001, #16H06283 and LGP-U04 to T. Matsuzawa and Core-to-Core Program A. Advanced Research Networks "Comparative Cognitive Science Network"
Ethics declarations
Conflict of interest
The authors declare that they have no conflicts of interest.
Ethical approval
The research proposal for the project "Studies on sequential learning, memory, and language comprehension in chimpanzees" was approved by the Animal Welfare and Animal Care Committee of Primate Research Institute, Kyoto University (Nos. 2015-063). All procedures adhered to the Japanese Act on the Welfare and Management of Animals.
Additional information
Publisher's Note
Springer Nature remains neutral with regard to jurisdictional claims in published maps and institutional affiliations.
Electronic supplementary material
Below is the link to the electronic supplementary material.
About this article
Cite this article
Pene, C.H.M., Muramatsu, A. & Matsuzawa, T. Color discrimination and color preferences in Chimpanzees (Pan troglodytes). Primates (2020). https://doi.org/10.1007/s10329-020-00790-w
Received:

Accepted:

Published:
Keywords
Chimpanzees

Pan troglodytes

Color perception

Color preference

Touch panel