Abstract
Chimpanzees regularly hunt for meat in the wild, including both solo and group hunting; however, theft of prey from non-chimpanzee hunters, or scavenging of carcasses is extremely rare. Here we report the first observations of a novel prey capture technique by the chimpanzees in two adjacent communities in the Budongo Conservation Field Station, Uganda. In both cases blue duikers were found caught in human laid snare traps, and then retrieved by the chimpanzees. In one case the duiker was still alive when retrieved and subsequently fully consumed by the chimpanzees. In the other, the chimpanzees encountered the duiker while alive, but retrieved it soon after its death; here only a small portion was consumed. These observations are discussed in comparison to observations of chimpanzee hunting, scavenging, and their exploitation of an environment increasingly modified by human activity.
This is a preview of subscription content, log in to check access.
Access options
Buy single article
Instant unlimited access to the full article PDF.
US$ 39.95
Price includes VAT for USA
Subscribe to journal
Immediate online access to all issues from 2019. Subscription will auto renew annually.
US$ 99
This is the net price. Taxes to be calculated in checkout.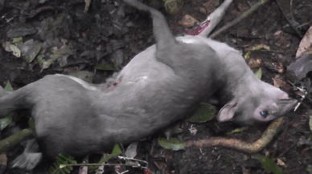 References
Amati S, Babweterra F, Wittig RM (2008) Snare removal by a chimpanzee of the Sonso community, Budongo Forest (Uganda). Pan Africa News 15:6–8

Biro D, Inoue-Nakamura N, Tonooka R, Yamakoshi G, Sousa C, Matsuzawa T (2003) Cultural innovation and transmission of tool use in wild chimpanzees: evidence from field experiments. Anim Cogn 6:213–223

Boesch C, Boesch H (1989) Hunting behavior of wild chimpanzees in the Tai National Park. Am J Phys Anthropol 78:547–573

Eggeling WJ (1947) Observations on the ecology of the Budongo Rain Forest, Uganda. J Ecol 34:20–87

Goodall J (1986) The chimpanzees of Gombe: patterns of behaviour. Harvard University Press, Cambridge

Hasegawa T, Hiraiwa M, Nishida T, Takasaki H (1983) New evidence on scavenging behavior in wild chimpanzees. Curr Anthropol 24:231–232

Hocking KJ (2011) The crop raiders of the sacred hill. In: Matsuzawa T, Humle T, Sugiyama Y (eds) The chimpanzees of Bossou and Nimba. Springer, Japan, pp 211–220

Muller MN, Mpongo E, Stanford CB, Boehm C (1995) A note on scavenging by wild chimpanzees. Folia Primatol 65:43–47

Newton-Fisher NE, Notman H, Reynolds V (2002) Hunting of mammalian prey by Budongo Forest chimpanzees. Folia Primatol 73:281–283

Nishida T (2011) Chimpanzees of the lakeshore: natural history and culture at Mahale. Cambridge University Press, Cambridge

Nishida T, Uehara S, Nyundo R (1979) Predatory behavior among wild chimpanzees of the Mahale Mountains. Primates 20:1–20

Ohashi G, Matsuzawa T (2011) Deactivation of snares by wild chimpanzees. Primates 52:1–5

Reynolds V (2005) The chimpanzees of the Budongo Forest: ecology, behavior and conservation. Oxford University Press, Oxford

Stanford CB, Wallis J, Matama H, Goodall J (1994) Patterns of predation by chimpanzees on red colobus monkeys in Gombe National Park, 1982–1991. Am J Phys Anthropol 94:213–228

Tweheyo M, Hill C, Obua J (2005) Patterns of crop raiding by primates around the Budongo Forest Reserve, Uganda. Wildlife Biol 11:237–247

Uehara S (1997) Predation on mammals by the chimpanzee (Pan troglodytes). Primates 38:193–214

Watts DP (2008) Scavenging by chimpanzees at Ngogo and the relevance of chimpanzee scavenging to early hominin behavioral ecology. J Hum Evol 54:125–133

Watts DP, Amsler SJ (2013) Chimpanzee-red colobus encounter rates show a red colobus population decline associated with predation by chimpanzees at Ngogo. Am J Primatol 75:927–937
Acknowledgments
We would like to thank staff of the Budongo Conservation Field Station, in particular the chimpanzee field assistants, the Uganda National Council for Science and Technology, the President's Office, the Uganda Wildlife Authority and the National Forestry Authority. We would like to thank two anonymous reviewers for their helpful comments on the manuscript. The research leading to these results has received funding from the European Research Council under the European Union's Seventh Framework Programme (FP7/2007–2013)/ERC grant agreement no. 283871.
Electronic supplementary material
Below is the link to the electronic supplementary material.
Video S1. Dead blue duiker trapped in snare wire. The now dead duiker is freed from the wire snare which had trapped it around its neck (by RE). (MOV 5,501 kb)
Video S2. Duiker is retrieved by female chimpanzee Kipepeo. Hearing that the chimpanzees had remained in the area, after freeing the duiker the observers hid themselves from view in nearby foliage and continued to film. Female chimpanzee Kipepeo can be seen returning to the site (face visible at 8 s) and reaching her hand out (11 s) to retrieve the carcass (13 s). (MOV 5,288 kb)
About this article
Cite this article
Brand, C., Eguma, R., Zuberbühler, K. et al. First report of prey capture from human laid snare-traps by wild chimpanzees. Primates 55, 437–440 (2014) doi:10.1007/s10329-014-0419-1
Received:

Accepted:

Published:

Issue Date:
Keywords
Pan troglodytes

Blue duiker

Scavenging

Hunting

Budongo