Abstract
An adult male chimpanzee living in a captive social group at the Primate Research Institute of Kyoto University developed acute tetraparesis. He was paralyzed and received intensive care and veterinary treatment as previously reported in Miyabe-Nishiwaki et al. (J Med Primatol 39:336–346, 2010). The behavioral recovery of the chimpanzee was longitudinally monitored using an index of upright posture between 0 and 41 months after the onset of tetraparesis. Four phases were identified during the course of behavioral recovery. During Phase 0 (0–13 months), the chimpanzee remained lying on his back during the absence of human caretakers. An increase in upright posture occurred in Phase I (14–17 months), then remained at a stable level of around 50–70 % in Phase II (18–29 months). During Phases I and II, the subject's small treatment cage represented a spatial limitation. Thus, behavioral recovery was mainly mediated by arm muscle strengthening caused by raising the body trunk with the aid of materials attached to the cage walls as environmental enrichment. When the chimpanzee was moved to a larger rehabilitation room in Phase III (30–41 months), the percentage of upright posture constantly exceeded 80 %, except in the 40th month when he injured his ankle and was inactive for several days. The enlargement of the living space had a positive effect on behavioral recovery by increasing the types of locomotion exhibited by the subject, including the use of legs during walking. Rehabilitation works were applied in face-to-face situations which enabled the use of rehabilitation methods used in humans. The process of behavioral recovery reported in this study provides a basic data set for planning future rehabilitation programs and for comparisons with further cases of physical disability in non-human primates.
This is a preview of subscription content, log in to check access.
Access options
Buy single article
Instant unlimited access to the full article PDF.
US$ 39.95
Price includes VAT for USA
Subscribe to journal
Immediate online access to all issues from 2019. Subscription will auto renew annually.
US$ 99
This is the net price. Taxes to be calculated in checkout.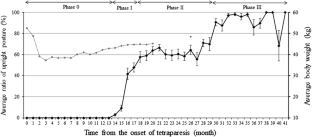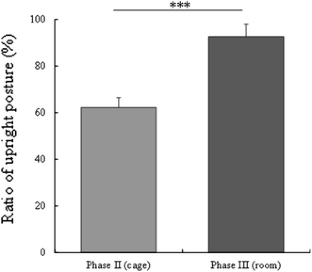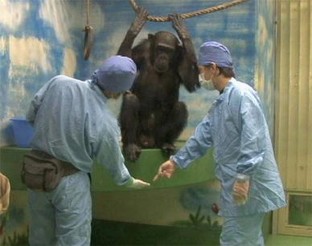 References
Alford PL, Satterfield WC (1995) Paralytic illness resembling inflammatory polyradiculoneuropathy in a chimpanzee. J Am Vet Med Assoc 207:83–85

Fushimi T (1994) Acquisition of request and reject behaviors in chimpanzees. Doctoral thesis

Hamada Y, Udono T, Teramoto M, Sugawara T (1996) The growth pattern of chimpanzees: somatic growth and reproductive maturation in Pan troglodytes. Primates 37:279–295

Hayashi M, Sakuraba Y (2009) Reo's fight against disease (in Japanese). Kagaku 79:1156–1157

Hayashi M, Takeshita H (2009) Stacking of irregularly shaped blocks in chimpanzees (Pan troglodytes) and young humans (Homo sapiens). Anim Cogn 12:S49–S58

Hosey G, Melfi V, Pankhurst S (2009) Zoo animals: behaviour, management, and welfare. Oxford University Press, New York

Kaneko A, Watanabe S (2009) Rehabilitation of Reo (in Japanese). Kagaku 79:1274–1275

Kano F, Tomonaga M (2013) Head-mounted eye tracking of a chimpanzee under naturalistic conditions. PLoS ONE 8:e59785

Matsubayashi K, Kumazaki K, Kamanaka Y (1985) Three successful cases of artificial insemination in chimpanzees. Exp Anim 34:203–206

Matsuzawa T (2006) Sociocognitive development in chimpanzees: a synthesis of laboratory work and fieldwork. In: Matsuzawa T, Tomonaga M, Tanaka M (eds) Cognitive development in chimpanzees. Springer, Tokyo, pp 3–33

Miyabe-Nishiwaki T, Kaneko A, Watanabe S, Hayashi M (2008) A paralyzed chimpanzee, Reo (in Japanese). Kagaku 78:34–35

Miyabe-Nishiwaki T, Kaneko A, Nishiwaki K, Watanabe A, Watanabe S, Maeda N, Kumazaki K, Morimoto M, Hirokawa R, Suzuki J, Ito Y, Hayashi M, Tanaka M, Tomonaga M, Matsuzawa T (2010) Tetraparesis resembling acute transverse myelitis in a captive chimpanzee (Pan troglodytes): long-term care and recovery. J Med Primatol 39:336–346

Sakuraba Y (2013) Rehabilitation and its evaluation using cognitive experiments in a disabled chimpanzee (in Japanese). Master thesis

Takeshita H (2001) Development of combinatory manipulation in chimpanzee infants (Pan troglodytes). Anim Cogn 4:335–345

Tanaka M (1995) Object sorting in chimpanzees (Pan troglodytes): classification based on physical identity, complementarity, and familiarity. J Comp Psychol 109:151–161

Thompson ME, Jones JH, Pusey AE, Brewer-Marsden S, Goodall J, Marsden D, Matsuzawa T, Nishida T, Reynolds V, Sugiyama Y, Wrangham RW (2007) Aging and fertility patterns in wild chimpanzees provide insights into the evolution of menopause. Curr Biol 17:2150–2156

Tomonaga M (2010) Rehabilitation of Reo (ver. 2, in Japanese). Kagaku 80:480–481

Tomonaga M, Matsuzawa T, Fujita K, Yamamoto J (1991) Emergence of symmetry in a visual conditional discrimination by chimpanzees (Pan troglodytes). Psychol Rep 68:51–60

Yamanashi Y, Hayashi M (2011) Assessing the effects of cognitive experiments on the welfare of captive chimpanzees (Pan troglodytes) by direct comparison of activity budget between wild and captive chimpanzees. Am J Primatol 73:1231–1238

Yanagisawa K (ed) (2011) Physical and occupational therapists: blue note basics, 2nd edn. Medical View Com., Tokyo, pp 540–541 (in Japanese)

Young RJ (2003) Environmental enrichment for captive animals. Blackwell Publishing, Oxford
Acknowledgments
This study was financially supported by the Primate Research Institute of Kyoto University, a Grant-Aid for Scientific Research from the Ministry of Education, Culture, Sports, Science and Technology, #20002001 and #24000001 to T.M., #19700245 and #23700313 to M.H., and Benesse Corporation. We thank the following people for their everyday care for Reo, useful suggestions, and providing information which enabled our study: Masaki Tomonaga, Masayuki Tanaka, Tomoko Imura, Ikuma Adachi, Shinya Yamamoto, Kiyonori Kumazaki, Gaku Ohashi, Yuko Hattori, Tomomi Ochiai, Toyomi Matsuno, Makiko Uchikoshi, Tomoko Takashima, Sana Inoue, Laura Martinez, Yoshiaki Sato, Etsuko Nogami, Suzuka Hori, Yasuyo Ito, Yumi Yamanashi, Mari Hirosawa, Mai Nakashima, Akiho Muramatsu, Lira Yu, Sou Ueda, Hirohisa Hirai, Munehiro Okamoto, Kiyoaki Matsubayashi, Takashi Kageyama, Juri Suzuki, Takako Miyabe, Akino Watanabe, Koki Nishiwaki, Norihiko Maeda, Mayumi Morimoto, Rui Hirokawa, Hanako Sasaki, Yasushi Furuhashi, and Naoko Suda from PRI, Koji Ohata from the Graduate School of Medicine of Kyoto University, Keisuke Hirami from Kawamura Gishi Corp., and Mitsuo Tagami from Osaka Rosai Hospital. We thank Miho Nakamura from the Wildlife Research Center of Kyoto University for providing the video images of rehabilitation and Dora Biro for English editing. The present study complied with the Guidelines for Care and Use of Nonhuman Primates (Version 3) laid down by PRI and with the national laws in Japan.
Electronic supplementary material
Below is the link to the electronic supplementary material.
Supplemental video: Face-to-face interaction between Reo, a keeper (SW, right) and a veterinarian (AK,left). While the keeper is grooming the chimpanzee's face the veterinarian is applying extension rehabilitation to his leg. They also encourage Reo to extend his leg by gestural and verbal instructions (MPG 82984 kb)
About this article
Cite this article
Hayashi, M., Sakuraba, Y., Watanabe, S. et al. Behavioral recovery from tetraparesis in a captive chimpanzee. Primates 54, 237–243 (2013) doi:10.1007/s10329-013-0358-2
Received:

Accepted:

Published:

Issue Date:
Keywords
Chimpanzee

Tetraparesis

Disability

Rehabilitation

Environmental enrichment