Abstract
It has been shown that humans prefer consonant sounds from the early stages of development. From a comparative psychological perspective, although previous studies have shown that birds and monkeys can discriminate between consonant and dissonant sounds, it remains unclear whether nonhumans have a spontaneous preference for consonant music over dissonant music as humans do. We report here that a five-month-old human-raised chimpanzee (Pan troglodytes) preferred consonant music. The infant chimpanzee consistently preferred to produce, with the aid of our computerized setup, consonant versions of music for a longer duration than dissonant versions. This result suggests that the preference for consonance is not unique to humans. Further, it supports the hypothesis that one major basis of musical appreciation has some evolutionary origins.
This is a preview of subscription content, log in to check access.
Access options
Buy single article
Instant unlimited access to the full article PDF.
US$ 39.95
Price includes VAT for USA
Subscribe to journal
Immediate online access to all issues from 2019. Subscription will auto renew annually.
US$ 99
This is the net price. Taxes to be calculated in checkout.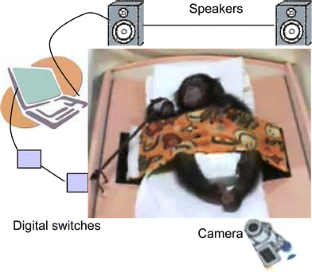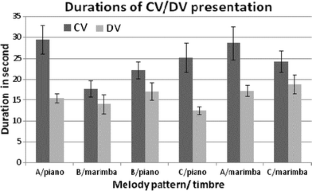 References
Blood AJ, Zatorre RJ, Bermudez P, Evans AC (1999) Emotional responses to pleasant and unpleasant music correlate with activity paralimbic brain regions. Nat Neurosci 2:382–387

Crouder RG, Reznick JS, Rosenkrantz SL (1991) Perception of major/minor distinction: V. Preferences among infants. Psychon Bull Rev 29:187–188

DeCasper AJ, Fifer WP (1980) Of human bonding: newborns prefer their mothers' voice. Science 208:1174–1176

Fishman YI, Volkov IO, Noh MD, Garell PC, Bakken H, Arezzo JC, Howard MA, Steinschneider M (2001) Consonance and dissonance of musical chords: neural correlates in auditory cortex of monkeys and humans. J Neurophysiol 86:2761–2788

Giesbert FJ (1978) Method for the treble recorder. B. Schott's Söhne, Mainz

Hannon EE, Trehub SE (2005) Metrical categories in infancy and adulthood. Psychol Sci 16:48–55

Hauser M, McDermott J (2003) The evolution of the music faculty: a comparative perspective. Nat Neurosci 6:663–668

Helmholtz HV (1954) On the sensations of tone as a physiological basis for the theory of music. Dover, New York

Hulse SH, Bernard DJ, Braaten RF (1995) Auditory discrimination of chord-based spectral structures by European starlings. J Exp Psychol Gen 124:409–423

Iverson P, Kuhl PK, Akahane-Yamada R, Diesch E, Tohkura Y, Kettermann A, Siebert C (2003) A perceptual interference account of acquisition difficulties for non-native phonemes. Cognition 87:B47–B57

Izumi A (2000) Japanese monkeys perceive sensory consonance of chords. J Acoust Soc Am 108:3073–3078

Kuhl PK, Williams KA, Lacerda F, Stevems KN, Lindblom B (1992) Linguistic experience alters phonetic perception in infants by 6 months of age. Science 255:606–608

Masataka N (2006) Preference for consonance over dissonance by hearing newborns of deaf parents and of hearing parents. Dev Sci 9:46–50

McDermott J, Hauser M (2004) Are consonant intervals music to their ears? Spontaneous acoustic preferences in nonhuman primates. Cognition 94:B11–B21

McDermott J, Hauser M (2007) Nonhuman primates prefer slow tempos but dislike music overall. Cognition 104:654–668

Sammler D, Grigutsch M, Fritz T, Koelsch S (2007) Music and emotion: electrophysiological correlates of the processing of pleasant and unpleasant music. Psychophysiology 44:293–304

Stewart L, Walsh V (2005) Infant learning: music and the baby brain. Curr Biol 15:R882–R884

Sullivan MW, Lewis M (2003) Contextual determinants of anger and other negative expressions in young infants. Dev Psychol 39:693–705

Trainor JJ, Heinmiller BM (1998) The development of evaluative responses to music. Inf Behav Dev 21:77–88

Trainor LJ, Tsang CD, Cheung VHW (2002) Preference for sensory consonance in 2- and 4-month-old infants. Music Percep 20:187–194

Watanabe S, Uozumi M, Tanaka N (2005) Discrimination of consonance and dissonance in Java sparrows. Behav Proc 70:203–208

Zentner MR, Kagan J (1996) Perception of music by infants. Nature 383:29
Acknowledgments
We would like to thank Sumiharu Nagumo for his help in programming and for his technical assistance. We are also grateful to the staff of Itozu-no-Mori Park for their help. Thanks are also due to the referees of the article for their constructive criticism and warm support. This study was supported by Grants-in-Aid for Scientific Research from the Japan Society for the Promotion of Science (JSPS), #16203034 to H.T. and #39047364 to K.H. This article is in memory of Sakura, our chimpanzee participant, who passed away in an accident on 26th Nov. 2008.
Electronic supplementary material
Below is the link to the electronic supplementary material.
Supplementary video. The video clip shows examples of the subject's response. When the subject pulled the string, CV or DV of the music was presented for 7 s. Then, when she pulled the string again with an interval (inter-pulling interval: IPI) of less than 7 s, the same music was presented continuously (see Method for more detail). In this video clip, CV of the melody pattern A (Piano), being presented for 120 s, was automatically changed to DV at about 43 s of the video. At about 81 s, an IPI of longer than 14 s resulted in for DV being changed again to CV
About this article
Cite this article
Sugimoto, T., Kobayashi, H., Nobuyoshi, N. et al. Preference for consonant music over dissonant music by an infant chimpanzee. Primates 51, 7 (2010). https://doi.org/10.1007/s10329-009-0160-3
Received:

Accepted:

Published:
Keywords
Chimpanzee

Infant

Music

Consonance

Dissonance