Abstract
Daily dishwashing is a common household activity. Washing dishes in a sink is considered safe for the environment because it requires few water and human energy. There are concerns, however, that residues from the detergent used may impact health and the environment. Here, we studied the adsorption and toxicity of two detergent ingredients, the biocide 1,2-benzisothiazol-3(2H)-one and the surfactant sodium dodecyl sulphate, left on tableware, cups and plates, made of glass, stainless steel, ceramic, plastic and wood. Results show that levels of biocide and surfactant residues were much higher on wooden plates, of 8.4 ng biocide cm−2 and 226.4 ng surfactant cm−2, than on glass, of 0.9 ng biocide cm−2 and 55.9 ng surfactant cm−2. Residues levels increase with material roughness. Toxicity analysis of compounds in water using the luminiscence of Vibrio fischeri revealed that toxic inhibition was much higher (20%) when the biocide and the surfactant were together than when the surfactant occurred alone (1.9%) or the biocide occurred alone (11.5%). Overall, our findings imply that, depending on the dish material and roughness, contaminants will be transferred either to humans through eating using contaminated dishes, or to wastewater and then to humans indirectly through contamination of natural waters.
This is a preview of subscription content, log in to check access.
Access options
Buy single article
Instant unlimited access to the full article PDF.
US$ 39.95
Price includes VAT for USA
Subscribe to journal
Immediate online access to all issues from 2019. Subscription will auto renew annually.
US$ 99
This is the net price. Taxes to be calculated in checkout.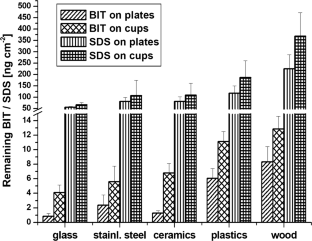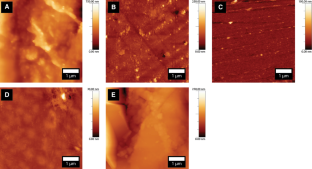 References
Aitken L, Hroch L, Hughes R et al (2017) In vitro evaluation of benzothiazole-based ureas as potential ABAD /17β-HSD10 Modulators for Alzheimer's disease therapeutics. Alzheimer's Dement 13(7):249. https://doi.org/10.1016/j.jalz.2017.06.683

Alison LG, Graham WF (1999) Optimization of the methylene blue assay for anionic surfactants added to estuarine and marine water. Environ Toxicol Chem 18(10):2232–2236. https://doi.org/10.1002/etc.5620181016

Berkholz P, Kobersky V, Stamminger R (2013) Comparative analysis of global consumer behaviour in the context of different manual dishwashing methods. Int J Consum Stud 37:46–58. https://doi.org/10.1111/j.1470-6431.2011.01051.x

Bondi CA, Marks JL, Wroblewski LB, Raatikainen HS, Lenox SR, Gebhardt KE (2015) Human and environmental toxicity of sodium lauryl sulfate (SLS): evidence for safe use in household cleaning products. Environ Health Insights 9:27–32. https://doi.org/10.4137/EHI.S31765

Fuss N, Bornkessel S, Mattern T, Stamminger R (2011) Are resource savings in manual dishwashing possible? Consumers applying best practice tips. Int J Consum Stud 35(2):194–200. https://doi.org/10.1111/j.1470-6431.2010.00972.x

Gambogi J, Kennedy S, Ambundo E (2009) Dishwashing with detergents. In: Zoller U (ed) Handbook of detergent, part E: applications. CRC Press, Boca Raton, pp 39–65

Garcia-Hidalgo E, Sottas V, Von Goetz N, Hauri U, Bogdal C, Hungerbühler K (2017) Occurrence and concentrations of isothiazolinones in detergents and cosmetics in Switzerland. Contact Dermat 76(2):96–106. https://doi.org/10.1111/cod.12700

Gerhards C, Schmid A (2013) Assessing the cleanability of stainless steel surfaces-development of a testing method for starch and protein based soils. J Hyg Eng Des 3:9–14

Gilleßen C, Berkholz P, Stamminger R (2013) Manual dishwashing process: a pre-assigned behaviour? Int J Consum Stud 37(3):286–290. https://doi.org/10.1111/j.1470-6431.2012.01130.x

Ihara I, Nakano E, McLamore E, Schueller JK, Toyoda K, Umetsu K, Yamaguchi H (2017) Cleanability of milk deposits on inner stainless steel tubing surfaces prepared by magnetic abrasive finishing. EAEF 10(1):63–68. https://doi.org/10.1016/j.eaef.2016.10.001

Kamal A, Syed MA, Mohammed SM (2015) Therapeutic potential of benzothiazoles: a patent review (2010–2014). Expert Opin Ther Pat 25(3):335–349. https://doi.org/10.1517/13543776.2014.999764

Matuszak N, Saadi BE, Labar G, Marchand-Brynaert J, Lambert DM (2011) Benzisothiazolinone as a useful template for the design of new monoacylglycerol lipase inhibitors: Investigation of the target residues and comparison with octhilinone. Bioorg Med Chem Lett 21(24):7321–7324. https://doi.org/10.1016/j.bmcl.2011.10.026

Nitsch C, Hüttmann G (2002) Recommendation for the quality assessment of the cleaning performance of hand dishwashing detergents. SOFW J 128(5): 1–15

Rebello S, Asok AK, Mundayoor S, Jisha MS (2014) Surfactants: toxicity, remediation and green surfactants. Environ Chem Lett 12(2):275–287. https://doi.org/10.1007/s10311-014-0466-2

Rieger R (1994) Sauber genug? Tensidrückstände und Mikroorganismen auf hand- und maschinengespültem Geschirr. Reinigungservice 4:49–55

Scanlan PD, Bicchofberger AM, Hall AR (2017) Modification of Escherichia coli–bacteriophage interactions by surfactants and antibiotics in vitro. FEMS Microbiol Ecol. https://doi.org/10.1093/femsec/fiw211

Schlüßler HJ (1980) Rückstände von Reinigungs- und Desinfektionsmitteln auf festen Oberflächen. Chem Ing Tech 52(3):246–247. https://doi.org/10.1002/cite.330520309

Somasundaran P, Krishnakumar S (1997) Adsorption of surfactants and polymers at the solid-liquid interface. Colloids Surf A Physicochem Eng Asp 123:491–513. https://doi.org/10.1016/S0927-7757(96)03829-0

Stamminger R and Streichardt C (2009) Selected aspects of consumer behaviour in the manual and mechanical dishwashing in Germany. SOFW J 135:50–56

Stamminger R, Kobersky V, Berkholz P (2013) Comparative analysis of global consumer behaviour in the context of different manual dishwashing methods. Int J Consum Stud 37:46–58. https://doi.org/10.1111/j.1470-6431.2011.01051.x

U.S. Food and Drug Administration (FDA) (2015) 21 C.F.R. §172.822

UNE-EN ISO 11348-2 (2009) Water quality-determination of the inhibitory effect of water samples on the light emission of Vibrio fischeri (Luminescent bacteria test)-part 2: method using liquid-dried bacteria (ISO 11348–2:2007)

Wieck S, Olsson O, Kümmerer K (2018) Not only biocidal products: Washing and cleaning agents and personal care products can act as further sources of biocidal active substances in wastewater. Environ Int 115:247–256. https://doi.org/10.1016/j.envint.2018.03.040
Acknowledgements
The authors acknowledge the financial support from the Slovenian Research Agency, including the research core Funding No. P3-0388 and the research Project No. J2-8162.
Additional information
Publisher's Note
Springer Nature remains neutral with regard to jurisdictional claims in published maps and institutional affiliations.
About this article
Cite this article
Bavcon Kralj, M., Fortuna, A., Abram, A. et al. Dish handwashing: an overlooked source of contamination. Environ Chem Lett 18, 181–185 (2020) doi:10.1007/s10311-019-00918-5
Received:

Accepted:

Published:

Issue Date:
Keywords
1,2-benzisothiazol-3(2H)-one

Sodium dodecyl sulphate

Toxicity test

Detergent

Roughness of surfaces