Abstract
A large number of non-Saccharomyces yeasts were isolated from grapes of Bobal variety and identified according to their physiological and molecular characteristics. The yeasts were tested to determine the presence of β-glucosidase, β-xylosidase, α-arabinosidase, and α-rhamnosidase activities and five isolates were selected. All enzymatic activities were induced by the presence of glycosides as the only carbon source in the medium, which seems to be a characteristic of the yeast isolate, and were characterized according to different parameters of enological interest.
This is a preview of subscription content, log in to check access.
Access options
Buy single article
Instant access to the full article PDF.
US$ 39.95
Price includes VAT for USA
Subscribe to journal
Immediate online access to all issues from 2019. Subscription will auto renew annually.
US$ 199
This is the net price. Taxes to be calculated in checkout.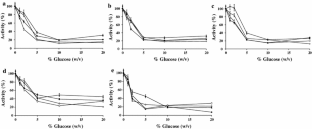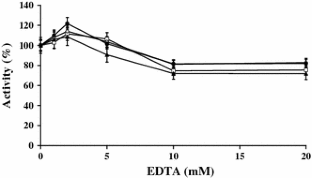 References
1.

Barbagallo RN, Spagna G, Palmeri R, Restuccia C, Giudici P (2004) Selection, characterization and comparison of β-glucosidase from moulds and yeasts employable for enological applications. Enzyme Microb Technol 35:58–66

2.

Barnett JA, Payne RW, Yarrow D (1990) Yeasts, characteristics and identification, 2nd edn. Cambridge University Press, Cambridge

3.

Charoenchai C, Fleet GH, Henschke PA, Todd BEN (1997) Screening of non-Saccharomyces wine yeasts for the presence of extracellular hydrolytic enzymes. Aust J Grape Wine Res 3:2–8

4.

Darriet P, Boidron JN, Dubourdieu D (1988) L'hydrolyse des heterosides terpeniques du Muscat a petits grains par les enzymes periplasmiques de Saccharomyces cerevisiae. Conn Vigne Vin 22:189–195

5.

Dubourdieu D, Darriet P, Ollivier C, Boidron JN, Ribéreau-Gayon P (1988) Rôle de la levure Saccharomyces cerevisiae dans l'hydrolise enzymatique des hétérosides terpéniques du jus de raisin. C R Acad Sci Paris 306:489–493

6.

Esteve B, Peris MJ, Garcia E, Uruburu F, Querol A (2001) Yeast population dynamics during the fermentation and biological aging of sherry wines. Appl Environ Microbiol 67:2056–2061

7.

Fernandez M, Ubeda J, Briones A (2000) Typing of non-Saccharomyces yeasts with enzymatic activities of interest in wine-making. Int J Food Microbiol 59:29–36

8.

Fleet GH, Heard GM (1993) Yeast-growth during fermentation. In: Fleet H (ed) Wine microbiology and biotechnology. Hardwood, Switzerland, pp 27–57

9.

Gil JV, Mateo JJ, Jimenez M, Pastor A, Huerta T (1996) Aroma compounds in wine as influenced by apiculate yeasts. J Food Sci 61:1247–1249

10.

Grossmann MK, Pretorius IS (1989) Verfahren zur Identifizierung von Weinhefen und Verbesserung der Eigenschaften von Saccharomyces cerevisiae: eine Übersicht. Die Weinwiss 54:61–72

11.

Gunata Z, Bitteur S, Brillouet J, Bayonove C, Cordonnier R (1988) Sequential enzymatic hydrolysis of potentially aromatic glycosides from grape. Carbohydr Res 184:139–149

12.

Gunata YZ, Bayonove CL, Cordonnier RE, Arnaud A, Galzy P (1990) Hydrolysis of grape monoterpenyl glycosides by Candida molischiana and Candida wickerhamii β-glucosidases. J Sci Food Agric 50:499–506

13.

Heard G, Fleet G (1986) Evaluation of selective media for enumeration of yeasts during wine fermentation. J Appl Bacteriol 60:477–481

14.

Krejer van Rij NJW (1984) The yeasts: a taxonomic study, 3rd edn. Elsevier, Amsterdam

15.

Lambrechts MG, Pretorius IS (2000) Yeast and its importance to wine aroma. S Afr J Enol Vitic 21:97–129

16.

Legler G (1990) Glycoside hydrolases: mechanistic information from studies with reversible and irreversible inhibitors. Adv Carbohyd Chem Biochem 48:319–323

17.

Longo E, Cansado J, Agrelo D, Villa T (1991) Effect of climatic conditions on yeast diversity in grape musts from northwest Spain. Am J Enol Vitic 42:141–144

18.

Maicas S, Mateo JJ (2005) Hydrolysis of terpenyl glycosides in grape juice and other fruit juices: a review. Appl Microbiol Biotechnol 67:322–355

19.

Manzanares P, Ramon D, Querol A (1999) Screening of non-Saccharomyces wine yeasts for the production of β-D-xylosidase activity. Int J Food Microbiol 46:105–112

20.

Mateo JJ, Di Stefano R (1997) Description of the β-glucosidase activity of wine yeasts. Food Microbiol 14:583–591

21.

Mateo JJ, Jimenez M (2000) Monoterpene in grape juice and wines. J Chromatogr A 881:557–567

22.

Mateo JJ, Jimenez M, Huerta T, Pastor A (1991) Contribution of different yeasts isolated from musts of Monastrell grapes to the aroma of wine. Int J Food Microbiol 14:153–160

23.

Mendes Ferreira A, Clımaco MC, Mendes Faia A (2001) The role of non-Saccharomyces species in releasing glycosidic bound fraction of grape aroma components-a preliminary study. J Appl Microbiol 91:67–71

24.

Mortimer RK (1995) Yeast isolation from spontaneous fermentations of grape musts in California and Italy. Pract Wine Vin May/June, 7–10

25.

Mozhaev VV, Martinek K (1990) Structure-stability relationship in proteins: a guide to approaches to stabilizing enzymes. Adv Drug Delivery Rev 4:387–419

26.

Pemberton MS, Brown RD, Emert GH (1980) The role of β-glucosidase in the bioconversion of cellulose. Can J Chem Eng 58:723–729

27.

Pérez E, Albergaria H, Hogg T, Girio F (2006) Cellular death of two non-Saccharomyces wine-related yeasts during mixed fermentations with Saccharomyces cerevisiae. Int J Food Microbiol 108:336–345

28.

Querol A, Jimenez M, Huerta T (1990) Microbiological and enological parameters during fermentation of musts from poor and normal grape-harvest in the region of Alicante, Spain. J Food Sci 55:1603–1606

29.

Reed G, Nagodawithana TW (1991) Yeast technology, 2nd edn. Van Nostrand Reinhold, New York, p 454

30.

Rosi I, Vinella M, Domizio P (1994) Characterization of β-glucosidase activity in yeast of oenological origin. J Appl Bacteriol 77:519–527

31.

Saha BC, Bothast RJ (1996) Glucose tolerant and thermophilic β-glucosidases from yeasts. Biotechnol Lett 18:155–158

32.

Van Rensburg P, Pretorius IS (2000) Enzymes in winemaking: harnessing natural catalysts for efficient biotransformations. S Afr J Enol Vitic 21:52–73

33.

Vasserot Y, Christiaens H, Chemardin P, Armaud A, Galzy P (1989) Purification and properties of a β-glucosidase of Hanseniaspora vineae van de Walt and Tscheuschner with the view to its utilization in fruit aroma liberation. J Appl Bacteriol 66:271–279

34.

Williams PJ, Strauss CR, Wilson B, Massy-Westropp RA (1982) Use of C18 reversed-phase liquid chromatography for the isolation of monoterpene glycosides and nor-isoprenoid precursors from grape juice and wines. J Chromatogr 235:471–480

35.

Williams PJ, Sefton MA, Wilson B (1989) Nonvolatile conjugates of secondary metabolites as precursors of varietal grape flavor components. In: Teranishi R, Buttery R, Shahidi F (eds) Flavor chemistry: trends and developments. American Chemical Society, Washington, pp 35–48

36.

Winterhalter P, Skouroumounis GK (1997) Glycoconjugated aroma compounds: occurrence, role and biotechnological transformation. In: Scheper T (ed) Advances in biochemical engineering/biotechnology. Springer, Heidelberg, pp 74–105

37.

Yanai T, Sato M (1999) Isolation and properties of β-glucosidase produced by Debaryomyces hansenii and its application in winemaking. Am J Enol Vitic 50:231–235
Acknowledgments
This work was supported by RM2007-00001-00-00 from INIA, MEC, Spain.
About this article
Cite this article
Mateo, J.J., Peris, L., Ibañez, C. et al. Characterization of glycolytic activities from non-Saccharomyces yeasts isolated from Bobal musts. J Ind Microbiol Biotechnol 38, 347–354 (2011). https://doi.org/10.1007/s10295-010-0780-z
Received:

Accepted:

Published:

Issue Date:
Keywords
Glycosidases

Enzyme

Non-Saccharomyces

Yeasts

Wine