Abstract
Purpose
To determine the effects of sex and age on cardiovascular autonomic parameters in healthy adults as assessed by Finapres (finger arterial pressure) method and prolonged head-up tilt (HUT).
Methods
We enrolled 81 healthy volunteers (41 females, 40 males, 18–74 years) for extensive cardiovascular autonomic function testing including blood pressure (BP) recordings, electrocardiography, and impedance cardiography at rest, under 60° HUT for 45 min, active standing for 5 min, Valsalva maneuver, and deep breathing (DB). Mean values and orthostatic changes, i.e., differences to baseline, of heart rate (HR), systolic and diastolic BP, stroke volume (SV), and total peripheral resistance (TPR), as well as DB ratio and Valsalva ratio were calculated. A generalized linear model (extended by generalized estimating equations) was used to assess sex- and age-related differences.
Results
Mean HR at rest was higher in women than in men (p = 0.035). In men, we observed significantly higher mean BP at rest (p < 0.001 systolic and p = 0.004 diastolic) and during HUT (p = 0.001 systolic and p < 0.001 diastolic), mean TPR at rest (p = 0.034), and mean SV during HUT (p < 0.001). We found no significant impact of sex on orthostatic changes of HR and BP. Mean TPR during HUT increased with age (p = 0.001), particularly in older women. Orthostatic changes of HR and diastolic BP, DB ratio, and Valsalva ratio became attenuated with age (p = 0.018, p = 0.006, p < 0.001, and p < 0.001, respectively).
Conclusions
Our study suggests that aging rather than sex needs to be taken into account when interpreting HR and BP changes during prolonged HUT performance.
This is a preview of subscription content, log in to check access.
Access options
Buy single article
Instant access to the full article PDF.
US$ 39.95
Price includes VAT for USA
Subscribe to journal
Immediate online access to all issues from 2019. Subscription will auto renew annually.
US$ 199
This is the net price. Taxes to be calculated in checkout.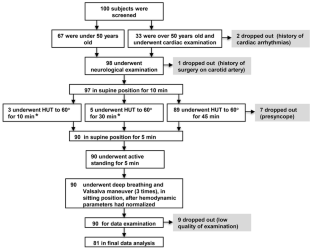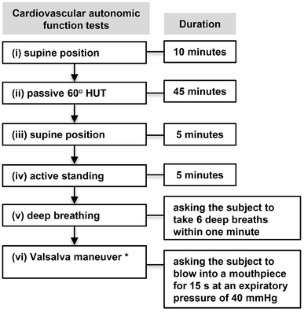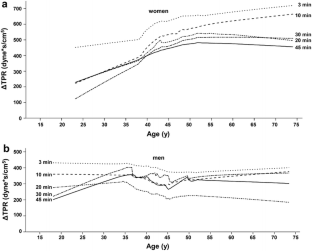 References
1.

Freeman R, Wieling W, Axelrod FB, Benditt DG, Benarroch E, Biaggioni I, Cheshire WP, Chelimsky T, Cortelli P, Gibbons CH, Goldstein DS, Hainsworth R, Hilz MJ, Jacob G, Kaufmann H, Jordan J, Lipsitz LA, Levine BD, Low PA, Mathias C, Raj SR, Robertson D, Sandroni P, Schatz I, Schondorff R, Stewart JM, van Dijk JG (2011) Consensus statement on the definition of orthostatic hypotension, neurally mediated syncope and the postural tachycardia syndrome. Clin Auton Res 21:69–72

2.

Moya A, Sutton R, Ammirati F, Blanc JJ, Brignole M, Dahm JB, Deharo JC, Gajek J, Gjesdal K, Krahn A, Massin M, Pepi M, Pezawas T, Ruiz Granell R, Sarasin F, Ungar A, van Dijk JG, Walma EP, Wieling W (2009) Guidelines for the diagnosis and management of syncope (version 2009). Eur Heart J 30:2631–2671

3.

Fitzpatrick AP, Theodorakis G, Vardas P, Sutton R (1991) Methodology of head-up tilt testing in patients with unexplained syncope. J Am Coll Cardiol 17:125–130

4.

Gibbons CH, Freeman R (2006) Delayed orthostatic hypotension: a frequent cause of orthostatic intolerance. Neurology 67:28–32

5.

Gurevich T, Machmid H, Klepikov D, Ezra A, Giladi N, Peretz C (2014) Head-up tilt testing for detecting orthostatic hypotension: how long do we need to wait? Neuroepidemiology 43:239–243

6.

Fortin J, Habenbacher W, Heller A, Hacker A, Grullenberger R, Innerhofer J, Passath H, Wagner C, Haitchi G, Flotzinger D, Pacher R, Wach P (2006) Non-invasive beat-to-beat cardiac output monitoring by an improved method of transthoracic bioimpedance measurement. Comput Biol Med 36:1185–1203

7.

Fortin J, Marte W, Grullenberger R, Hacker A, Habenbacher W, Heller A, Wagner C, Wach P, Skrabal F (2006) Continuous non-invasive blood pressure monitoring using concentrically interlocking control loops. Comput Biol Med 36:941–957

8.

Braune S, Auer A, Schulte-Monting J, Schwerbrock S, Lucking CH (1996) Cardiovascular parameters: sensitivity to detect autonomic dysfunction and influence of age and sex in normal subjects. Clin Auton Res 6:3–15

9.

Laitinen T, Niskanen L, Geelen G, Lansimies E, Hartikainen J (2004) Age dependency of cardiovascular autonomic responses to head-up tilt in healthy subjects. J Appl physiol (Bethesda, Md: 1985) 96:2333–2340

10.

Low PA, Denq JC, Opfer-Gehrking TL, Dyck PJ, O'Brien PC, Slezak JM (1997) Effect of age and gender on sudomotor and cardiovagal function and blood pressure response to tilt in normal subjects. Muscle Nerve 20:1561–1568

11.

Mellingsaeter MR, Wyller VB, Wyller TB, Ranhoff AH (2013) Gender differences in orthostatic tolerance in the elderly. Aging Clin Exp Res 25:659–665

12.

Narkiewicz K, Phillips BG, Kato M, Hering D, Bieniaszewski L, Somers VK (2005) Gender-selective interaction between aging, blood pressure, and sympathetic nerve activity. Hypertension 45:522–525

13.

Petersen ME, Williams TR, Gordon C, Chamberlain-Webber R, Sutton R (2000) The normal response to prolonged passive head up tilt testing. Heart (British Cardiac Society) 84:509–514

14.

Tahvanainen A, Leskinen M, Koskela J, Ilveskoski E, Nordhausen K, Oja H, Kahonen M, Koobi T, Mustonen J, Porsti I (2009) Ageing and cardiovascular responses to head-up tilt in healthy subjects. Atherosclerosis 207:445–451

15.

Freeman R (2006) Assessment of cardiovascular autonomic function. Clin Neurophysiol 117:716–730

16.

Mathias CJ, Low DA, Iodice V, Bannister R (2013) Investigation of autonomic disorders. In: Mathias CJ, Bannister R (eds) Autonomic failure. A textbook of clinical disorders of the autonomic nervous system. University Press, Oxford, pp 259–289

17.

Zeger SL, Liang KY (1986) Longitudinal data analysis for discrete and continuous outcomes. Biometrics 42:121–130

18.

Barnett SR, Morin RJ, Kiely DK, Gagnon M, Azhar G, Knight EL, Nelson JC, Lipsitz LA (1999) Effects of age and gender on autonomic control of blood pressure dynamics. Hypertension 33:1195–1200

19.

Kneale BJ, Chowienczyk PJ, Brett SE, Coltart DJ, Ritter JM (2000) Gender differences in sensitivity to adrenergic agonists of forearm resistance vasculature. J Am Coll Cardiol 36:1233–1238

20.

Charkoudian N, Joyner MJ, Johnson CP, Eisenach JH, Dietz NM, Wallin BG (2005) Balance between cardiac output and sympathetic nerve activity in resting humans: role in arterial pressure regulation. J Physiol 568:315–321

21.

Hart EC, Charkoudian N, Wallin BG, Curry TB, Eisenach JH, Joyner MJ (2009) Sex differences in sympathetic neural-hemodynamic balance: implications for human blood pressure regulation. Hypertension 53:571–576

22.

London GM, Guerin AP, Pannier B, Marchais SJ, Stimpel M (1995) Influence of sex on arterial hemodynamics and blood pressure. Role of body height. Hypertension 26:514–519

23.

Jones PP, Shapiro LF, Keisling GA, Jordan J, Shannon JR, Quaife RA, Seals DR (2001) Altered autonomic support of arterial blood pressure with age in healthy men. Circulation 104:2424–2429

24.

Brodde OE, Leineweber K (2004) Autonomic receptor systems in the failing and aging human heart: similarities and differences. Eur J Pharmacol 500:167–176

25.

Smulyan H, Asmar RG, Rudnicki A, London GM, Safar ME (2001) Comparative effects of aging in men and women on the properties of the arterial tree. J Am Coll Cardiol 37:1374–1380

26.

Barnes JN, Hart EC, Curry TB, Nicholson WT, Eisenach JH, Wallin BG, Charkoudian N, Joyner MJ (2014) Aging enhances autonomic support of blood pressure in women. Hypertension 63:303–308

27.

Redfield MM, Jacobsen SJ, Borlaug BA, Rodeheffer RJ, Kass DA (2005) Age- and gender-related ventricular-vascular stiffening: a community-based study. Circulation 112:2254–2262

28.

Baldi JC, Lalande S, Carrick-Ranson G, Johnson BD (2007) Postural differences in hemodynamics and diastolic function in healthy older men. Eur J Appl Physiol 99:651–657

29.

Wieling W, Krediet CT, van Dijk N, Linzer M, Tschakovsky ME (2007) Initial orthostatic hypotension: review of a forgotten condition. Clin Sci (London, England: 1979) 112:157–165

30.

Hu K, Scheer FA, Laker M, Smales C, Shea SA (2011) Endogenous circadian rhythm in vasovagal response to head-up tilt. Circulation 123:961–970
Acknowledgments
We thank all subjects who took part in the present study, for their patience and stamina. This study was supported by grants of the Austrian Science Fund (FWF): F04404-B19 and KLI380. The funder had neither a role in study design, data collection, and analysis, nor in the decision to publish or in the preparation of the manuscript.
Ethics declarations
Conflict of interest
The authors declare no conflict of interest.
Electronic supplementary material
Below is the link to the electronic supplementary material.
About this article
Cite this article
Ndayisaba, J., Fanciulli, A., Granata, R. et al. Sex and age effects on cardiovascular autonomic function in healthy adults. Clin Auton Res 25, 317–326 (2015). https://doi.org/10.1007/s10286-015-0310-1
Received:

Accepted:

Published:

Issue Date:
Keywords
Sex and age effects

Cardiovascular autonomic function

Head-up tilting

Valsalva maneuver

Deep breathing