Abstract
Chloroplast movement in response to light has been known more than 100 years. Chloroplasts move towards weak light and move away from strong light. Dark-induced relocation, called dark positioning, has also been shown. However, the effects of other stimuli on chloroplast movement have not been well characterized. Here we studied low temperature-induced chloroplast relocation (termed cold positioning) in prothallial cells of the gametophytes of the fern Adiantum capillus-veneris. Under weak light chloroplasts in prothallial cells accumulated along the periclinal wall at 25°C, but they moved towards anticlinal walls when the prothalli were subsequently transferred to 4°C. A temperature shift from 25° to 10°C or lower was enough to induce cold positioning, and high-intensity light enhanced the response. Nuclei also relocated from the periclinal position (a position along periclinal walls) to the anticlinal position (a position along anticlinal walls) under cold temperature, whereas mitochondria did not. Cold positioning was not observed in mutant fern gametophytes defective of the blue light photoreceptor, phototropin 2.
This is a preview of subscription content, log in to check access.
Access options
Buy single article
Instant unlimited access to the full article PDF.
US$ 39.95
Price includes VAT for USA
Subscribe to journal
Immediate online access to all issues from 2019. Subscription will auto renew annually.
US$ 99
This is the net price. Taxes to be calculated in checkout.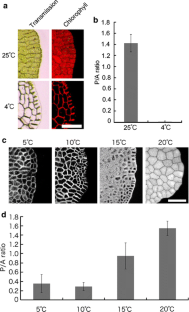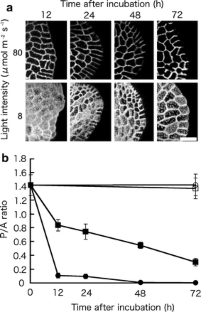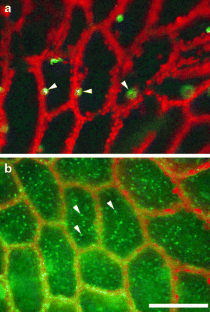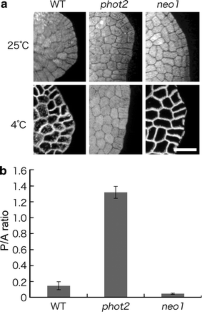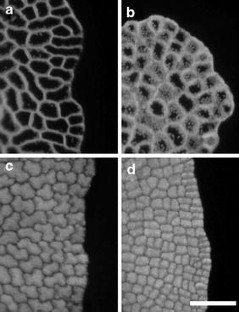 References
Buchner O, Holzinger A, Lütz C (2007) Effects of temperature and light on the formation of chloroplast protrusions in leaf mesophyll cells of high alpine plants. Plant Cell Environ 30:1347–1356

DeBlasio SL, Luesse DL, Hangarter RP (2005) A plant-specific protein essential for blue-light-induced chloroplast movements. Plant Physiol 139:101–114

Haberlandt G (1876) Über den Einfluß des Frostes auf die chlorophyllkörner. Österr Botan Zeitschrift 26:249–255

Holzinger A, Buchner O, Lütz C, Hanson MR (2007) Temperature-sensitive formation of chloroplast protrusions and stromules in mesophyll cells of Arabidopsis thaliana. Protoplasma 230:23–30

Kagawa T, Kasahara M, Abe T, Yoshida S, Wada M (2004) Function analysis of phototropin2 using fern mutants deficient in blue light-induced chloroplast avoidance movement. Plant Cell Physiol 45:416–426

Kagawa T, Sakai T, Suetsugu N, Oikawa K, Ishiguro S, Kato T, Tabata S, Okada K, Wada M (2001) Arabidopsis NPL1: a phototropin homolog controlling the chloroplast high-light avoidance response. Science 291:2138–2141

Kagawa T, Wada M (1993) Light-dependent nuclear positioning in prothallial cells of Adiantum capillus-veneris. Protoplasma 177:82–85

Kagawa T, Wada M (2000) Blue light-induced chloroplast relocation in Arabidopsis thaliana as analyzed by microbeam irradiation. Plant Cell Physiol 41:84–93

Kagawa T, Wada M (2002) Blue light-induced chloroplast relocation. Plant Cell Physiol 43:367–371

Kasahara M, Kagawa T, Oikawa K, Suetsugu N, Miyao M, Wada M (2002) Chloroplast avoidance movement reduces photodamage in plants. Nature 420:829–832

Kasahara M, Kagawa T, Sato Y, Kiyosue T, Wada M (2004) Phototropins mediate blue and red light-induced chloroplast movements in Physcomitrella patens. Plant Physiol 135:1388–1397

Kawai H, Kanegae T, Christensen S, Kiyosue T, Sato Y, Imaizumi T, Kadota A, Wada M (2003) Responses of ferns to red light are mediated by an unconventional photoreceptor. Nature 421:287–290

Luesse DR, DeBlasio SL, Hangarter RP (2006) Plastid movement impaired 2, a new gene involved in normal blue-light-induced chloroplast movements in Arabidopsis. Plant Physiol 141:1328–1337

Martin B, Öquist G (1979) Seasonal and experimentally induced changes in the ultrastructure of chloroplasts of Pinus silvestris. Physiol Plant 46:42–49

Oikawa K, Kasahara M, Kiyosue T, Kagawa T, Suetsugu N, Takahashi F, Kanegae T, Niwa Y, Kadota A, Wada M (2003) Chloroplast unusual positioning1 is essential for proper chloroplast positioning. Plant Cell 15:2805–2815

Sato Y, Kadota A, Wada M (1999) Mechanically induced avoidance response of chloroplasts in fern protonemal cells. Plant Physiol 121:37–44

Sato Y, Kadota A, Wada M (2003a) Chloroplast movement: dissection of events downstream of photo- and mechano-perception. J Plant Res 116:1–5

Sato Y, Wada M, Kadota A (2003b) Accumulation response of chloroplasts induced by mechanical stimulation in bryophyte cells. Planta 216:772–777

Sakai T, Kagawa T, Kasahara M, Swartz TE, Christie JM, Briggs WR, Wada M, Okada K (2001) Arabidopsis nph1 and npl1: blue light receptors that mediate both phototropism and chloroplast relocation. Proc Natl Acad Sci U S A 98:6969–6974

Senn G (1908) Die Gestalts—und Lageveränderung der Pflanzen—Chromatophoren. Wilhelm-Engelmann, Leipzig

Suetsugu N, Kagawa T, Wada M (2005) An auxilin-like J-domain protein, JAC1, regulates phototropin-mediated chloroplast movement in Arabidopsis. Plant Physiol 139:151–162

Suetsugu N, Wada M (2007) Chloroplast photorelocation movement mediated by phototropin family proteins in green plants. Biol Chem 388:927–935

Tanaka A (2007) Photosynthetic activity in winter needles of the evergreen tree Taxus cuspidata at low temperatures. Tree Physiol 27:641–648

Tsuboi H, Suetsugu N, Kawai-Toyooka H, Wada M (2007) Phototropins and neochrome1 mediate nuclear movement in the fern Adiantum capillus-veneris. Plant Cell Physiol 48:892–896

Tsuboi H, Suetsugu N, Wada M (2006) Negative phototropic response of rhizoid cells in the fern Adiantum capillus-veneris. J Plant Res 119:505–512

Wada M, Kagawa T, Sato Y. (2003) Chloroplast movement. Annu Rev Plant Biol 54:455–468

White PR (1943) Handbook of plant tissue culture. Jaques Cartell, Lancaster, pp 1–277

Yatsuhashi H, Wada M (1990) High-fluence rate response in the light-oriented chloroplast movement in Adiantum protonemata. Plant Sci 68:87–94
Acknowledgments
The authors thank Ms. Ayumi Iwata (National Institute for Basic Biology), for maintenance of plant materials, and Dr. Inga Oberpichler (University of Karlsruhe), for providing valuable information. We also thank John Christie (University of Glasgow) for his careful reading of this manuscript and English editing. This work was partly supported by Grant-in-Aid for Scientific Research (on Priority Areas, no. 17084006) from the Ministry of Education, Sports, Science and Technology of Japan to M.W.
Electronic supplementary material
Below is the link to the electronic supplementary material.
Movie S1. Time-lapse observation of chloroplast movement during cold positioning under white light. Images were acquired at 15 min intervals for 24  h. Bar indicates 50 μm (AVI 14626 kb)
About this article
Cite this article
Kodama, Y., Tsuboi, H., Kagawa, T. et al. Low temperature-induced chloroplast relocation mediated by a blue light receptor, phototropin 2, in fern gametophytes. J Plant Res 121, 441–448 (2008). https://doi.org/10.1007/s10265-008-0165-9
Received:

Accepted:

Published:

Issue Date:
Keywords
Adiantum capillus-veneris

Chloroplast relocation

Cold positioning

Fern

Low temperature

Phototropin