Spatial heterogeneity in estuarine mud dynamics
Abstract
The fate of mud in an estuary over an entire year was unravelled using complementary, independent, spatially explicit techniques. Sequential ERS-2 SAR and Envisat MERIS-FR data were used to derive synoptic changes in intertidal bottom mud and suspended particulate matter (SPM) in the top of the water column, respectively. These satellite data were combined with in situ measurements and with a high resolution three-dimensional cohesive sediment model, simulating mud transport, resuspension, settling and deposition under the influence of tides, wind, waves and freshwater discharge. The spatial distribution of both bottom mud and SPM as observed by in situ and satellite techniques was largely explained by modelled estuarine circulation, tidal and wind-induced variations in vertical mixing and horizontal advection. The three data sources also showed similar spring-neap and seasonal variations in SPM (all factor 1.5 to 2), but semi-diurnal tidal variations were underestimated by the model. Satellite data revealed that changes in intertidal bottom mud were spatially heterogeneous, but on average mud content doubled during summer, which was confirmed by in situ data. The model did not show such seasonal variation in bed sediment, suggesting that seasonal dynamics are not well explained by the physical factors presently implemented in the model, but may be largely attributed to other (internal) factors, including increased floc size in summer, temporal stabilisation of the sediment by microphytobenthos and a substantially lower roughness of the intertidal bed in summer as observed by the satellite. The effects of such factors on estuarine mud dynamics were evaluated.
Keywords
Satellite remote sensing 
Cohesive sediment transport model 
Suspended sediment 
Intertidal bed sediment 
Bed roughness 
Water-bed exchange 
Westerschelde 
1

Introduction

The distribution and transport of mud—here defined as the percentage of particles <63 μm, including both clay (<2 μm) and silt (2–63 μm)—in estuaries has both economical and ecological ramifications. Siltation poses problems in many harbours and navigation channels. As fines attract organic and inorganic substances, their pathways also control the fate of pollutants and nutrients (Verlaan et al. 1998; Ridgway and Shimmield 2002; Schwartz and Kozerski 2004). Muddy bottom sediments of the intertidal zone in particular may be biologically rich, accommodating large amounts of microphytobenthos and macrobenthos, attracting flatfish and (wading) birds (e.g., Herman et al. 1999; Moreira 1999). However, when suspended, the mud particles decrease light conditions in the water. This may reduce primary production and subsequently, higher trophic levels (Heip et al. 1995), and may also directly affect sight-feeding predators.

The pathway of estuarine mud is largely determined by estuarine circulation, tidal and wind-induced variations in vertical mixing and horizontal advection (Grabemann and Krause 1989; Ridderinkhof et al. 2000). Suspended particulate matter (SPM) settles when turbulent kinetic energy decreases. Depending on the concentration of SPM, particles may either deposit on the bed or—caused by hindered settling—may form mobile high concentration suspensions near the bed, which eventually become static and continue to settle until they consolidate and form a stable settled mud (Cancino and Neves 1994).

In situ studies have shown that intertidal areas in particular may provide a stock of muddy material, which can undergo cycles of resuspension, settling and deposition on a tidal cycle (Le Hir et al. 2000), on a neap-spring cycle (Allen and Duffy 1998) as well as on a seasonal scale (Anderson 1983; Lesourd et al. 2003; Widdows et al. 2004). Field measurements on intertidal flats also show that the erodibility of cohesive sediments depends on the physical properties of the sediment, such as sediment grain-size and bulk density, and on biological variables, such as stabilisation of the sediment by microphytobenthos. Thus, the (seasonal) cycle of erosion and deposition is re-inforced by the cycle of biological production (Frostick and McCave 1979; Underwood and Paterson 1993; Andersen and Pejrup 2001; Widdows et al. 2004) and biological aggregation and floc formation (Dyer et al. 2000; Chen et al. 2005b; Chang et al. 2007). However, in situ studies generally suffer from restrictions in space and time, causing significant uncertainties when extrapolating the results to a whole estuary.

In contrast, remote sensing provides synoptic information over vast areas. Based on electromagnetic radiation, this information is also independent of in situ data. The spatial distribution of the mud content of intertidal sediments has been derived from optical airborne and satellite remote sensing (e.g., Yates et al. 1993; Rainey et al. 2003; van der Wal and Herman 2007), and microwave satellite remote sensing (van der Wal et al. 2005), but the dynamics of bottom mud have rarely been addressed using remote sensing (van der Wal et al. 2008). Suspended material at the near-surface of the water column in estuaries has been quantified using optical airborne and satellite remote sensing (e.g., Robinson et al. 1998; Uncles et al. 2001), generally based on measurements and subsequent optical modelling of spectral properties of estuarine SPM (Bale et al. 1994; Forget et al. 1999). Availability of moderate and medium resolution ocean colour satellite sensors, such as MODIS or MERIS, has increased the applicability for retrieval of suspended sediments in optically complex waters (i.e., waters that contain uncorrelated light absorbing substances), such as estuaries (e.g., Miller and McKee 2004; Doerffer and Schiller 2007), as well as the feasibility to address the dynamics of SPM with remote sensing (e.g., Doxaran et al. 2009).

High resolution three-dimensional (3D) numerical transport models for cohesive sediment transport can provide insight in the mechanisms of estuarine mud distribution and transport and formalise the relationships between sediment of the bed surface and suspended sediment of the top of the water column as derived from in situ and satellite observations. Such models can also support estuarine management, for example to predict the effects of dredging and dumping of sediment, harbour and fairway extensions, and creation or removal of intertidal areas. However, the models have been typically applied over a spring-neap cycle (e.g., Teisson 1991; Cancino and Neves 1994; Le Normant 2000; Widdows et al. 2004; Waeles et al. 2007), rather than a scale of months or years (Lumborg and Windelin 2003). Simulation of at least 1 year with high temporal and spatial resolution would capture the (semi-)diurnal, fortnightly and seasonal cycles that combine to determine the mud exchange within an estuary.

Thus, we hypothesise that detailed in situ measurements, synoptic satellite observations and numerical modelling are mutually beneficial and provide independent sources for intercomparison and when combined, advance the description and understanding of the spatio-temporal variability of mud. The objective of this study is to quantify the fate of mud in an estuary over a period of an entire year using these three sources of information, with emphasis on the distribution and dynamics of mud that is stored on the intertidal flats.

Results from long-term in situ sediment sampling of both the intertidal sediment bed and the water column and synoptic satellite data of both the intertidal sediment bed and the near-surface water layer are compared with the outcome from a 3D mud transport model that is run in 30 min time-steps for the entire year of 2006 to yield synoptic time series of the mud exchange processes within the Westerschelde, an estuary in the southwestern part of The Netherlands (Fig. 

1

).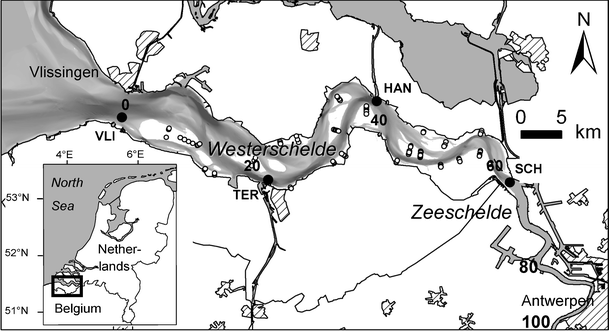 2

Study site

The Westerschelde is a typical tide-dominated coastal-plain estuary with representative hydrodynamics, as its tidal amplitude, morphometry and friction characteristics approach the average value for estuaries worldwide (Toffolon et al. 2006). The estuary experiences a semi-diurnal tide; the mean tidal range increases from 3.8 m near the mouth to 5.0 m near the Dutch–Belgian border. The tidal prism is about 2 × 109 m3 (Wang et al. 2002). Tidal discharge at the mouth is on average 50,000 m3 s−1 (Chen et al. 2005a), whereas river discharge varies from ca. 20 m3 s−1 in summer to 180 m3 s−1 in winter (Baeyens et al. 1998). The Westerschelde is well-mixed up to ca. 40 km from the mouth, and partially mixed beyond this zone. The estuarine turbidity maximum (ETM) is situated in the Zeeschelde (i.e., the upstream part of the Scheldt estuary, situated in Belgium), ca. 60 to 100 km from the mouth of the Westerschelde, depending on tidal conditions and river discharge (Chen et al. 2005a). In addition, a turbidity maximum is found along the North Sea coast south of the Westerschelde (Vlaamse Banken; Fettweis and van den Eynde 2003). The proportion of marine bed sediment relative to fluvial sediment gradually changes from 95% at the mouth of the Westerschelde to 75% near the Dutch–Belgian border, and then drops drastically to 10% in the upper reaches of the estuary (Verlaan 2000). Sediment of the Westerschelde has a constant clay to silt ratio of ca. 0.25 (Winterwerp and van Kesteren 2004). Low water exposes sandflats and mudflats along the sides of the estuary (labelled 'fringing flats'), as well as sandbank and mudbank islands in mid-channel ('mid-channel flats'). These intertidal areas are unvegetated, with the exception of a number of saltmarsh areas on the higher parts.
4

Results
4.1

Bed sediment from in situ measurements, remote sensing and modelling
4.2

SPM from in situ measurements, remote sensing and modelling

Average SPM concentrations derived from in situ measurements of the period 1995–2007, satellite observations of 2006 and model results from 2006 are generally comparable for most stations. However, in situ SPM concentrations are lowest at station HAN in the middle part of the estuary, whereas the satellite and model data show lowest values at station VLI in the outer estuary. Best agreement is obtained for the very turbid station SCH in the upper estuary, i.e., on average 61.05 ± 1.83 mg l−1 for in situ measurements, 66.47 ± 6.97 mg l−1 for satellite observations and 75.33 ± 0.25 for model simulations.
5

Discussion

In situ, satellite and modelling data can all provide information on the spatio-temporal distribution of mud on the bed and in the water. This study is a first attempt to combine these data to obtain a comprehensive and synoptic picture of mud dynamics in the Westerschelde.

The results show comparable results for mud content of the bottom sediment from satellite and in situ results. However, groundtruthing was obtained from different sources obtained with different instruments (i.e., different laser particle sizers) and methods (clay estimates versus mud measurements). Thus, we present an estimate of mud content. Mismatches in time (<1 month) may have caused further deviations between in situ data and satellite data of the bed sediment. Moreover, the intertidal areas were sampled in situ at a few sites only, whereas the areas were entirely covered by satellite observations. Nevertheless, in situ measurements and observations of clay and mud correlated significantly with observations derived from satellite remote sensing. Together, they allow a good estimate of intra-annual mud dynamics. Synoptic remote sensing data of tidal flats demonstrate that average mud contents of the bottom sediment are ca. twice as high in summer as in winter. However, satellite observations do not provide information on the thickness of this layer. In situ data derived from a long-term time-series confirm the seasonality in mud content and show that a mud layer of on average 2 cm is building up over summer, at least at the sampled stations. The thickness of this mud layer is lower than independent results from most field studies on intertidal flats, both on a tidal flat in the Westerschelde, where a seasonal build-up of fine material in the top 3–10 cm of the sediment was found (Herman et al. 2001; Widdows et al. 2004) and elsewhere (e.g., Andersen et al. 2000; Dyer et al. 2000; Lesourd et al. 2003), although thinner layers have also been reported (Chang et al. 2007). The discrepancy can be explained by the fact that spatial variation at the estuary scale is taken into account in our estimate, as large areas show little or no seasonal variation in mud content.

A very crude estimate of the seasonal variation in surface mud content over the entire intertidal zone (here 89 × 106 m2 of both unvegetated and saltmarsh areas) can be derived from the combined results of this study. Suppose the volumetric mud content in an active layer of 2 cm increases from 10% in winter to 20% in summer, then ca. 180 × 103 m3 mud is stored extra in this layer in summer, equalling 180 kton when assuming a dry bulk density of 1,000 kg m−3. This amount would double when, alternatively, a 2-cm-thick layer containing 20% mud is assumed to be deposited on top of the winter bed in summer. Note that even small changes in mud content and mud layer thickness could change the amount considerably. In this case, it is assumed that the saltmarsh areas (totalling 25 × 106 m2) experience a similar seasonal deposition as the unvegetated areas. However, saltmarsh areas may experience a different sedimentation regime (e.g., Temmerman et al. 2004) and saltmarsh sediments generally have a higher mud content (as confirmed by our model results) and higher bulk density.

In parallel to seasonal changes in mud content, seasonality in bed level of the order of a few centimetres have been reported for a number of intertidal flats worldwide, generally with rapid erosion in winter and deposition in spring to autumn (Frostick and McCave 1979; O'Brien et al. 2000; Andersen and Pejrup 2001). Our in situ measurements show that the average rate of morphological change does not change within a year: there is no seasonal effect in net erosion and deposition. Dynamics in the deposition and erosion of sand, rather than mud, may well be determining changes in bed level over a year (and, indeed, also on longer time-scales) and the magnitude of the total annual sediment budget of the Westerschelde estuary.

In situ SPM, satellite-derived SPM and modelled total inorganic matter in the top of the water column have been compared. Here, in situ data relate to ca. 1 m below the water surface, the satellite data represent the upper surface layer, depending on turbidity, and the model data relate to an upper layer thickness of 41% of the total water depth. In situ SPM samples were taken from a long-time series, whereas the model and satellite data relate only to 2006. Moreover, in situ SPM samples taken ca. every 2 weeks and ca. 31 'snapshots' acquired by the satellite will not describe the full variance in SPM. In particular, a bias is introduced because no in situ samples were taken during storm. Satellite observations suffer from a similar bias, as storms may coincide with cloudy weather (also leading to an underrepresentation of winter observations) in addition to a bias induced by the timing of satellite overpass in relation to tidal conditions. With these considerations in mind, the three data sources allow an assessment of SPM dynamics in the Westerschelde estuary.

In situ data show that SPM levels in the Westerschelde are ca. a factor 1.5 to 2 higher in winter than in summer, confirming earlier findings in the adjacent North Sea (Eleveld et al. 2008), mouth of the Westerschelde and Vlaamse Banken (Fettweis and van den Eynde 2003) and Zeeschelde (Fettweis et al. 1998). The average seasonal (winter–summer) difference in SPM measured in situ at four (deep) channel stations at ca. 1 m below the surface is 28 mg l−1. When assuming a tidal prism of 2 × 109 m3 for the Westerschelde (Wang et al. 2002) and assuming the sediment is distributed evenly over the water column, this would equal 55 kton, i.e., less than the amount of mud that would be stored on the intertidal flats in summer. However, this amount would be substantially higher as our results from satellite and modelling show that high SPM concentrations occur especially above the shoals.

The mud transport model does reproduce the spatial distribution of mud in the estuary, both in the water column and in the bed as observed by remote sensing. Variation in SPM over the fortnightly and seasonal cycle is also reproduced reasonably well, but variations over the tidal cycle in particular are underestimated at most stations in the model.

Our model results show that the Westerschelde experienced a net export flux of 2 Mton mud over 2006, which is the difference of a gross export of 37 Mton and a gross import of 35 Mton from the North Sea, i.e., a residual flux of 6%. This 2 Mt is probably an overestimation due to the weak estuarine circulation in the model. Indeed, when the effect of estuarine circulation on mud transport is enhanced by introducing hindered deposition at the bed (resulting in a higher near-bed concentration and concurrently a higher near-bed inward net sediment flux), the ETM at Antwerp becomes more pronounced and net sediment export towards the North Sea decreases to nearly zero. Previous findings in the literature ranged from net mud import of 50–350 kton year−1 (van Maldegem et al. 1993; Verlaan et al. 1998) to net mud export of ca. 1 Mt year−1 (Fettweis and van den Eynde 2003). At present, the tentative model results seem to indicate that a higher storm frequency in winter causes more mud import into the estuary, leading to a slightly higher net export of mud in summer than in winter. Export in summer may be reduced when more mud would be seasonally stored on the tidal flats.

The model does not yet reproduce observed seasonal dynamics in bed composition of intertidal flats, whereas the seasonal dynamics in SPM are reasonably well simulated. The seasonal dynamics in SPM and bottom sediment may have several causes. A number of studies have attributed such dynamics to external causes, such as a higher marine or fluvial sediment supply in winter (e.g., Lindsay et al. 1996; Lesourd et al. 2003; Deloffre et al. 2006), of which discharge and wave-induced resuspension in the outer estuary is included in the model. Secondly, there may be internal causes. Of these factors, a variable wind stress is accounted for in the model, suggesting that this factor alone does not explain seasonal variation in bottom mud content. Indeed, inside the estuary its effect becomes small relative to tidal forcing. Frostick and McCave (1979) suggested that a seasonal transfer of mud from channel banks or channels to the intertidal zone accounted for a higher intertidal mud content in summer. This process does also not emerge from the model, even though simulated mud content in the channels is slightly lower in summer due to a lower SPM level. Another (internal) cause not considered is a change in the properties of the (suspended or deposited) sediment over the year. In the model, only the consolidation of mud (Quaresma et al. 2004; Sanford 2008) now induces a seasonal variation as mass is transferred from the fluff layer to the underlying bed during calm weather. Seasonal changes in the grain-size distribution of fines are not taken into account. In addition, flocs in the Westerschelde are generally greater in summer (Chen et al. 2005b), partly because of biological activity, and may break up in winter due to higher energy conditions; this may account for higher settling rates and deposition in summer (Dyer et al. 2000; Chang et al. 2007). Note that these variations in particle size and type might also influence the IOPs (scattering phase function and backscattering), sIOPs and water-leaving radiance reflectance and thus eventually the retrieved remotely sensed SPM concentrations. Test runs with our model show that changes in settling rate could well account for seasonal variation both in SPM and bed sediment. Flocculation can also partly account for the observed discrepancies in modelled sediment concentrations over the tidal cycle (Winterwerp 2002). Seasonal changes in the sediment bed due to biological effects are also neglected in the present model. Yet, the formation of a biofilm in spring by diatoms (Holland et al. 1974; Yallop et al. 1994) may cause a temporal increase in τ crit in spring and summer by up to a factor 5 (Neumeier et al. 2006; Le Hir et al. 2007). Test runs with our model, implementing the (de)stabilising influence of benthos on mud as proposed by Borsje et al. (2008) showed that this had a significant effect on bed composition, but the amount of mud stored or released in this way was too small (at least in the model) to influence mud concentration in the water column on the scale of the whole estuary (van Kessel et al. 2007). As this contradicts our findings from both in situ and remote sensing data, modelling improvements are required. Such improvements may include using a thicker sand layer in which the mud can be stored or allowing exchange of mud from this layer and an underlying layer, as observed in situ due to, for example, bioturbation or deposition of sand on top of the mud layer (Herman et al. 2001; Andersen and Pejrup 2001).

Our results from SAR remote sensing also reveal a strong seasonal change in bed roughness, with significantly smoother surfaces in summer than in winter. This is in contrast with findings from sites where a smoother surface is found in winter due to reduction of biological (macrofaunal) activity (e.g., Anderson 1983), but supports observations on microphytobenthos inhibiting surface ripple migration (Friend et al. 2008). In most mud transport models, including ours, bed roughness resulting from microtopography (such as sand ripples) is held constant over time, and spatial differences in bed roughness as revealed by the remote sensing data are also not incorporated. However, a decrease in bed roughness in summer may influence the vertical structure of the flow and bottom boundary layer processes, reducing turbulence and bed shear stress (McLean 1981; Whitehouse et al. 2000; Le Hir et al. 2007). This process is especially relevant for shallow waters such as those in the intertidal zone at the moving edge of the tide (Whitehouse et al. 2000) and will induce a positive feedback loop of an increasingly higher mud content, smoother surface and lower bed shear stress. The impact of such a feedback loop could be substantial. Bifurcations could form, making the mud behaviour more chaotic.

Our observations show that sediment and bed properties change significantly over the year, but that these changes are spatially very heterogeneous. Satellite remote sensing provides independent, synoptic and sequential information on relevant physical and biological properties of the sediment (including bed roughness, bed mud content and microphytobenthos biomass) that can be incorporated (either as initial fields or consecutively in data assimilation) in cohesive sediment transport models to better account for changes in shear stress, critical erosion threshold and resuspension, thus providing a better insight in the feedback loops of estuarine mud dynamics.
6

Conclusions

The study places mud dynamics in a spatial context using a combination of remote sensing data, model data and corroborative in situ data of the Westerschelde estuary. Model results agree reasonably with the spatial distribution of both mud content of the bed sediment and SPM in the water column from both in situ and remote sensing measurements, suggesting that physical forcing now implemented in the model (tides, wind, waves and freshwater discharge) largely explains these patterns.

In situ, satellite and model data also reveal similar trends in SPM over different time-scales, ranging from semi-diurnal, spring-neap and seasonal variation, generally with a factor 1.5 to 2, although the present model underestimates the variation in SPM over the semi-diurnal tidal cycle.

In situ measurements and remote sensing derived data also reveal that the mud content of the intertidal bed is ca. twice as high in summer as in winter. The model does not show the seasonal variation in bed sediment on the intertidal flats. Thus, the model results suggest that the observed seasonal dynamics may stem from other factors than seasonal physical forcing. A seasonal increase in settling velocity due to flocculation, a seasonal increase in critical shear stress for erosion on intertidal flats due to consolidation and the presence of diatoms and a seasonal decrease in bottom shear stress due to smoothening of the surface as detected by the satellite are probable, and not mutually exclusive, factors. Synoptic sequential information derived from satellite data (including bed roughness and microphytobenthos biomass) can be implemented in the mud transport model to improve its performance and shed further light on the mud dynamics at the estuary scale.
Notes
Acknowledgements
This work was carried out within the framework of LTV-Slib (Long-term Vision Westerschelde). The European Space Agency provided ERS-SAR data within ESA Cat-1 project 5578 and MERIS-FR data within ESA Cat-1 project 4453. Rijkswaterstaat MOVE data of the sediment were kindly provided by Dick de Jong. We acknowledge Machteld Rijkeboer, Steef Peters and Reinold Pasterkamp, in collaboration with MUMM and Rijkswaterstaat MD, for databases with historic sIOPs and Reinold Pasterkamp for the HYDROPT Software library. We would also like to thank Luca van Duren, Herman Mulder and Peter Herman for the advice and Gerben de Boer and Annette Wielemaker for their help. Han Winterwerp and anonymous reviewers are thanked for useful comments to improve the manuscript. This is NIOO-KNAW publication number 4688.
Open Access
This article is distributed under the terms of the Creative Commons Attribution Noncommercial License which permits any noncommercial use, distribution, and reproduction in any medium, provided the original author(s) and source are credited.
Copyright information
© The Author(s) 2010
Open AccessThis is an open access article distributed under the terms of the Creative Commons Attribution Noncommercial License (https://creativecommons.org/licenses/by-nc/2.0), which permits any noncommercial use, distribution, and reproduction in any medium, provided the original author(s) and source are credited.