Abstract
A new snailfish, Careproctus shigemii, is described on the basis of three specimens collected in the southern Sea of Okhotsk, off Hokkaido, Japan. The new species has previously been confused with Careproctus zachirus Kido 1985, known from the Aleutian Islands, eastern Bering Sea, the Pacific Ocean off southeastern Kamchatka and the northern Kuril Islands, and the southern Sea of Okhotsk off Hokkaido, Japan, because of their similar appearance, including a noticeably elongate pectoral fin extending beyond the anal-fin origin, the gill slit entirely above the pectoral fin, no opercular flap projection, one suprabranchial pore, and trilobed teeth. However, C. shigemii is clearly differentiated from C. zachirus in having dorsal and anal fins margined with black (vs. white margined dorsal and anal fins with a black submarginal band), and a black caudal fin (vs. pale pink caudal fin), when fresh. Careproctus shigemii differs additionally from C. zachirus in having the cephalic pore pattern 2-6-6-1 (vs. 2-6-7-1), 30–35 pyloric caeca (vs. 20–31), and a shorter pectoral fin lower lobe, 8.2–9.9% SL (vs. longer lobe, 15.9–25.6% SL). A large sequence divergence between C. shigemii and C. zachirus (0.028 in uncorrected p-distance) in the DNA barcoding region (COI) also supports the validity of each species. A redescription of C. zachirus is also provided on the basis of the holotype, paratypes and non-type specimens.
This is a preview of subscription content, log in to check access.
Access options
Buy single article
Instant access to the full article PDF.
US$ 39.95
Price includes VAT for USA
Subscribe to journal
Immediate online access to all issues from 2019. Subscription will auto renew annually.
US$ 99
This is the net price. Taxes to be calculated in checkout.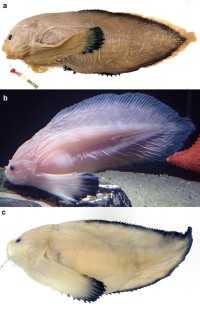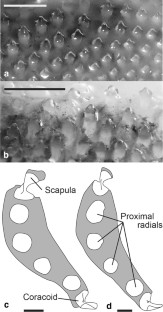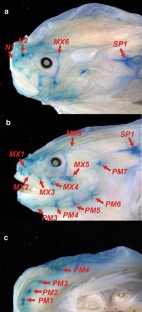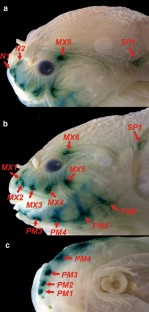 References
Chernova NV, Duhamel G (2005) Notes on Careproctus longipectoralis and Paraliparis charcoti (Liparidae, Liparinae) from the Weddell Sea, Southern Ocean. Cybium 29:310–312

Chernova NV, Stein DL, Andriashev AP (2004) Family Liparidae Scopoli 1777—Snailfishes. Cal Acad Sci Annotated Checklist Fish 31:1–72

Duhamel G (1992) Description d'espèces nouvelles de Careproctus et Paraliparis et données nouvelles sur ces genres et le genre Edentoliparis de l'océan Austral (Cyclopteridae, Liparinae). Cybium 16:183–207

Fricke R, Eschmeyer WN, Van der Laan R (2019) Eschmeyer's Catalog of Fishes: Genera, Species, References. Electronic version, updated 4 November 2019. http://researcharchive.calacademy.org/research/ichthyology/catalog/fishcatmain.asp). Accessed 28 November 2019

Gardner JR, Orr JW, Stevenson DE, Spies I, Somerton DA (2016) Reproductive parasitism between distant phyla: molecular identification of snailfish (Liparidae) egg masses in the gill cavities of king crabs (Lithodidae). Copeia 104:645–657

Gilbert CH (1896) The ichthyological collections of the steamer Albatross during the years 1890 and 1891. US Comm Fish Fisher Rep Comm 19:393–476

Gilbert CH, Burke CV (1912) New cyclogasterid fishes from Japan. Proc US Natl Mus 42:351–380

Kai Y, Matsuzaki K (2019) Careproctus longidigitus, a new snailfish (Liparidae) from the southern Sea of Okhotsk. Ichthyol Res. https://doi.org/10.1007/s10228-019-00711-y (also appeared in Ichthyol Res 67:133–138)

Kai Y, Matsuzaki K, Mori T (2019) First records of the snailfish Careproctus lycopersicus (Cottoidei: Liparidae) from the western North Pacific. Spec Div 24:115–118

Kawamura K, Hosoya K (1991) A modified double staining technique for making a transparent fish-skeletal specimen. Bull Natl Res Inst Aquacul (20):11–18

Kido K (1985) New and rare species of the genus Careproctus (Liparididae) from the Bering Sea. Jpn J Ichthyol 32:6–17

Krøyer HN (1862) Nogle Bidrag til Nordisk ichthyologi. Naturhist Tidsskr (Kjøbenhavn) (Ser 3) 1:233–310

Kumar S, Stecher G, Li M, Knyaz C, and Tamura K (2018) MEGA X: Molecular Evolutionary Genetics Analysis across computing platforms. Mol Biol Evol 35:1547–1549

Liu JX, Gao TX, Yokogawa K, Zhang YP (2006) Differential population structuring and demographic history of two closely related fish species, Japanese sea bass (Lateolabrax japonicus) and spotted sea bass (Lateolabrax maculatus) in Northwestern Pacific. Mol Phylogenet Evol 39:799–811

Matallanas J (1998) Description of Careproctus guillemi n. sp. (Pisces: Scorpaeniformes) from Weddell Sea. J Fish Biol 52:380–385

Matsuzaki K, Taira H, Mori T, Nobetsu T, Kido K (2017) First record of the liparid fish Careproctus zachirus from Japan. Jpn J Ichthyol 64:179–184

Mecklenburg CW, Mecklenburg TA, Thorsteinson LK (2002) Fishes of Alaska. American Fisher Soc, Bethesda, MD

Orlov AM (1998) Demersal ichthyofauna of Pacific waters around the Kuril Islands and southeastern Kamchatka. Russ J Mar Biol 24: 144–160

Orlov AM, Tokranov AM (2011) Some rare and insufficiently studied snailfishes (Liparidae, Scorpaeniformes, Pisces) in the Pacific waters off the northern Kuril Islands and southeastern Kamchatka, Russia. ISRN Zool 2011 (341640): 1–12

Orr JW (2012) Two new species of snailfishes of the genus Careproctus (Scorpaeniformes: Liparidae) from the Bering Sea and eastern North Pacific Ocean, with a redescription of Careproctus ovigerus. Copeia 2012:257–265

Orr JW, Maslenikov KP (2007) Two new variegated snailfishes of the genus Careproctus (Teleostei: Scorpaeniformes: Liparidae) from the Aleutian Islands, Alaska. Copeia 2007:699–710

Orr JW, Spies I, Stevenson DE, Longo GC, Kai Y, Ghodes S, Hollowed M (2019) Molecular phylogenetics of snailfishes (Liparidae: Cottoidei) based on mtDNA and RADseq genomic analyses, with comments on selected morphological characters. Zootaxa 4642:1–79

Schmidt PY (1950) Fishes of the Sea of Okhotsk. Trans Pac Commit Acad Sci USSR 6:1–370

Sheiko BA, Fedorov VV (2000) Chapter I. Class Cephalaspidomorphi–lampreys. Class Chondrichthyes–Cartilaginous fishes. Class Holocephali–Chimaeras. Class Osteichthys–Bony fishes. In: Moiseev RS, Tokranov AM (eds) Catalog of the Vertebrates of Kamchatka and Adjacent Waters. Kamchatskiy Petchatniy Dvor, Petropavlovsk-Kamchatsky, pp 7–69

Stein DL (1978) A review of the deepwater Liparidae (Pisces) from the coast of Oregon and adjacent waters. Occas Pap Cal Acad Sci 127:1–55

Thompson JD, Gibson TJ, Plewniak F, Jeanmougin F, Higgins DG (1997) The CLUSTAL_X windows interface: flexible strategies for multiple sequence alignment aided by quality analysis tools. Nucleic Acids Res 25:4876–4882

Tokranov AM (2000) Species composition and spatial distribution of snailfishes (Liparidae) in the Pacific waters of southeastern Kamchatka and northern Kuril Islands. J Ichthyol 40:139–149
Acknowledgements
We are very grateful to Shigeki Fujimoto and Shigetada Fujimoto (Rausu, Hokkaido, Japan) for their help in collecting specimens, and to J. W. Orr and D. E. Stevenson (NOAA, AFSC) for their kind hospitality during the last author's stay in Seattle. Our appreciation is also extended to K. Kido (Aomori, Japan), T. Nobetsu (Shiretoko Nature Foundation), Y. Abe (Executive Director, AMF), and A. Komoda (General Curator, AMF) for their valuable advice and discussion, H. Taira and S. Yamauchi (staff of AMF) for their assistance during the study, and H. Imamura, T. Kawai and F. Tashiro (HUMZ), K. P. Maslenikov (UW), and J. T. Williams, D. G. Smith, S. Raredon, and K. Murphy (USNM) for access to collections. We sincerely thank T. Asahida (Kitazato University) and F. Tashiro (HUMZ) for assistance in taking radiographs. G. S. Hardy (Ngunguru, New Zealand) critically reviewed the manuscript.
Additional information
Publisher's Note
Springer Nature remains neutral with regard to jurisdictional claims in published maps and institutional affiliations.
This article was registered in the Official Register of Zoological Nomenclature (ZooBank) as C8FA1C12-6330-4554-BC19-1B263CE3380C.
This article was published as an Online First article on the online publication date shown on this page. The article should be cited by using the doi number.
About this article
Cite this article
Matsuzaki, K., Mori, T., Kamiunten, M. et al. A new species of Careproctus (Cottoidei: Liparidae) from the Sea of Okhotsk and a redescription of the blacktip snailfish Careproctus zachirus. Ichthyol Res (2020). https://doi.org/10.1007/s10228-020-00734-w
Received:

Revised:

Accepted:

Published:
Keywords
Careproctus shigemii

COI

Shiretoko Peninsula

Hokkaido

Western North Pacific