Abstract
The taxonomic status of two species of the spookfish genus Harriotta Goode and Bean 1895 is revised and discussed. On the basis of a literature review along with a comparison between the two species formerly considered valid, H. haeckeli Karrer 1972 is synonymized with H. raleighana Goode and Bean 1895, and Anteliochimaera chaetirhampha Tanaka 1909 previously regarded as a junior synonym of the latter is resurrected as a valid species. The revised H. raleighana is newly recorded from Japan as well as the North Pacific based on two voucher specimens collected from Hyuga-nada off Kyushu, southern Japan; the record extends the species' known range approximately 8000 km northward from the South Pacific. In addition, secondary sexual characteristics of H. raleighana are documented for the first time, which further illuminates pronounced differences between the two species of Harriotta; H. raleighana is also revealed to have a smaller size at maturity compared with H. chaetirhampha. In the northwestern Pacific, the species show bathymetric zonation with a narrow sympatric zone at depths around 1600 m (1535–2611 m in H. raleighana vs. 906–1654 m in H. chaetirhampha). In situ behavior of these species is described and discussed from video footage.
This is a preview of subscription content, log in to check access.
Access options
Buy single article
Instant unlimited access to the full article PDF.
US$ 39.95
Price includes VAT for USA
Subscribe to journal
Immediate online access to all issues from 2019. Subscription will auto renew annually.
US$ 99
This is the net price. Taxes to be calculated in checkout.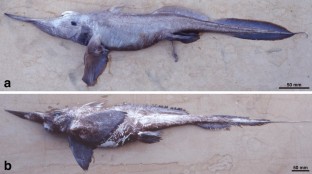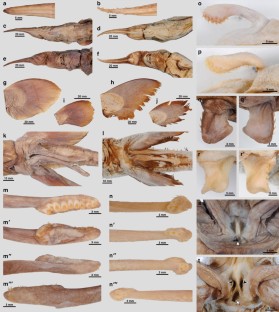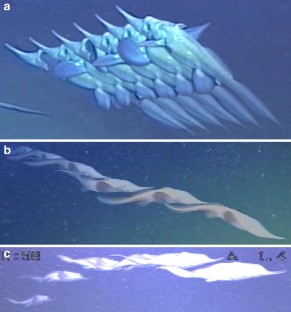 References
Bean BA, Weed AC (1910) Notes on Anteliochimaera and related genera of chimaeroid fishes. Proc US Nat Mus 17:661–663, pl 38

Compagno LJV, Stehmann M, Ebert DA (1990) Rhinochimaera africana, a new longnose chimaera from southern Africa, with comments on the systematics and distribution of the genus Rhinochimaera Garman, 1901 (Chondrichthyes, Chimaeriformes, Rhinochimaeridae). S Afr J Mar Sci 9:201–222

Deng S-M, Xiong G-Q, Zhan H-X (1983) Description of three new species of elasmobranchiate fishes from deep waters of the East China Sea. Oceanol Limnol Sin 14:64–70

Didier DA, Nakaya K (1999) Redescription of Rhinochimaera pacifica (Mitsukuri) and first record of R. africana Compagno, Stehmann & Ebert from Japan (Chimaeriformes: Rhinochimaeridae). Ichthyol Res 46:139–152

Didier DA, Stehmann M (1996) Neoharriotta pumila, a new species of longnose chimaera from the northwestern Indian Ocean (Pisces, Holocephali, Rhinochimaeridae). Copeia 1996:955–965

Didier DA, Kemper JM, Ebert DA (2012) Phylogeny, biology, and classification of extant holocephalans. In: Carrier JC, Musick JA, Heithaus MR (eds) Biology of sharks and their relatives, 2nd edn. CRC Press, Boca Raton, pp 97–122

Ebert DA (2014) Deep-sea cartilaginous fishes of the Indian Ocean, vol 2. Batoids and chimaeras. FAO, Rome

Ebert DA, Mostarda E (2013) Identification guide to the deep-sea cartilaginous fishes of the Indian Ocean. FAO, Rome

Finucci B, Dunn MR, Jones EG, Anderson J (2017) Reproductive biology of the two deep-sea chimaerids, longnose spookfish (Harriotta raleighana) and Pacific spookfish (Rhinochimaera pacifica). Deep-Sea Res I 120:76–87

Fowler HW (1941) Contributions to the biology of the Philippine Archipelago and adjacent regions. The fishes of the groups Elasmobranchii, Holocephali, Isospondyli, and Ostraophysi obtained by the United States Bureau of fisheries steamer "Albatross" in 1907 to 1910, chiefly in the Philippine Islands and adjacent seas. US Nat Mus Bull 13: i–x + 1–879

Fricke R, Eschmeyer WN (2019) A guide to fish collections in the Catalog of Fishes. http://researcharchive.calacademy.org/research/ichthyology/catalog/collections.asp. Accessed 23 January 2019

Fricke R, Eschmeyer WN, van der Laan R (2019) Catalog of Fishes: genera, species, references. http://researcharchive.calacademy.org/research/ichthyology/catalog/fishcatmain.asp. Accessed 23 January 2019

Goode GB, Bean TH (1895) On Harriotta, a new type of chimaeroid fish from the deep waters of the northwestern Atlantic. Proc US Nat Mus 17:471–473, pl XIX

Gosline WA (1971) Functional morphology and classification of teleostean fishes. University of Hawaii Press, Honolulu

Hoving HJT, Robison BH (2016) Deep-sea in situ observations of gonatid squid and their prey reveal high occurrence of cannibalism. Deep-Sea Res I 116:94–98

ICZN (International Commission on Zoological Nomenclature) (1999) International code of zoological nomenclature. 4th edn. International Trust for Zoological Nomenclature, London

JAMSTEC (Japan Agency for Marine-Earth Science and Technology) (2019) JAMSTEC E-library of Deep-sea Images (J-EDI). http://www.godac.jamstec.go.jp/jedi/e/index.html. Accessed 23 January 2019

Jordan DS, Evermann BW (1900) The fishes of North and Middle America: a descriptive catalogue of the species of fish-like vertebrates found in the waters of North America, north of the Isthmus of Panama. Part IV. Bull US Nat Mus 47:i–ci + 3137–3313, pls I–CCCXCII

Jordan DS, Tanaka S, Snyder JO (1913) A catalogue of the fishes of Japan. J Coll Sci Tokyo Imp Univ 33:1–497

Karrer C (1972) Die gattung Harriotta Goode and Bean, 1985 (Chondrichthyes, Chimaeriformes, Rhinochimaeridae). Mitt Zool Mus Berl 48:203–221

Last PR, Stevens JD (2009) Sharks and rays of Australia, 2nd edn. CSIRO Publishing, Clayton

Lauder GV (2000) Function of the caudal fin during locomotion in fishes: kinematics, flow visualization, and evolutionary patterns. Am Zool 40:101–122

Lombardi J (1998) Comparative vertebrate reproduction. Kluwer Academic Publishers, Norwell

Nakabo T, Yagishita N, Yamaguchi A (2013) Rhinochimaeridae. In: Nakabo T (ed) Fishes of Japan with pictorial keys to the species, 3rd edn. Tokai University Press, Hadano, pp 148–149, 1755–1756

Nakaya K (1982) Rhinochimaeridae. In: Okamura O, Kitajima T (eds) Fishes of the Okinawa Trough and the adjacent waters I. Japan Fisheries Resource Conservation Association, Tokyo, pp 76–77, 313

Nakaya K (1988) Rhinochimaeridae. In: Masuda H, Amaoka K, Araga C, Uyeno T, Yoshino T (eds) The fishes of the Japanese Archipelago, 2nd edn. Tokai University Press, Tokyo, p 17, pls 20, 337

Patterson C (1968) The caudal skeleton in Lower Liassic pholidophorid fishes. Bull Br Mus Nat Hist Geol 16:203–239

R Development Core Team (2015) R: A Language and environment for statistical computing. R Foundation for Statistical Computing, Vienna

Senou H (2012) Chapter 31. Vertebrate. In: Fujikura K, Okutani T, Maruyama T (eds) Deep-sea life—Biological observations using research submersibles, 2nd edn. Tokai University Press, Hadano, pp 356–382

Stehmann M, Bürkel DL (1984) Rhinochimaeridae. In: Whitehead PJP, Bauchot M-L, Hureau J-C, Nielsen J, Tortonese E (eds) Fishes of the north-eastern Atlantic and the Mediterranean. Vol I. UNESCO, Paris, pp 216–218

Tanaka S (1909) Descriptions of one new genus and ten new species of Japanese fishes. J Coll Sci Imp Univ Tokyo 27 (art 8):1–27, pl I

Townsend CH, Nichols JT (1925) Deep sea fishes of the 'Albatross' Lower California Expedition. Bull Am Mus Nat Hist 52:1–20, pls I–IV

Weigmann S (2016) Annotated checklist of the living sharks, batoids and chimaeras (Chondrichthyes) of the world, with a focus on biogeographical diversity. J Fish Biol 88:837–1037
Acknowledgments
We are grateful to D. A. Didier (Millersville University, Millersville) for sharing her knowledge on rhinochimaerid taxonomy, S. Tanaka (Tokai University, Shizuoka) for providing valuable comments on this study, and K. Sakamoto (ZMUT) for his curatorial assistance; K. Murasaki (Tokai University, Shizuoka) kindly provided photographs of the lectotype of H. raleighana. We also thank Y. Toyoda (JAMSTEC, Yokohama) for helping us to access the high-resolution footage examined here, and G. Yearsley (Hobart) for editing the English text. This study was supported by JSPS KAKENHI Grant Number JP18K14509.
Additional information
Publisher's Note
Springer Nature remains neutral with regard to jurisdictional claims in published maps and institutional affiliations.
This article was registered in the Official Registry of Zoological Nomenclature (ZooBank) as 1111F3BB-FC5B-47A6-BF3C-EA6026AD10ED.
This article was published as an Online First article on the online publication date shown on this page. The article should be cited by using the doi number.
Electronic supplementary material
Below is the link to the electronic supplementary material.
About this article
Cite this article
Nakayama, N., Matsunuma, M. & Endo, H. A preliminary review and in situ observations of the spookfish genus Harriotta (Holocephali: Rhinochimaeridae). Ichthyol Res 67, 82–91 (2020) doi:10.1007/s10228-019-00703-y
Received:

Revised:

Accepted:

Published:

Issue Date:
Keywords
Chimaeriformes

Synonymy

Range extension

Secondary sexual characteristics

Bathymetric zonation

Japan