Abstract
Mangrove litter is continuously supplied to coastal water systems in and around Southeast Asian mangrove forests, often floating or drifting in surface layer water and likely providing ecological benefits for aquatic animals. As a first step toward clarification of possible roles of such litter in coastal ecosystems, associated fish/macroinvertebrate fauna in a shallow coastal area in Trang Province, Thailand, were examined by scoop-netting. During the study period, 398 individual fishes (35 species), 33 macrocrustaceans (8 species) and 30 squid (1 species) were collected. Larval/juvenile Zenarchopterus sp. 1 (cf. Z. dunckeri) were the most abundant fish (31.4% of total fishes), followed by Butis butis (16.3%) and Terapon jarbua (13.3%). A pygmy squid, Idiosepius sp., was the most abundant macroinvertebrate (47.6% of total). The majority of specimens collected were small-sized individuals. The mangrove litter, which adds a structured microhabitat to the non-structured surface water layer, probably functions (for small animals) in reducing energy costs for movement, including migration to other areas, as well as reducing predation risk and increasing food catchability, resulting in enhanced affinity of small animals for the litter.
This is a preview of subscription content, log in to check access.
Access options
Buy single article
Instant unlimited access to the full article PDF.
US$ 39.95
Price includes VAT for USA
Subscribe to journal
Immediate online access to all issues from 2019. Subscription will auto renew annually.
US$ 99
This is the net price. Taxes to be calculated in checkout.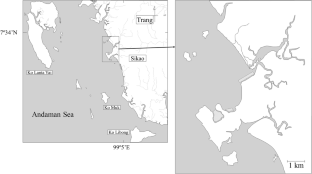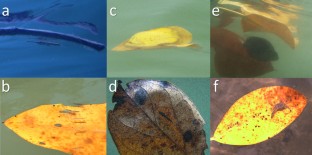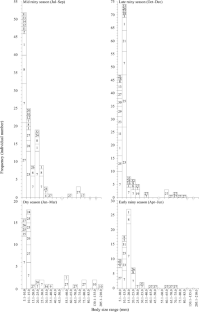 References
Bray JR, Curtis JT (1957) An ordination of upland forest communities of southern Wisconsin. Ecol Monogr 27:325–349

Dai A, Yang S (1991) Crabs of the China Seas. China Ocean Press, Beijing

Horinouchi M (2007a) Distribution patterns of benthic juvenile gobies in and around seagrass habitats: effectiveness of seagrass shelter against predators. Estuar Coast Shelf Sci 72:657–664

Horinouchi M (2007b) Review of the effects of within-patch scale structural complexity on seagrass fishes. J Exp Mar Biol Ecol 350:111–129

Horinouchi M, Mizuno N, Jo Y, Fujita M, Sano M, Suzuki Y (2009) Seagrass habitat complexity does not always decrease foraging efficiencies of piscivorous fishes. Mar Ecol Prog Ser 377:43–49

Kanai T, Nanjo K, Sano M (2017) Ontogenetic and seasonal changes in the diet of the halfbeak Zenarchopterus dunckeri at Iriomote Island, southern Japan. Ichthyol Res 64: 470–474

Kanou K, Horinouchi M, Tongnunui P, Kon K, Sano M (in press) Morphological development and occurrence patterns of larval and juvenile halfbeaks, Zenarchopterus spp., associated with mangrove flotsam in a shallow coastal area, Trang, southern Thailand. Biogeography

Kawaida S, Ohtsuchi N, Kohno H, Watanabe Y, Sano M (2018) Leaf litter consumption by the sesarmid crab Parasesarma bidens in a mangrove forest on Iriomote Island, southern Japan. La Mer 56: 37–47

Kimura S, Matsuura K (2003) Fishes of Bitung, northern tip of Sulawesi, Indonesia. Ocean Research Institute, University of Tokyo, Tokyo

Kingsford MJ (1993) Biotic and abiotic structured in the pelagic environment: importance to small fishes. Bull Mar Sci 53: 393–415

Kon K, Kurokura H, Hayashizaki K (2007) Role of microhabitats in food webs of benthic communities in a mangrove forest. Mar Ecol Prog Ser 340: 55–62

Leis JM, Trnski T (1989) The Larvae of Indo-Pacific Shore Fishes. New South Wales University Press, Kensington

Leis JM, Carson-Ewart BM (2000) The Larvae of Indo-Pacific Coastal Fishes: An Identification Guide to Marine Fish Larvae. Brill Leiden

Luiz OJ, Allen AP, Robertson DR, Floeter SR, Madin JS (2015) Seafarers or castaways: ecological traits associated with rafting dispersal in tropical reef fishes. J Biogeogr 42: 2323–2333

Matsuura K, Kimura S (2005) Fishes of Libong Island, west coast of southern Thailand. Ocean Research Institute, University of Tokyo, Tokyo

Meager JJ, Williamson I, Loneragan NR, Vance DJ (2005) Habitat selection of juvenile banana prawns, Penaeus merguiensis de Man: Testing the roles of habitat structure, predators, light phase and prawn size. J Exp Mar Biol Ecol 324: 89–98

Nanjo K, Kohno H, Nakamura Y, Horinouchi M, Sano M (2014) Effects of mangrove structure on fish distribution patterns and predation risks. J Exp Mar Biol Ecol 461: 216–225

Nesis KN (1987) Cephalopods of the World. TFH Publications, Neptune City, New Jersey

Okiyama M (2014) An Atlas of the Early Stage Fishes in Japan. Tokai University Press, T okyo

Wehrtmann IS, Dittel AI (1990) Utilization of floating mangrove leaves as a transport mechanism of estuarine organisms, with emphasis on decapod Crustacea. Mar Ecol Prog Ser 60: 67–73

Welly J, Lee SY (2005) Grapsid crabs mediate link between mangrove litter production and estuarine planktonic food chains. Mar Ecol Prog Ser 293: 165–176

Yokoo T, Kanou K, Moteki M, Kohno H, Tongnunui P, Kurokura H (2006) Juvenile morphology and occurrence patterns of three Butis species (Gobioidei: Eleotridae) in a mangrove estuary, southern Thailand. Ichthyological Research 53:360–366
Acknowledgments
We are grateful to Hisashi Kurokura, Suwat Tanyaros, Charuwan Pharksuwan, Suparat Tubcharoen, Ruanrit Susuwan, Parichat Hukiew, Patcharee Kaeoprakan, and staff of the Faculty of Science and Fisheries Technology, Rajamangala University of Technology Srivijaya, for their generous assistance in this work, and Kotaro Tsuchiya and Koichi Shibukawa for their helpful suggestions for fish/squid identification. Constructive comments on the manuscript from Graham Hardy and the anonymous referees are much appreciated. This work was conducted with the permission of the National Research Council of Thailand (Project ID 2010/064) and was financially supported by a Grant-in-aid for Scientific Research (B) from the Ministry of Education, Science, Sports and Culture of Japan (No 25304030).
Additional information
Publisher's Note
Springer Nature remains neutral with regard to jurisdictional claims in published maps and institutional affiliations.
Electronic supplementary material
Below is the link to the electronic supplementary material.
About this article
Cite this article
Horinouchi, M., Kanou, K., Kon, K. et al. Fish and macroinvertebrate fauna associated with floating or drifting surface water mangrove litter in a shallow coastal area in Trang, southern Thailand. Ichthyol Res 67, 177–184 (2020) doi:10.1007/s10228-019-00695-9
Received:

Revised:

Accepted:

Published:

Issue Date:
Keywords
Floating mangrove litter

Fish

Macroinvertebrate