Abstract
The present study analyzes the effects of freezing and alcohol preservation in geometric morphometric data, using 15 individuals of the peacock fish Cichla kelberi (12.9–26.4 cm SL) divided into freezing and alcohol groups, conserved in each preservation method for 90 days. Discriminant analysis revealed significant difference between before and after treatments, and principal component analysis also showed separation between treatments, for both conservation methods. These results introduce a significant preservation influence that should be considered in biological, ecological and evolutionary interpretations of fish data in geometric morphometric approaches.
This is a preview of subscription content, log in to check access.
Access options
Buy single article
Instant unlimited access to the full article PDF.
US$ 39.95
Price includes VAT for USA
Subscribe to journal
Immediate online access to all issues from 2019. Subscription will auto renew annually.
US$ 99
This is the net price. Taxes to be calculated in checkout.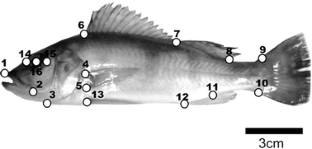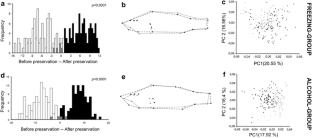 References
Arbour JH, Hardie DC, Hutchings CA (2011) Morphometric and genetic analyses of two sympatric morphs of Arctic char (Salvelinus alpinus) in the Canadian High Arctic. Can J Fish Aquat Sci 89:19–30

Bookstein FL (1991) Morphometric tools for landmark data. Cambridge University Press, Cambridge

Florin AB, Lingman A (2008) Shrinkage of flounder Platichthys flesus (L.) and turbo Psetta maxima (L.) following freezing. J Fish Biol 72:731–736

Klingenberg CP (2011) MORPHOJ: an integrated software package for geometric morphometrics. Mol Ecol Res 11:353–357

Lee J, Kodama K, Horiguchi T (2012) Change in body size of juvenile marbled sole Pseudopleuronectes yokohamae after preservation in ethanol. Ichthyol Res 59:49–52

Leslie JK, Moore JE (1986) Changes in lengths of fixed and preserved young freshwater fishes. Can J Fish Aquat Sci 43:1079–1081

Martinez PA, Berbel-Filho WM, Jacobina UP (2013) Is formalin fixation and alcohol conservation method able to influence in geometric morphometric analysis? Fishes as a case study. Zoomorphology 132:87–93

Rohlf FJ (2004) TpsDig, version 1.4. Department of Ecology and Evolution, State University of New York at Stony Brook, New York. http://life.bio.sunysb.edu/morph/

Sidlauskas BL, Mol JL, Vari RP (2011) Dealing with allometry in linear and geometric morphometrics: a taxonomic case study in the Leporinus cylindriformis group (Characiformes: Anostomidae) with description of a new species from Suriname. Zool J Linn Soc 162:103–130

Smith BB, Walker KF (2003) Shrinkage of 0 + carp (Cyprinus carpio L.) after preservation in ethanol. Mar Fresh Res 54:113–116

Zelditch ML, Swiderski DL, Sheets HD, Fink WL (2004) Geometric morphometrics for biologists: a primer. Elsevier, San Diego
Acknowledgments
We thank Carlos Rivera for English corrections and the Coordenação de Aperfeiçoamento de Pessoal de Nível Superior by the financial supports (CAPES-REUNI). The experiments performed agree with the Brazilians' laws of animal ethics.
About this article
Cite this article
Berbel-Filho, W.M., Jacobina, U.P. & Martinez, P.A. Preservation effects in geometric morphometric approaches: freezing and alcohol in a freshwater fish. Ichthyol Res 60, 268–271 (2013) doi:10.1007/s10228-013-0339-x
Received:

Revised:

Accepted:

Published:

Issue Date:
Keywords
Discriminant analysis

Principal component analysis

Fishes