This is a preview of subscription content, log in to check access.
Access options
Buy single article
Instant unlimited access to the full article PDF.
US$ 39.95
Price includes VAT for USA
Subscribe to journal
Immediate online access to all issues from 2019. Subscription will auto renew annually.
US$ 99
This is the net price. Taxes to be calculated in checkout.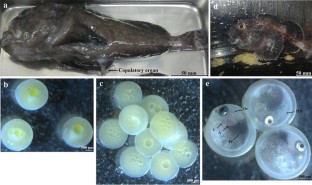 References
Abe T, Munehara H (2005) Spawning and maternal-care behaviours of a copulating sculpin, Radulinopsis taranetzi. J Fish Biol 67:201–212

Abe T, Munehara H (2007) Histological structure of the male reproductive organs and spermatogenesis in a copulating sculpin, Radulinopsis taranetzi (Scorpaeniformes: Cottidae). Ichthyol Res 54:137–144

Adachi T, Hagihara S, Itoh M, Shinohara G, Hayashi I, Kojima S (2009) Genetic population structure and morphological characters of Japanese psychrolutids of genus Malacocottus (Scorpaeniformes: Psychrolutidae). Ichthyol Res 56:323–329

Drazen JC, Goffredi SK, Schlining B, Stakes DS (2003) Aggregations of egg-brooding deep-sea fish and cephalopods on the Gorda Escarpment: a reproductive hot spot. Biol Bull 205:1–7

Hayakawa Y (2007) Parasperm: morphological and functional studies on nonfertile sperm. Ichthyol Res 54:111–130

Jamieson BGM (2009) Reproductive biology and phylogeny of fishes (agnathans and bony fishes) vol 8 (Part B of the Reproductive Biology and Phylogeny series). Science, Enfield

Libes SM (2009) An introduction to marine biogeochemistry, 2nd edn. Wiley, Hoboken

Munehara H, Takano K, Koya Y (1989) Internal gametic association and external fertilization in the elkhorn sculpin, Alcichthys alcicornis. Copeia 1989:673–678

Munehara H, Takano K, Koya Y (1991) The little dragon sculpin Blepsias cirrhosus, another case of internal gametic association and external fertilization. Jpn J Ichthyol 37:391–394

Nelson JS (2006) Fishes of the world, 4th edn. Wiley, Hoboken

Nybakken JW, Bertness MD (2004) Marine biology: an ecological approach. Benjamin/Cummings, San Francisco

Shinohara G, Yabe M, Amaoka K, Meguro T (1992) A psychrolutid, Malacocottus gibber, collected from the mesopelagic zone of the Sea of Japan, with comments on its intraspecific variation. Jpn J Ichthyol 38:419–424

Smith CR, Levin LA, Koslow A, Tyler PA, Glover AG (2008) The near future of deep seafloor ecosystems. In: Polunin N (ed) Aquatic ecosystems: trends and global prospects. Cambridge University Press, Cambridge, pp 334–351
Acknowledgments
The authors would like to thank two anonymous reviewers for their useful comments. We thank the staff at the Nyuzen Deep Seawater Facility and the Uozu Aquarium for their assistance with rearing the fish. We also thank Mr. Yasushi Okajima and Mr. Takayuki Kumagai for their support and insight.
Electronic supplementary material
Below is the link to the electronic supplementary material.
ESM Movie S1 Feeding behavior of Malacocottus gibber (MOV 8362 kb)
About this article
Cite this article
Tsuruwaka, Y., Shimada, E. Rearing and spawning of the deep-sea fish Malacocottus gibber in the laboratory. Ichthyol Res 58, 188–190 (2011) doi:10.1007/s10228-010-0200-4
Received:

Revised:

Accepted:

Published:

Issue Date: