Abstract
Objective
The aim of this study was to determine the economic burden from a societal perspective and the health-related quality of life (HRQOL) of patients with juvenile idiopathic arthritis (JIA) in Europe.
Methods
We conducted a cross-sectional study of patients with JIA from Germany, Italy, Spain, France, the United Kingdom, Bulgaria, and Sweden. Data on demographic characteristics, healthcare resource utilization, informal care, labor productivity losses, and HRQOL were collected from the questionnaires completed by patients or their caregivers. HRQOL was measured with the EuroQol 5-domain (EQ-5D-5L) questionnaire.
Results
A total of 162 patients (67 Germany, 34 Sweden, 33 Italy, 23 United Kingdom, 4 France, and 1 Bulgaria) completed the questionnaire. Excluding Bulgarian results, due to small sample size, country-specific annual health care costs ranged from €18,913 to €36,396 (reference year: 2012). Estimated direct healthcare costs ranged from €11,068 to €22,138; direct non-healthcare costs ranged from €7837 to €14,155 and labor productivity losses ranged from €0 to €8715. Costs are also shown to differ between children and adults. The mean EQ-5D index score for JIA patients was estimated at between 0.44 and 0.88, and the mean EQ-5D visual analogue scale score was estimated at between 62 and 79.
Conclusions
JIA patients incur considerable societal costs and experience substantial deterioration in HRQOL in some countries. Compared with previous studies, our results show a remarkable increase in annual healthcare costs for JIA patients. Reasons for the increase are the inclusion of non-professional caregiver costs, a wider use of biologics, and longer hospital stays.
This is a preview of subscription content, log in to check access.
Access options
Buy single article
Instant unlimited access to the full article PDF.
US$ 39.95
Price includes VAT for USA
Subscribe to journal
Immediate online access to all issues from 2019. Subscription will auto renew annually.
US$ 99
This is the net price. Taxes to be calculated in checkout.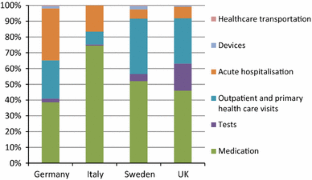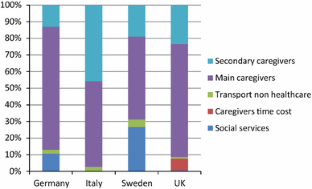 References
1.

Ravelli, A., Martini, A.: Juvenile idiopathic arthritis. Lancet 369(9563), 767–778 (2007). doi:10.1016/S0140-6736(07)60363-8

2.

Orphanet Report Series: Prevalence of rare diseases: bibliographic data (2014)

3.

Kahn, P.J.: Juvenile idiopathic arthritis—what the clinician needs to know. Bull. Hosp. Jt. Dis. 71(3), 194–199 (2013)

4.

Brooks, R.: EuroQol: the current state of play. Health policy (Amst, Neth) 37(1), 53–72 (1996)

5.

Drummond, M.F.: Methods for the economic evaluation of health care programmes, 3rd edn. Oxford medical publications, Oxford University Press, Oxford (2007)

6.

McDaid, D.: Estimating the costs of informal care for people with Alzheimer's disease: methodological and practical challenges. Int. J. Geriatr. Psychiatry 16(4), 400–405 (2001)

7.

van den Berg, B., Brouwer, W.B.F., Koopmanschap, M.A.: Economic valuation of informal care. An overview of methods and applications. Eur. J. Health Econ. HEPAC Health Econo. Prev. Care 5(1), 36–45 (2004). doi:10.1007/s10198-003-0189-y

8.

Hodgson, T.A., Meiners, M.R.: Cost-of-illness methodology: a guide to current practices and procedures. Milbank Mem. Fund Q. Health Soc. 60(3), 429–462 (1982)

9.

Dolan, P.: Modeling valuations for EuroQol health states. Med. Care 35(11), 1095–1108 (1997)

10.

Mahoney, F.I., Barthel, D.W.: Functional evaluation: the Barthel index. Md. State Med. J. 14, 61–65 (1965)

11.

Shah, S., Vanclay, F., Cooper, B.: Improving the sensitivity of the Barthel index for stroke rehabilitation. J. Clin. Epidemiol. 42(8), 703–709 (1989)

12.

Hébert, R., Bravo, G., Préville, M.: Reliability, validity and reference values of the Zarit burden interview for assessing informal caregivers of community-dwelling older persons with dementia. Can. J Aging 19(4), 494–507 (2000)

13.

Angelis, A., Tordrup, D., Kanavos, P.: Socio-economic burden of rare diseases: a systematic review of cost of illness evidence. Health Policy 119(7), 964–979 (2015)

14.

Minden, K., Niewerth, M., Listing, J., Biedermann, T., Schöntube, M., Zink, A.: Burden and cost of illness in patients with juvenile idiopathic arthritis. Ann. Rheum. Dis. 63(7), 836–842 (2004). doi:10.1136/ard.2003.008516

15.

Minden, K., Niewerth, M., Listing, J., Möbius, D., Thon, A., Ganser, G., Ermisch-Omran, B., Zink, A.: The economic burden of juvenile idiopathic arthritis-results from the German paediatric rheumatologic database. Clin. Exp. Rheumatol. 27(5), 863–869 (2009)

16.

Haapasaari, J., Kautiainen, H.J., Isomäki, H.A., Hakala, M.: Etanercept does not essentially increase the total costs of the treatment of refractory juvenile idiopathic arthritis. J. Rheumatol. 31(11), 2286–2289 (2004)

17.

Ghatnekar, O., Glenngård, A., Olofsson, S., Persson, U.: A literature review of instruments for measuring health-related quality of life in rare diseases. The Swedish institute for health economics—internal report of BURQOL-RD (2011)

18.

Bruns, A., Hilário, M.O.E., Jennings, F., Silva, C.A., Natour, J.: Quality of life and impact of the disease on primary caregivers of juvenile idiopathic arthritis patients. Jt. Bone Spine revue du Rhum 75(2), 149–154 (2008). doi:10.1016/j.jbspin.2007.07.007

19.

Jolles, B.M., Bogoch, E.R.: Quality of life after TKA for patients with juvenile rheumatoid arthritis. Clin. Orthop. Relat. Res. 466(1), 167–178 (2008). doi:10.1007/s11999-007-0010-9

20.

Duarte-Salazar, C., Guzmán-Vázquez, S., Soto-Molina, H., Cháidez-Rosales, P., Ilizaliturri-Sánchez, V., Nieves-Silva, J., Valero-González, F., Aguilera-Zepeda, J.M.: Disability impact on quality of life in Mexican adults with juvenile idiopathic arthritis and juvenile ankylosing spondylitis. Clin. Exp. Rheumatol. 25(6), 922–927 (2007)

21.

Amine, B., Rostom, S., Benbouazza, K., Abouqal, R., Hajjaj-Hassouni, N.: Health related quality of life survey about children and adolescents with juvenile idiopathic arthritis. Rheumatol. Int. 29(3), 275–279 (2009). doi:10.1007/s00296-008-0672-y

22.

April, K.T., Feldman, D.E., Platt, R.W., Duffy, C.M.: Comparison between Children with Juvenile Idiopathic Arthritis (JIA) and their parents concerning perceived quality of life. Qual. Life Res. 15(4), 655–661 (2006). doi:10.1007/s11136-005-3690-1

23.

Shaw, K.L., Southwood, T.R., Duffy, C.M., McDonagh, J.E.: Health-related quality of life in adolescents with juvenile idiopathic arthritis. Arthritis Rheum. 55(2), 199–207 (2006). doi:10.1002/art.21852
Acknowledgments
The authors wish to thank: National Alliance of People with Rare Diseases (NAPRD), Bulgaria; Alliance Maladies Rares, France; ACHSE, Germany; Hungarian Federation of People with Rare and Congenital Diseases (RIROSZ), Hungary; Federazione Italiana Malattie Rare (UNIAMO), Italy; the Consulta Nazionale delle Malattie Rare, Italy; Rare Diseases Sweden; Federación Española de Efermedades Raras (FEDER), Spain; Rare Disease UK and Rare Diseases Europe (EURORDIS); Deutsche Rheuma-Liga Bundesverband e.V., Germany; A.M.R.I Associazione per le malattie reumatiche infantile, Italy; Unga Reumatiker and Reumatikerförbundet, Sweden; NRAS—National Rheumatoid Arthritis Society and Rheumatism Association, UK.
Ethics declarations
Funding
Supported by the Social/Economic Burden and Health-Related Quality of Life in Patients with Rare Diseases in Europe Project, which received funding from the European Union within the framework of the Health Programme [Grant A101205]. The Executive Agency of the European Union is not responsible for any use that may be made of the information contained herein.
Conflict of interest
The authors declare that they have no conflicts of interest.
Additional information
Members of the BURQOL-RD Research Network listed in Supplementary Annex 1.
Electronic supplementary material
Below is the link to the electronic supplementary material.
About this article
Cite this article
Kuhlmann, A., Schmidt, T., Treskova, M. et al. Social/economic costs and health-related quality of life in patients with juvenile idiopathic arthritis in Europe. Eur J Health Econ 17, 79–87 (2016). https://doi.org/10.1007/s10198-016-0786-1
Received:

Accepted:

Published:

Issue Date:
Keywords
Rare diseases

Juvenile idiopathic arthritis

Costs

Costs of illness

Quality of life
JEL Classification