Abstract
The two-spotted spider mite Tetranychus urticae is a silk producer known to live in groups. Its silk production plays an important role in protection against external aggressions (predators, rains, etc.). It is also used for group dispersal through the formation of silkballs or as a thread during individual migration by walking. Until now, the role of silk in enhancing migration has been poorly studied. In this paper, the influence of the silken thread presence on T. urticae's locomotor activity is studied. One virgin female is placed at the centre of a cover glass partially covered by silk. Moving and resting time are studied on the silk or the clean part of the cover glass as a function of the starvation level of mites (fed vs. starved) and the age of the silk (30 vs. 60 vs. 90 vs. 120 vs. 150 min). Results show that a fed female spends more time on the silk-covered part than on the clean part as long as the silk is fresh (less than 120 min). Thus, the age-related changes in chemical and/or physical properties of the silk influence the spatial distribution of fed mites. Whatever the age of the silk, starved mites spend more time on the clean part of the set-up. Indeed, the silk freshly laid by conspecifics is attractive only for fed mites; starved mites probably prefer sites without silk (and conspecifics). This study shows that that the silk influences the spatial distribution of T. urticae according to its level of starvation and that silk is probably is an indicator of the presence of conspecifics.
This is a preview of subscription content, log in to check access.
Access options
Buy single article
Instant access to the full article PDF.
US$ 39.95
Price includes VAT for USA
Subscribe to journal
Immediate online access to all issues from 2019. Subscription will auto renew annually.
US$ 99
This is the net price. Taxes to be calculated in checkout.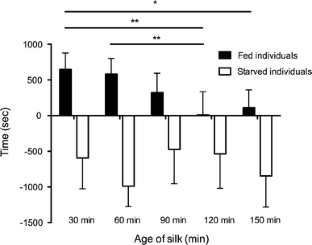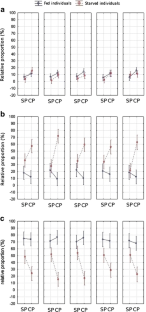 References
Alexander AJ (1961) A study of the biology and behavior of the caterpillars, pupae and emerging butterflies of the subfamily Heliconiinae in Trinidad, West Indies. Part I. Some aspects of larval behavior. Zoologica 46:24

Ashley JL (2003) Toxicity of selected acaricides on Tetranychus urticae Koch (Tetranychidae: Acari) and Orius insidiosus Say (Hemiptera: Anthocoridae) life stages and predation studies with Orius insidiosus. Virginia Polytechnic Institute and State University, Blacksburg

Astudillo-Fernandez A, Mailleux AC, Saffre F, Krafft B, Deneubourg JL (2010) Effect of retentive markers on the dynamics of settlement: the case of arthropod silk. J Theor Biol 265:411–421

Avilés L (2000) Nomadic behaviour and colony fission in a cooperative spider: life history evolution at the level of the colony? Biol J Linn Soc 70:325–339

Bancroft JS, Margolies DC (1996) Allocating time between feeding, resting and moving by the two-spotted spider mite, Tetranychus urticae and its predator Phytoseiulus persimilis. Exp Appl Acarol 20:391–404

Bernard A, Krafft B (2002) L'attraction pour la soie: base de la cohésion du groupe et des comportements collectifs chez les araignées sociales. C R Biol 325:1153–1157

Bostanian NJ, Morrison FO (1973) Morphology and ultrastructure of sense organs in the twospotted spider mite (Acarina: Tetranychidae). Ann Entomol Soc Am 66:379–383

Brandenburg RL, Kennedy GG (1987) Ecological and agricultural considerations in the management of twospotted spider mite (Tetranychus urticae Koch). Agric Zool Rev 2:185–236

Clotuche G, Le Goff G, Mailleux A, Deneubourg J, Detrain C, Hance T (2009) How to visualize the spider mite silk? Microsc Res Tech 72:659–664

Clotuche G, Mailleux A, Astudillo Fernandez A, Deneubourg J, Detrain C, Hance T (2011) The formation of collective silk balls 1 in the spider mite Tetranychus urticae koch. Plos One 6(4):e18854

Common IFB (1990) Moths of Australia. Brill, Leiden

Courchamp F, Clutton-Brock T, Grenfell B (1999) Inverse density dependence and the Allee effect. Trends Ecol Evol 14:405–410

Craig CL (1997) Evolution of arthropod silks. Annu Rev Entomol 42:231–267

Davis DW (1952) Influence of population density on Tetranychus multisetis. J Econ Entomol 69:652–654

Decae AE (1987) Dispersal: ballooning and other mechanisms. In: Nentwig WE (ed) Ecophysiology of spiders. Springer, Berlin, pp 348–356

Doligez B, Cadet C, Danchin E, Boulinier T (2003) When to use public information for breeding habitat selection? The role of environmental predictability and density dependence. Anim Behav 66:973–988

Fitzgerald TD (1983) Caterpillar on a silken thread. Nat Hist 92:56–63

Fletcher RJ Jr (2006) Emergent properties of conspecific attraction in fragmented landscapes. Am Nat 168:207–219

Hazan A, Gerson U, Tahori AS (1974) Spider mite webbing I. The production of webbing under various environmental conditions. Acarologia 16:68–84

Huffaker CB, Vrie MV, McMurtry JA (1969) The ecology of tetranychid mites and their natural control. Annu Rev Entomol 14:125–174

Hussey NW, Parr WJ (1963) Dispersal of the glasshouse red spider mite Tetranychus urticae Koch (Acarina, Tetranychidae). Entomol Exp Appl 6:207–214

Kennedy GG, Smitley DR (1985) Dispersal. In: Helle W, Sabelis MW (eds) Spider mites. Their biology, natural enemies and control. World crop pests, vol 1A. Elsevier, Amsterdam, pp 233–242

Kondo A, Takafuji A (1985) Resource utilization pattern of two species of Tetranychid mites (Acarine: Tetranychidae). Res Popul Ecol 27:145–157

Krafft B (1970) Contribution la biologie et l'e´ thologie d' Agelena consociata Denis (araigne sociale du Gabon) II. Biol Gabon 4:307–369

Krainacker DA, Carey JR (1990) Ambulatory dispersal and life history response to food deprivation in twospotted spider mites. Entomol Exp Appl 56:139–144

Le Goff G, Mailleux A, Detrain C, Deneubourg J, Clotuche G, Hance T (2009) Spatial distribution and inbreeding in Tetranychus urticae. C R Biol 332:927–933

Le Goff G, Mailleux A, Detrain C, Deneubourg J, Clotuche G, Hance T (2010) Group effect on fertility, survival, and silk production in the web spinner Tetranychus urticae (Acari: Tetranychidae) during colony foundation. Behaviour 147:1169–1184

Li J, Margolies DC (1993) Effects of mite age, mite density, and host quality on aerial dispersal behavior in the twospotted spider mite. Entomol Exp Appl 68:79–86

Linke W (1953) Investigation of the biology and epidemiology of the common spider mite Tetranychus althaeae v. Hanst. with particular consideration of the hop as the host. Hoefchen-Briefe 6:181–232

Lubin MH Robinson YD, Robinson MH (1982) Dispersal by swarming in a social spider. Science 216:319–321

Margolies DC (1995) Evidence of selection on spider mite dispersal rates in relation to habitat persistence in agroecosystems. Entomol Exp Appl 76:105–108

McMurtry JA, Huffaker CB, Van de vrie M (1970) Ecology of Tetranychid mites and their natural enemies: a review. I. Tetranychidae enemies: their biological characters and the impact of spray practices. Hilgardia 40:331–390

Moore RG, Hanks LM (2004) Aerial dispersal and host plant selection by neonate Thyridopteryx ephemeraeformis (Lepidoptera: Psychidae). Ecol Entomol 29:327–335

Oku K (2008) Role of excreta in predator avoidance by the Kanzawa spider mite, Tetranychus kanzawai (Acari: Tetranychidae). Eur J Entomol 105:619–623

Oku K, Yano S, Osakabe M, Takafuji A (2005) Mating strategies of Tetranychus kanzawai (Acari: Tetranychidae) in relation to mating status of females. Ann Entomol Soc Am Midl Nat 98:625–628

Robert T, Krafft B (1981) Contribution à l'étude des mécanismes de la communication tacto-chimique intervenant dans le rapprochement des sexes chez Pardosa hortensis Thorell (Araneae, Lycosidae). Atti Soc Tosc Sci Nat Mem B 88:141–153

Sabelis MW (1985) Predation on spider mites. In: Helle W, Sabelis MW (eds) Spider mites, their biology, natural enemies and control. World crop pests, vol 1B. Elsevier, Amsterdam, pp 103–129

Saito Y (1977) Study on the spinning behavior of the spider mite (Acarina: Tetranychidae). II. The process of silk secretion and the webbing on the various stages of Tetranychus urticae Koch under different environmental conditions. Jpn J Appl Entomol Zool 21:150–157

Saito Y (1983) Study on spinning behavior of spider mites. 4. The concept of life types in Tetranychinae—an attempt to classify the spinning behavior of Tetranychinae. Acarologia 24:377–391

Saito Y (1997) Sociality and kin selection in acari. In: Choe JC, Crespi BJ (eds) Social behavior in insects and arachnids. Cambridge University Press, Cambridge, pp 443–457

Selden PA (1989) Orb-web weaving spiders in the early Cretaceous. Nature 340:711–713

Shear WA, Palmer JM, Coddington JA, Bonamo PM (1989) A Devonian spinneret: early evidence of spiders and silk use. Science 246:479

Theraulaz G, Bonabeau E (1999) A brief history of stigmergy. Artif Life 5:97–116

Tien NSH, Sabelis MW, Egas M (2009) Heritability of defence and life-history traits in the two-spotted spider mite. Evol Ecol Res 11:1271–1281

Van Impe G (1985) Contribution à la conception de stratégies de contrôle de l'acarien tisserand commun Tetranychus urticae Koch (Acari Tetranychidae). Université catholique de Louvain, Ottignie-Louvain la Neuve, Belgium

Weeks AR, Turelli M, Hoffmann AA (2000) Dispersal patterns of pest earth mites (Acari: Penthaleidae) in pastures and crops. J Econ Entomol 93:1415–1423

Yano S (2008) Collective and solitary behaviors of twospotted spider mite (Acari: Tetranychidae) are induced by trail following. Ann Entomol Soc Am 101:247–252
Acknowledgments
We are very grateful to Pr. Kaoutar Lebdi who supplied the red form of Tetranychus urticae, which was used in our experiments, and to George Van Impe for the useful discussions about Tetranychus urticae. We would like to thank all the team of the Earth and Life Institute for their help in data analysis. The authors are also indebted to the National Fund for Scientific Research (FNRS, Belgium) for funding through the Fund for Fundamental and Collective Research (FRFC, convention 2.4622.06). A.C. Mailleux was financially supported by IRSIB (Institut d'encouragement de la Recherche Scientifique et de l'Innovation de Bruxelles). This publication is number BRC211 of the Biodiversity Research Center.
Electronic supplementary material
Below is the link to the electronic supplementary material.
Supplementary material 1 (MPG 323 kb)
Supplementary material 2 (MPG 427 kb)
About this article
Cite this article
Le Goff , G.J., Hance, T., Detrain, C. et al. Impact of starvation on the silk attractiveness in a weaving mite, Tetranychus urticae (Acari: Tetranychidae). J Ethol 30, 125–132 (2012). https://doi.org/10.1007/s10164-011-0305-x
Received:

Accepted:

Published:

Issue Date:
Keywords
Tetranychus urticae

Silk

Stigmergy

Locomotor activity