Abstract
The large pores and the rather hydrophobic nature of silica-rich BEA-type zeolites make them promising dye adsorbents. Composites of such zeolites and magnetic particles (magnetic zeolites), commonly prepared using hydrothermal techniques, can be rapidly and reliably removed from treated wastewater through magnetic separation and are therefore more practical than conventional zeolites. However, the incorporation of magnetic particles is difficult to control since it depends greatly on whether the zeolite nucleation occurs in the vicinity of magnetic particles or not. To overcome this problem, we herein synthesize silica-rich magnetic BEA-type zeolites via a different route called dry-gel conversion, namely by exposing a precursor gel containing well-dispersed magnetite to water vapor at 180 °C for 12 h. The obtained samples were characterized by XRD and SEM–EDS and their dye adsorption performance were evaluated using methylene blue as a model. The results indicate that the precursor gel was successfully converted into BEA-type zeolites that contain homogeneously distributed magnetite, exhibit a high methylene blue adsorption capacity (133 mg/g), and can be easily separated by application of a magnetic field. Consequently, this study paves the way to the development of an efficient wastewater treatment technology and thus contributes to the establishment of a green society.
This is a preview of subscription content, log in to check access.
Access options
Buy single article
Instant access to the full article PDF.
US$ 39.95
Price includes VAT for USA
Subscribe to journal
Immediate online access to all issues from 2019. Subscription will auto renew annually.
US$ 99
This is the net price. Taxes to be calculated in checkout.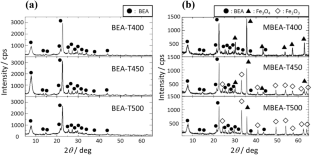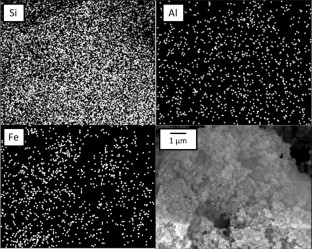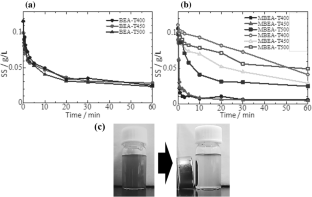 Acknowledgements
This research was partially supported by (i) the Project of Creation of Life Innovation Materials for Interdisciplinary and International Researcher Development of the Ministry of Education, Culture, Sports, Science and Technology, Japan (ii) the JSPS Core-to-Core Program, B. Asia-Africa Science Platforms, and (iii) the International Science Program, Uppsala University, Sweden. We would also like to thank Editage for editing and reviewing this manuscript for English language.
Additional information
Publisher's Note
Springer Nature remains neutral with regard to jurisdictional claims in published maps and institutional affiliations.
Electronic supplementary material
Below is the link to the electronic supplementary material.
About this article
Cite this article
Phouthavong, V., Hiraiwa, M., Hagio, T. et al. Magnetic BEA-type zeolites: preparation by dry-gel conversion method and assessment of dye removal performance. J Mater Cycles Waste Manag 22, 375–382 (2020). https://doi.org/10.1007/s10163-020-00994-8
Received:

Accepted:

Published:

Issue Date:
Keywords
Dye removal

BEA-type zeolite

Magnetic particle

Composite

Dry-gel conversion