Abstract
The livestock manure is being recycled using various technologies such as composting, bio-gasification, and solid fuel. The various characteristics of the feedstock are very important to develop biomass recycling technology. However, the information is not enough about livestock manure in South Korea. This study was conducted to investigate the chemical characteristics of bedded pack barn cattle manure according to various conditions. The moisture and total solids contents were shown as 71.8 and 28.5% in the bedded pack barn cattle manure (CM), respectively. As the retention time of beef (BCM) and dairy cattle manure (DCM) in the bedded pack barn increases, the volatile solids content got close to 84.2 ± 2.5% on a dry basis. (P < 0.05). The C/N ratio decreased quadratically until 90 days in the BCM and DCM (P < 0.05). The particle size distribution of 0.25 to < 3.25 mm accounted for 91.9% of the total particles. In the methane yield prediction model, the model with the lignin component showed the greatest correlation coefficient (R2). Comprehensively, the chemical characteristics of the CM based on its retention time and particle size distribution might be useful as the basic data in various biomass recycling techniques.
This is a preview of subscription content, log in to check access.
Access options
Buy single article
Instant access to the full article PDF.
US$ 39.95
Price includes VAT for USA
Subscribe to journal
Immediate online access to all issues from 2019. Subscription will auto renew annually.
US$ 99
This is the net price. Taxes to be calculated in checkout.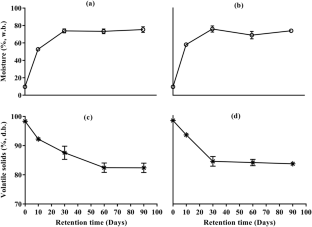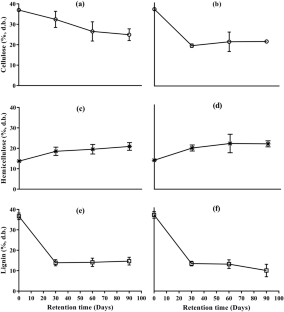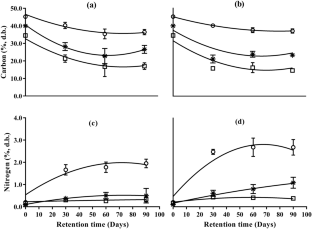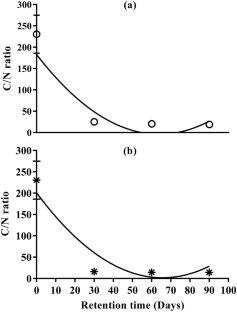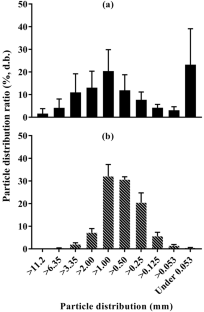 References
1.

Institute of Livestock Environmental Management (2016) Livestock environmental information map service. https://stockmap.ilem.or.kr/map/map_2.jsp

2.

ASABE (2011) ASABE standards 2011: standards engineering practices data. American Society of Agricultural Engineers, St. Joseph, MI

3.

Baere L, Mattheeuws B (2010) Anaerobic digestion of MSW in Europe. BioCycle 51:24–26

4.

Jo JH, Kim W (2018) Market potential of biomethane as alternative transportation fuel in South Korea. J Mater Cycles Waste Manag 20:864–876

5.

Park S, Kim C (2019) Application and development of methanotrophs in environmental engineering. J Mater Cycles Waste Manag. https://doi.org/10.1007/s10163-018-00826-w

6.

Triolo JM, Sommer SG, Møller HB, Weisbjerg MR, Jiang XY (2011) A new algorithm to characterize biodegradability of biomass during anaerobic digestion: influence of lignin concentration on methane production potential. Bioresour Technol 102:9395–9402

7.

Airaksinen S, Heinonen Tanski H, Heiskanen ML (2001) Quality of different bedding materials and their influence on the compostability of horse manure. J Equine Vet Sci 21:125–130

8.

Møller HB, Lund I, Sommer SG (2000) Solid–liquid separation of livestock slurry: efficiency and cost. Bioresour Technol 74(3):223–229

9.

Sawatdeenarunat C, Surendra KC, Takara D, Oechsner H, Khanal SK (2015) Anaerobic digestion of lignocellulosic biomass: challenges and opportunities. Bioresour Technol 178:178–186

10.

Dou Z, Galligan DT, Allshouse RD, Toth JD, Ramberg CF, Ferguson JD (2001) Manure sampling for nutrient analysis: variability and sampling efficacy. J Environ Qual 30:1432–1437

11.

Verein Deutcher Ingenieure (2006) VDI 4630: fermentation of organic materials, characterisation of the substrate, sampling, collection of material data, fermentation tests. Beuth Verlag GmbH, Dusseldorf

12.

Meyer D, Ristow PL, Lie M (2007) Particle size and nutrient distribution in fresh dairy manure. Appl Eng Agric 23:113–118

13.

Holliger C, Alves M, Andrade D, Angelidaki I, Astals S, Baier U, Bougrier C, Buffiere P, Carballa M, de Wilde V, Ebertseder F, Fernandez B, Ficara E, Fotidis I, Frigon J-C, de Laclos HF, Ghasimi DSM, Hack G, Hartel M, Heerenklage J, Horvath IS, Jenicek P, Koch K, Krautwald J, Lizasoain J, Liu J, Mosberger L, Nistor M, Oechsner H, Oliveira JV, Paterson M, Pauss A, Pommier S, Porqueddu I, Raposo F, Ribeiro T, Rusch Pfund F, Stromberg S, Torrijos M, van Eekert M, van Lier J, Wedwitschka H, Wierinck I (2016) Towards a standardization of biomethane potential tests. Water Sci Technol 74:2515–2522

14.

APHA (1995) Standard methods for the examination of water and wastewater. American Public Health Association, Washington, DC

15.

AOAC (2005) Official methods of analysis of AOAC International, 18th edn. AOAC, Rockville

16.

Hall MB (2007) Methodological challenges in carbohydrate analyses. Rev Bras Zootec 36:359–367

17.

Licitra G, Hernandez TM, Van Soest PJ (1996) Standardization of procedures for nitrogen fractionation of ruminant feeds. Anim Feed Sci Technol 57:347–358

18.

Parkin GF, Owen WF (1986) Fundamentals of anaerobic digestion of wastewater sludges. J Environ Eng 112:867–920

19.

Korea Meteorological Administration (2019) National Climate Data Center. https://data.kma.go.kr/cmmn/main.do

20.

Schulte PM (2015) The effects of temperature on aerobic metabolism: towards a mechanistic understanding of the responses of ectotherms to a changing environment. J Exp Biol 218:1856–1866

21.

Todar K (2012) Nutrition and growth of bacteria: effect of temperature on growth. Todar's Online Textbook of Bacteriology

22.

ASAE (2001) ASAE STANDARDS 2001: standards engineering practices data

23.

Ahn GC, Jang SS, Lee KY, Kwak WS, Oh YK, Park KK (2016) Characteristics of sawdust and cocopeat beddings, and their usefulness according to the fan and pen location for rearing hanwoo cattle. Asian-Australas J Anim Sci 29:444–454

24.

Lorimor J, Powers W, Sutton A (2000) Manure characteristics, MWPS-18. MidWest Plan Service Iowa State University, Ames

25.

Erickson GE, Auvermann B, Eigenberg R, Greene LW, Klopfenstein T, Koelsch R (2003) Proposed beef cattle manure excretion and characteristics standard for ASAE. In: Animal, Agricultural and Food Processing Wastes-IX. American Society of Agricultural and Biological Engineers, p 1

26.

Buffiere P, Loisel D, Bernet N, Delgenes J-P (2006) Towards new indicators for the prediction of solid waste anaerobic digestion properties. Water Sci Technol 53:233–241

27.

Bajpai P (2017) Basics of anaerobic digestion process. In: Bajpai P (ed) Anaerobic technology in pulp and paper industry. Springer, Singapore, pp 7–12

28.

Guarino G, Carotenuto C, Di Cristofaro F, Papa S, Morrone B, Minale M (2016) Does the C/N ratio really affect the Bio-methane Yield? A three years investigation of buffalo manure digestion. Chem Eng Trans 49:463–468

29.

Wang X, Lu X, Li F, Yang G (2014) Effects of temperature and carbon-nitrogen (C/N) ratio on the performance of anaerobic co-digestion of dairy manure, chicken manure and rice straw: focusing on ammonia inhibition. PLoS ONE 9:e97265

30.

Hills DJ (1979) Effects of carbon: Nitrogen ratio on anaerobic digestion of dairy manure. Agric Wastes 1:267–278

31.

NRC (2016) Nutrient requirements of beef cattle, Eighth, Revised edn. NRC, Washington, DC

32.

Wright WF (2005) Dairy manure particle size distribution, properties, and implications for manure handling and treatment. In: 2005 ASAE Annual Meeting. American Society of Agricultural and Biological Engineers, p 1
Acknowledgment
This work was supported by Korea Institute of Planning and Evaluation for Technology in Food, Agriculture, Forestry and Fisheries (IPET) through Agri-Bio industry Technology Development Program, funded by Ministry of Agriculture, Food and Rural Affairs (MAFRA) (314010–4).
Additional information
Publisher's Note
Springer Nature remains neutral with regard to jurisdictional claims in published maps and institutional affiliations.
Electronic supplementary material
Below is the link to the electronic supplementary material.
About this article
Cite this article
Choi, Y., Kim, J., Lee, H. et al. Modeling methane potential yield and chemical composition of bedded pack barn cattle manure: Influence of cattle, season, growth stage, its retention time and particle distribution. J Mater Cycles Waste Manag (2020). https://doi.org/10.1007/s10163-020-00993-9
Received:

Accepted:

Published:
Keywords
Sawdust

Bedded pack barn cattle manure

Livestock manure

Retention time

Particle size