Abstract
Soil quality degradation due to agricultural practices constitutes an important growing problem in the Mediterranean Region. Organic amendments are a suitable option for recovering soil fertility by increasing soil organic matter. Olive mill pomace plus olive tree pruning compost (COMP) and spent coffee grounds (SCG) are two examples of organic amendments which can be used for this purpose, but both amendments alone have disadvantages of pH and organic matter quality. We proposed to improve these amendments by combining them in different proportions to generate a new amendment with neutral pH, reduced EC and more complex and evolved organic matter, based on the different functional groups predominant in COMP and SCG. However, the final quality of these amendments could still be upgraded by thermal treatment. Treatments at 275 °C, and to a lesser extent 225 °C, transformed organic matter by reducing the amount of labile and easily degradable forms and increasing the content of recalcitrant forms, which are more complex due to polymerization and formation of aromatic and stable functional groups. Mixtures of COMP and SCG subjected to this thermal treatment were shown to be a more effective and even richer organic amendment.
This is a preview of subscription content, log in to check access.
Access options
Buy single article
Instant unlimited access to the full article PDF.
US$ 39.95
Price includes VAT for USA
Subscribe to journal
Immediate online access to all issues from 2019. Subscription will auto renew annually.
US$ 99
This is the net price. Taxes to be calculated in checkout.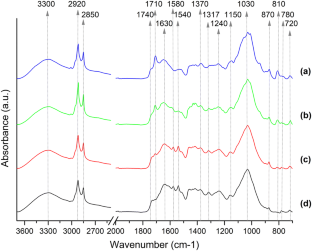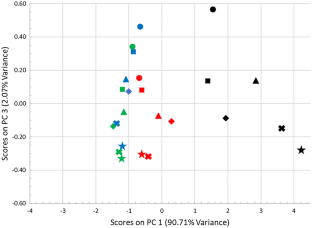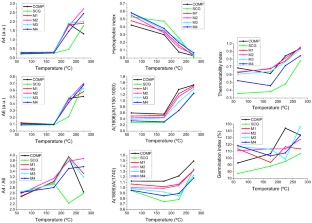 References
1.

Rodríguez Martín JA, Álvaro-Fuentes J, Gonzalo J et al (2016) Assessment of the soil organic carbon stock in Spain. Geoderma 264:117–125. https://doi.org/10.1016/j.geoderma.2015.10.010

2.

Reichstein M, Bahn M, Ciais P et al (2013) Climate extremes and the carbon cycle. Nature 500:287–295. https://doi.org/10.1038/nature12350

3.

Tomás-Pejó E, Oliva JM, Ballesteros M (2008) Realistic approach for full-scale bioethanol production from lignocellulose: a review. J Sci Ind Res (India) 67:874–884. https://doi.org/10.1016/0960-9822(92)90271-B

4.

Romero-García JM, Niño L, Martínez-Patiño C et al (2014) Biorefinery based on olive biomass. State of the art and future trends. Bioresour Technol 159:421–432. https://doi.org/10.1016/j.biortech.2014.03.062

5.

López-Piñeiro A, Murillo S, Barreto C et al (2007) Changes in organic matter and residual effect of amendment with two-phase olive-mill waste on degraded agricultural soils. Sci Total Environ 378:84–89. https://doi.org/10.1016/j.scitotenv.2007.01.018

6.

Fernández-Hernández A, Roig A, Serramiá N et al (2014) Application of compost of two-phase olive mill waste on olive grove: effects on soil, olive fruit and olive oil quality. Waste Manag 34:1139–1147. https://doi.org/10.1016/j.wasman.2014.03.027

7.

Hardgrove SJ, Livesley SJ (2016) Applying spent coffee grounds directly to urban agriculture soils greatly reduces plant growth. Urban For Urban Green 18:1–8. https://doi.org/10.1016/j.ufug.2016.02.015

8.

Cervera-Mata A, Pastoriza S, Rufián-Henares JÁ et al (2017) Impact of spent coffee grounds as organic amendment on soil fertility and lettuce growth in two Mediterranean agricultural soils. Arch Agron Soil Sci 00:1–15. https://doi.org/10.1080/03650340.2017.1387651

9.

Campos-Vega R, Loarca-Piña G, Vergara-Castañeda HA, Dave Oomah B (2015) Spent coffee grounds: a review on current research and future prospects. Trends Food Sci Technol 45:24–36. https://doi.org/10.1016/j.tifs.2015.04.012

10.

Lozano-García B, Parras-Alcántara L, del Toro Carrillo de Albornoz M (2011) Effects of oil mill wastes on surface soil properties, runoff and soil losses in traditional olive groves in southern Spain. CATENA 85:187–193. https://doi.org/10.1016/j.catena.2011.01.017

11.

González-Pérez JA, González-Vila FJ, Almendros G, Knicker H (2004) The effect of fire on soil organic matter—a review. Environ Int 30:855–870. https://doi.org/10.1016/j.envint.2004.02.003

12.

Comino F, Aranda V, Domínguez-Vidal A, Ayora-Cañada MJ (2017) Thermal destruction of organic waste hydrophobicity for agricultural soils application. J Environ Manage 202:94–105. https://doi.org/10.1016/j.jenvman.2017.07.024

13.

Lozano-García B, Parras-Alcántara L (2013) Short-term effects of olive mill by-products on soil organic carbon, total N, C: N ratio and stratification ratios in a Mediterranean olive grove. Agric Ecosyst Environ 165:68–73. https://doi.org/10.1016/j.agee.2012.12.007

14.

Proietti P, Federici E, Fidati L et al (2015) Effects of amendment with oil mill waste and its derived-compost on soil chemical and microbiological characteristics and olive (Olea europaea L.) productivity. Agric Ecosyst Environ 207:51–60. https://doi.org/10.1016/j.agee.2015.03.028

15.

Pérez-Lomas AL, Delgado G, Párraga J et al (2010) Evolution of organic matter fractions after application of co-compost of sewage sludge with pruning waste to four Mediterranean agricultural soils. A soil microcosm experiment. Waste Manag 30:1957–1965. https://doi.org/10.1016/j.wasman.2010.04.030

16.

Plaza C, Senesi N, Polo A et al (2003) Soil fulvic acid properties as a means to assess the use of pig slurry amendment. Soil Tillage Res 74:179–190. https://doi.org/10.1016/j.still.2003.07.002

17.

Djukic I, Zehetner F, Tatzber M, Gerzabek MH (2010) Soil organic-matter stocks and characteristics along an alpine elevation gradient. J Plant Nutr Soil Sci 173:30–38. https://doi.org/10.1002/jpln.200900027

18.

Simkovic I, Dlapa P, Doerr SH et al (2008) Catena Thermal destruction of soil water repellency and associated changes to soil organic matter as observed by FTIR spectroscopy. Catena 74:205–211. https://doi.org/10.1016/j.catena.2008.03.003

19.

Zbytniewski R, Buszewski B (2005) Characterization of natural organic matter (NOM) derived from sewage sludge compost. Part 1: chemical and spectroscopic properties. Bioresour Technol 96:471–478. https://doi.org/10.1016/j.biortech.2004.05.018

20.

Matějková Š, Šimon T (2012) Application of FTIR spectroscopy for evaluation of hydrophobic/hydrophilic organic components in arable soil. Plant, Soil Environ 58:192–195

21.

Lopez-Capel E, Sohi SP, Gaunt JL, Manning DAC (2005) Use of thermogravimetry-differential scanning calorimetry to characterize modelable soil organic matter fractions. Soil Sci Soc Am J 140:136–140. https://doi.org/10.2136/sssaj2005.0930

22.

Zucconi F, Pera A, Forte M, De Bertoldi M (1981) Evaluating toxicity of immature compost. Biocycle 22:54–57

23.

Gómez-Muñoz B, Hatch DJ, Bol R, García-Ruiz R (2013) Agrochemical characterization, net N mineralization, and potential N leaching of composted olive-mill pomace currently produced in southern Spain. J Plant Nutr Soil Sci 176:655–664. https://doi.org/10.1002/jpln.201200421

24.

White KE, Reeves JB, Coale FJ (2011) Mid-infrared diffuse reflectance spectroscopy for the rapid analysis of plant root composition. Geoderma 167–168:197–203. https://doi.org/10.1016/j.geoderma.2011.08.009

25.

Li X, Strezov V, Kan T (2014) Energy recovery potential analysis of spent coffee grounds pyrolysis products. J Anal Appl Pyrolysis 110:79–87. https://doi.org/10.1016/j.jaap.2014.08.012

26.

Qu X, Fu H, Mao J et al (2016) Chemical and structural properties of dissolved black carbon released from biochars. Carbon N Y 96:759–767. https://doi.org/10.1016/j.carbon.2015.09.106

27.

Smidt E, Lechner P, Schwanninger M et al (2002) Characterization of waste organic matter by FT-IR spectroscopy: application in waste science. Appl Spectrosc 56:1170–1175. https://doi.org/10.1366/000370202760295412

28.

Eshetu B (2013) Compost of different stability affects the molecular composition and mineralization of soil organic matter. Open J Soil Sci 03:58–69. https://doi.org/10.4236/ojss.2013.31007

29.

Selim SM, Zayed MS, Atta HM (2012) Evaluation of phytotoxicity of compost during composting process. Nat Sci 10:70–77. https://doi.org/10.7537/marsnsj100212.12

30.

Ćosović B, Vojvodić V, Bošković N et al (2010) Characterization of natural and synthetic humic substances (melanoidins) by chemical composition and adsorption measurements. Org Geochem 41:200–205. https://doi.org/10.1016/j.orggeochem.2009.10.002

31.

Santos JI, Martín-Sampedro R, Fillat Ú et al (2015) Evaluating lignin-rich residues from biochemical ethanol production of wheat straw and olive tree pruning by FTIR and 2d-nmr. Int J Polym Sci. https://doi.org/10.1155/2015/314891

32.

Mohsin GF, Schmitt F-J, Kanzler C et al (2018) PCA-based identification and differentiation of FTIR data from model melanoidins with specific molecular compositions. Food Chem 281:106–113. https://doi.org/10.1016/j.foodchem.2018.12.054

33.

Chen Y, Senesi N, Schnitzer M (1977) Information provided on humic substances by E4/E6 ratios1. Soil Sci Soc Am J 41:352. https://doi.org/10.2136/sssaj1977.03615995004100020037x

34.

Carballo T, Gil MV, Gómez X et al (2008) Characterization of different compost extracts using Fourier-transform infrared spectroscopy (FTIR) and thermal analysis. Biodegradation 19:815–830. https://doi.org/10.1007/s10532-008-9184-4

35.

Aranda V, Calero J, Plaza I, Ontiveros-Ortega A (2016) Long-term effects of olive mill pomace co-compost on wettability and soil quality in olive groves. Geoderma 267:185–195. https://doi.org/10.1016/j.geoderma.2015.12.027
Acknowledgements
Technical support was provided by the University of Jaén Centro de Instrumentación Científico-Técnico (Funded by the University of Jaén, MINECO, the Andalusian Government and ERDF). F. Comino also thanks the University of Jaén (Spain) for his Ph.D. fellowship.
Additional information
Publisher's Note
Springer Nature remains neutral with regard to jurisdictional claims in published maps and institutional affiliations.
About this article
Cite this article
Comino, F., Aranda, V., Domínguez-Vidal, A. et al. Improvement of quality and agronomic properties of raw organic amendment mixtures by thermal treatment. J Mater Cycles Waste Manag 22, 159–166 (2020). https://doi.org/10.1007/s10163-019-00923-4
Received:

Accepted:

Published:

Issue Date:
Keywords
Soil quality

Compost

Olive mill pomace waste

Coffee waste

Hydrophobicity

Phytotoxicity

ATR-FTIR

UV–Vis

TG-SDT