3D printed model-based simulation of laparoscopic surgery for descending colon cancer with a concomitant abdominal aortic aneurysm
Colorectal cancer (CRC) with abdominal aortic aneurysm (AAA) is more common in the elderly population. Laparoscopic surgery (LS) for such complicated conditions has been performed, albeit the risks of AAA rupture during forceps manipulation under limited view.
An 89-year-old man had an endovascular aneurysm repair (EVAR) for AAA (Fig.
1
a), but the aneurysm size gradually increased due to type II endoleak in the lumbar artery despite coil embolization (Fig.
1
b). The maximum diameter of the aneurysm was 69 mm, and an open aneurysmorrhaphy along with lumbar artery ligation was planned to prevent rupture. Advanced descending colon cancer was detected preoperatively and diagnosed as UICC stage T3N0M0 (cStage IIa). The patient was at a high risk of colonic obstruction as the tumor had invaded the entire circumference of the colon (Fig.
1
c). So, we decided to perform laparoscopic descending colectomy, prior to the aneurysm surgery.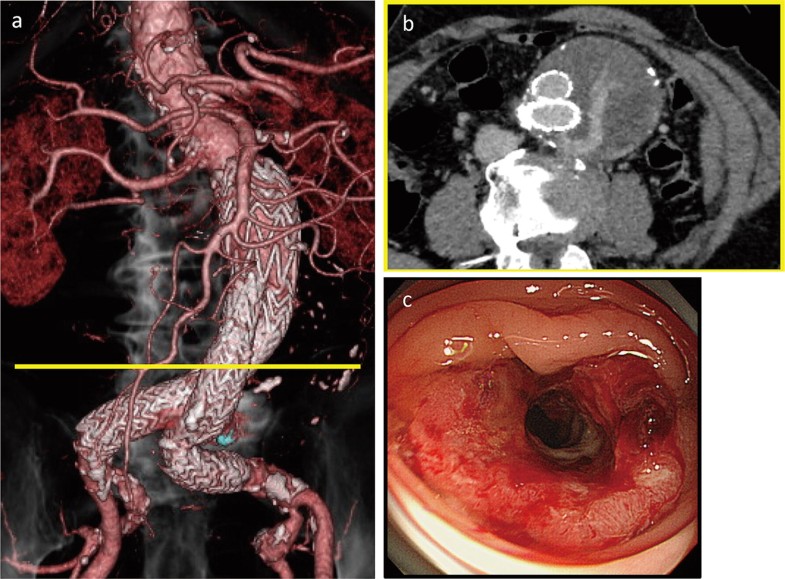 Notes
Compliance with ethical standards
Conflict of interest
There are no conflicts of interest to declare.
Ethical approval
This study was approved by the Ethics Committees of the University of Tokyo (No. 3252-(7)).
Informed consent
Informed consent was obtained from all individual participants included in the study.
Copyright information
© Springer Nature Switzerland AG 2019