Abstract
Background
Natural orifice specimen extraction (NOSE)surgery is gaining popularity among colorectal surgeons. The technical aspects of this new procedure are still debated and many variations have been presented in the last decade.
Methods
We propose a new variation of transanal NOSE after robotic and laparoscopic LAR consisting of rectal eversion by using a special rod after laparoscopic TME. Eversion makes it possible to perform resection and placement of the anvil extracorporeally. We included a video demonstration of the technique. Clinical Patient Grading Assessment Scale was calculated 1 month after stoma closure and the Low Anterior Resection Syndrome (LARS )score was calculated preoperatively and 1 month after stoma closure.
Results
Seven female patients with rectal cancer, all with normal BMI, underwent laparoscopic (n = 5) or robotic (n = 2) TME with rectal eversion. No intraoperative and postoperative complications were reported. One month after stoma closure, the median Clinical Patient Grading Assessment Scale was 5 (range 3–7), which means "a good deal better". The median LARS score was 14 (IQR 14–19,5) preoperatively and 19 (IQR 19–21,5) 1 month after stoma closure.
Conclusions
This variation of NOSE surgery was safe and effective in our patient population.
This is a preview of subscription content, log in to check access.
Access options
Buy single article
Instant unlimited access to the full article PDF.
US$ 39.95
Price includes VAT for USA
Subscribe to journal
Immediate online access to all issues from 2019. Subscription will auto renew annually.
US$ 99
This is the net price. Taxes to be calculated in checkout.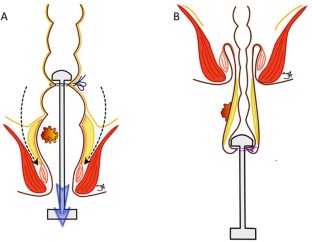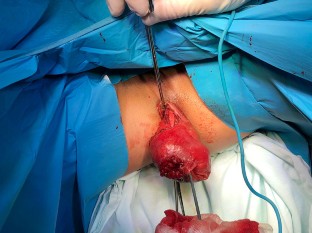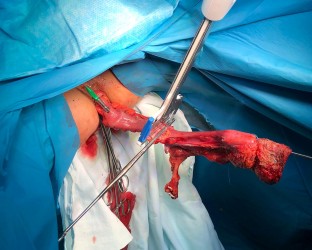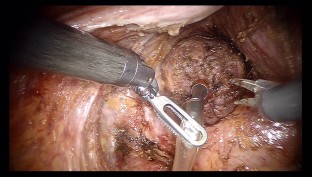 References
1.

Law WL, Foo DCC (2017) Comparison of short-term and oncologic outcomes of robotic and laparoscopic resection for mid- and distal rectal cancer. Surg Endosc 31:2798–2807

2.

Pedziwiatr M, Malczak P, Mizera M et al (2017) There is no difference in outcome between laparoscopic and open surgery for rectal cancer: a systematic review and meta-analysis on short- and long-term oncologic outcomes. Tech Coloproctol 21:595–604

3.

Ihedioha U, Mackay G, Leung E et al (2008) Laparoscopic colorectal resection does not reduce incisional hernia rates when compared with open colorectal resection. Surg Endosc 22:689–692

4.

Emmertsen KJ, Laurberg S (2012) Low anterior resection syndrome score: development and validation of a symptom-based scoring system for bowel dysfunction after low anterior resection for rectal cancer. Ann Surg 255:922–928

5.

Heckert J, Sankineni A, Hughes WB et al (2016) Gastric electric stimulation for refractory gastroparesis: a prospective analysis of 151 patients at a single center. Dig Dis Sci 61:168–175

6.

Heald RJ, Ryall RD (1986) Recurrence and survival after total mesorectal excision for rectal cancer. Lancet 1:1479–1482

7.

Han FH, Hua LX, Zhao Z et al (2013) Transanal natural orifice specimen extraction for laparoscopic anterior resection in rectal cancer. World J Gastroenterol 19:7751–7757

8.

Winslow ER, Fleshman JW, Birnbaum EH et al (2002) Wound complications of laparoscopic vs open colectomy. Surg Endosc 16:1420–1425

9.

Guan X, Liu Z, Longo A et al (2019) International consensus on natural orifice specimen extraction surgery (NOSES) for colorectal cancer. Gastroenterol Rep (Oxf) 7:24–31

10.

Zattoni D, Popeskou GS, Christoforidis D (2018) Left colon resection with transrectal specimen extraction: current status. Tech Coloproctol 22:411–423. https://doi.org/10.1007/s10151-018-1806-1

11.

Karagul S, Kayaalp C, Sumer F, Ertugrul I, Kirmizi S, Tardu A, Yagci MA (2017) Success rate of natural orifice specimen extraction after laparoscopic colorectal resections. Tech Coloproctol 21:295–300. https://doi.org/10.1007/s10151-017-1611-2
Ethics declarations
Conflict of interest
The authors declare that they have no conflict of interest.
Ethical approval
All human studies have been reviewed by the appropriate ethics committee and have therefore been performed in accordance with the ethical standards laid down in an appropriate version of the 1965 Declaration of Helsinki.
Informed consent
Informed consent was obtained from all individual participants included in the study.
Additional information
Publisher's Note
Springer Nature remains neutral with regard to jurisdictional claims in published maps and institutional affiliations.
Electronic supplementary material
Below is the link to the electronic supplementary material.
Supplementary material 1 (MP4 294235 kb)
About this article
Cite this article
Efetov, S.K., Tulina, I.A., Kim, V.D. et al. Natural orifice specimen extraction (NOSE) surgery with rectal eversion and total extra-abdominal resection. Tech Coloproctol 23, 899–902 (2019). https://doi.org/10.1007/s10151-019-02058-y
Received:

Accepted:

Published:

Issue Date:
Keywords
Natural orifice surgery

Rectal neoplasms

Robotic surgical procedures

Laparoscopic surgical procedures