This is a preview of subscription content, log in to check access.
Access options
Buy single article
Instant unlimited access to the full article PDF.
US$ 39.95
Price includes VAT for USA
Subscribe to journal
Immediate online access to all issues from 2019. Subscription will auto renew annually.
US$ 99
This is the net price. Taxes to be calculated in checkout.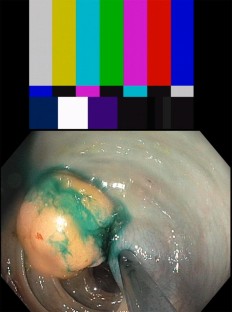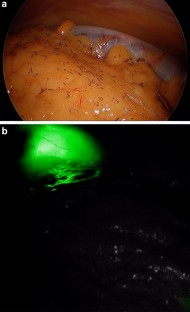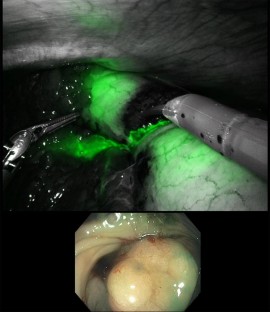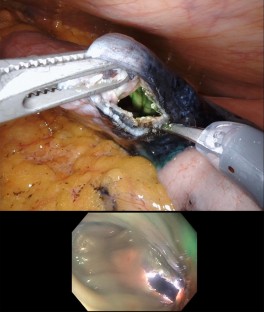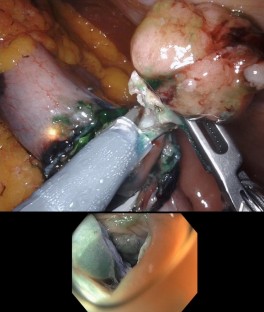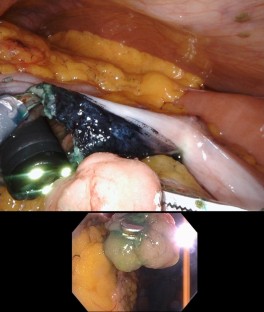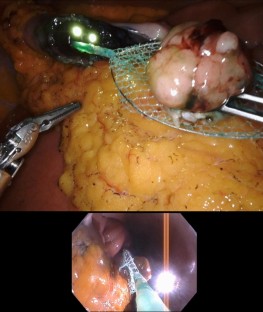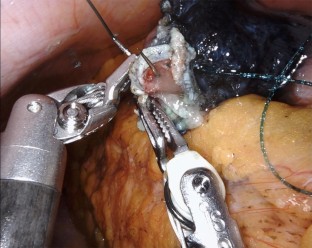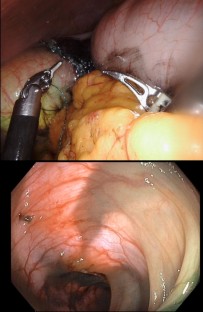 References
1.

Prohm P, Weber J, Bönner C (2001) Laparoscopic-assisted coloscopic polypectomy. Dis Colon Rectum 44(5):746–748

2.

Franklin ME Jr, Díaz-E JA, Abrego D, Parra-Dávila E, Glass JL (2000) Laparoscopic-assisted colonoscopic polypectomy: the Texas Endosurgery Institute experience. Dis Colon Rectum 43(9):1246–1249

3.

Mohiuddin SS, Gonzalez JJ, Glass J, Portillo G, Franklin ME Jr (2009) Laparoscopic-assisted endoluminal hybrid surgery: a stepping stone to NOTES. Surg Laparosc Endosc Percutan Technol 19(6):474–478. https://doi.org/10.1097/SLE.0b013e3181bd9087

4.

Hensman C, Luck AJ, Hewett PJ (1999) Laparoscopic-assisted colonoscopic polypectomy: technique and preliminary experience. Surg Endosc 13(3):231–232

5.

Franklin ME Jr, Portillo G (2009) Laparoscopic monitored colonoscopic polypectomy: long-term follow-up. World J Surg 33(6):1306–1309. https://doi.org/10.1007/s00268-009-9967-8

6.

Franklin ME Jr, Leyva-Alvizo A, Abrego-Medina D, Glass JL, Treviño J, Arellano PP, Portillo G (2007) Laparoscopically monitored colonoscopic polypectomy: an established form of endoluminal therapy for colorectal polyps. Surg Endosc 21(9):1650–1653 (Epub 2007 Feb 23)

7.

Beck DE, Karulf RE (1993) Laparoscopic-assisted full-thickness endoscopic polypectomy. Dis Colon Rectum 36(7):693–695

8.

Hughes-Hallett A, Pratt P, Mayer E, Martin S, Darzi A, Vale J (2014) Image guidance for all—TilePro display of 3-dimensionally reconstructed images in robotic partial nephrectomy. Urology 84(1):237–242

9.

Ukimura O, Aron M, Nakamoto M, Shoji S, Abreu AL, Matsugasumi T, Berger A, Desai M, Gill IS (2014) Three-dimensional surgical navigation model with TilePro display during robot-assisted radical prostatectomy. J Endourol 28(6):625–630

10.

Rogers CG, Laungani R, Bhandari A, Krane LS, Eun D, Patel MN, Boris R, Shrivastava A, Menon M (2009) Maximizing console surgeon independence during robot-assisted renal surgery by using the Fourth Arm and TilePro. J Endourol 23(1):115–121. https://doi.org/10.1089/end.2008.0416

11.

Atallah S, Mabardy A, Volpato AP, Chin T, Sneider J, Monson JRT (2017) Surgery beyond the visible light spectrum: theoretical and applied methods for localization of the male urethra during transanal total mesorectal excision. Tech Coloproctol 21(6):413–424

12.

Ushimaru Y, Omori T, Fujiwara Y, Yanagimoto Y, Sugimura K, Yamamoto K, Moon JH, Miyata H, Ohue M, Yano M (2019) The feasibility and safety of preoperative fluorescence marking with indocyanine green (ICG) in laparoscopic gastrectomy for gastric cancer. J Gastrointest Surg 23(3):468–476. https://doi.org/10.1007/s11605-018-3900-0 (Epub 2018 Aug 6)

13.

Lee SJ, Sohn DK, Han KS, Kim BC, Hong CW et al (2018) Preoperative tattooing using indocyanine green in laparoscopic colorectal surgery. Ann Coloproctol 34(4):206–211. https://doi.org/10.3393/ac.2017.09.25 (Published online 2018 Jul 26)

14.

Park JH, Moon HS, Kwon IS, Yun GY, Lee SH, Park DH, Kim JS, Kang SH, Lee ES, Kim SH, Sung JK, Lee BS, Jeong HY (2018) Usefulness of colonic tattooing using indocyanine green in patients with colorectal tumors. World J Clin Cases 6(13):632–640. https://doi.org/10.12998/wjcc.v6.i13.632

15.

Watanabe M, Murakami M, Ozawa Y, Yoshizawa S, Matsui N, Aoki T (2017) Intraoperative identification of colonic tumor sites using a near-infrared fluorescence endoscopic imaging system and indocyanine green. Dig Surg 34(6):495–501. https://doi.org/10.1159/000458450 (Epub 2017 Feb 21)

16.

Nagata J, Fukunaga Y, Akiyoshi T, Konishi T, Fujimoto Y, Nagayama S, Yamamoto N, Ueno M (2016) Colonic marking with near-infrared, light-emitting, diode-activated indocyanine green for laparoscopic colorectal surgery. Dis Colon Rectum 59(2):e14–e18. https://doi.org/10.1097/dcr.0000000000000542

17.

Alander JT, Kaartinen Laakso A, Pätilä T, Spillmann T, Tuchin VV, Venermo M, Välisuo P (2012) A review of indocyanine green fluorescent imaging in surgery. Int J Biomed Imaging 2012:940585. https://doi.org/10.1155/2012/940585 (Epub 2012 Apr 22)

18.

Childers CP, Maggard-Gibbons M (2018) Estimation of the acquisition and operating costs for robotic surgery. JAMA 320(8):835–836. https://doi.org/10.1001/jama.2018.9219

19.

Troccaz J, Dagnino G, Yang GZ (2019) Frontiers of medical robotics: from concept to systems to clinical translation. Annu Rev Biomed Eng. https://doi.org/10.1146/annurev-bioeng-060418-052502 (Epub ahead of print)

20.

Fujiya M, Tanaka K, Dokoshi T, Tominaga M, Ueno N, Inaba Y, Ito T, Moriichi K, Kohgo Y (2015) Efficacy and adverse events of EMR and endoscopic submucosal dissection for the treatment of colon neoplasms: a meta-analysis of studies comparing EMR and endoscopic submucosal dissection. Gastrointest Endosc 81(3):583–595. https://doi.org/10.1016/j.gie.2014.07.034

21.

Mori H, Kobara H, Nishiyama N, Masaki T (2018) Current status and future perspectives of endoscopic full-thickness resection. Dig Endosc 30(Suppl 1):25–31. https://doi.org/10.1111/den.13042
Ethics declarations
Conflict of interest
Dr. S. Atallah reports consultancy (such as consulting fees and honoraria) from Medtronic Inc., Applied Medical, and ConMed Inc. Dr. S. Larach holds stock options with Applied Medical Inc. A. Oldham and A Kondek have no disclosures to report.
Ethical approval
This research was performed in accordance with the ethical standards of the institutional and/or national research committee and with the 1964 Declaration of Helsinki and its later amendments or comparable ethical standards.
Informed consent
Informed consent was obtained in accordance with the standards set forth by hospital regulations.
Additional information
Publisher's Note
Springer Nature remains neutral with regard to jurisdictional claims in published maps and institutional affiliations.
Electronic supplementary material
Below is the link to the electronic supplementary material.
Supplementary material 1 (MP4 611136 kb)
About this article
Cite this article
Atallah, S., Oldham, A., Kondek, A. et al. Robotic excision of a colonic neoplasm with ICG as a tumor localizer and colonoscopic assistance. Tech Coloproctol 23, 573–578 (2019). https://doi.org/10.1007/s10151-019-02032-8
Received:

Accepted:

Published:

Issue Date: