Abstract
Background
Laparoscopic ventral mesh rectopexy (LVR) is a treatment with promising results in external rectal prolapse, rectal intussusception, and rectocele. Because of the emergence of robotic-assisted surgery and the technical advantage it provides, we examined the potential role and place of robotic surgery in ventral rectopexy.
Methods
MEDLINE, PubMed, and other databases were searched, by two independent reviewers, to identify studies comparing robotic to laparoscopic ventral mesh rectopexy. The primary outcome was the rate of unplanned conversion to open. The secondary outcomes were morbidity, length of hospital stay and recurrence rate.
Results
Five studies (4% male, n = 259) met the inclusion criteria. All 5 studies reported on conversion rate and showed no significant difference between the conversion rate of robotic and laparoscopic groups [OR 0.58 (95% CI 0.09–3.77)]. Robotic surgery was also similar to laparoscopic surgery for both morbidity [OR 0.71 (95% CI 0.34–1.48)] and recurrence rate [OR 0.56 (95% CI 0.18–1.75)]. Operative time was longer in the robotic group with a MWD of 22.88 minutes (CI 5.73–40.04, p < 0.0007). There was a statistically significant reduction in length of stay with robotic surgery [mean difference − 0.36 days (95% CI − 0.66 to − 0.07)].
Conclusions
This systematic review shows that robotic-assisted ventral rectopexy requires longer operative time with no significant added benefit over laparoscopic ventral rectopexy. The conversion rate was low in both groups and the trends to benefit did not reach statistical significance. More studies are required to clarify whether the potential technical advantage of robotic surgery in ventral rectopexy translates to an improvement in clinical outcome.
This is a preview of subscription content, log in to check access.
Access options
Buy single article
Instant access to the full article PDF.
US$ 39.95
Price includes VAT for USA
Subscribe to journal
Immediate online access to all issues from 2019. Subscription will auto renew annually.
US$ 99
This is the net price. Taxes to be calculated in checkout.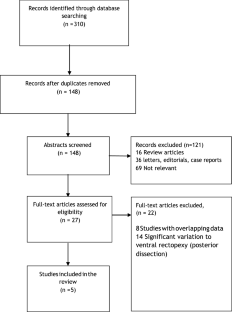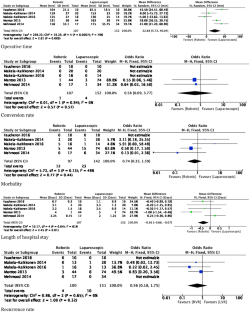 References
1.

Jayne D et al (2017) Effect of robotic-assisted vs conventional laparoscopic surgery on risk of conversion to open laparotomy among patients undergoing resection for rectal cancer: the ROLARR Randomized Clinical Trial. JAMA 318(16):1569–1580

2.

Ramage L et al (2015) Is robotic ventral mesh rectopexy better than laparoscopy in the treatment of rectal prolapse and obstructed defecation? A meta-analysis. Tech Coloproctol 19(7):381–389

3.

de Hoog DE et al (2009) Recurrence and functional results after open versus conventional laparoscopic versus robot-assisted laparoscopic rectopexy for rectal prolapse: a case-control study. Int J Colorectal Dis 24(10):1201–1206

4.

Heemskerk J et al (2007) Robot-assisted vs. conventional laparoscopic rectopexy for rectal prolapse: a comparative study on costs and time. Dis Colon Rectum 50(11):1825–1830

5.

Faucheron JL et al (2016) Day case robotic ventral rectopexy compared with day case laparoscopic ventral rectopexy: a prospective study. Tech Coloproctol 20(10):695–700

6.

Makela-Kaikkonen J et al (2016) Robot-assisted versus laparoscopic ventral rectopexy for external, internal rectal prolapse and enterocele: a randomised controlled trial. Colorectal Dis 18(10):1010–1015

7.

Shamseer L et al (2015) Preferred reporting items for systematic review and meta-analysis protocols (PRISMA-P) 2015: elaboration and explanation. BMJ 349:g7647

8.

Stang A (2010) Critical evaluation of the Newcastle–Ottawa scale for the assessment of the quality of nonrandomized studies in meta-analyses. Eur J Epidemiol 25(9):603–605

9.

Mehmood RK et al (2014) Short-term outcome of laparoscopic versus robotic ventral mesh rectopexy for full-thickness rectal prolapse. Is robotic superior? Int J Colorectal Dis 29(9):1113–1118

10.

Hozo SP, Djulbegovic B, Hozo I (2005) Estimating the mean and variance from the median, range, and the size of a sample. BMC Med Res Methodol 5(1471–2288 (Electronic)):13

11.

Makela-Kaikkonen J et al (2014) Robotic-assisted and laparoscopic ventral rectopexy in the treatment of rectal prolapse: a matched-pairs study of operative details and complications. Tech Coloproctol 18(2):151–155

12.

Mantoo S et al (2013) Is robotic-assisted ventral mesh rectopexy superior to laparoscopic ventral mesh rectopexy in the management of obstructed defaecation? Colorectal Dis 15(8):e469–e475

13.

D'Hoore A, Penninckx F (2006) Laparoscopic ventral recto(colpo)pexy for rectal prolapse: surgical technique and outcome for 109 patients. Surg Endosc 20(12):1919–1923

14.

Rondelli F et al (2014) Robot-assisted or conventional laparoscopic rectopexy for rectal prolapse? Systematic review and meta-analysis. Int J Surg 12:S153–S159

15.

Prete FP et al (2018) Robotic versus laparoscopic minimally invasive surgery for rectal cancer: a systematic review and meta-analysis of randomized controlled trials. Ann Surg 267(6):1034–1046

16.

Bhama AR et al (2016) A comparison of laparoscopic and robotic colorectal surgery outcomes using the American College of Surgeons National Surgical Quality Improvement Program (ACS NSQIP) database. Surg Endosc 30(4):1576–1584

17.

Mercer-Jones MA, Brown SR, Knowles CH, Williams AB (2017) Position statement by the pelvic floor society on behalf of the association of coloproctology of Great Britain and Ireland on the use of mesh in ventral mesh rectopexy (VMR). Colorectal Dis. https://doi.org/10.1111/codi.13893
Ethics declarations
Conflict of interest
The authors declare that they have no conflict of interest.
Ethical approval
This article does not contain any studies with human participants or animals performed by the authors.
Informed consent
For this type of study formal consent is not required.
Additional information
Publisher's Note
Springer Nature remains neutral with regard to jurisdictional claims in published maps and institutional affiliations.
About this article
Cite this article
Albayati, S., Chen, P., Morgan, M.J. et al. Robotic vs. laparoscopic ventral mesh rectopexy for external rectal prolapse and rectal intussusception: a systematic review. Tech Coloproctol 23, 529–535 (2019). https://doi.org/10.1007/s10151-019-02014-w
Received:

Accepted:

Published:

Issue Date:
Keywords
Rectal prolapse

Ventral mesh rectopexy

Robotic surgery

Laparoscopic surgery