This is a preview of subscription content, log in to check access.
Access options
Buy single article
Instant unlimited access to the full article PDF.
US$ 39.95
Price includes VAT for USA
Subscribe to journal
Immediate online access to all issues from 2019. Subscription will auto renew annually.
US$ 99
This is the net price. Taxes to be calculated in checkout.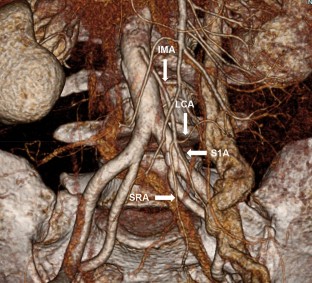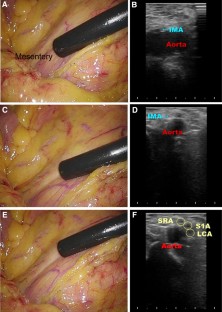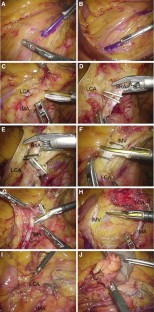 References
1.

Titu LV, Tweedle E, Rooney PS (2008) High tie of the inferior mesenteric artery in curative surgery for left colonic and rectal cancers: a systematic review. Dig Surg 25:148–157

2.

Dworkin MJ, Allen-Mersh TG (1996) Effect of inferior mesenteric artery ligation on blood flow in the marginal artery-dependent sigmoid colon. J Am Coll Surg 183:357–360

3.

Seike K, Koda K, Saito N, Oda K, Kosugi C, Shimizu K, Miyazaki M (2007) Laser doppler assessment of the influence of division at the root of the inferior mesenteric artery on anastomotic blood flow in rectosigmoid cancer surgery. Int J Colorectal Dis 22:689–697

4.

Sekimoto M, Takemasa I, Mizushima T, Ikeda M, Yamamoto H, Doki Y, Mori M (2011) Laparoscopic lymph node dissection around the inferior mesenteric artery with preservation of the left colic artery. Surg Endosc 25:861–866

5.

Miyamoto R, Nagai K, Kemmochi A, Inagawa S, Yamamoto M (2016) Three-dimensional reconstruction of the vascular arrangement including the inferior mesenteric artery and left colic artery in laparoscope-assisted colorectal surgery. Surg Endosc 30:4400–4404

6.

Lange MM, Buunen M, van de Velde CJ, Lange JF (2008) Level of arterial ligation in rectal cancer surgery: low tie preferred over high tie: a review. Dis Colon Rectum 51:1139–1145

7.

Pezim ME, Nicholls RJ (1984) Survival after high or low ligation of the inferior mesenteric artery during curative surgery for rectal cancer. Ann Surg 200:729–733

8.

Boni L, David G, Mangano A, Dionigi G, Rausei S, Spampatti S, Cassinotti E, Fingerhut A (2015) Clinical applications of indocyanine green (ICG) enhanced fluorescence in laparoscopic surgery. Surg Endosc 29:2046–2055
Ethics declarations
Conflict of interest
The authors declare that they have no conflict of interest.
Ethical approval
All procedures performed in studies involving human participants were in accordance with the ethical standards of the institution and with the 1964 Helsinki Declaration and its later amendments or comparable ethical standards.
Informed consent
Informed consent was obtained from all individual participants for whom identifying information is included in this article.
Electronic supplementary material
Below is the link to the electronic supplementary material.
Supplementary material 1 (WMV 213344 KB)
About this article
Cite this article
Urade, T., Fujinaka, R., Abe, T. et al. Intraoperative ultrasonic navigation for laparoscopic colorectal surgery with preservation of the left colic artery. Tech Coloproctol 22, 703–708 (2018). https://doi.org/10.1007/s10151-018-1853-7
Received:

Accepted:

Published:

Issue Date: