Abstract
Purpose
We hypothesized that bending the upper body into what we have termed "The Thinker" position facilitates defecation. This study aimed to assess the influence of "The Thinker" position on defecation.
Methods
This is the prospective single-group study. Patients who could not evacuate the paste in normal sitting position on cinedefecography between January and June 2013 were enrolled in this study. Cinedefecography was first performed in the sitting position; if the patient was unable to evacuate the paste, images were obtained in "The Thinker" position. Patients who were able to evacuate the paste were excluded from the study. Anorectal angle (ARA), perineal plane distance (PPD), and puborectalis length (PRL) during straining in both positions were measured from the radiographs.
Results
Twenty-two patients unable to evacuate the barium paste underwent cinedefecography in "The Thinker" position. Seventeen patients were female, average age of 56 (range 22–76) years. "The Thinker" position had significantly wider ARA than the sitting position (113° vs. 134°, respectively; p = 0.03), larger PPD (7.1 vs. 9.3 cm, respectively; p = 0.02), and longer PRL (12.9 vs. 15.2 cm, respectively; p = 0.005) during straining. Eleven patients could evacuate completely in "The Thinker" position.
Conclusion
"The Thinker" position seems to be a more efficient method for defecation than the sitting position. This technique may be helpful when retraining patients with constipation.
Access options
Buy single article
Instant access to the full article PDF.
US$ 39.95
Tax calculation will be finalised during checkout.
Subscribe to journal
Immediate online access to all issues from 2019. Subscription will auto renew annually.
US$ 79
Tax calculation will be finalised during checkout.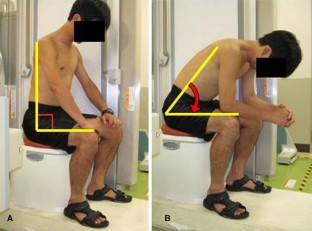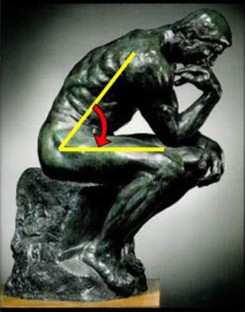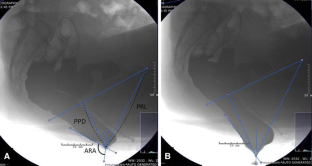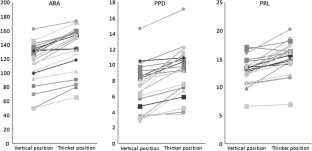 References
1.

Sikirov D (2003) Comparison of straining during defecation in three positions: results and implications for human health. Dig Dis Sci 48:1201–1205

2.

Rad S (2002) Impact of ethnic habit on defecographic measurements. Arch Iran Med 5:115–117

3.

Tsuchino M, Yamashita K, Boda T et al (2008) A study of the relationship between continence function and defecatory posture. J Jpn Soc Stoma Cont Rehabil 24:34–38

4.

Drossman DA (2006) The functional gastrointestinal disorders and the Rome III process. Gastroenterology 130:1377–1390

5.

Jorge JM, Wexner SD, Marchetti F, Rosato GO, Sullivan ML, Jagelman DG (1992) How reliable are currently available methods of measuring the anorectal angle? Dis Colon Rectum 35:332–338

6.

Felt-Bersma RJ, Luth WJ, Janssen JJ, Meuwissen SG (1990) Defecography in patients with anorectal disorders. Which findings are clinically relevant? Dis Colon Rectum 33:277–284

7.

Jorge JM, Ger GC, Gonzalez Wexmer SD (1994) Patient position during cinedefecography. Influence on perineal descent and other measurements. Dis Colon Rectum 37:927–931

8.

Jorge JM, Wexner SD, Ehrenpreis ED, Nogueras JJ, Jagelman DG (1993) Does perineal descent correlate with pudendal neuropathy? Dis Colon Rectum 36:475–483

9.

Habib FI, Corazziari E, Viscardi Badiali D, Torsoli A (1992) Role of body position, gender, and age on pelvic floor location and mobility. Dig Dis Sci 37:500–505

10.

Haubruch W (1985) Constipation. In: Berk J (ed) Bockus gastroenterology, 4th edn, Saunders, Philadelphia, p 111

11.

Boles R (1927) Constipation. JAMA 89:1766–1770

12.

Singer C (1958) History of technology. The industrial revolution, Oxford, pp 507–508

13.

Tagart RE (1966) The anal canal and rectum: their varying relationship and its effect on anal continence. Dis Colon Rectum 9:449–452

14.

Altomare DF, Rinaldi M, Veglia A, Guglielmi A, Sallustio PL, Tripoli G (2001) Contribution of posture to the maintenance of anal continence. Int J Colorectal Dis 16:51–54

15.

Rao SS, Kavlock R, Rao S (2006) Influence of body position and stool characteristics on defecation in humans. Am J Gastroenterol 101:2790–2796

16.

Martelli H, Devroede G, Arhan P, Duguay C (1978) Mechanisms of idiopathic constipation: outlet obstruction. Gastroenterology 75:623–631

17.

Parks A (1975) Anorectal incontinence. Proc R Soc Med 68:21–30

18.

Parks AG, Porter NH, Hardcastle J (1966) The syndrome of the descending perineum. Proc R Soc Med 59:477–482

19.

Preston D (1983) Neuropathology of stow-transit constipation. Gut 24:997A

20.

Swash M (1988) Pelvic floor outlet and sphincter disorders. Ital J Gastroenterol 20:344–347

21.

Alves-Ferreira PC, Gurland B, Zutshi M, Hull T (2012) Perineal descent does not imply a more severe clinical disorder. Colorectal Dis 14:1372–1379
Ethics declarations
Conflict of interest
The authors declare that they have no conflict of interest.
Ethical approval
All procedures performed in studies involving human participants were in accordance with the ethical standards of the institutional and/or national research committee and with the 1964 Helsinki declaration and its later amendments or comparable ethical standards.
Informed consent
Informed consent was obtained from all individual participants included in the study.
About this article
Cite this article
Takano, S., Sands, D.R. Influence of body posture on defecation: a prospective study of "The Thinker" position. Tech Coloproctol 20, 117–121 (2016). https://doi.org/10.1007/s10151-015-1402-6
Received:

Accepted:

Published:

Issue Date:
Keywords
Defecation posture

Defecography

Anorectal angle

Constipation

Fecal outlet obstruction