Abstract
Background
The aim of our study was to evaluate the short-term outcomes of totally laparoscopic right colectomy, in particular to compare the incidence of leakage of the ileocolic anastomosis after either single-layer (SL) or double-layer (DL) enterotomy closure.
Methods
From March 2010 to July 2014, 162 patients underwent laparoscopic right colectomy with intracorporeal ileocolic anastomosis. The enterotomy was closed with either SL (77 patients) or DL technique (85 patients). Short-term outcomes in both groups were retrospectively analyzed.
Results
Median time to perform the ileocolic anastomosis was similar in the two groups (17 min in SL versus 20 min in DL, p = 0.109). DL closure was associated with a significantly lower incidence of anastomotic leakage (1.2 % in DL vs 7.8 % in SL, p = 0.044). Shorter hospital stay was also observed in the DL group.
Conclusions
Adoption of DL closure of the enterotomy resulted in significantly improved outcome. We strongly recommend a double-layer closure technique when performing an intracorporeal enterocolic anastomosis.
This is a preview of subscription content, log in to check access.
Access options
Buy single article
Instant unlimited access to the full article PDF.
US$ 39.95
Price includes VAT for USA
Subscribe to journal
Immediate online access to all issues from 2019. Subscription will auto renew annually.
US$ 99
This is the net price. Taxes to be calculated in checkout.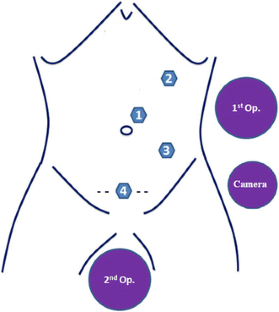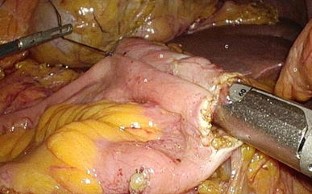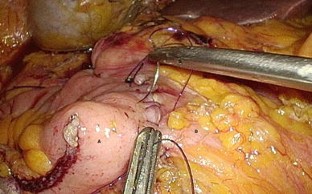 References
1.

Schlinkert RT (1991) Laparoscopic-assisted right hemicolectomy. Dis Colon Rectum 34:1030–1031

2.

Jayne DG, Thorpe HC, Copeland J, Quirke P, Brown JM, Guillou PJ (2010) Five-year follow-up of the Medical Research Council CLASICC trial of laparoscopically assisted versus open surgery for colorectal cancer. Br J Surg 97:1638–1645

3.

Lee KH, Ho J, Akmal Y, Nelson R, Pigazzi A (2013) Short- and long-term outcomes of intracorporeal versus extracorporeal ileocolic anastomosis in laparoscopic right hemicolectomy for colon cancer. Surg Endosc 27:1986–1990

4.

Loungnarath R, Fleshman JW (2003) Hand-assisted laparoscopic colectomy techniques. Semin Laparosc Surg 10:219–230

5.

Marcello PW, Fleshman JW, Milsom JW et al (2008) Hand-assisted laparoscopic vs. laparoscopic colorectal surgery: a multicenter, prospective, randomized trial. Dis Colon Rectum 51:818–826

6.

Fleshman J, Sargent DJ, Green E et al (2007) Laparoscopic colectomy for cancer is not inferior to open surgery based on 5-year data from the COST Study Group trial. Ann Surg 246:655–662

7.

Zheng MH, Feng B, Lu AG et al (2005) Laparoscopic versus open right hemicolectomy with curative intent for colon carcinoma. World J Gastroenterol 11:323–326

8.

Jamali FR, Soweid AM, Dimassi H, Bailey C, Leroy J, Marescaux J (2008) Evaluating the degree of difficulty of laparoscopic colorectal surgery. Arch Surg 143:762–767

9.

Senagore AJ, Delaney CP, Brady KM, Fazio VW (2004) Standardized approach to laparoscopic right colectomy: outcomes in 70 consecutive cases. J Am Coll Surg 199:675–679

10.

Corcione F, Miranda L, Settembre A et al (2007) Open veress assisted technique. results in 2700 cases. Minerva Chir 62:443–446

11.

Tarta C, Bishawi M, Bergamaschi R (2013) Intracorporeal ileocolic anastomosis: a review. Tech Coloproctol 17:479–485

12.

Stein SA, Bergamaschi R (2013) Extracorporeal versus intracorporeal ileocolic anastomosis. Tech Coloproctol 17(Suppl 1):S35–S39

13.

Samia H, Lawrence J, Nobel T, Stein S, Champagne BJ, Delaney CP (2013) Extraction site location and incisional hernias after laparoscopic colorectal surgery: should we be avoiding the midline? Am J Surg 205:264–267

14.

Singh R, Omiccioli A, Hegge S, McKinley C (2008) Does the extraction-site location in laparoscopic colorectal surgery have an impact on incisional hernia rates? Surg Endosc 22:2596–2600

15.

Fabozzi M, Allieta R, Contul RB et al (2010) Comparison of short- and medium-term results between laparoscopically assisted and totally laparoscopic right hemicolectomy: a case-control study. Surg Endosc 24:2085–2091

16.

Lee L, Mappin-Kasirer B, Sender Liberman A et al (2012) High incidence of symptomatic incisional hernia after midline extraction in laparoscopic colon resection. Surg Endosc 26:3180–3185

17.

Hellan M, Andreson C, Pigazzi A (2009) Extracorporeal versus intracorporeal anastomosis for laparoscopic right hemicolectomy. JSLS 13:312–317

18.

Grams J, Tong W, Greenstein AJ, Salky B (2010) Comparison of intracorporeal versus extracorporeal anastomosis in laparoscopic-assisted hemicolectomy. Surg Endosc 24:1886–1891

19.

Carnuccio P, Jimeno J, Parés D (2014) Laparoscopic right colectomy: a systematic review and meta-analysis of observational studies comparing two types of anastomosis. Tech Coloproctol 18:5–12

20.

Raftopoulos I, Courcoulas AP, Blumberg D (2006) Should completely intracorporeal anastomosis be considered in obese patients who undergo laparoscopic colectomy for benign or malignant disease of the colon? Surgery 140:675–682

21.

Park JW, Lim SW, Choi HS, Jeong SY, Oh JH, Lim SB (2010) The impact of obesity on outcomes of laparoscopic surgery for colorectal cancer in Asians. Surg Endosc 24:1679–1685

22.

Scatizzi M, Kröning KC, Borrelli A, Andan G, Lenzi E, Feroci F (2010) Extracorporeal versus intracorporeal anastomosis after laparoscopic right colectomy for cancer: a case-control study. World J Surg 34:2902–2908

23.

Milone M, Elmore U, Di Salvo E et al (2014) Intracorporeal versus extracorporeal anastomosis. Results from a multicentre comparative study on 512 right-sided colorectal cancers. Surg Endosc 29:2314–2320

24.

Casciola L, Ceccarelli G, Di Zitti L et al (2003) Laparoscopic right hemicolectomy with intracorporeal anastomosis. Technical aspects and personal experience. Minerva Chir 58:621–627

25.

Chang K, Fakhoury M, Barnajian M, Tarta C, Bergamaschi R (2013) Laparoscopic right colon resection with intracorporeal anastomosis. Surg Endosc 27:1730–1736

26.

Choy PY, Bissett IP, Docherty JG, Parry BR, Merrie AE (2007) Stapled versus handsewn methods for ileocolic anastomoses. Cochrane Database Syst Rev 18:CD004320

27.

Causey MW, Oguntoye M, Steele SR (2011) Incidence of complications following colectomy with mesenteric closure versus no mesenteric closure: does it really matter? J Surg Res 171:571–575

28.

Al Abed YA, Lafferty K, Kosmoliaptsis V (2012) A simple technique for safe mesenteric defect closure following bowel resection. J Surg Tech Case Rep 4:22–23

29.

Jimi S, Hotokezaka M, Eto TA et al (2007) Internal herniation through the mesenteric opening after laparoscopy-assisted right colectomy: report of a case. Surg Laparosc Endosc Percutan Tech 17:339–341

30.

Cabot JC, Lee SA, Yoo J, Nasar A, Whelan RL, Feingold DL (2010) Long-term consequences of not closing the mesenteric defect after laparoscopic right colectomy. Dis Colon Rectum 53:289–292

31.

Bergamaschi R, Schochet E, Haughn C, Burke M, Reed JF 3rd, Arnaud JP (2008) Standardized laparoscopic intracorporeal right colectomy for cancer: short-term outcome in 111 unselected patients. Dis Colon Rectum 51:1350–1355
Ethics declarations
Conflict of interest
The authors declare that they have no conflict of interest.
Ethical approval
All procedures performed in this study were in accordance with the ethical standards of the institution.
Informed consent
Informed consent was obtained from all individual participants included in the study.
Electronic supplementary material
Below is the link to the electronic supplementary material.
Intracorporeal ileocolic anastomosis following right colectomy: hand-sewn double-layer closure of enterotomy (MOV 338897 kb)
Intracorporeal ileocolic anastomosis following right colectomy: hand-sewn double-layer closure of enterotomy (MOV 338897 kb)
About this article
Cite this article
Reggio, S., Sciuto, A., Cuccurullo, D. et al. Single-layer versus double-layer closure of the enterotomy in laparoscopic right hemicolectomy with intracorporeal anastomosis: a single-center study. Tech Coloproctol 19, 745–750 (2015). https://doi.org/10.1007/s10151-015-1378-2
Received:

Accepted:

Published:

Issue Date:
Keywords
Right colon cancer

Laparoscopic right colectomy

Intracorporeal anastomosis

Anastomotic leakage

Double layer