Abstract
The ability to optically visualize the abdominal cavity in the post-surgical patient can prove to be invaluable, particularly when imaging studies and exam findings can be difficult to interpret. Post-surgical drains are often used and provide a window into the abdominal cavity. In this proof-of-concept study, it is demonstrated that an ordinary drain can be used as a point of access and hence a doorway into the abdominal cavity. This technique has been termed drainoscopy, and the approach is demonstrated with video supplement.
This is a preview of subscription content, log in to check access.
Access options
Buy single article
Instant unlimited access to the full article PDF.
US$ 39.95
Price includes VAT for USA
Subscribe to journal
Immediate online access to all issues from 2019. Subscription will auto renew annually.
US$ 99
This is the net price. Taxes to be calculated in checkout.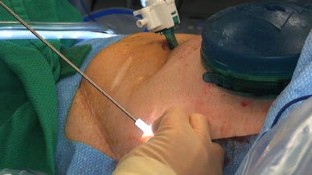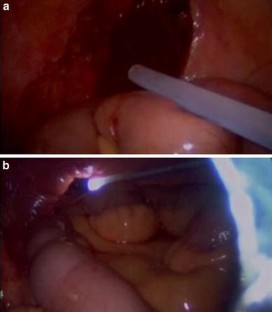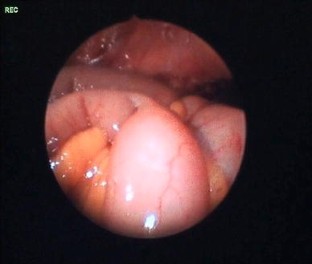 References
1.

Norwood SH, Civetta JM (1985) Abdominal CT scanning in critically ill surgical patients. Ann Surg 202:166–175

2.

Ferrera PC, Verdile VP, Bartfield JM, Snyder HS, Salluzzo RF (1998) Injuries distracting from intraabdominal injuries after blunt trauma. Am J Emerg Med 16:145–149

3.

Crandall M, West MA (2006) Evaluation of the abdomen in the critically ill patient: opening the black box. Curr Opin Crit Care 12:333–339

4.

Wang Z, Chen J, Su K, Dong Z (2011) Abdominal drainage versus no drainage post gastrectomy for gastric cancer. Cochrane Database Syst Rev 10:CD008788

5.

Gurusamy KS, Samraj K, Davidson BR (2007) Routine abdominal drainage for uncomplicated liver resection. Cochrane Database Syst Rev 18:CD006232

6.

Gurusamy KS, Samraj K, Mullerat P, Davidson BR (2007) Routine abdominal drainage for uncomplicated laparoscopic cholecystectomy. Cochrane Database Syst Rev 17:CD006004

7.

Albanopoulos K, Alevizos L, Linardoutsos D et al (2011) Routine abdominal drains after laparoscopic sleeve gastrectomy: a retrospective review of 353 patients. Obes Surg 21:687–691

8.

Moskovic DJ, Hodges SE, Wu MF, Brunicardi FC, Hilsenbeck SG, Fisher WE (2010) Drain data to predict clinically relevant pancreatic fistula. HPB 12:472–481

9.

Peris A, Matano S, Manca G et al (2009) Bedside diagnostic laparoscopy to diagnose intraabdominal pathology in the intensive care unit. Crit Care 13:R25

10.

Ceribelli C, Adami EA, Mattia S, Benini B (2012) Bedside diagnostic laparoscopy for critically ill patients: a retrospective study of 62 patients. Surg Endosc 26:3612–3615

11.

Pecoraro AP, Cacchione RN, Sayad P, Williams ME, Ferzli GS (2001) The routine use of diagnostic laparoscopy in the intensive care unit. Surg Endosc 15:638–641

12.

Jaramillo EJ, Treviño JM, Berghoff KR, Franklin ME Jr (2006) Bedside diagnostic laparoscopy in the intensive care unit: a 13-year experience. JSLS 10:155–159

13.

Rehm CG (2000) Bedside laparoscopy. Crit Care Clin 16:101–112

14.

Stefanidis D, Richardson WS, Chang L, Earle DB, Fanelli RD (2009) The role of diagnostic laparoscopy for acute abdominal conditions: an evidence-based review. Surg Endosc 23:16–23

15.

Hackert T, Kienle P, Weitz J et al (2003) Accuracy of diagnostic laparoscopy for early diagnosis of abdominal complications after cardiac surgery. Surg Endosc 17:1671–1674
Conflict of interest
The authors declare that they have no conflict of interest.
Ethical approval
The procedure performed in this study, involved a human participant, and was conducted in accordance with the ethical standards of the institutional and/or national research committee and with the 1964 Helsinki declaration and its later amendments or comparable ethical standards.
Informed consent
Informed consent was obtained from the individual included in the study.
Electronic supplementary material
Below is the link to the electronic supplementary material.
Supplementary material 1 (MOV 156633 kb)
About this article
Cite this article
Atallah, S., deBeche-Adams, T., Imam, Z. et al. Drainoscopy: a doorway to the abdomen in the post-surgical patient. Tech Coloproctol 19, 483–486 (2015). https://doi.org/10.1007/s10151-015-1335-0
Received:

Accepted:

Published:

Issue Date:
Keywords
Drainoscopy

Diagnostic laparoscopy

Surgical drain