Abstract
Background
Laparoscopic ventral rectopexy limits the risk of autonomic nerve damage, and the colpopexy allows correction of a concomitant prolapse of the middle compartment. The aim of this study is to describe a modified laparoscopic ventral rectocolpopexy procedure with a low approach to the sacral hollow (laparoscopic low ventral rectocolpopexy: LLVR). We propose this technique to manage combined rectogenital prolapse.
Methods
Between November 2006 and June 2009, all patients with symptomatic rectal prolapse associated with genital prolapse and/or enterocele underwent LLVR. Demographics, results of imaging studies, mortality, morbidity, and functional outcome were retrospectively analyzed.
Results
Thirty patients underwent LLVR: two patients suffered from a full-thickness rectal prolapse while 28 had symptomatic recto-anal intussusception. The mean operating time was 94 ± 39 minutes. Conversion to laparotomy was never needed. Hospital stay ranged between 2 and 14 days (mean of 5 ± 2.5 days). No mortality was recorded and only two complications occurred (6.6 %): one trocar site incisional hernia and one vaginal suture erosion in a patient who had concomitant hysterectomy. After a mean follow-up of 13.9 months, constipation was completely resolved or improved in 92.8 % patients. Significant reduction in the mean Altomare obstructed defecation score (14.7–5.6; p < 0.05) was recorded. Preoperative incontinence improved after the procedure in all patients affected. No new cases of postoperative constipation or fecal incontinence were registered. Only one case of recurrence in a patient with recto-anal intussusception was recorded (3.4 %), after 19 months.
Conclusions
Laparoscopic low ventral rectocolpopexy is safe and associated with very low morbidity. In the medium term, it provides good result for prolapse and associated symptoms.
This is a preview of subscription content, log in to check access.
Access options
Buy single article
Instant unlimited access to the full article PDF.
US$ 39.95
Price includes VAT for USA
Subscribe to journal
Immediate online access to all issues from 2019. Subscription will auto renew annually.
US$ 99
This is the net price. Taxes to be calculated in checkout.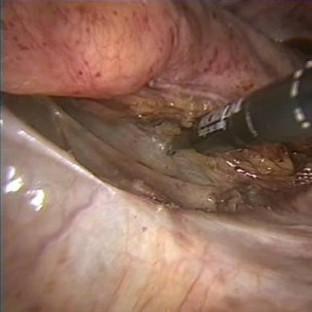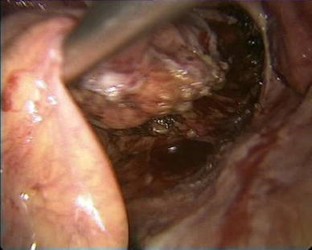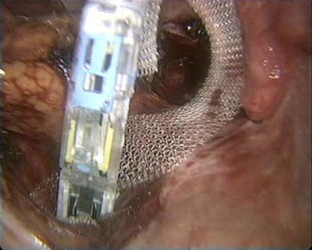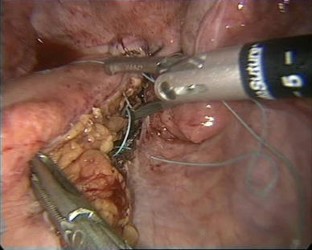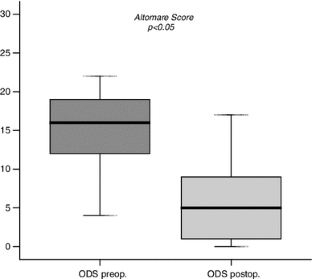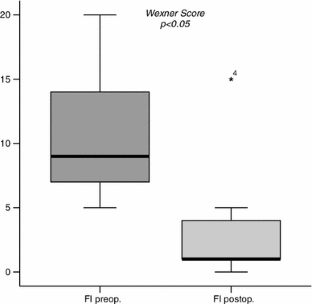 References
1.

Lim M, Sagar PM, Gonsalves S, Thekkinkattil D, Landon C (2007) Surgical management of pelvic organ prolapse in females: functional outcome of mesh sacrocolpopexy and rectopexy as a combined procedure. Dis Colon Rectum 50:1412–1421

2.

Mellgren A, Johansson C, Dolk A et al (1994) Enterocoele demonstrated by defecography is associated with other pelvic floor disorders. Int J Colorectal Dis 9:121–124

3.

Mellgren A, Bremmer S, Johansson C et al (1994) Defecography: results of investigations in 2,816 patients. Dis Colon Rectum 37:1133–1141

4.

Hausammann R, Steffen T, Wishaupt D, Beutner U, Hetzer FH (2009) Rectocele and intussusception: is there any coherence in symptoms or additional pelvic floor disorders? Tech Coloproctol 13:17–26

5.

D'Hoore A, Cadoni R, Penninckx F (2004) Long-term outcome of laparoscopic ventral rectopexy for total rectal prolapse. Br J Surg 91:1500–1505

6.

Slawik S, Soulsby R, Carter H, Payne H, Dixon AR (2008) Laparoscopic ventral rectopexy, posterior colporrhaphy and vaginal sacrocolpopexy for the treatment of recto-genital prolapse and mechanical outlet obstruction. Colorectal Dis 10:138–143

7.

Baden WF, Walker TA, Lindsay HJ (1968) The vaginal profile. Tex Med J 64:56–58

8.

Shorvon PJ, McHugh S, Diamant NE, Somers S, Stevenson GW (1989) Defecography in normal volunteers: results and implication. Gut 30:1737–1749

9.

Altomare DF, Spazzafumo L, Rinaldi M, Dodi G, Ghiselli R, Piloni V (2008) Set-up and statistical validation of a new scoring system for obstructed defaecation syndrome. Colorectal Dis 10:84–88

10.

Jorge JM, Wexner SD (1993) Etiology and management of fecal incontinence. Dis Colon Rectum 36:77–97

11.

Moschowitz AW (1912) The pathogenesis, anatomy and cure of prolapse of the rectum. Surg Gynecol Obstet 15:7–21

12.

Cadeddu F, Sileri P, Grande M, De Luca E, Franceschilli L, Milito G (2012) Focus on abdominal rectopexy for full-thickness rectal prolapse: meta-analysis of literature. Tech Coloproctol 16:37–53

13.

Eu KW, Seow-Choen F (1997) Functional problems in adult rectal prolapse and controversies in surgical management. Br J Surg 84:904–911

14.

Mollen RM, Kuipers JH, Van Hoek F (2000) Effects of rectal mobilization and lateral ligaments division on colonic anorectal function. Dis Colon Rectum 43:1283–1287

15.

Scaglia M, Fasth S, Hallgren T, Nordgren S, Oresland T, Hulten L (1994) Abdominal rectopexy for rectal prolapse: influence of surgical technique on functional outcome. Dis Colon Rectum 37:805–813

16.

Speakman CTM, Madden MV, Nicholls RJ, Kamm MA (1991) Lateral ligament division during rectopexy causes constipation but prevents recurrence: results of a prospective randomized study. Br J Surg 78:1431–1433

17.

Broden B, Snellman B (1968) Procidentia of the rectum studied with cineradiography. A contribution to the discussion of causative mechanism. Dis Colon Rectum 11:330–347

18.

Infantino A, Bellomo R, Del Ciampo D (2008) Rectopexy with mesh: the Orr-Loygue technique. In: Altomare DF, Pucciani F (eds) Rectal prolapse. Diagnosis and clinical management. Springer-Verlag, Milan, pp 131–137

19.

DeLancey JO (1999) Structural anatomy of the posterior pelvic compartment as it relates to rectocele. Am J Obstet Gynecol 180:815–823

20.

D'Hoore A, Penninckx F (2006) Laparoscopic ventral rectocolpopexy for rectal prolapse: surgical technique and outcome for 109 patients. Surg Endosc 20:1919–1923

21.

Collinson R, Wijffels N, Cunningham C, Lindsey I (2010) Laparoscopic ventral rectopexy for internal rectal prolapse: short term functional result. Colorectal Dis 12:97–104
Conflict of interest
The authors declare that no conflict of interest exists.
Electronic supplementary material
Below is the link to the electronic supplementary material.
Supplementary material 1 (MP4 20749 kb)
About this article
Cite this article
Lauretta, A., Bellomo, R.E., Galanti, F. et al. Laparoscopic low ventral rectocolpopexy (LLVR) for rectal and rectogenital prolapse: surgical technique and functional results. Tech Coloproctol 16, 477–483 (2012) doi:10.1007/s10151-012-0918-2
Received:

Accepted:

Published:

Issue Date:
Keywords
Rectal prolapse

Laparoscopic rectopexy

Nerve sparing

Constipation

Fecal incontinence