Abstract
Background
Squamous cell carcinoma (SCC) of the rectum is a rare disorder. There is currently no effective method as to how best treat patients with this condition. The purpose of this study was to review a single tertiary institution's experience.
Methods
A retrospective chart review was conducted of all patients who presented with documented SCC of the rectum over a 10-year period (2000–2010). During the study period, all patients were offered chemoradiation as an initial treatment modality [a fluorouracil (5-FU)-based regimen in conjunction with mitomycin or cisplatin].
Results
Six patients presented with primary rectal SCC. Mean patient age was 60 years. The majority of patients were female (83 %). The most common presenting symptom was rectal bleeding (67 %). The mean distance from the inferior tumor margin to the anal verge was 6 cm. Two patients (33 %) presented with stage II disease, and 4 (67 %) were stage III. Five patients (83 %) received chemoradiation therapy initially, and 1 patient underwent abdominoperineal resection after refusing chemoradiation. Two additional patients (33 %) underwent salvage surgery. During a mean follow-up of 44 months, 4 patients (66 %) were alive without evidence of disease.
Conclusions
Based on the results of this cases series, chemoradiation as an initial primary therapy appears to be beneficial for patients with primary SCC of the rectum. A 5-FU chemotherapy-based regimen in conjunction with fractionated radiotherapy appears to be effective for local control of the disease.
This is a preview of subscription content, log in to check access.
Access options
Buy single article
Instant access to the full article PDF.
US$ 39.95
Price includes VAT for USA
Subscribe to journal
Immediate online access to all issues from 2019. Subscription will auto renew annually.
US$ 99
This is the net price. Taxes to be calculated in checkout.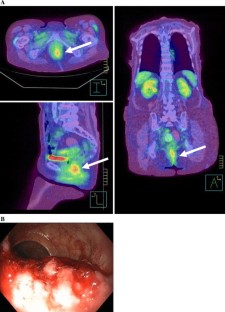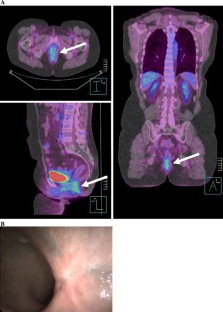 References
1.

Raiford TS (1933) Epitheliomata of the lower rectum and anus. Surg Gynecol Obstet 57:21–35

2.

Nahas CS, Shia J, Joseph R et al (2007) Squamous cell carcinoma of the rectum: a rare but curable tumor. Dis Colon Rectum 50:1393–1400

3.

Vezeridis MP, Herrera LA, Lopez GE, Ledema EJ, Mittleman A (1983) Squamous cell carcinoma of the colon and rectum. Dis Colon Rectum 26:188–191

4.

Prener A, Nielsen K (1988) Primary squamous cell carcinoma of the rectum in Denmark. APMIS 96:839–844

5.

Gelas T, Peyrat P, Francois Y et al (2002) Primary squamous cell carcinoma of the rectum: report of six cases and review of the literature. Dis Colon Rectum 45:1535–1540

6.

Clark J, Cleator S, Goldin R, Lowdell C, Darzi A, Ziprin P (2008) Treatment of primary rectal squamous cell carcinoma by primary chemoradiotherapy: should surgery still be considered a standard of care? Eur J Cancer 44:2340–2343

7.

Rasheed S, Yap T, Zia A, McDonald PJ, Glynne-Jones R (2009) Chemoradiotherapy—an alternative to surgery for squamous cell carcinoma of the rectum. Report of six cases and literature review. Colorectal Dis 11:191–197

8.

Wang ML, Heriot A, Leong T, Ngan SY (2011) Chemoradiotherapy in the management of primary squamous-cell carcinoma of the rectum. Colorectal Dis 13:296–301

9.

Williams GT, Blackshaw AJ, Morson BC (1979) Squamous carcinoma of the colorectum and its genesis. J Pathol 129:139–147

10.

Nigro ND, Vaitkevicious VK, Buroker T, Bradley GT, Considine B (1981) Combined therapy for cancer of the anal canal. Dis Colon Rectum 24:73–75

11.

Dyson T, Draganov PV (2009) Squamous cell cancer of the rectum. World J Gastroenterol 15:4380–4386

12.

Miyamoto H, Nishioka M, Kurita N et al (2007) Squamous cell carcinoma of the descending colon: report of a case and literature review. Case Rep Gastroenterol 1:77–83
About this article
Cite this article
Yeh, J., Hastings, J., Rao, A. et al. Squamous cell carcinoma of the rectum: a single institution experience. Tech Coloproctol 16, 349–354 (2012). https://doi.org/10.1007/s10151-012-0848-z
Received:

Accepted:

Published:

Issue Date:
Keywords
Squamous cell carcinoma

Rectum

Chemoradiation