Abstract
Anastomotic leakage after rectal surgery is a very serious complication and is the main cause of postoperative morbidity and mortality. We describe three cases of rectal leakage which we treated with endoscopic vacuum-assisted closure. We used the Endo-SPONGE (B. Braun Aesculap AG, Germany), which consists of an open-cell, cylindrical polyurethane sponge connected to a drainage tube which is linked to a vacuum system to exert constant suction. The possible role of this new tool in the management of anastomotic leaks is also discussed.
This is a preview of subscription content, log in to check access.
Access options
Buy single article
Instant unlimited access to the full article PDF.
US$ 39.95
Price includes VAT for USA
Subscribe to journal
Immediate online access to all issues from 2019. Subscription will auto renew annually.
US$ 99
This is the net price. Taxes to be calculated in checkout.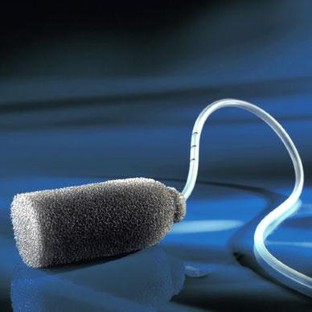 References
1.

Morykwas MJ, Argenta LC, Shelton-Brown EI, McGuirt W (1997) Vacuum-assisted closure: a new method for wound control and treatment: animal studies and basic foundation. Ann Plast Surg 38:553–562

2.

Argenta LC, Morykwas MJ (1997) Vacuum-assisted closure: a new method for wound control and treatment: clinical experience. Ann Plast Surg 38:563–576 discussion 577

3.

Durai R, Ng PC (2009) Perirectal abscess following procedure for prolapsed haemorrhoids successfully managed with a combination of VAC sponge and Redivac systems. Tech Coloproctol 13:307–309

4.

Bemelman WA (2009) Vacuum assisted closure in coloproctology. Tech Coloproctol 13:261–263

5.

Weidenhagen R, Gruetzner KU, Wiecken T, Spelsberg F, Jauch KW (2008) Endoluminal vacuum therapy for the treatment of anastomotic leakage after anterior rectal resection. Rozhl Chir 87:397–402

6.

Mees ST, Palmes D, Mennigen R, Senninger N, Haier J, Bruewer M (2008) Endo-vacuum assisted closure treatment for rectal anastomotic insufficiency. Dis Colon Rectum 51:404–410

7.

Van Koperen PJ, van Berge Henegounen MI, Rosman C et al (2009) The Dutch multicenter experience of the endo-sponge treatment for anastomotic leakage after colorectal surgery. Surg Endosc 23:1379–1383

8.

D'Hondt M, De Hondt G, Malisse P, Vanden Boer J, Knol J (2009) Chronic pelvic abscedation after completion proctectomy in an irradiated pelvis: another indication for ENDO-sponge treatment? Tech Coloproctol 13:311–314
Electronic supplementary material
Below is the link to the electronic supplementary material.
About this article
Cite this article
Arezzo, A., Miegge, A., Garbarini, A. et al. Endoluminal vacuum therapy for anastomotic leaks after rectal surgery. Tech Coloproctol 14, 279–281 (2010) doi:10.1007/s10151-010-0569-0
Received:

Accepted:

Published:

Issue Date:
Keywords
Endosponge

Surgical wound dehiscence

Negative pressure wound therapy

Vacuum-assisted closure