Abstract
Background
Mucosal melanoma is a rare and aggressive malignancy with poorer response compared with cutaneous melanoma. Prospective trials of immune checkpoint inhibitors in unresectable or metastatic mucosal melanoma have not been reported.
Purpose
This phase II trial assessed the efficacy and safety of nivolumab monotherapy for unresectable or metastatic mucosal melanoma.
Patients and methods
Eligibility criteria were as follows: histological diagnosis of unresectable or metastatic mucosal melanoma; age ≥ 20 years; ECOG performance status 0 or 1; and with measurable lesions. Patients received nivolumab 2 mg/kg every 3 weeks. The primary endpoint was the response rate (RR) according to Response Evaluation Criteria in Solid Tumors version 1.1. The secondary endpoints were overall survival, progression-free survival, disease control rate, and toxicity.
Results
Twenty patients were enrolled between December 2014 and July 2017. Two patients without measurable lesions and one patient with uveal melanoma were excluded from analysis of efficacy. The best overall RR was 23.5%. One patient achieved a complete response, three partial response, and five stable disease as their best response. The median progression-free survival was 1.4 months (95% CI 1.2–2.8). The median overall survival was 12.0 months (95% CI 3.5 to not reached). The 1-year overall survival was 50.0% (95% CI 25.9–70.0%). Treatment-related adverse events of grades 3 or 4 occurred in 15% (3/20) of the patients. Grade 3 adverse events were resolved by corticosteroid treatment.
Conclusion
Although this trial met the primary endpoint, the RR was still unsatisfactory. Therefore, further treatment development is required.
This is a preview of subscription content, log in to check access.
Access options
Buy single article
Instant unlimited access to the full article PDF.
US$ 39.95
Price includes VAT for USA
Subscribe to journal
Immediate online access to all issues from 2019. Subscription will auto renew annually.
US$ 99
This is the net price. Taxes to be calculated in checkout.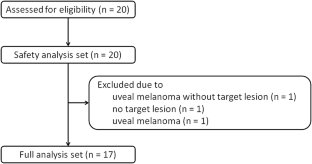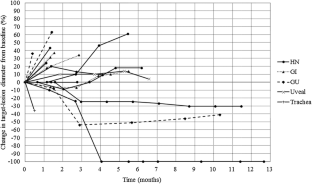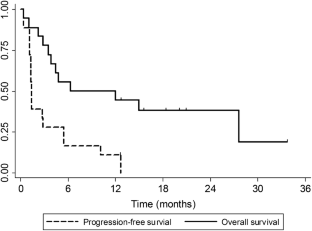 References
1.

Hodi FS, O'Day SJ, McDermott DF et al (2010) Improved survival with ipilimumab in patients with metastatic melanoma. N Engl J Med 363:711–723

2.

Weber JS, D'Angelo SP, Minor D et al (2015) Nivolumab versus chemotherapy in patients with advanced melanoma who progressed after anti-CTLA-4 treatment (CheckMate 037): a randomised, controlled, open-label, phase 3 trial. Lancet Oncol 16:375–384

3.

Robert C, Long GV, Brady B et al (2015) Nivolumab in previously untreated melanoma without BRAF mutation. N Engl J Med 372:320–330

4.

Larkin J, Chiarion-Sileni V, Gonzalez R et al (2019) Five-year survival with combined nivolumab and ipilimumab in advanced melanoma. N Engl J Med 381:1535–1546

5.

D'Angelo SP, Larkin J, Sosman JA et al (2017) Efficacy and safety of nivolumab alone or in combination with ipilimumab in patients with mucosal melanoma: a pooled analysis. J Clin Oncol 35:226–235

6.

Yamazaki N, Kiyohara Y, Uhara H et al (2017) Cytokine biomarkers to predict antitumor responses to nivolumab suggested in a phase 2 study for advanced melanoma. Cancer Sci 108:1022–1031

7.

Fujii Y, Nishikawa Y, Nomura M et al (2018) Readministration of nivolumab after persistent immune-related colitis in a patient with recurrent melanoma. Intern Med 57:1173–1176

8.

Sakaizawa K, Ashida A, Uchiyama A et al (2015) Clinical characteristics associated with BRAF, NRAS and KIT mutations in Japanese melanoma patients. J Dermatol Sci 80:33–37

9.

Hayward NK, Wilmott JS, Waddell N et al (2017) Whole-genome landscapes of major melanoma subtypes. Nature 545:175–180

10.

Hodi FS, Chiarion-Sileni V, Gonzalez R et al (2018) Nivolumab plus ipilimumab or nivolumab alone versus ipilimumab alone in advanced melanoma (CheckMate 067): 4-year outcomes of a multicentre, randomised, phase 3 trial. Lancet Oncol 19:1480–1492
Acknowledgements
We thank the patients and their families who participated in the trial.
Ethics declarations
Conflict of interest
Motoo Nomura, Isao Oze, Toshiki Masuishi, Tomoya Yokota, Ken Kato, and Masashi Andoh have conflicts of interest to declare and have financial disclosures or funding support. Shunichiro Iwasawa reports grants and lecture fees from ONO PHARMACEUTICAL CO., LTD., and lecture fees from Bristol-Myers Squibb K.K. Hironaga Satake received honoraria from Bayer, Bristol-Myers Squibb, Chugai Pharma, Daiichi Sankyo, Eli Lilly Japan, Merck Bio Pharma, MSD, Ono Pharmaceutical, Sanofi, Taiho Pharmaceutical, Takeda, and Yakult Honsha.
Additional information
Publisher's Note
Springer Nature remains neutral with regard to jurisdictional claims in published maps and institutional affiliations.
About this article
Cite this article
Nomura, M., Oze, I., Masuishi, T. et al. Multicenter prospective phase II trial of nivolumab in patients with unresectable or metastatic mucosal melanoma. Int J Clin Oncol (2020) doi:10.1007/s10147-020-01618-9
Received:

Accepted:

Published:
Keywords
Metastatic melanoma

Mucosal melanoma

Immune checkpoint inhibitor