Abstract
The cancer registry is an essential part of any rational program of evidence-based cancer control. The cancer control program is required to strategize in a systematic and impartial manner and efficiently utilize limited resources. In Japan, the National Clinical Database (NCD) was launched in 2010. It is a nationwide prospective registry linked to various types of board certification systems regarding surgery. The NCD is a nationally validated database using web-based data collection software; it is risk adjusted and outcome based to improve the quality of surgical care. The NCD generalizes site-specific cancer registries by taking advantage of their excellent organizing ability. Some site-specific cancer registries, including pancreatic, breast, and liver cancer registries have already been combined with the NCD. Cooperation between the NCD and site-specific cancer registries can establish a valuable platform to develop a cancer care plan in Japan. Furthermore, the prognosis information of cancer patients arranged using population-based and hospital-based cancer registries can help in efficient data accumulation on the NCD. International collaboration between Japan and the USA has recently started and is expected to provide global benchmarking and to allow a valuable comparison of cancer treatment practices between countries using nationwide cancer registries in the future. Clinical research and evidence-based policy recommendation based on accurate data from the nationwide database may positively impact the public.
This is a preview of subscription content, log in to check access.
Access options
Buy single article
Instant access to the full article PDF.
US$ 39.95
Price includes VAT for USA
Subscribe to journal
Immediate online access to all issues from 2019. Subscription will auto renew annually.
US$ 99
This is the net price. Taxes to be calculated in checkout.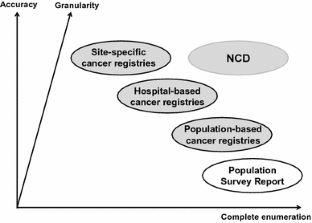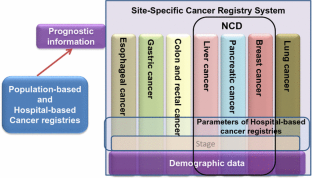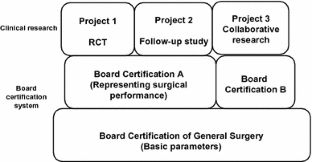 References
1.

Muir CS (1985) The International Association of Cancer Registries. The benefits of a worldwide network of tumor registries. Conn Med 49(11):713–717

2.

Sobue T (2008) Current activities and future directions of the cancer registration system in Japan. Int J Clin Oncol 13(2):97–101

3.

Miyata H, Gotoh M, Hashimoto H et al (2014) Challenges and prospects of a clinical database linked to the board certification system. Surg Today. doi:10.1007/s00595-013-0802-3

4.

Gotoh M, Miyata H, Konno H (2014) Evolution and future of the National Clinical Database: feedback for surgical quality improvement. Nihon Geka Gakkai Zasshi 115(1):8–12

5.

Suzuki H, Gotoh M, Sugihara K et al (2011) Nationwide survey and establishment of a clinical database for gastrointestinal surgery in Japan: Targeting integration of a cancer registration system and improving the outcome of cancer treatment. Cancer Sci 102(1):226–230

6.

Cohen ME, Dimick JB, Bilimoria KY et al (2009) Risk adjustment in the American College of Surgeons National Surgical Quality Improvement Program: a comparison of logistic versus hierarchical modeling. J Am Coll Surg 209(6):687–693

7.

Kenjo A, Miyata H, Gotoh M et al (2014) Risk stratification of 7,732 hepatectomy cases in 2011 from the National Clinical Database for Japan. J Am Coll Surg 218(3):412–422

8.

Kimura W, Miyata H, Gotoh M et al (2014) A pancreaticoduodenectomy risk model derived from 8575 cases from a national single-race population (Japanese) using a web-based data entry system: the 30-day and in-hospital mortality rates for pancreaticoduodenectomy. Ann Surg 259(4):773–780

9.

Kobayashi H, Miyata H, Gotoh M et al (2014) Risk model for right hemicolectomy based on 19,070 Japanese patients in the National Clinical Database. J Gastroenterol 49(6):1047–1055

10.

Takeuchi H, Miyata H, Gotoh M, et al. (2014) A Risk Model for Esophagectomy Using Data of 5354 Patients Included in a Japanese Nationwide Web-Based Database. Ann Surg [Epub ahead of print]

11.

Watanabe M, Miyata H, Gotoh M, et al. (2014) Total Gastrectomy Risk Model: Data From 20,011 Japanese Patients in a Nationwide Internet-Based Database. Ann Surg [Epub ahead of print]

12.

Matsubara N, Miyata H, Gotoh M et al (2014) Mortality after common rectal surgery in Japan: a study on low anterior resection from a newly established nationwide large-scale clinical database. Dis Colon Rectum 57(9):1075–1081

13.

Nakagoe T, Miyata H, Gotoh M, et al. (2014) Surgical risk model for acute diffuse peritonitis based on a Japanese nationwide database: an initial report of 30-day and operative mortality. Surg Today 2014 Sep 18 [Epub ahead of print]

14.

Egawa S, Toma H, Ohigashi H et al (2012) Japan Pancreatic Cancer Registry; 30th year anniversary: Japan Pancreas Society. Pancreas 41(7):985–992

15.

Matsuno S, Egawa S, Fukuyama S et al (2004) Pancreatic Cancer Registry in Japan: 20 years of experience. Pancreas 28(3):219–230

16.

Yamamoto M, Ohashi O, Saitoh Y (1998) Japan Pancreatic Cancer Registry: current status. Pancreas 16(3):238–242

17.

Konishi T, Watanabe T, Kishimoto J et al (2007) Prognosis and risk factors of metastasis in colorectal carcinoids: results of a nationwide registry over 15 years. Gut 56(6):863–868

18.

Ishiguro M, Higashi T, Watanabe T, et al. (2014) Changes in colorectal cancer care in japan before and after guideline publication: a nationwide survey about D3 lymph node dissection and adjuvant chemotherapy. J Am Coll Surg 218(5):969–977.e961

19.

Miyata H, Motomura N, Murakami A et al (2012) Effect of benchmarking projects on outcomes of coronary artery bypass graft surgery: challenges and prospects regarding the quality improvement initiative. J Thorac Cardiovasc Surg 143(6):1364–1369

20.

Hall BL, Hamilton BH, Richards K et al (2009) Does surgical quality improve in the American College of Surgeons National Surgical Quality Improvement Program: an evaluation of all participating hospitals. Ann Surg 250(3):363–376

21.

The 69th General Meeting of the Japanese Society of Gastroenterological Surgery, Special Program (2014)
Acknowledgments
We wish to thank all of the data managers and hospitals that participated in the NCD project for their great efforts in data entry. In addition, we wish to express appreciation to all the people and academies that cooperated in this project.
Conflict of interest
The authors declare that they have no conflict of interest.
About this article
Cite this article
Anazawa, T., Miyata, H. & Gotoh, M. Cancer registries in Japan: National Clinical Database and site-specific cancer registries. Int J Clin Oncol 20, 5–10 (2015). https://doi.org/10.1007/s10147-014-0757-4
Received:

Accepted:

Published:

Issue Date:
Keywords
Cancer registry

Nationwide database

Risk factor

Risk model