Abstract
MicroRNAs (miRNAs) are small non-coding ribonucleic acids (RNAs) of approximately 22 bp that induce RNA interference with a complementary messenger RNA (mRNA) and act in silencing of mRNA. miRNAs are strongly associated with cancer development and those involved in carcinogenesis are classified into oncogenic miRNAs and tumor suppressor miRNAs (tumor suppressor miRs). Specific miRNAs are expressed in various tissues and changes in regulation of gene expression are thought to cause carcinogenesis. Thus, tissue-specific miRNAs may be biomarkers for cancer diagnosis and prognosis. Approaches to application of miRNAs as cancer therapy are also ongoing, based on the involvement of miRNAs in carcinogenesis. In endometrial cancer, miRNAs are associated with regulation of gene expression, epigenetic dysfunction and carcinogenesis. Thus, miRNAs are likely to have key roles in diagnosis, prognostic prediction, and therapy in endometrial cancer.
This is a preview of subscription content, log in to check access.
Access options
Buy single article
Instant access to the full article PDF.
US$ 39.95
Price includes VAT for USA
Subscribe to journal
Immediate online access to all issues from 2019. Subscription will auto renew annually.
US$ 99
This is the net price. Taxes to be calculated in checkout.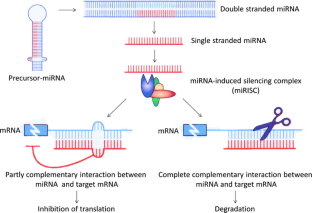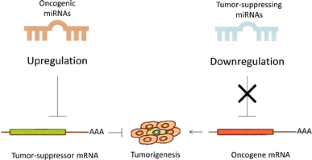 References
1.

Yanokura M, Banno K, Kobayashi Y et al (2010) MicroRNA and endometrial cancer: roles of small RNAs in human tumors and clinical applications. Oncol Lett 1:935–940

2.

Yanokura M, Banno K, Kisu I et al (2011) MicroRNA in endometrial cancer. Trends Cancer Res 7:49–55

3.

Iorio MV, Croce CM (2012) Causes and consequences of microRNA dysregulation. Cancer J 18:215–222

4.

Leal JA, Lleonart ME (2012) MicroRNAs and cancer stem cells: therapeutic approaches and future perspectives. Cancer Lett [Epub ahead of print]

5.

Toyota M, Suzuki H, Sasaki Y et al (2008) Epigenetic silencing of microRNA-34b/c and B-cell translocation gene 4 is associated with CpG island methylation in colorectal cancer. Cancer Res 68:4123–4132

6.

Tanaka N, Toyooka S, Soh J et al (2012) Frequent methylation and oncogenic role of microRNA-34b/c in small-cell lung cancer. Lung Cancer 76:32–38

7.

Guo H, Hu X, Ge S et al (2012) Regulation of RAP1B by miR-139 suppresses human colorectal carcinoma cell proliferation. Int J Biochem Cell Biol 44:1465–1472

8.

Nishida N, Nagahara M, Sato T et al (2012) Microarray analysis of colorectal cancer stromal tissue reveals upregulation of two oncogenic miRNA clusters. Clin Cancer Res 18:3054–3070

9.

Nardone A, Corvigno S, Brescia A et al (2011) Long-term cultures of stem/progenitor from lobular and ductal breast carcinomas under non-adherent conditions. Cytotechnology 63:67–80

10.

Reinhart BJ, Slack FJ, Basson M et al (2000) The 21-nucleotide let-7 RNA regulates developmental timing in Caenorhabditis elegans. Nature 403:901–906

11.

Wang B, Zhang Q (2012) The expression and clinical significance of circulating microRNA-21 in serum of five solid tumors. J Cancer Res Clin Oncol 138:1659–1666

12.

Liu R, Chen X, Du Y et al (2012) Serum microRNA expression profile as a biomarker in the diagnosis and prognosis of pancreatic cancer. Clin Chem 58:610–618

13.

Lin M, Gu J, Eng C et al (2012) Genetic variations in microRNA-related genes as predictors of clinical outcomes in colorectal adenocarcinoma patients. Clin Cancer Res 18:3982–3991

14.

Ryan BM, McClary AC, Valeri N et al (2012) Rs4919510 in hsa-mir-608 is associated with outcome but not risk of colorectal cancer. PLoS ONE 7:e36306

15.

Boeri M, Pastorino U, Sozzi G (2012) Role of microRNAs in lung cancer: microRNA signatures in cancer prognosis. Cancer J 18:268–274

16.

Jiang J, Sun X, Wang W et al (2012) Tumor microRNA-335 expression is associated with poor prognosis in human glioma. Med Oncol 29:3472–3477

17.

Suzuki S, Yokobori T, Tanaka N et al (2012) CD47 expression regulated by the miR-133a tumor suppressor is a novel prognostic marker in esophageal squamous cell carcinoma. Oncol Rep 28:465–472

18.

Wang H, Chiu M, Xie Z et al (2012) Synthetic microRNA cassette dosing: pharmacokinetics, tissue distribution and bioactivity. Mol Pharm 9:1638–1644

19.

Chistiakov DA, Chekhonin VP (2012) Contribution of microRNAs to radio- and chemoresistance of brain tumors and their therapeutic potential. Eur J Pharmacol 684:8–18

20.

Yang L, Li N, Wang H et al (2012) Altered microRNA expression in cisplatin-resistant ovarian cancer cells and upregulation of miR-130a associated with MDR1/P-glycoprotein-mediated drug resistance. Oncol Rep 28:592–600

21.

Ru P, Steele R, Hsueh EC et al (2011) Anti-miR-203 upregulates SOCS3 expression in breast cancer cells and enhances cisplatin chemosensitivity. Genes Cancer 2:720–727

22.

Chabot S, Pelofy S, Paganin-Gioanni A et al (2011) Electrotransfer of RNAi-based oligonucleotides for oncology. Anticancer Res 31:4083–4089

23.

Kuokkanen S, Chen B, Ojalvo L et al (2010) Genomic profiling of microRNAs and messenger RNAs reveals hormonal regulation in microRNA expression in human endometrium. Biol Reprod 82:791–801

24.

Lessey BA (2010) Fine tuning of endometrial function by estrogen and progesterone through microRNAs. Biol Reprod 82:653–655

25.

Toloubeydokhti T, Pan Q, Luo X et al (2008) The expression and ovarian steroid regulation of endometrial micro-RNAs. Reprod Sci 15:993–1001

26.

Lin SC, Wang CC, Wu MH et al (2012) Hypoxia-induced microRNA-20a expression increases ERK phosphorylation and angiogenic gene expression in endometriotic stromal cells. J Clin Endocrinol Metab 97:E1515–E1523

27.

Petracco R, Grechukhina O, Popkhadze S et al (2011) MicroRNA 135 regulates HOXA10 expression in endometriosis. J Clin Endocrinol Metab 96:E1925–E1933

28.

Boren T, Xiong Y, Hakam A et al (2008) MicroRNAs and their target messenger RNAs associated with endometrial carcinogenesis. Gynecol Oncol 110:206–215

29.

Wu W, Lin Z, Zhuang Z et al (2009) Expression profile of mammalian microRNAs in endometrioid adenocarcinoma. Eur J Cancer Prev 18:50–55

30.

Chung TK, Cheung TH, Huen NY et al (2009) Dysregulated microRNAs and their predicted targets associated with endometrioid endometrial adenocarcinoma in Hong Kong women. Int J Cancer 124:1358–1365

31.

Huang YW, Liu JC, Deatherage DE et al (2009) Epigenetic repression of microRNA-129-2 leads to overexpression of SOX4 oncogene in endometrial cancer. Cancer Res 69:9038–9046

32.

Banno K, Kisu I, Yanokura M et al (2012) Epigenetics and genetics in endometrial cancer: new carcinogenic mechanisms and relationship with clinical practice. Epigenomics 4:147–162

33.

Tsuruta T, Kozaki K, Uesugi A et al (2012) miR-152 is a tumor suppressor microRNA that is silenced by DNA hypermethylation in endometrial cancer. Cancer Res 71:6450–6462

34.

Jiang F, Liu T, He Y et al (2011) MiR-125b promotes proliferation and migration of type II endometrial carcinoma cells through targeting TP53INP1 tumor suppressor in vitro and in vivo. BMC Cancer 11:425

35.

Shang C, Lu YM, Meng LR (2012) MicroRNA-125b down-regulation mediates endometrial cancer invasion by targeting ERBB2. Med Sci Monit 18:149–155

36.

Xie Y, Wang YL, Yu L et al (2011) Metformin promotes progesterone receptor expression via inhibition of mammalian target of rapamycin (mTOR) in endometrial cancer cells. J Steroid Biochem Mol Biol 126:113–120

37.

Zhou H, Xu X, Xun Q et al (2012) microRNA-30c negatively regulates endometrial cancer cells by targeting metastasis-associated gene-1. Oncol Rep 27:807–812

38.

Chung TK, Lau TS, Cheung TH et al (2012) Dysregulation of microRNA-204 mediates migration and invasion of endometrial cancer by regulating FOXC1. Int J Cancer 130:1036–1045

39.

Karaayvaz M, Zhang C, Liang S et al (2012) Prognostic significance of miR-205 in endometrial cancer. PLoS ONE 7:e35158

40.

Dong P, Kaneuchi M, Watari H et al (2011) MicroRNA-194 inhibits epithelial to mesenchymal transition of endometrial cancer cells by targeting oncogene BMI-1. Mol Cancer 10:99

41.

Hiroki E, Suzuki F, Akahira JI et al (2012) MicroRNA-34b functions as a potential tumor suppressor in endometrial serous adenocarcinoma. Int J Cancer 131:E395–E404

42.

Wu Y, Xiao Y, Ding X et al (2011) A miR-200b/200c/429-binding site polymorphism in the 3′ untranslated region of the AP-2α gene is associated with cisplatin resistance. PLoS ONE 6:e29043
Acknowledgments
The authors gratefully acknowledge grant support from the Japan Society for the Promotion of Science (JSPS) through a Grant-in-Aid for Scientific Research (KAKENHI), a Grant-in-Aid for Scientific Research (B) (22390313), a Grant-in-Aid for Scientific Research (C) (22591866), and a Grant-in-Aid for Young Scientists (B) (24791718); the Ichiro Kanehara Foundation; Kobayashi Foundation for Cancer Research; Keio University Grant-in-Aid for Encouragement of Young Medical Scientists and the Keio University Medical Science Fund through a Research Grant for Life Sciences and Medicine.
Conflict of interest
The authors declare that they have no conflict of interest.
About this article
Cite this article
Banno, K., Yanokura, M., Kisu, I. et al. MicroRNAs in endometrial cancer. Int J Clin Oncol 18, 186–192 (2013). https://doi.org/10.1007/s10147-013-0526-9
Received:

Published:

Issue Date:
Keywords
Endometrial cancer

MicroRNA

Epigenetic

miR-152

miR-34b