Abstract
Surgical clipping of an internal carotid artery (ICA)–posterior communicating artery (ICPC) aneurysm is often difficult in cases involving limited space to insert a clip at the proximal aneurysm neck hidden by the tent. In such cases, we perform incision of the anterior petroclinoidal fold to secure the proximal space for clip insertion. Between April 2013 and March 2018, we treated 89 ICPC aneurysm cases by clipping. Incision of the anterior petroclinoidal fold was performed in 15 of the 89 cases (16.8%). Fast imaging employing steady-state acquisition (FIESTA) magnetic resonance imaging (MRI) can indicate the locations of the aneurysm and tent and can help assess the need for tent incision. We widely dissected the distal sylvian fissure and sufficiently exposed around the aneurysmal space. We coagulated and cut the anterior petroclinoidal fold supra between the ICA and proximal neck of the aneurysm using a low-power bipolar system and needles or micro-scissors with care to avoid injury around structures such as the ICA, aneurysm, and oculomotor nerve. When using this strategy, we often select the Yasargil FT717 clip that has a curve along the skull base because of easy insertion. All cases showed complete aneurysm exclusion on three-dimensional computed tomography angiography, and there was no cerebral infarction, neurological deficit (such as hemiparesis), or oculomotor nerve palsy. Therefore, our strategy of incision of the anterior petroclinoidal fold during clipping for securing the proximal space of an ICA aneurysm is effective and safe.
This is a preview of subscription content, log in to check access.
Access options
Buy single article
Instant unlimited access to the full article PDF.
US$ 39.95
Price includes VAT for USA
Subscribe to journal
Immediate online access to all issues from 2019. Subscription will auto renew annually.
US$ 99
This is the net price. Taxes to be calculated in checkout.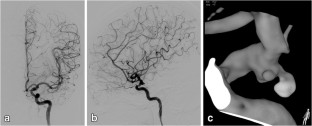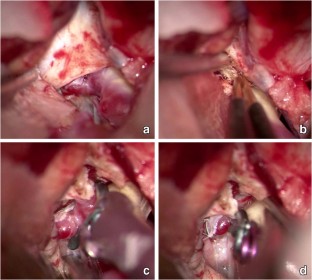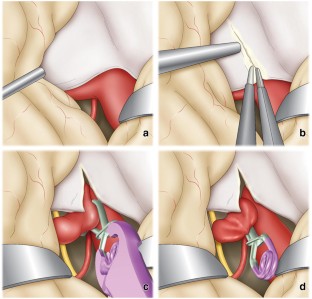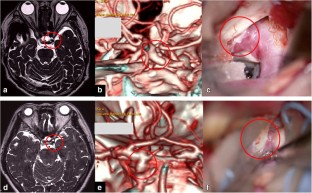 References
1.

Katsuno M, Tanikawa R, Hashimoto M, Matsuno A (2016) Intentional severing of the internal carotid artery in the surgical treatment. World Neurosurg 88:691 e695–691 e698

2.

Ban SP, Hwang G, Kim CH, Byoun HS, Lee SU, Kim T, Bang JS, Oh CW, Kwon OK (2018) Risk factor analysis of recanalization and retreatment for patients with endovascular treatment of internal carotid artery bifurcation aneurysms. Neuroradiology 60:535–544

3.

Molyneux AJ, Birks J, Clarke A, Sneade M, Kerr RS (2015) The durability of endovascular coiling versus neurosurgical clipping of ruptured cerebral aneurysms: 18 year follow-up of the UK cohort of the International Subarachnoid Aneurysm Trial (ISAT). Lancet 385:691–697

4.

Daou B, Atallah E, Chalouhi N et al Aneurysms with persistent filling after failed treatment with the pipeline embolization device. J Neurosurg 2018:1–7

5.

Toyota S, Taki T, Wakayama A, Yoshimine T (2015) Retreatment of recurrent internal carotid-posterior communicating artery aneurysm after coil embolization. Neurol Med Chir 55:838–847

6.

Rangel-Castilla L, Spetzler RF (2015) Microsurgical management of a large ICA bifurcation aneurysm. Neurosurg Focus 39(Video Suppl 1):V18

7.

Zhu W, Tian YL, Zhou LF, Song DL, Xu B, Mao Y (2011) Treatment strategies for complex internal carotid artery (ICA) aneurysms: direct ICA sacrifice or combined with extracranial-to-intracranial bypass. World Neurosurg 75:476–484

8.

Matano F, Tanikawa R, Kamiyama H, Ota N, Tsuboi T, Noda K, Miyata S, Matsukawa H, Murai Y, Morita A (2016) Surgical treatment of 127 paraclinoid aneurysms with multifarious strategy: factors related with outcome. World Neurosurg 85:169–176

9.

Matano F, Murai Y, Tateyama K, Mizunari T, Umeoka K, Koketsu K, Kobayashi S, Teramoto A (2013) Perioperative complications of superficial temporal artery to middle cerebral artery bypass for the treatment of complex middle cerebral artery aneurysms. Clin Neurol Neurosurg 115:718–724

10.

Nossek E, Setton A, Dehdashti AR, Chalif DJ (2014) Anterior petroclinoid fold fenestration: an adjunct to clipping of postero-laterally projecting posterior communicating aneurysms. Neurosurg Rev 37:637–641

11.

Hatipoglu HG, Durakoglugil T, Ciliz D, Yuksel E (2007) Comparison of FSE T2W and 3D FIESTA sequences in the evaluation of posterior fossa cranial nerves with MR cisternography. Diagn Interv Radiol 13:56–60

12.

Kimura T, Morita A, Shirouzu I, Sora S (2011) Preoperative evaluation of unruptured cerebral aneurysms by fast imaging employing steady-state acquisition image. Neurosurgery 69:412–419 discussion 419-420
Acknowledgments
We express our sincere thanks to Y. Sato, SAIKO. Inc. for the illustrations for the protocols.
Ethics declarations
Conflict of interest
The authors declare that they have no conflicts of interest.
Ethical approval
This study was approved by Chiba Hokusoh Hospital Research Ethics committee, Chiba, Japan.
Informed consent
All patients have consent to submission of this paper.
Additional information
Publisher's note
Springer Nature remains neutral with regard to jurisdictional claims in published maps and institutional affiliations.
Electronic supplementary material
Operative video of a case of a ruptured ICPC aneurysm, ICPC, internal carotid artery–posterior communicating artery (MP4 302,927 kb)
About this article
Cite this article
Matano, F., Murai, Y., Mizunari, T. et al. Incision of the anterior petroclinoidal fold during clipping for securing the proximal space of an internal carotid artery–posterior communicating artery aneurysm: a technical note. Neurosurg Rev 42, 777–781 (2019) doi:10.1007/s10143-019-01121-4
Received:

Revised:

Accepted:

Published:

Issue Date:
Keywords
Clipping

Internal carotid artery aneurysm

Tent incision