Abstract
To evaluate the safety and efficacy of intradural "limited drill" technique (ILDT) of anterior clinoidectomy (AC) and optic canal unroofing (OCU) for microneurosurgical management of ophthalmic segment and posterior communicating artery (PCOM) aneurysms. All the patients with ophthalmic segment and PCOM aneurysms who underwent AC and OCU by ILDT for microneurosurgical management of ophthalmic segment and PCOM aneurysms during 4-year period (2013–2016) at our Institute were included in this study. In ILDT of AC and OCU, the use of power drill is restricted to AC only and OCU is done exclusively with 1-mm Kerrison punch. AC and OCU by ILDT were done in 24 patients with 29 ophthalmic segment and 7 PCOM aneurysms. AC and OCU by ILDT helped in mobilization of optic nerve/internal carotid artery (ICA) and provided excellent exposure for all these aneurysms. There was no injury to ICA or optic nerve during drilling. AC and OCU facilitated clip ligation of 34 of these aneurysms. Remaining 2 aneurysms were considered not suitable for clipping. Check angiogram done for 33 aneurysms revealed complete obliteration of 26 aneurysms, very small residual neck in 5 aneurysms, and small residual aneurysm in 2 aneurysms. Deterioration in vision was noted in 1 patient (4.1%). In 6 patients with preoperative visual deficits, significant improvement in vision was noted in 4 patients (4/6–66.6%) after surgery. Good outcome (MRS < 2) was noted in 91.6% (22/24) of these patients. ILDT is a safe and effective technique of AC and OCU which provide good exposure for ophthalmic segment and PCOM aneurysms.
This is a preview of subscription content, log in to check access.
Access options
Buy single article
Instant unlimited access to the full article PDF.
US$ 39.95
Price includes VAT for USA
Subscribe to journal
Immediate online access to all issues from 2019. Subscription will auto renew annually.
US$ 99
This is the net price. Taxes to be calculated in checkout.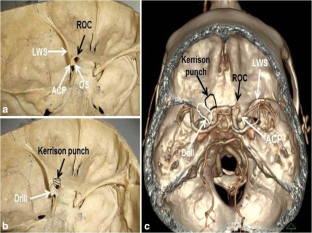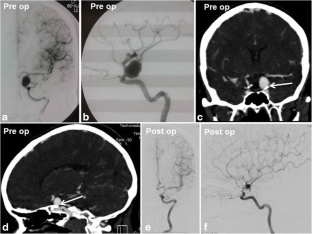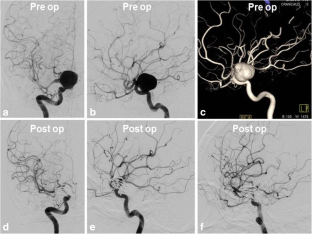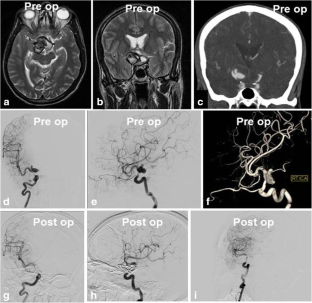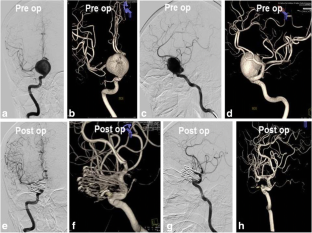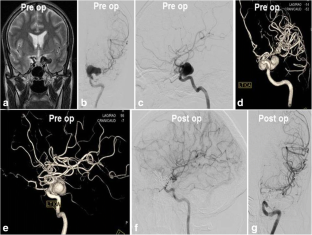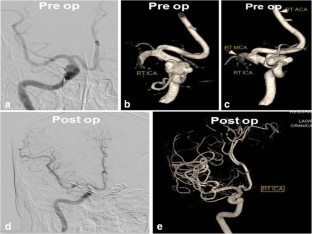 References
1.

Andaluz N, Beretta F, Bernucci C, Keller J, Zuccarello M (2006) Evidence for the improved exposure of the ophthalmic segment of the internal carotid artery after anterior clinoidectomy: morphometric analysis. Acta Neurochir 148:971–976

2.

Chang DJ (2009) The "no-drill" technique of anterior clinoidectomy: a cranial base approach to the paraclinoid and parasellar region. Operative Neurosurgery 64:ONS96–ONS106

3.

Day AL (1990) Aneurysms of the ophthalmic segment: a clinical and anatomical analysis. J Neurosurg 72:677–691

4.

Dolenc VV (1985) A combined epi-and subdural direct approach to carotid-ophthalmic artery aneurysms. J Neurosurg 62:667–672

5.

Giannotta SL (2002) Ophthalmic segment aneurysm surgery. Neurosurgery 50:558–562

6.

Heros RC, Nelson PB, Ojemann RG, Crowell RM, DeBrun G (1983) Large and giant paraclinoid aneurysms: surgical techniques, complications, and results. Neurosurgery 12:153–163

7.

Kinouchi H, Mizoi K, Nagamine Y, Yanagida N, Mikawa S, Suzuki A, Sasajima T, Yoshimoto T (2002) Anterior paraclinoid aneurysms. J Neurosurg 96:1000–1005

8.

Kiran NAS, Furtado SV, Hegde AS (2013) How I do it: anterior clinoidectomy and optic canal unroofing for microneurosurgical management of ophthalmic segment aneurysms. Acta Neurochir 155:1025–1029

9.

Nanda A, Javalkar V (2011) Microneurosurgical management of ophthalmic segment of the internal carotid artery aneurysms: single-surgeon operative experience from Louisiana State University. Shreveport Neurosurgery 68:355–371

10.

Noguchi A, Balasingam V, Shiokawa Y, McMenomey SO, Delashaw JB Jr (2005) Extradural anterior clinoidectomy. J Neurosurg 102:945–950

11.

Smith RR, Al-Mefty O, Middleton TH (1989) An orbitocranial approach to complex aneurysms of the anterior circulation. Neurosurgery 24:385–391

12.

Yasargil M, Gasser J, Hodosh R, Rankin T (1977) Carotid-ophthalmic aneurysms: direct microsurgical approach. Surg Neurol 8:155–165

13.

Yonekawa Y, Ogata N, Imhof H-G, Olivecrona M, Strommer K, Kwak TE, Roth P, Groscurth P (1997) Selective extradural anterior clinoidectomy for supra-and parasellar processes. J Neurosurg 87:636–642

14.

Barnett SL, Whittemore B, Thomas J, Samson D (2010) Intradural clinoidectomy and postoperative headache in patients undergoing aneurysm surgery. Neurosurgery 67:906–910

15.

Day JD, Giannotta SL, Fukushima T (1994) Extradural temporopolar approach to lesions of the upper basilar artery and infrachiasmatic region. J Neurosurg 81:230–235

16.

Takahashi J, Kawarazaki A, Hashimoto N (2004) Intradural en-bloc removal of the anterior clinoid process. Acta Neurochir 146:505–509

17.

Kobayashi S, Kyoshima K, Gibo H, Hegde SA, Takemae T, Sugita K (1989) Carotid cave aneurysms of the internal carotid artery. J Neurosurg 70:216–221

18.

Kumon Y, Sakaki S, Kohno K, Ohta S, Ohue S, Oka Y (1997) Asymptomatic, unruptured carotid-ophthalmic artery aneurysms: angiographical differentiation of each type, operative results, and indications. Surg Neurol 48:465–472

19.

Ohmoto T, Nagao S, Mino S, Ito T, Honma Y, Fujiwara T (1991) Exposure of the intracavernous carotid artery in aneurysm surgery. Neurosurgery 28:317–324

20.

Chang HS, Joko M, Song JS, Ito K, Inoue T, Nakagawa H (2006) Ultrasonic bone curettage for optic canal unroofing and anterior clinoidectomy. J Neurosurg 104:621–624

21.

Hadeishi H, Suzuki A, Yasui N, Satou Y (2003) Anterior clinoidectomy and opening of the internal auditory canal using an ultrasonic bone curette. Neurosurgery 52:867–871

22.

Son HE, Park MS, Kim SM, Jung SS, Park KS, Chung SY (2010) The avoidance of microsurgical complications in the extradural anterior clinoidectomy to paraclinoid aneurysms. J Korean Neurosurg Soc 48:199–206

23.

Park SK, Shin YS, Lim YC, Chung J (2009) Preoperative predictive value of the necessity for anterior clinoidectomy in posterior communicating artery aneurysm clipping. Neurosurgery 65:281–286

24.

Inoue T, Rhoton AL, Theele D, Barry ME (1990) Surgical approaches to the cavernous sinus: a microsurgical study. Neurosurgery 26:903–932

25.

Evans JJ, Hwang YS, Lee JH (2000) Pre- versus post-anterior clinoidectomy measurements of the optic nerve, internal carotid artery, and opticocarotid triangle: a cadaveric morphometric study. Neurosurgery 46:1018–1023

26.

Matthews LS, Hirsch C (1972) Temperatures measured in human cortical bone when drilling. JBJS 54:297–308

27.

Toews A, Bailey J, Townsend H, Barber S (1999) Effect of feed rate and drill speed on temperatures in equine cortical bone. Am J Vet Res 60:942–944

28.

Xu D, Pollock M (1994) Experimental nerve thermal injury. Brain 117:375–384

29.

Ridderheim P-Å, von Essen C, Zetterlund B (1987) Indirect injury to cranial nerves after surgery with Cavitron ultrasonic surgical aspirator (CUSA). Case report. Acta Neurochir 89:84–86

30.

Suetsuna F, Harata S, Yoshimura N (1991) Influence of the ultrasonic surgical aspirator on the dura and spinal cord. An electrohistologic study. Spine 16:503–509

31.

Maniscalco JE, Habal MB (1978) Microanatomy of the optic canal. J Neurosurg 48:402–406

32.

Slavin KV, Dujovny M, Soeira G, Ausman JI (1994) Optic canal: microanatomic study. Skull Base Surgery 4:136–144

33.

Nutik SL (1988) Removal of the anterior clinoid process for exposure of the proximal intracranial carotid artery. J Neurosurg 69:529–534

34.

Tobias S, Kim C-H, Kosmorsky G, Lee JH (2003) Management of surgical clinoidal meningiomas. Neurosurg Focus 14:1–7

35.

Korosue K, Heros RC (1992) "Subclinoid" carotid aneurysm with erosion of the anterior clinoid process and fatal intraoperative rupture. Neurosurgery 31:356–359

36.

Hoh BL, Carter BS, Budzik RF, Putman CM, Ogilvy CS (2001) Results after surgical and endovascular treatment of paraclinoid aneurysms by a combined neurovascular team. Neurosurgery 48:78–90

37.

Kattner KA, Bailes J, Fukushima T (1998) Direct surgical management of large bulbous and giant aneurysms involving the paraclinoid segment of the internal carotid artery: report of 29 cases. World Neurosurgery 49:471–480

38.

Raco A, Frati A, Santoro A, Vangelista T, Salvati M, Delfini R, et al (2008) Long-term surgical results with aneurysms involving the ophthalmic segment of the carotid artery. 108:1200–10
Ethics declarations
Conflict of interest
The authors declare that there is no conflict of interest.
Ethical approval
Approval of Ethical committee of the Institute was taken for this study.
Informed consent
Written informed consent was taken from all the patients.
About this article
Cite this article
Sai Kiran, N.A., Sivaraju, L., Vidyasagar, K. et al. Intradural "limited drill" technique of anterior clinoidectomy and optic canal unroofing for microneurosurgical management of ophthalmic segment and PCOM aneurysms—review of surgical results. Neurosurg Rev (2018) doi:10.1007/s10143-018-1054-x
Received:

Revised:

Accepted:

Published:
Keywords
Anterior clinoidectomy

Carotid ophthalmic aneurysms

Ophthalmic segment aneurysms

Optic canal unroofing

Paraclinoid aneurysms

PCOM aneurysms

Power drill