Abstract
Unresectable malignant intramedullary tumors and metastases usually require radiotherapy which intensifies spinal cord edema and might result in neurological decline. Spinal expansion duroplasty before radiotherapy enlarges the intrathecal volume and might thus prevent neurological deficits. The study aims to evaluate the clinical course of patients undergoing expansion duroplasty. This retrospective analysis (2007–2016) included all patients with unresectable intramedullary tumors who underwent spinal expansion duroplasty. To assess the degree of preoperative cord enlargement, we calculated the "diameter ratio": diameter of the spinal cord below and above the tumor / diameter of the tumor × 2. The presence of perimedullary cerebrospinal fluid (CSF) at the affected levels was analyzed on the preoperative magnetic resonance imaging (MRI). We recorded the occurrence of neurological deficits, wound breakdown, and CSF fistula. We screened 985 patients, 11 of which were included. Eight patients had an intramedullary metastasis, three patients a spinal malignant glioma. A diameter ratio ≤ 0.8 representing a significant preoperative intramedullary enlargement was seen in 10 cases (90.9%). Postoperative imaging was available in 9 patients, demonstrating successful decompression in 8 of the 9 patients (88.9%). The postoperative course was uneventful in 9 patients (81.8%). Mean overall survival was 13.4 (SD 16.2) months. Spinal expansion duroplasty prior to radiotherapy is a previously undescribed concept. Despite neoadjuvant radiation, no wound breakdown or CSF fistula occurred. In unresectable intramedullary tumors and metastases, spinal expansion duroplasty seems to be a safe procedure with the potential to prevent neurological decline due to radiation-induced cord swelling.
This is a preview of subscription content, log in to check access.
Access options
Buy single article
Instant access to the full article PDF.
US$ 39.95
Price includes VAT for USA
Subscribe to journal
Immediate online access to all issues from 2019. Subscription will auto renew annually.
US$ 99
This is the net price. Taxes to be calculated in checkout.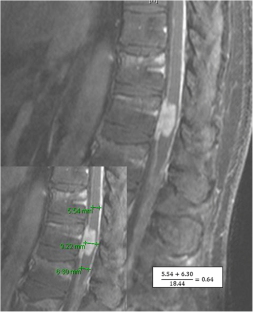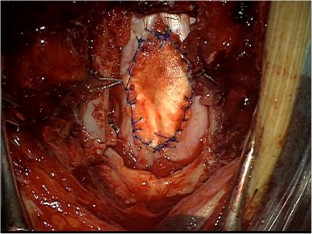 References
1.

Aarabi B, Alexander M, Mirvis SE, Shanmuganathan K, Chesler D, Maulucci C, Iguchi M, Aresco C, Blacklock T (2011) Predictors of outcome in acute traumatic central cord syndrome due to spinal stenosis. J Neurosurg Spine 14(1):122–130

2.

Brugieres P, Idy-Peretti I, Iffenecker C, Parker F, Jolivet O, Hurth M, Gaston A, Bittoun J (2000) CSF flow measurement in syringomyelia. Am J Neuroradiol 21(10):1785–1792

3.

Chason JL, Walker FB, Landers JW (1963) Metastatic carcinoma in the central nervous system and dorsal root ganglia. A prospective autopsy study. Cancer 16:781–787

4.

Choucair AK (1991) Myelopathies in the cancer patient: incidence, presentation, diagnosis and management. Oncology 5:25–31

5.

Connolly ES Jr, Winfree CJ, McCormick PC et al (1996) Intramedullary spinal cord metastasis: report of three cases and review of the literature. Surg Neurol 46:329–337

6.

Costigan DA, Winkelman MD (1985) Intramedullary spinal cord metastasis. A clinicopathological study of 13 cases. J Neurosurg 62:227–233

7.

Fehlings MG, Furlan JC, Massicotte EM, Arnold P, Aarabi B, Harrop J, Anderson DG, Bono CM, Dvorak M, Fisher C, France J, Hedlund R, Madrazo I, Nockels R, Rampersaud R, Rechtine G, Vaccaro AR, Spine Trauma Study Group (2006) Interobserver and intraobserver reliability of maximum canal compromise and spinal cord compression for evaluation of acute traumatic cervical spinal cord injury. Spine (Phila Pa 1976) 31(15):1719–1725

8.

Gasser TG, Pospiech J, Stolke D, Schwechheimer K (2001) Spinal intramedullary metastases. Report of two cases and review of the literature. Neurosurg Rev 24:88–92

9.

Geets X, Daisne JF, Arcangeli S, Coche E, De Poel M, Duprez T, Nardella G, Grégoire V (2005) Inter-observer variability in the delineation of pharyngo-laryngeal tumor, parotid glands and cervical spinal cord: comparison between CT-scan and MRI. Radiother Oncol 77(1):25–31

10.

Goldwein JW (1987) Radiation myelopathy: a review. Med Pediatr Oncol 15:89–95

11.

Huang X, Wen L (2010) Technical considerations in decompressive craniectomy in the treatment of traumatic brain injury. Int J Med Sci 7:385–390

12.

Jalan D, Saini N, Zaidi M, Pallottie A, Elkabes S, Heary RF (2017) Effects of early surgical decompression on functional and histological outcomes after severe experimental thoracic spinal cord injury. J Neurosurg Spine 26:62–75

13.

Jourdan C, Convert J, Mottolese C, Bachour E, Gharbi S, Artru F (1993) Evaluation of the clinical benefit of decompression hemicraniectomy in intracranial hypertension not controlled by medical treatment. Neurochirurgie 39(5):304–310

14.

Klekamp J (2002) The pathophysiology of syringomyelia – historical overview and current concept. Acta Neurochir 144(7):649–664

15.

Klekamp J (2012) Surgical treatment of Chiari I malformation – analysis of intraoperative findings, complications, and outcome for 371 foramen magnum decompressions. Neurosurgery 71(2):365–380

16.

Klekamp J (2012) Treatment of posttraumatic syringomyelia. J Neurosurg Spine 17(3):199–211

17.

Landis JR, Koch GG (1977) The measurement of observer agreement for categorical data. Biometrics 33(1):159–174

18.

Malghem J, Willems X, Vande Berg B, Robert A, Cosnard G, Lecouvet F (2009) Comparison of lumbar spinal canal measurements on MRI and CT. J Radiol 90(4):493–497

19.

Marino RJ, Barros T, Biering-Sorensen F, Burns SP, Donovan WH, Graves DE, Haak M, Hudson LM, Priebe M (2003) International standards for neurological classification of spinal cord injury. J Spinal Cord Med 26(Suppl 1):S50–S56

20.

Ottenhausen M, Ntoulias G, Bodhinayake I, Ruppert F-H, Schreiber S, Förschler A, Boockvar JA, Jödicke A (2018) Intradural spinal tumors in adults—update on management and outcome. Neurosurg Rev. https://doi.org/10.1007/s10143-018-0957-x

21.

Phang I, Werndle MC, Saadoun S, Varsos G, Czosnyka M, Zoumprouli A, Papadopoulos MC (2015) Expansion duroplasty improves intraspinal pressure, spinal cord perfusion pressure, and vascular pressure reactivity index in patients with traumatic spinal cord injury: injured spinal cord pressure evaluation study. J Neurotrauma 32:865–874

22.

Rasmussen PA, Rabin MH, Mann DC, Perl JR 2nd, Lorenz MA, Vrbos LA (1994) Reduced transverse spinal area secondary to burst fractures: is there a relationship to neurologic injury? J Neurotrauma 11:711–720

23.

Samartzis D, Gillis CC, Shih P, O'Toole JE, Fessler RG (2016) Intramedullary spinal cord tumors: part II - management options and outcomes. Glob spine J 6:176–185

24.

Schiff D, O'Neill BP (1996) Intramedullary spinal cord metastases: clinical features and treatment outcome. Neurology 47:906–912

25.

Schulte TL, Heidenreich JO, Schilling AM, Stendel R, Pietilä TA, Hopfenmüller W, Brock M, Wolf KJ (2004) Comparison of metric analysis of spinal structures, exemplarily of the ligamentum flavum, obtained with CT and MRI. Eur J Radiol 52(3):224–228

26.

Smith JS, Anderson R, Pham T, Bhatia N, Steward O, Gupta R (2010) Role of early surgical decompression of the intradural space after cervical spinal cord injury in an animal model. J Bone Joint Surg Am 92(5):1206–1214

27.

Tykocki T, Poniatowski L, Czyz M, Koziara M, Wynne-Jones G (2017) Intraspinal pressure monitoring and extensive duroplasty in the acute phase of traumatic spinal cord injury. A systematic review. World Neurosurgery 105:145–152. https://doi.org/10.1016/j.wneu.2017.05.138

28.

van Middendorp JJ, Barbagallo G, Schuetz M, Hosman AJF (2012) Design and rationale of a Prospective, Observational European Multicenter study on the efficacy of acute surgical decompression after traumatic spinal cord injury: the SCI-POEM study. Spinal Cord 50:686–694

29.

van Middendorp JJ, Hosman AJF, Doi SAR (2013) The effects of the timing of spinal surgery after traumatic spinal cord injury: a systematic review and meta-analysis. J Neurotrauma 30(21):1781–1794

30.

Veeravagu A, Lieberson RE, Mener A, Chen YR, Soltys SG, Gibbs IC, Adler JR, Tian AG, Chang SD (2012) CyberKnife stereotactic radiosurgery for the treatment of intramedullary spinal cord metastases. J Clin Neurosci 19:1273–1277

31.

Verla T, Fridley JS, Khan AB, Mayer RR, Omeis I (2016) Neuromonitoring for intramedullary spinal cord tumor surgery. World Neurosurg 95:108–116

32.

Worthington BS (1979) Diffuse cord enlargement in radiation myelopathy. Clin Radiol 30:117–119
Ethics declarations
Conflict of interest
All authors certify that they have no affiliations with or involvement in any organization or entity with any financial interest (such as honoraria, educational grants, participation in speakers' bureaus, membership, employment, consultancies, stock ownership, or other equity interest and expert testimony or patent-licensing arrangements), or non-financial interest (such as personal or professional relationships, affiliations, knowledge, or beliefs) in the subject matter of materials discussed in this manuscript.
Ethical approval
All procedures performed in studies involving human participants were in accordance with the ethical standards of the institutional and/or national research committee and with the 1964 Helsinki declaration and its later amendments or comparable ethical standards. For this type of retrospective study formal consent is not required.
Informed consent
Informed consent was obtained from all individual participants included in the study.
About this article
Cite this article
Fiss, I., Bettag, C., Schatlo, B. et al. Prophylactic enlargement of the thecal sac volume by spinal expansion duroplasty in patients with unresectable malignant intramedullary tumors and metastases prior to radiotherapy. Neurosurg Rev 43, 273–279 (2020). https://doi.org/10.1007/s10143-018-1051-0
Received:

Revised:

Accepted:

Published:

Issue Date:
Keywords
Duroplasty

Spinal metastasis

Spinal tumor

Radiotherapy

Spinal cord compression